Everyone needs an easy Dairy Free Buttercream Frosting (vegan) for decorating cupcakes, birthdays and special occasion cakes.  This super easy dairy free vanilla buttercream will easily become your go-to recipe for desserts!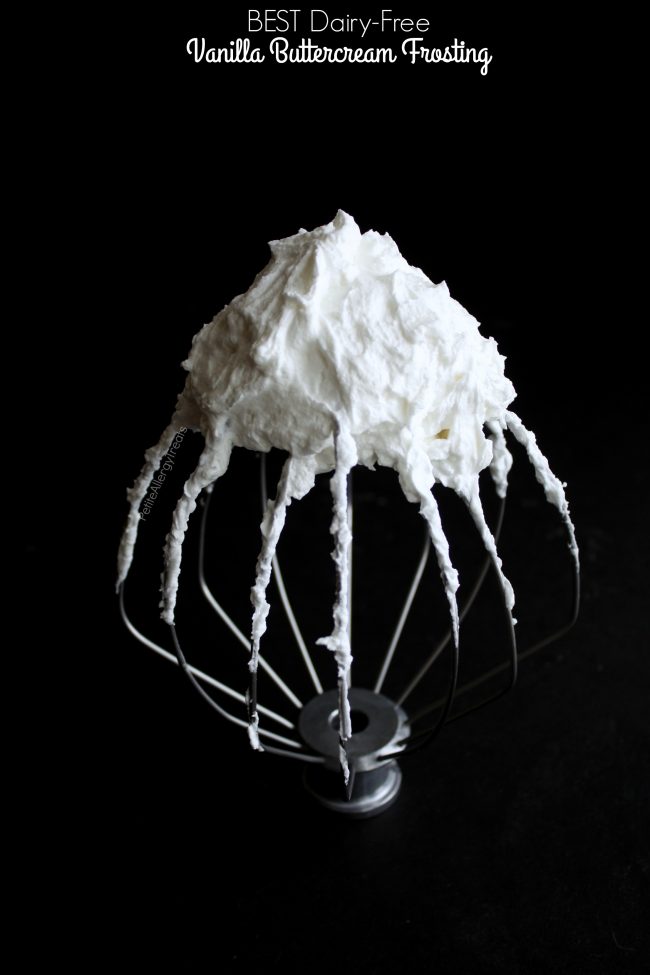 This post is so overdue.  A dairy free buttercream frosting is the backbone for any good cake or cupcake.  And I find making tons and freezing helps.
Part of the reason this post was delayed was due to near frosting fails.  Yes.  You can fail at making frosting… but only in the sense that it won't perform tricks you want it to do.
For example, those beautifully decorated cupcakes I've seen from The Recipe Rebel and even dairy free butter frosting from The Pretty Bee .  I tried many different dairy based buttercreams only to find the frosting was loose and sloppy even though the recipe called for tons of sugar.  Even some dairy free recipes were written the same.  But from my experience, it would not pipe a lovely design.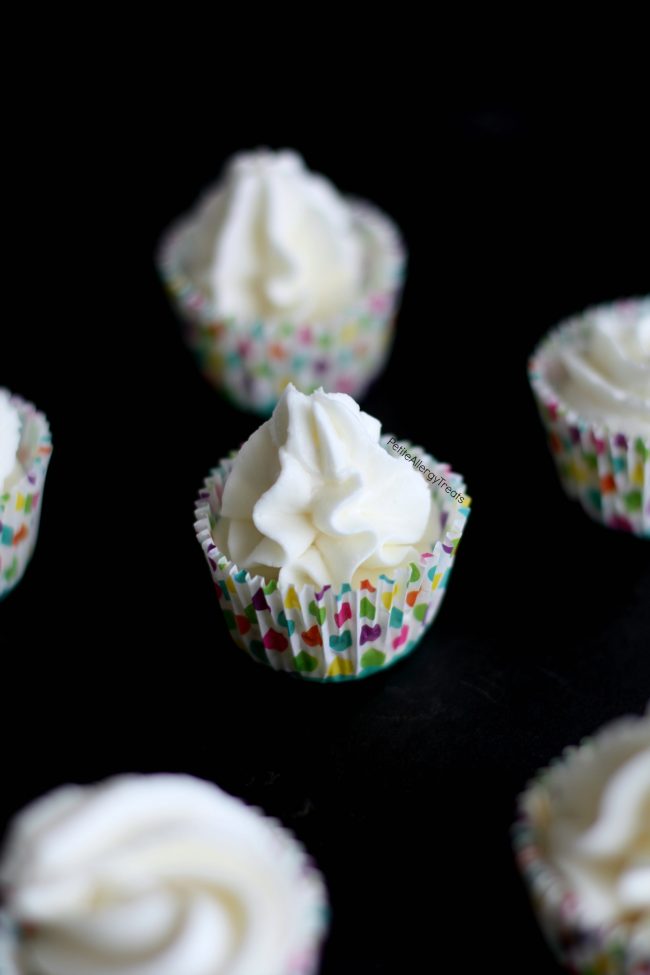 So what gives?   Am I that bad at making frosting?  Maybe.  Or maybe it's more complicated that it appeared. (I use organic palm shortening since it is the only dairy free AND soy free spread I can easily find.)
The problem you can encounter with dairy free icing can be contributed to Emulsion problems.
EMULSION- the ability to bind fat molecules with water and other liquids.  In other words, oil and water will not separate when mixed.
Dairy free frosting problems can* occur since practically every written recipe out there calls for 'butter', sugar and milk-or essentially water to smooth things out.  Palm shortening is pure fat and contains 0% water, 0% protein.  It's like oil to water.  You can mixed it all you want but as soon as you stop, the oil and water will separate again.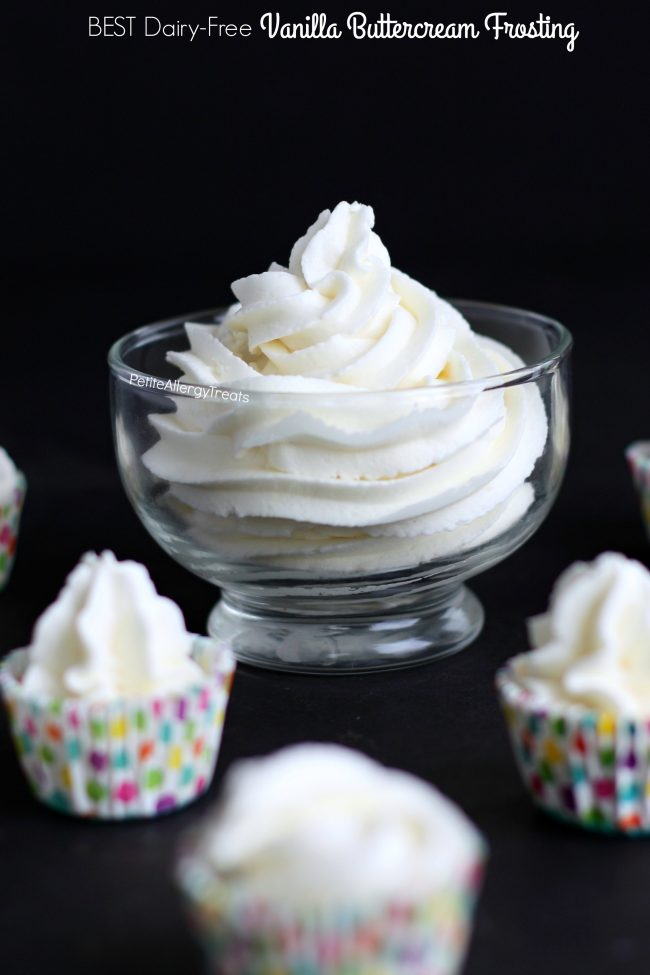 Other dairy free spreads out there contain Soy oil and Soy Protein.  Ever wonder why the protein was there?  To mimic dairy butter.  I can't say for sure since I haven't used it, but I suspect those spreads would make a "better" dairy free buttercream.  The reason I say this is with the protein, you'll have the emulsion problem fixed.  You can add tons of sugar for stiffness and then smooth things out with a little dairy free milk or water.  The frosting will hold in the liquid where it should be and therefore can be squeezed and shaped for decorating.
*Different brands of dairy free vegan spreads have different ingredients and approaches for recreating dairy based butter, which already contains 18% water unlike pure palm shortening which contains 0% water.  I have used real butter only once to make frosting and found it to be lovely.  Creamy. Pliable. Annd always would pipe well for making things look pretty.
So the whole point of this post was to help you realize you're not crazy when your frosting can't perform all those twists and turns like regular dairy based frosting.  The other major point is now you CAN create a dairy free frosting to pipe beautiful rosettes and designs!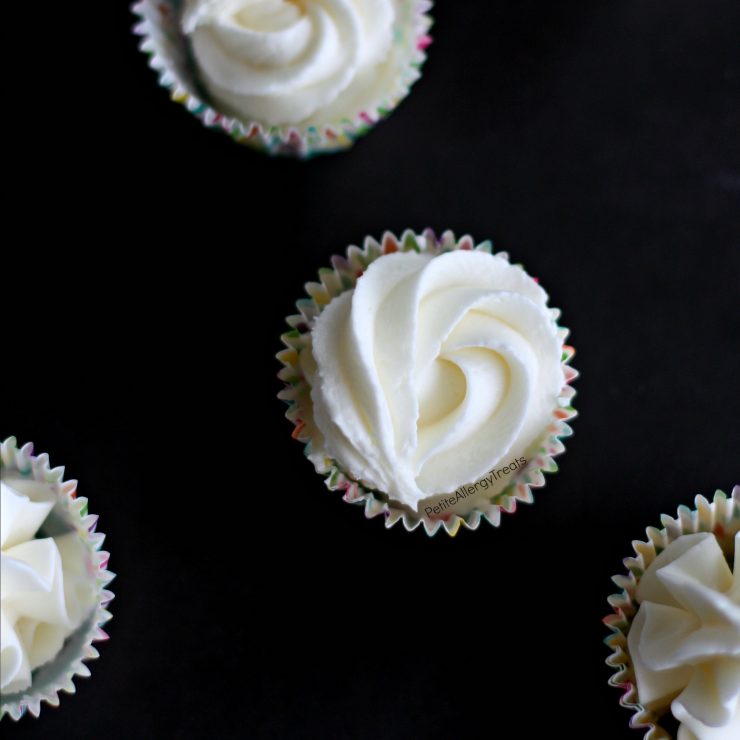 My recipe is just that, mine.  Looks complete weird with ratios.  Not overly sweet either.  It has a higher fat to sugar ratio.  And the huge difference is there is essentially NO extra liquid added.  Add more or less sugar for stiffness.  I always suggest doing a test piping of your frosting before you're done mixing to make sure you have the correct consistency.  And you could always add just a little water or milk it you accidentally add too much sugar.  But just a little.  It would be better to add more shortening than liquid.  Remember, add liquid will only cause the frosting to become loose and sloppy for decorating but great for just icing a plain cake.
So there you have it.  A long winded explanation of why this dairy free buttercream frosting will be the BEST.  😀 And hopefully you can come to rely on for all your allergy friendly decorating needs.
Keep in mind this all holds true with palm shortening, again with contains 100% fat, 0% water and 0% protein.

Best Easy Dairy Free Vanilla Frosting
Author:
Laura @ Petite Allergy Treats
Ingredients
1½ cups dairy free shortening (I use palm)
2½- 3 cups powdered sugar
1 tsp vanilla
pinch of salt optional
Instructions
Sift powdered sugar to remove any lumps.
Cream shortening with a high speed mixer until light and fluffy, approximately 10-12 minutes.
Add vanilla and salt. Gradually add powdered sugar in ¼ cup increments until to desired stiffness. Scrape down bowl every so often to endure even mixing. See note
Store unused frosting in refrigerator for 1 week or freezer for 1 month. Allow to reach room temperature before using.
Notes
Using palm shortening as mention within the post above can vary in thickness depending up use of the frosting. For decorating designs like rosettes, a stiffer frosting is needed.

The sugar content in this frosting is a little lower since you cannot use water or dairy free milks to even things out. See the post above and read about emulsion.
Follow me for the latest news!
Some other things you may like: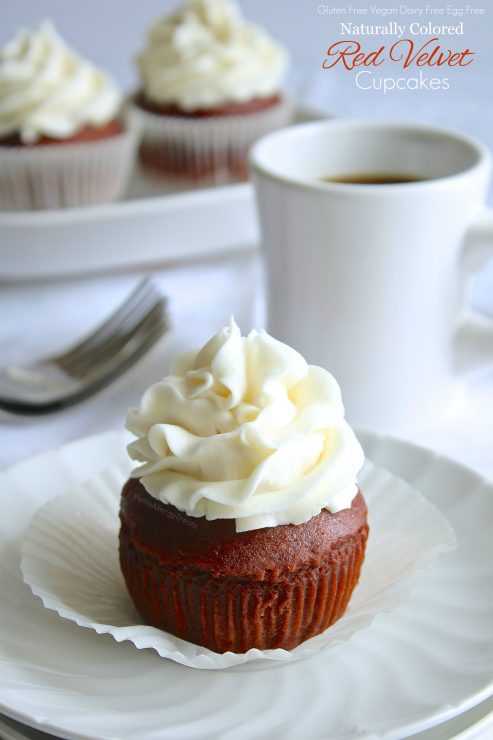 Gluten Free Red Velvet Cupcakes (Vegan Dairy Free)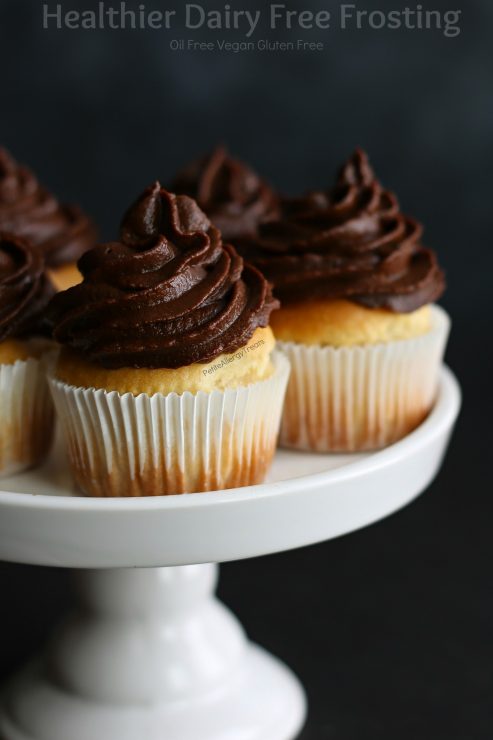 Healthier Dairy Free Chocolate Frosting- Oil Free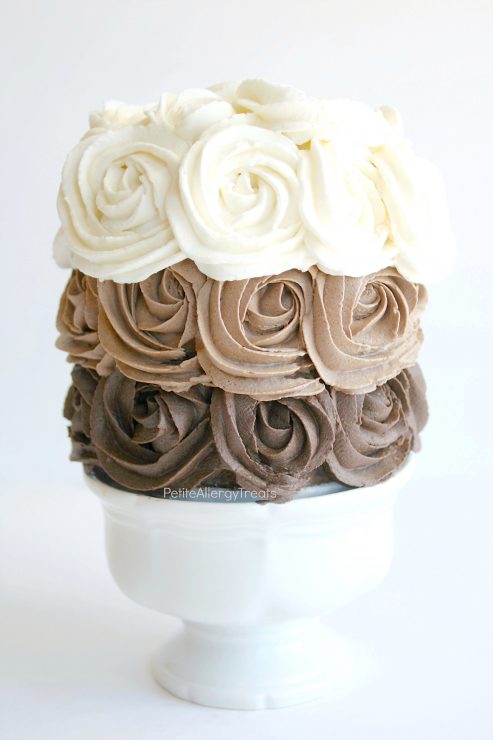 Gluten Free Vegan Chocolate Cake (Dairy Free)– egg free, nut free, soy free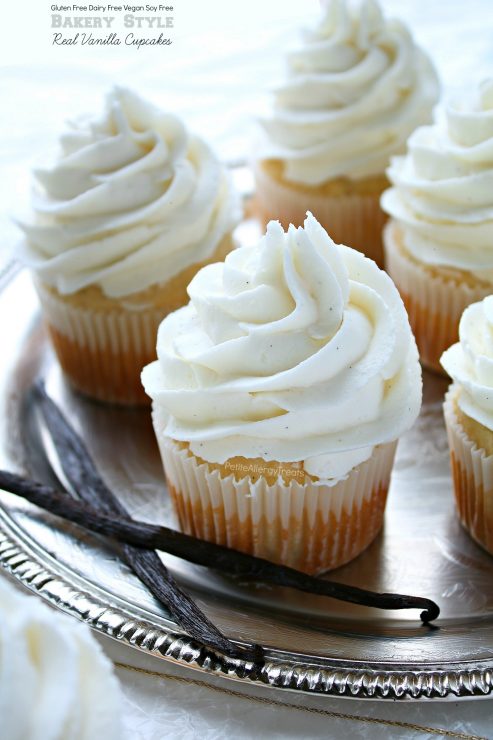 Bakery Style Gluten Free Vanilla Cupcakes– egg free dairy free Vegan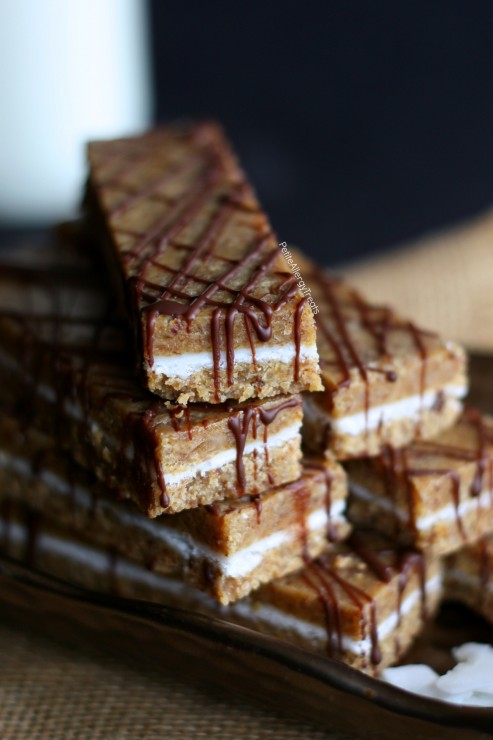 Homemade Nut Free 4 Ingredient Protein Energy Bars