Gluten Free egg free Chocolate Covered Cookie Dough could quite possibly be the perfect dessert.  These food allergy friendly bites also happen to be gluten free, egg free, dairy free and Vegan.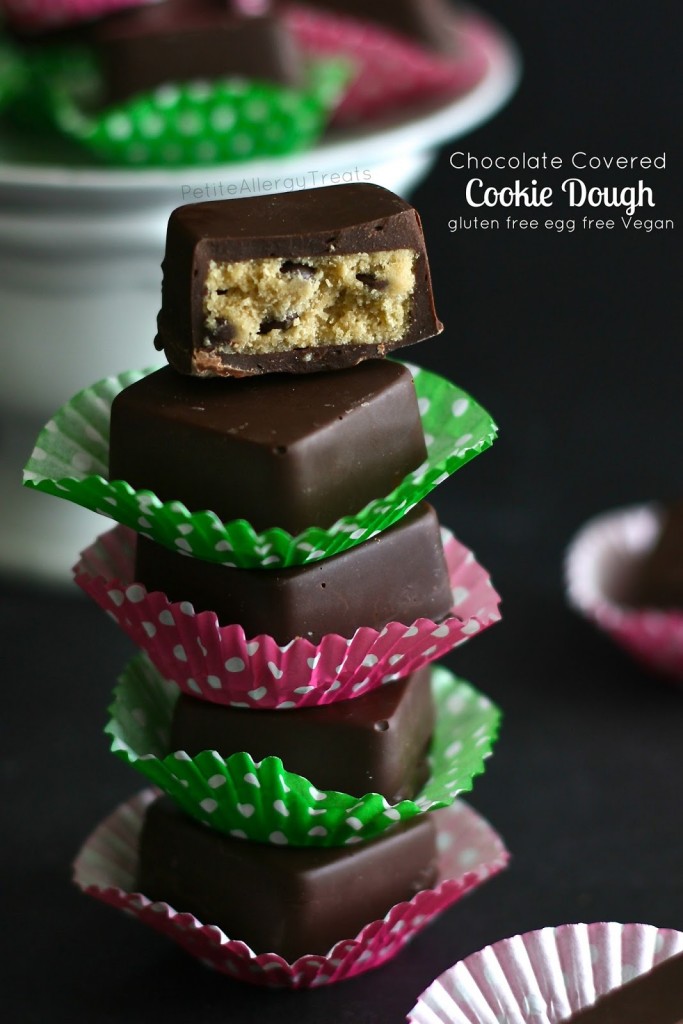 Hey guys!  How have you been?  Sorry things have been quiet the last week… I took a little time off to enjoy a thing call 'warm weather'.  Yes.  Apparently this Spring thing is finally going to happen.  Lol.  Of course, it won't last… Last week was a dream, with temperatures reaching in the steamy upper 50's but this week is starting out again with snow.  What's up with that?  Don't you think once it's warm,  it just needs to stay warm.   #thewinterthatneverends
If you follow me on Facebook, you probably saw a teaser with a 'guess what's inside' with one of these pictures… Sorry for the little game.  I'm telling you, I get bored cooped up all winter.  You can help entertain me. #sorrynotsorry.  😀
Since you've read the title, now you know it's cookie dough.  This was something that was bound to happen sooner or later… Everyone loves to sneak a few bites of raw cookie dough when making cookies.  I know I sure did when I made my raspberry cookie dough truffles and chocolate coconut breakfast cookies.  Is it just me or does the raw cookie dough almost taste better than the finished cookie sometimes?  Don't forget, I even have whole Pinterest Board dedicated to the Gluten Free Cookie Monster within.
 Eating raw cookie dough is consider risky due to the raw eggs…(but honestly, it's good!)  My mom used to buy the ready made cookie dough and eat it straight from the roll… and she didn't share.  She used the whole 'you shouldn't eat raw eggs' as an excuse and continued to eat the whole log without sharing a bite.  Um, okay.  (Way to set a great example Mom!)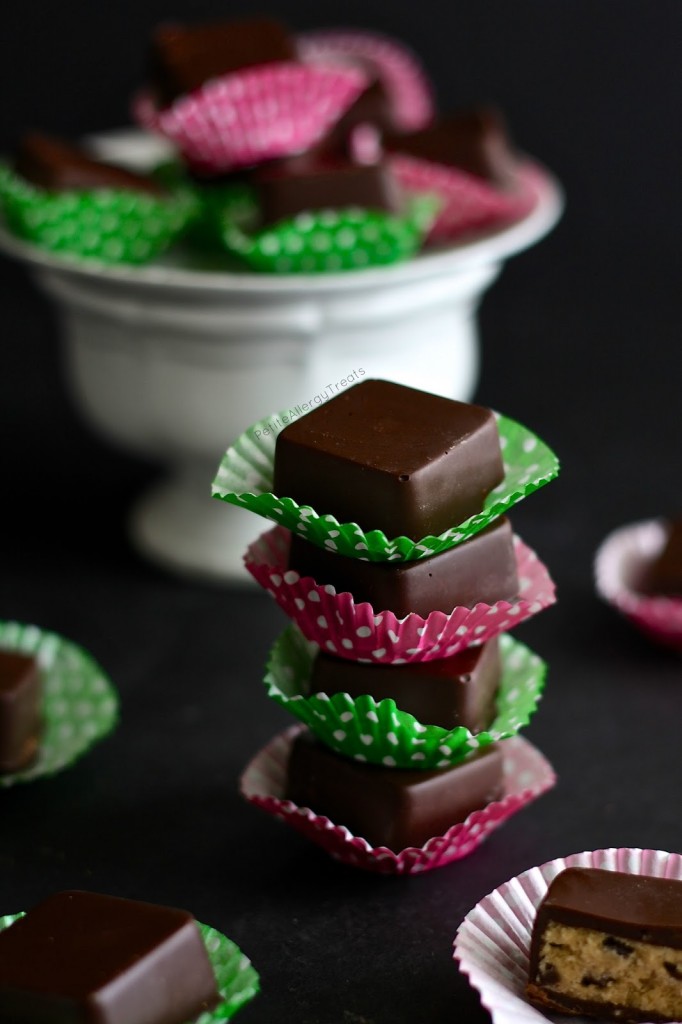 Well, this chocolate cookie dough you can feel better about since it doesn't use real eggs (since we're allergic).  I even took it a step further, removing the baking soda and gums.   You really don't need those if you're not actually baking it.  And it's dairy and soy free. 😀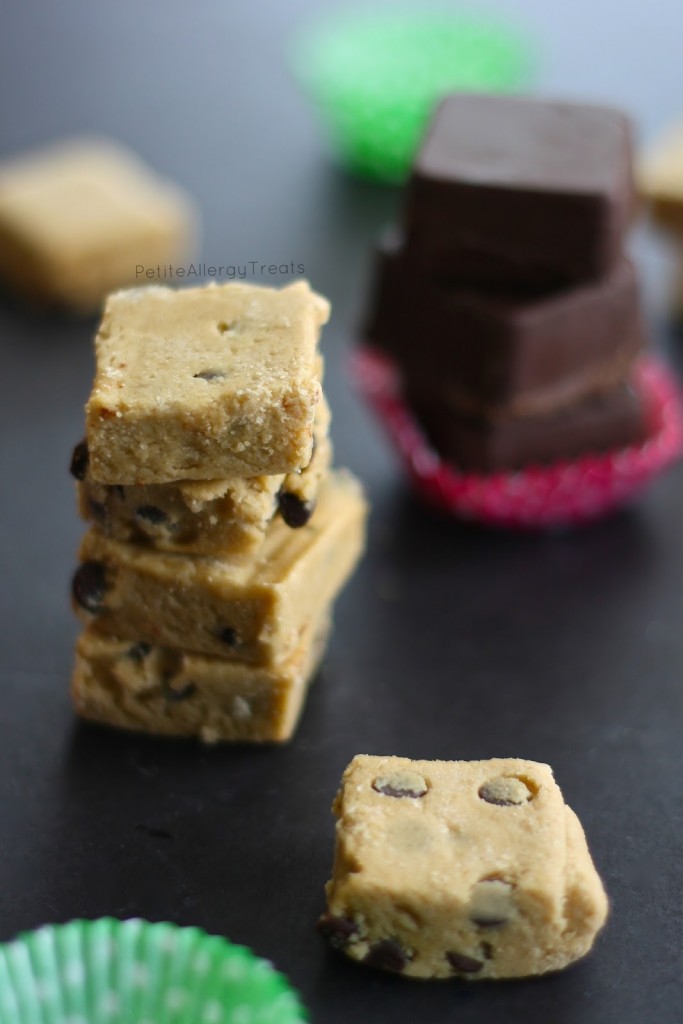 Another reason I removed all the excess ingredients, was for the least number of allergens/intolerances included.
Have you heard of the FODMAPs diet?  FODMAP= Fermentable Oligo-Di-Monosaccharides and Polyols.  A mouth full to say the least.  This type of diet/intolerances addresses digestion issues and problems with nutrient absorption.  This is something I've just started to learn a little about.  This restrictive diet sounds more daunting that an regular food allergy.  Allow me to explain…
Thanks to the FDA food labeling law,  processed foods must list all of the top 8 food allergens (wheat, egg, dairy, soy, peanut, tree nut, shellfish and seafood).  It must clearly state the ingredients and contain an allergen statement at the end listing any of the top 8 foods.  This is not only helpful to quickly identify if a product is safe for us but also provides more a transparent — yes or no for safety with Mr. Naughty's food allergies.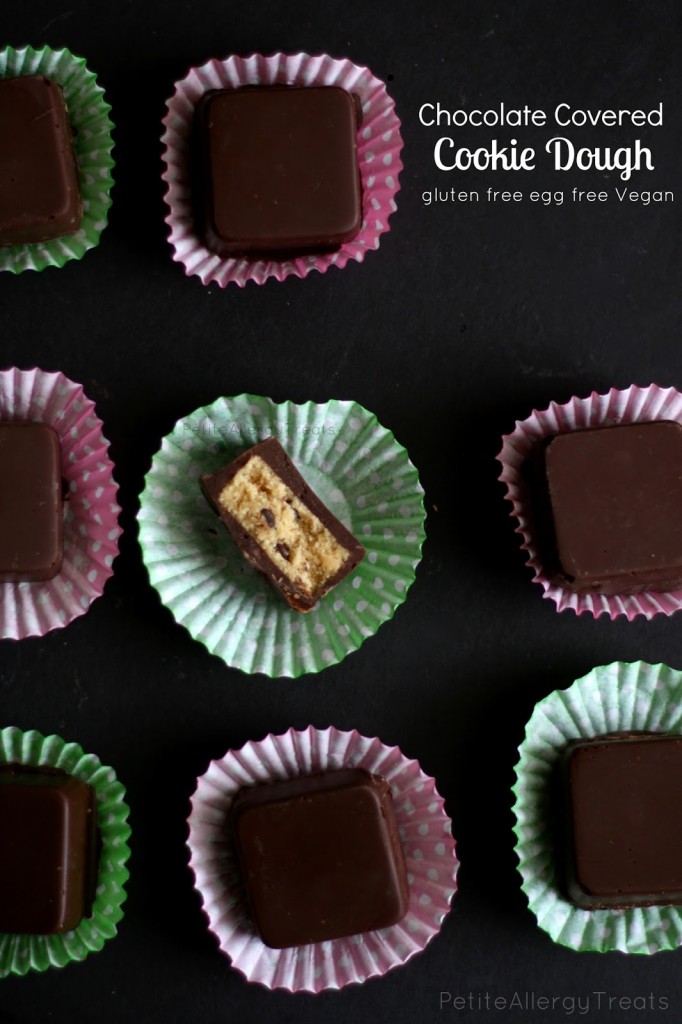 The problem with following the FODMAPs diet, is there are hundreds of things consumers/parents need to be aware of since a label won't list if it's high or low on the FODMAPs diet.  Some very important things to look out for are high fructose corn syrup, natural fruit sugars, and proteins.  Here's a Guide for typical foods to avoid.  It's a jungle that takes time to navigate and parents really need to be diligent on reading all labels and have a foundation of knowledge to where fructose and other ingredients can hide within food.
I'm mentioning the FODMAPs diet since I made these treats for my older son's class.  One of his classmates follows this diet and I worked with parents to create an acceptable treat.  I know how it feels to have your child left out of virtually every social school event.  Since many of the food intolerances overlapped with Mr. Naughty, I was determined to create a treat suitable for his classmate, so everyone was included for the treat.
Initially, I thought my double chocolate cupcakes with cranberry frosting would be a good choice.  I found out certain fruits that were considered acceptable, were on the list of things to avoid for his classmate.  After exchanging emails and researching a bit more, I suggested my gluten free vegan chocolate chip cookie with a few modifications.  Turns out, this recipe fit all her needs.
But would the all the non-allergy/FODMAP kids like it too?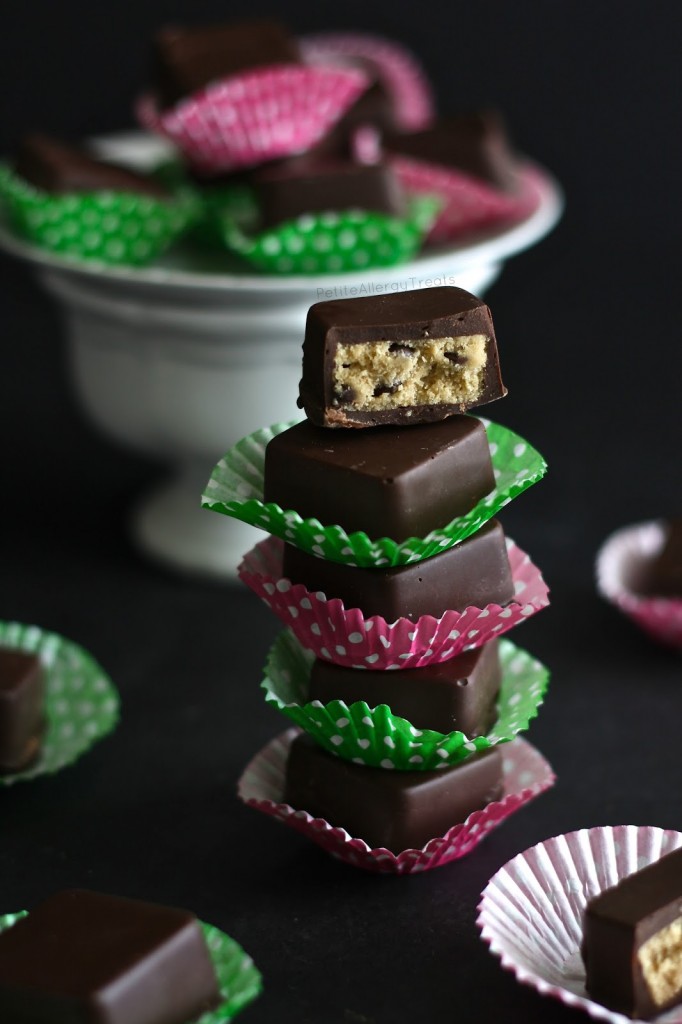 You betcha! #foodallergyfoodtastesgood!  Of course, who doesn't like cookie dough?!  Or really, chocolate covered cookie dough?
My son ran out after school and told me how much everyone loved them along with the teacher.  They won't stop talking about them.  And I can't blame them.  Chocolate chip cookie dough covered in chocolate is always a winner in my book.
What about you?  Do you follow the FODMAPs diet?
A special note should be mentioned that this treat was approved by a parent for a child following the FODMAPs diet but each child/person is different and it may not be suitable for everyone. See my disclaimer.

Chocolate Covered Cookie Dough (gluten free egg free Vegan)
Author:
Laura @ Petite Allergy Treats
Ingredients
¾ cup vegetable shortening (I use palm shortening)
1 cup sugar
1 T molasses
¼ cup + 2 TBSP water or dairy free milk
2 tsp vanilla extract
3½ bags Enjoy Life Chocolate chips (allergy friendly)
Instructions
Cream shortening and sugar until light and fluffy.  Add molasses, vanilla and liquid of choice.
Gradually mix in gluten free flour.  Fold 1 cup of chocolate chips.
Roll out dough into a large rectangle and cut into desired shapes and thickness. (If you are using a mold cut slightly smaller to fit in mold).  Place in refrigerator to chill and firm up.
Chocolate coating
In a double boiler, melt 1½ bags of chocolate chips.  Once melted removed from heat and add remaining chocolate chips.  Stir until chocolate is all melted and smooth.
Dip cookie dough into chocolate and use a fork to scoop and shake off excess chocolate.  Place on a parchment paper lined baking sheet to dry.  I used a rectangle shaped silicone mold and poured chocolate down first, then cookie dough and then more chocolate.  This provided that super smooth square shape.
Continue the process until finished.
Notes
: If you've never dipped chocolate before, be warned, it's messy and uses all of the chocolate listed.  You might even want to have an extra bag on hand.  Enjoy Life Chocolate is the only chocolate I use and is dairy free, soy free and made in a dedicated peanut/tree nut free facility.  I used a mold to provide that ultra smooth looking texture but I also took the time to temper the chocolate.  If you are not familiar with tempering, this is the article I referenced as quick
beginner's guide at Serious Eats
.
Follow me for the latest news!
Some other things you may like: