Bake up some Vegan Gluten Free Chocolate Chunk Protein Cookies for the next school treat!  Delicious gluten free chocolate chunk cookies packed with protein and taste you'd expect from peanut butter but  made completely peanut and tree nut free.  Annd these chocolate chip cookies are dairy free, egg free, soy free, sesame free and Vegan making these cookies super food allergy friendly!
Thank you to Enjoy Life Foods for sponsoring this post!  #LunchFreely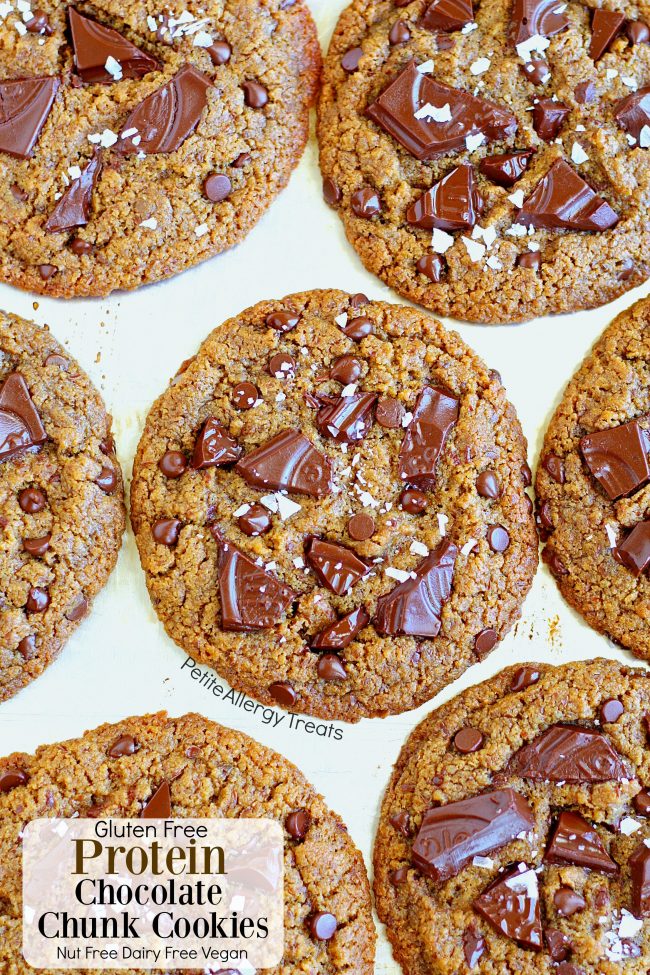 Can you believe school started?  I'm still a bit in denial.  The early wake up.  Packing lunches.  Driving for drop off and pickup.  Birthday treats.  It's the standard list of changes for school.  And I would be ok with those.  But this year is a whole new ball game.  Yes, this year it's DOUBLED.
That's right.
Mr. Naughty started school…He's the one I worry about the most.  Not that I don't worry about my older peanut allergy son, I still do.  It's just the level of worry is over 100 fold due to multiple food allergies instead of just 1.
The school year gets easier each year but more difficult at the same time.  As I mentioned above, this is the first year with 2 kids in school.  More daily work to keep the kiddos safe.  And stress, let's not forget daily stress.
Over the years I've learned some 'life hacks' for food allergies to save myself time and energy .  The easiest thing to help prepare for the week is to cook/bake/package things ONCE.  That way it's just grab-and-throw during the busy week. Yep.  You read that correctly.  I make lunch only once for the week.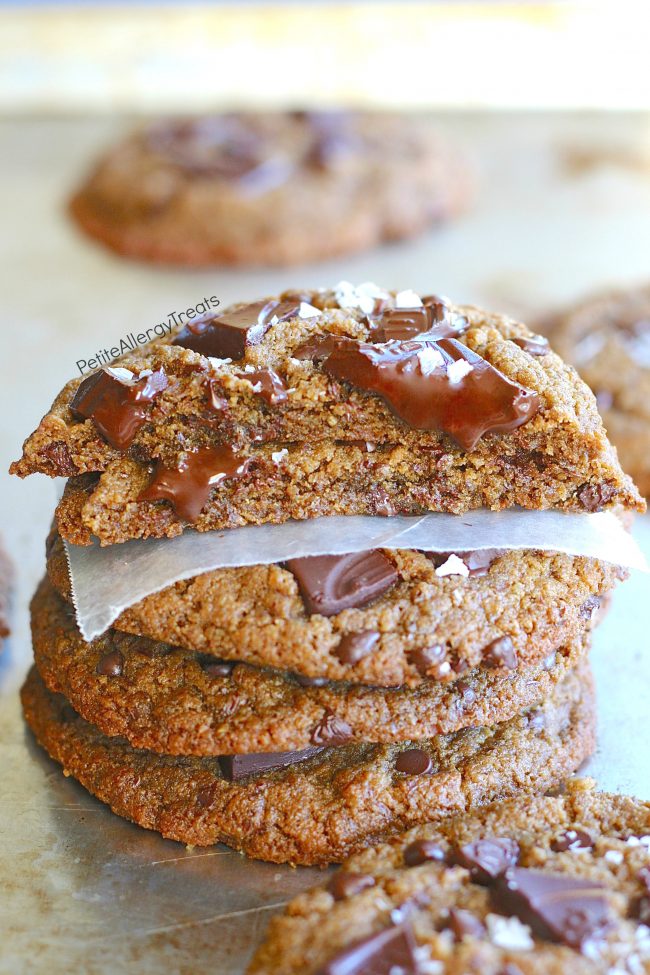 I usually prep and make 5 sandwiches for the week on Sunday evenings.  The kids don't appreciate fancy sandwiches (with lucious green lettuce or tomatoes) so I can freeze whatever I make.  It's usually a pumpkin butter and jelly pancake sandwich or gluten free quesadilla.  Like I said, nothing fancy.  It takes about 20-30 minutes of actively preparing for the week but it can save me at least an hour or more during the week.  Just grab a sandwich from the freezer, add some fruit, popcorn/chips and napkin.  School lunch is ready and packed in less than 5 minutes.  I probably should add I also divide snacks into bags for the week whenever possible (not fresh cut fruit) for easy grabs too.  Now if only I could only find a way to cook once a week and feed the family for 7 days too…
My school lunch system works pretty well most of the time.  The hiccups happen with unannounced special days or last minute birthdays pop up at school.  For these slightly frustrating days, I've already planned ahead.  Or at least I've tried.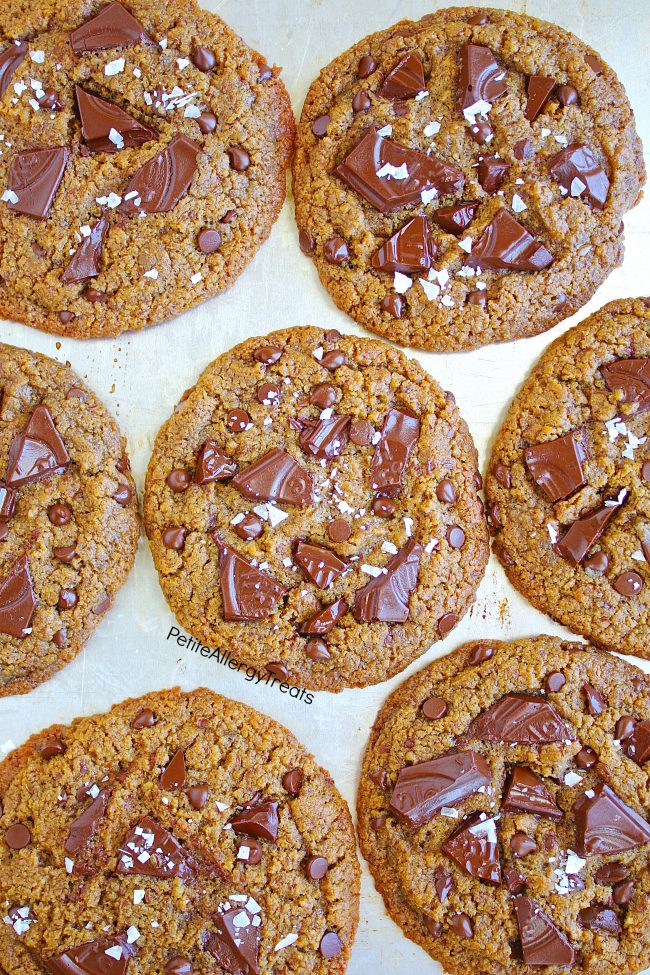 At the beginning of each school year,  I send a plastic container full of special safe treats to substitute unsafe treats shared at school.   In the past, I would pack individual bags of cookies, wrapped in plastic wrap and a ziplock in hopes of keeping fresh as long as possible.  I'd try to remember how long they've been there but you get busy… and forget.  I don't doubt they would be safe to eat, but not as fresh from the box.  Better than having nothing for you child.  You don't want you child the only one sitting without a special treat, right?
When I have the time I love creating food allergy treats like gluten free chocolate cake, gluten free vegan donuts, gluten free blueberry macaroons, and gluten free brownies to send for special days.  But life is busy for everyone even super allergy moms can't keep up with everything.  So when I'm busy or not feeling well, I have a secret I'm willing to share…
A secret that will change your food allergy ways of living.  Are you ready?
The big life saving secret is:
Individual pre-packaged Food Allergy Friendly Treats.  Or Grab & Go Packs from Enjoy Life Foods.
Now for those of you without multiple food allergies, you're probably thinking–What's the big deal?  There must be plenty of ready made snacks out there.  Truth be told, when you have more than 1 food allergy (or 15+ like us) convenient foods are eliminated as soon as we start reading the ingredient label.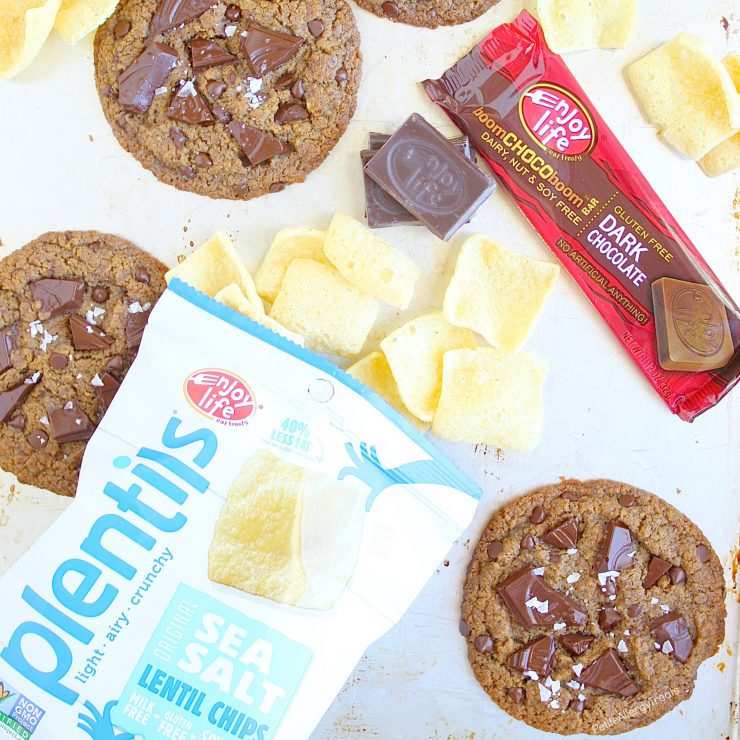 That's why I wanted to tell you  Enjoy Life Foods created smaller versions of our favorites snacks.  Think about that for a moment.  The same food allergy friendly snacks made on dedicated equipment and facilities free from the Top 8 Allergens… but for on-the-go-eating.  Always fresh.  Always ready.  Always safe.  Mind blown.  And go figure they appropriately named them  Grab & Go Packs!  Food allergy life just got a little more convenient thanks to these lifesavers.
Find the sweet varieties of gluten free egg free dairy free vegan, chocolate chip cookies, decadent bars, chewy bars and Choco Boom Chocolate Bars.  If you're looking for salty go for all the Plentils Chips.  Want sweet and salty?  The peanut/ tree nut free version of trail mixes, Beach Bash trail mix and Mountain Mambo are ready to go.  There are countless possible combinations for lunches or special treats.   Love and wish these were around years ago.  So many safe options that look and taste great.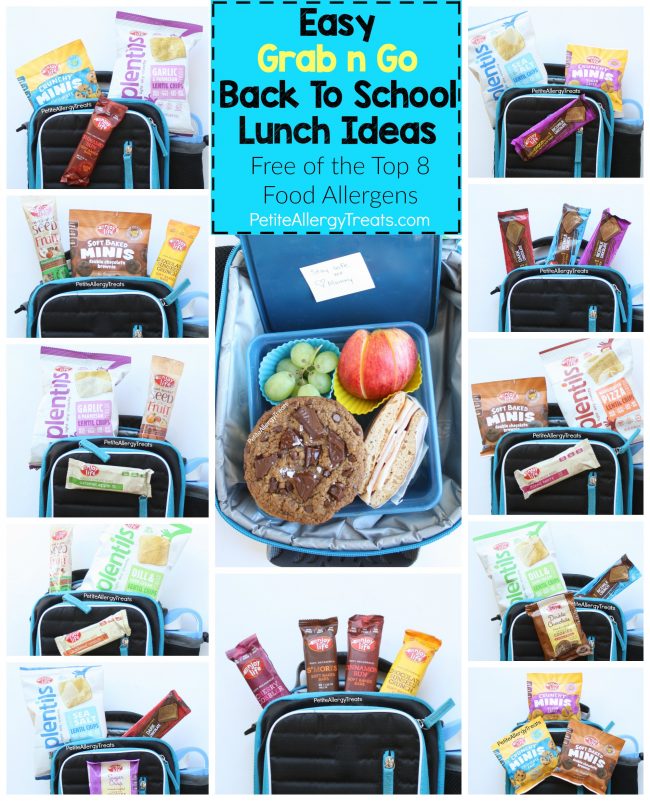 While on the go-snacks rule, there's something extra special about homemade food allergy friendly treats.  Homemade takes more time but has a different type of love involved. You can taste the difference, right?
And you'll surely taste the love with these these gluten free chocolate chunk protein cookies!  It's my own version of a gluten free chocolate chip peanut butter cookie only minus the peanut butter…and it's gluten free… and dairy free and most of the chocolate chips… But let's be clear.  These cookies are no joke.  Bake them and put them away.  Do not even think you can eat just one.  Not possible.  I taste tested only 4.  I mean 5.  Ok, fine the whole pan. #sorrynotsorry  Creating recipes can be difficult.  All those fresh gooey cookies begging to be eaten.  It's tough job… which I am more than happy to have. 😀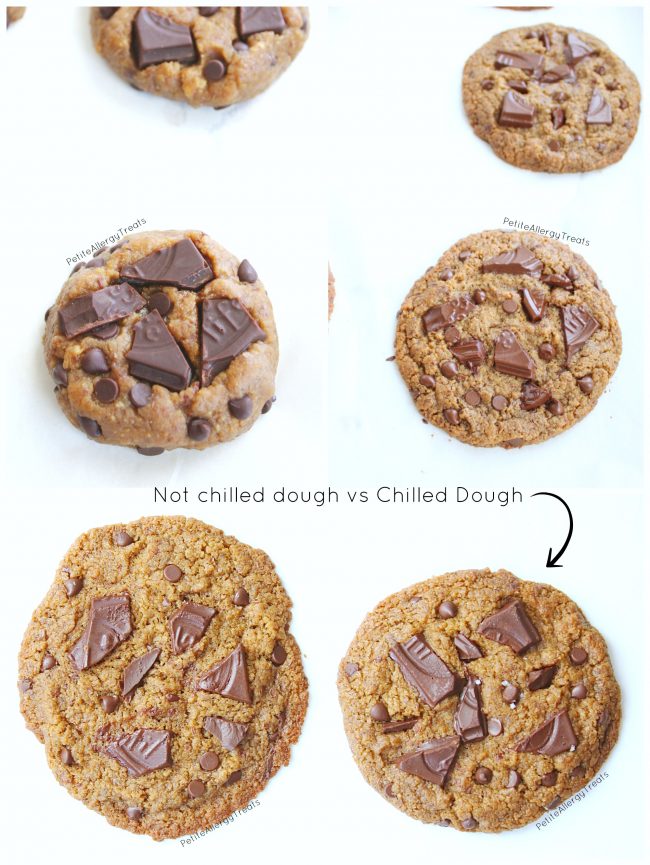 But really.  You've gotta try these vegan gluten free chocolate chunk protein cookies.
They are just like bakery cookies if you sucked out all the wheat, eggs, dairy, nuts and soy. Big. Crisp on the outside. Chewy on the inside. Loaded with dairy free soy free chocolate chunks.  I've always wanted bigger thicker chocolate chunks like the bakeries, so I took the Enjoy Life Dark Chocolate Choco Boom Bar and chopped them up.  Sweet and salty have always been great together so then I had this idea to grab the Plentil Sea Salt chips and combine them with dark rich chocolate.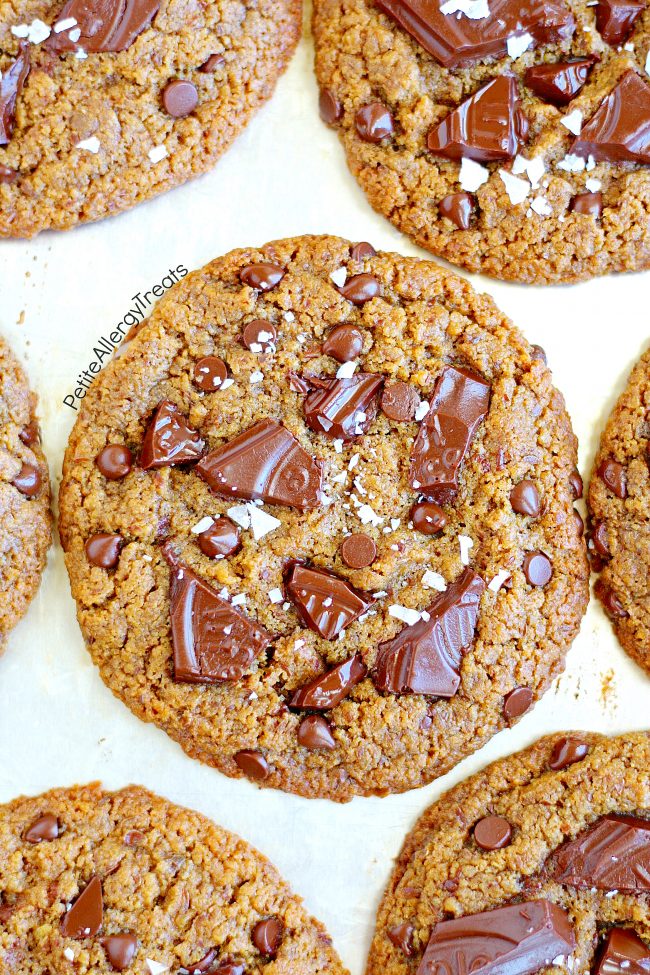 Cookies are cookies, not often adding any nutritional value.  Annd they're the first thing to go in a kid's lunch.  So why not add some nutritional value with the protein kids need.  This recipe for gluten free chocolate chunk protein cookies are packed full of 44 grams of protein, or approximately 4 grams each.
Yes, there is regular sugar used.  Yes, chocolate is also added.  Just like other sugary birthday treats non-allergy kids enjoy once in a while.  You might be tempted to reduce some sugar or add extra seed butter (I often reduce sugars whenever possible). And you could in this recipe.  But be fair warned…The amount of sugar and seed butter are in *perfect* balance to hold things together.  Traditional wheat based peanut butter cookies tend to be a bit crumbly from the nature of the nut butter.  Peanut butter soaks up all available moisture.  This is what causes that dry your mouth out sticky paste to form in your mouth.  Same deal with nut free seed butters.  Since these cookies gluten free AND egg free, you'll need all the binding help you can get.
Go ahead and bake these for that special classroom treat to share or baking and freeze for when you need want one!

Gluten Free Chocolate Chunk Protein Cookies
Author:
Laura @ Petite Allergy Treats
Ingredients
⅔ cup crushed lightly packed Sea Salt Plentils (approximately 3 1 oz bags)
¼ cup sorghum flour
¼ cup tapioca starch
¼ cup ground flaxseed
4 Tbsp non-dairy milk
½ cup sunflower seed or pumpkin seed butter
5 Tbsp palm shortening
½ cup + 2 Tbsp white sugar
1¼ tsp molasses
½ tsp baking soda
3½ tsp guar gum
½ tsp vanilla
½ tsp salt
optional- sea salt garnish
Instructions
Combine ground flaxseed and non-dairy milk. Mix until combined. Add sugar slowly and stir to dissolve. Place in refrigerator for 10-5 minutes until it thickens into a gel consistency.
Pour flaxseed mixture into a large mixing bowl and add all remaining ingredients except seed butter and chocolates. Mix on high until fully incorporated, scraping down the sides of the bowl.
Add remaining seed butter and mix well. (Dough will become thicker and seem dry but oily)
Fold in mini chocolate chips and place dough refrigerator for 30 minutes or until easy to handle.
Break or chop chocolate bars into smaller bite size pieces.
Scoop and shape 2 tbsp of dough into balls and place on a cookie sheet 2 inches apart. Add chunks of chocolate and slightly flatten dough balls. Not all chocolate will fit, keep reserved for after baking. Repeat with all dough*
Bake at 350 for 12-13 minutes or when the center is still slightly soft. Remove cookies from oven.
Immediately add more remaining chocolate chunks to cookies and allow cookies to fully cool before moving.
Garnish with sea salt.
Eat. Share. Repeat.
Notes
Nut and seed butters absorb lots of moisture and can cause the dough to appear to be dry yet oily. This texture is normal due to the natural oils released from the seed butter. The dough will be too sticky when warm and therefore chilling is needed. You can bake the cookies immediately (can't wait, right?) but it will affect the overall appearance and thickness. Keep the unused dough chilled while shaping.

Green is still good...If you end up using sunflower butter it may or may not, turn slightly greenish after being baked or before if you do not bake them right away. It's from the reaction of the baking soda and natural chlorophyll in sunflower seeds. Still tastes normal. My dough turned green after sitting a day unbaked in the refrigerator.
Disclosure: This post has been sponsored by Enjoy Life Foods.  All opinions are mine alone.  Thank you for allowing me to continue to working with brands that meet our food allergy needs!  For more about Enjoy Life Foods be sure to follow them for the latest news on  Facebook and Twitter
Follow me for the latest news!
Some other things you may like: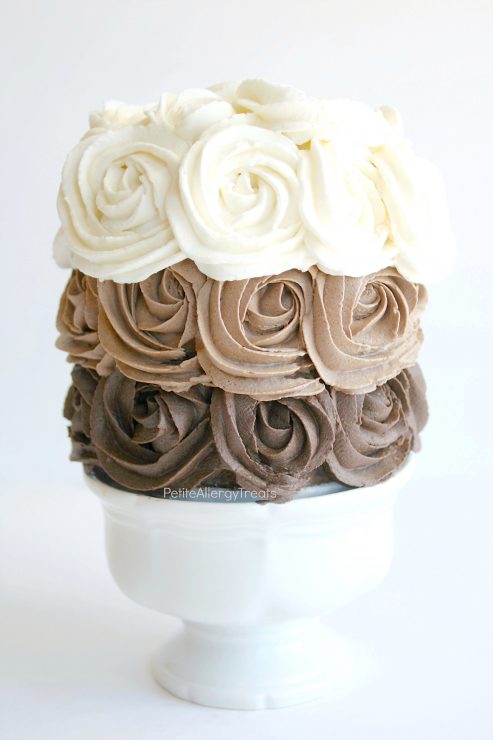 Gluten Free Vegan Chocolate Rose Cake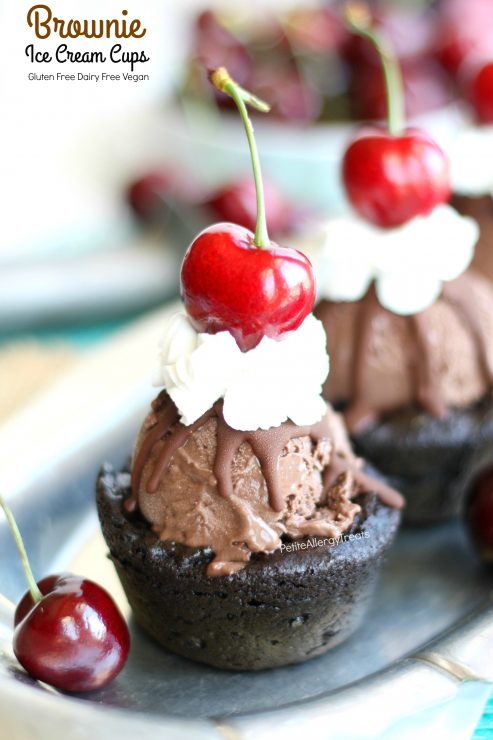 Gluten Free Vegan Brownie Ice Cream Cups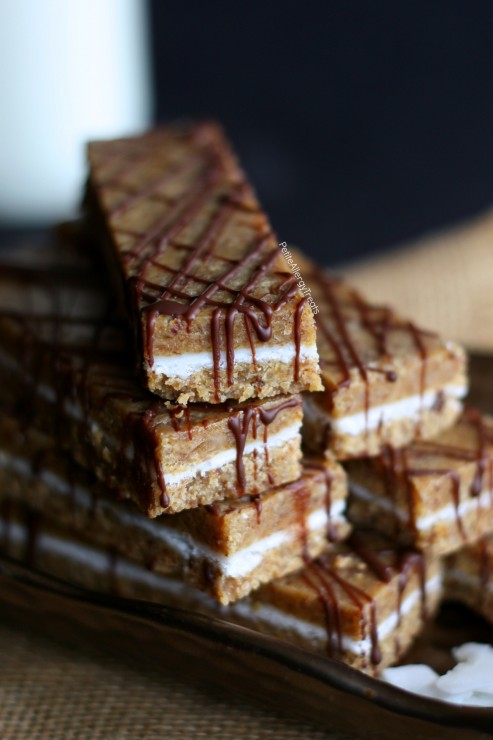 Homemade Nut Free 4 Ingredient Protein Energy Bars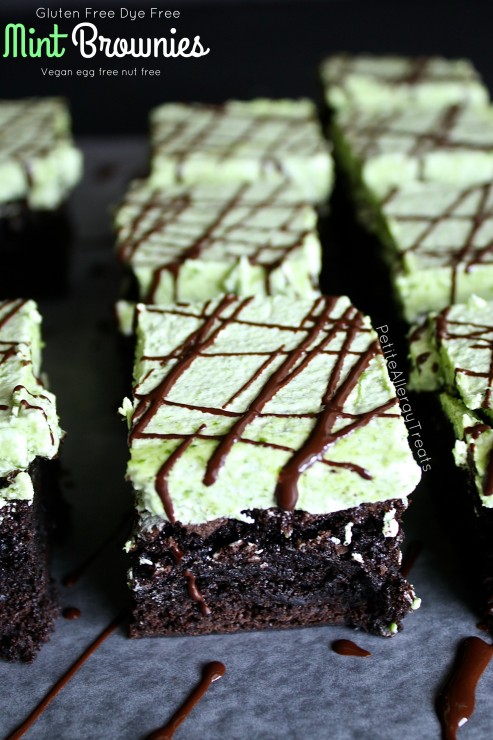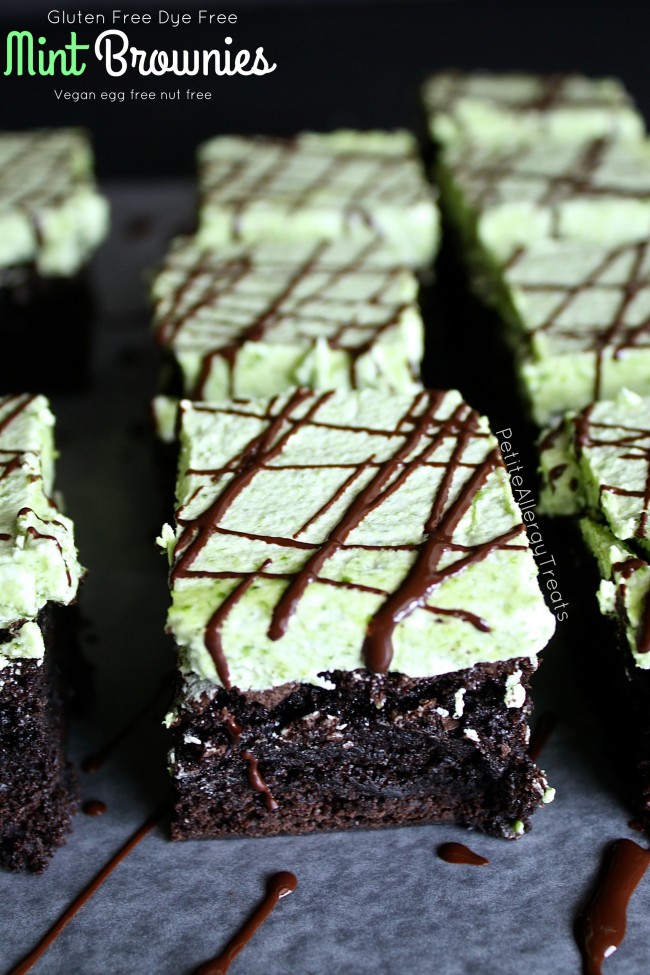 Mint Chocolate Brownies (gluten free Vegan)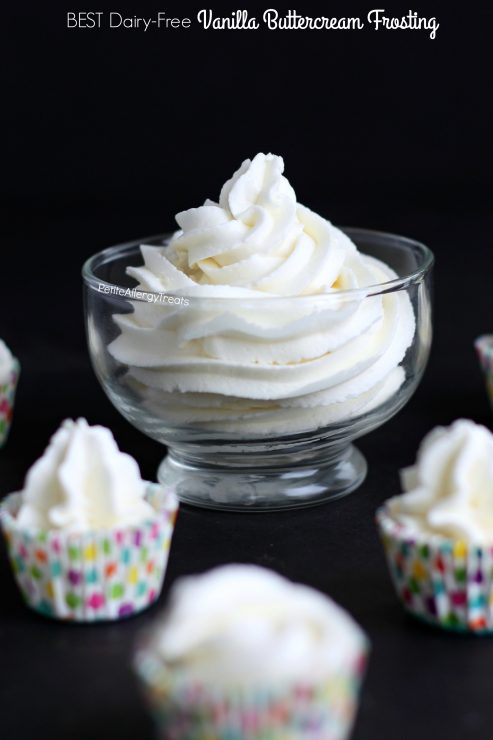 Best Easy Dairy Free Buttercream Vanilla Frosting- Vegan