Your family is going to love these healthy Gluten Free Caramel Apple Pie Bars (vegan egg free and nut free).  These special gluten free apple pie bars are packed with 2 full zucchinis and NO added refined sugar but still carry that sweet caramel flavor from dates.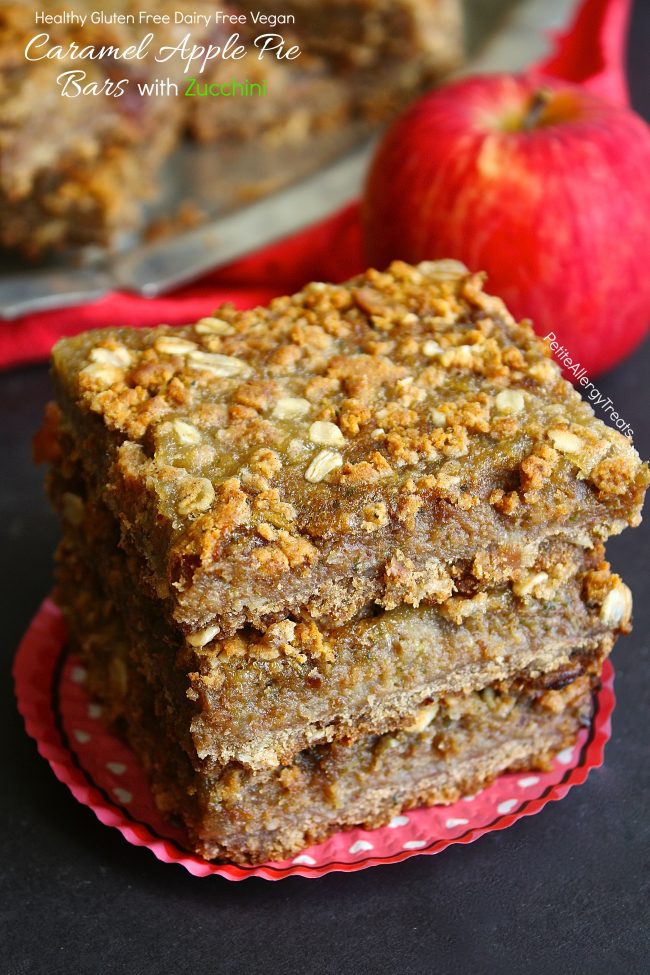 Warm gluten free apple pie is the ultimate comfort food.  Let's make things comfortable but also healthier by adding some zucchini to our apple pie.  Yes.  You read that correctly.  I get these crazy ideas when I have too many zucchini around.  And if we're having delicious apple pie, let's add some caramel!  Dairy-free caramel that is.  Dates are nature's version of ready made caramel you can pluck from a tree.  Really.  If you've never tried dates before, try it!  So simple.  So flavourful and sweet. So healthy.
You might be thinking, this looks crazy.  Dates? Zucchini?  Scary. Yes. But come on, try it!  Trying new foods a little scary and just plain weird.  Being slightly scared is normal and when dealing with food allergies you can multiply this feeling 10 fold.  I think trying anything new, not just food, makes us uncomfortable and can slightly stress you out.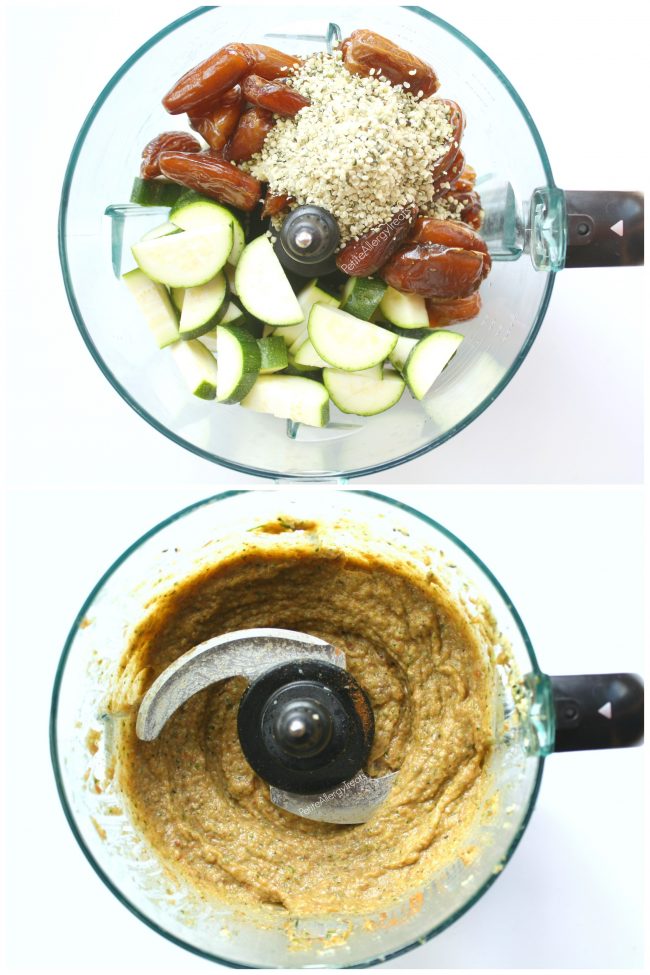 I should know first hand.  I recently gather enough courage decided I was going try a new sport-tennis.  And I really do mean try to play tennis…. as in the first time ever.  Let me make a few things clear…  I would consider myself somewhat athletic.  Not a great athlete by any means but for my size, I'm usually coordinated enough.  (Size of a 12 year, remember?)  And I was a gymnast for almost 15 years.  BUT.  I am not coordinated with moving targets.  I just can't adjust.  It's something to do with being right hand dominate with left eye dominate.  It messes with depth perception.  It takes that extra fraction of a second to figure out where the ball is going to bounce.  In that fraction, I'll come to realize the ball is:  too close/far away/or going to smash my face.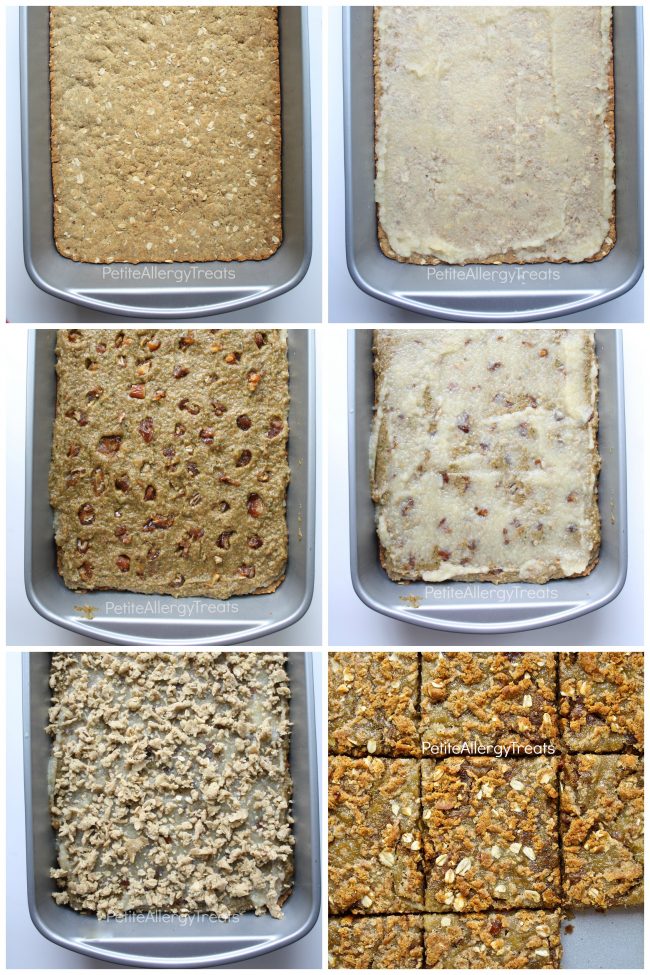 And so I still wanted try tennis.  My sons really got into the sport over Summer and my older one wants to play with me.  Ok.  You'll do anything for your kids, right? Not that I'm looking to embarrass myself (which of course I did) but more to understand what my kids experience during their lessons.  It's that scared adrenaline rush just standing in front of new people and a new situation.  Something our kids do on a daily basis at school or in sports.  It's tough.  We don't give our children enough credit for all they do.  On a day to day basis, kids are taught new skills and expected to 'perform' well in front of their peers.  Or be laughed at.  (But hopefully not, right?)  They experience that 'pass or fail' moment whenever a teacher calls on them.  Or in gym class playing a new game teams.  Makes me a little grateful not to be in grade school again.
But back to my first tennis lesson….
I met about 10 different women who all appeared to already know each other.  And clearly have played before.  One other girl spoke up and comforted me by telling me this was her first lesson too.  *sigh* Relief.  I'm pretty sure she felt the same way I did.  We shared the court together and just tried out best.  I silently prayed: please let me hit the ball, please let me hit the ball… I considered just hitting the ball to be awesome.
And we were so AWESOME.
As in awesomely bad.
Yet still awesome for showing up and trying.  Everyone (including the instructor) was so kind and positive.  They clearly remembered what it was like to start learning tennis.  I completely whiffed a few balls but didn't feel bad.  The other women did too.  They said it happens to everyone.  The balls I hit made it over the net… and sometimes to the wall… and the ceiling.  Oh, well.  At least I hit it, right? 😀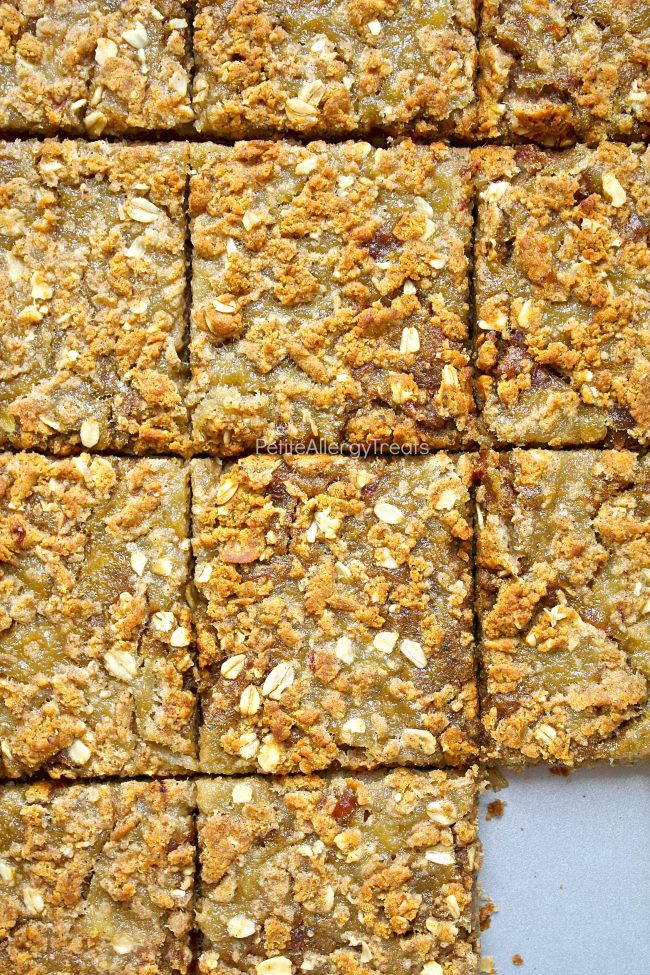 If you can't succeed the first time, try, try again.  So true with life.  And includes gluten free allergy friendly baking and tennis.  I think I'll go to tennis again next week and maybe I'll bring these gluten free caramel apple pie bars.  These had a new secret ingredient zucchini.  I was happy to include/hide a whopping 2 full zucchinis within the caramel date paste.  I even could mask the hemp flavor a bit with some cinnamon.
And there you have it, a brand new vegan healthy gluten free caramel apple pie bar 4 year olds will eat while loaded with fiber, zucchini, whole grains and NO added refined sugar.  Now it's your turn to try something new!

Gluten Free Caramel Apple Pie Bars
Author:
Laura @ Petite Allergy Treats
Ingredients
Crust
½ cup gluten free rolled oats
6 Tbsp dairy free milk
½ cup filling (found below)
½ cup canola oil
4 tsp guar or xanthan gum
1 tsp baking soda
1 tsp cinnamon
¼ tsp salt
Filling
2 small zucchini
1¾ cups pitted delet noor dates
¼ cup hemp seed
1 cup applesauce
1 tsp vanilla
1½ tsp cinnamon
¼ tsp salt
Instructions
Add ¼ cup dates into high powdered food processor and pulse to coarsely chop. Set aside for later use.
In the same food processor, combine washed and coarsely chopped zucchini with remaining 1½ dates, hemp seeds, cinnamon, salt and blend until smooth. Occasionally scrap down sides.
Reserve ½ cup to use for topping.
Topping
Combine all dry ingredients in a large bowl and mix well. Add ½ cup of filling, oil and dairy free milk and mix until a crumbly dough forms. Reserve ½ cup of dough top layer.
Press dough evenly into a greased 13x9 inch pan.
Bake at 350 for 8-10 minutes or until crust starts to brown on the edges.
Remove from oven and layer with ½ cup applesauce, remaining filling, coarsely chopped dates and another ½ cup of applesauce. Evenly sprinkle bits of reserved dough for the top crust.
Bake for 25-30 minutes or until top is golden brown and center dry to the touch.
Refrigerate any leftovers or freeze.
Notes
If you don't need to be gluten free, feel free to use regular wheat flour and omit the gum.
Follow me for the latest news!
Some other thing you  may like: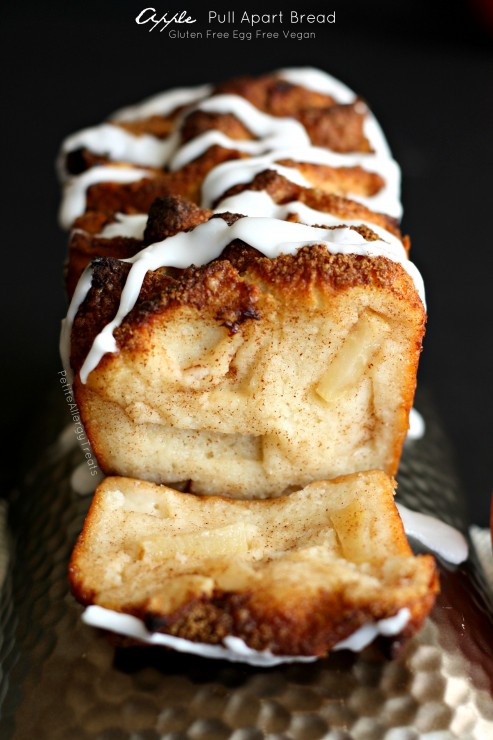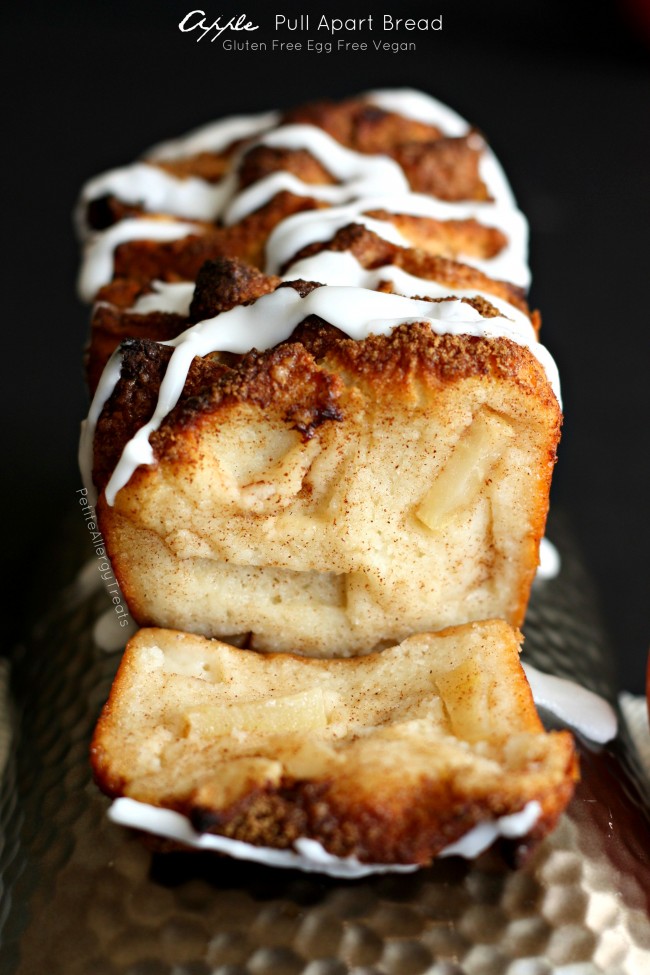 Apple Pull Apart Bread (Gluten Free Vegan)– egg free dairy free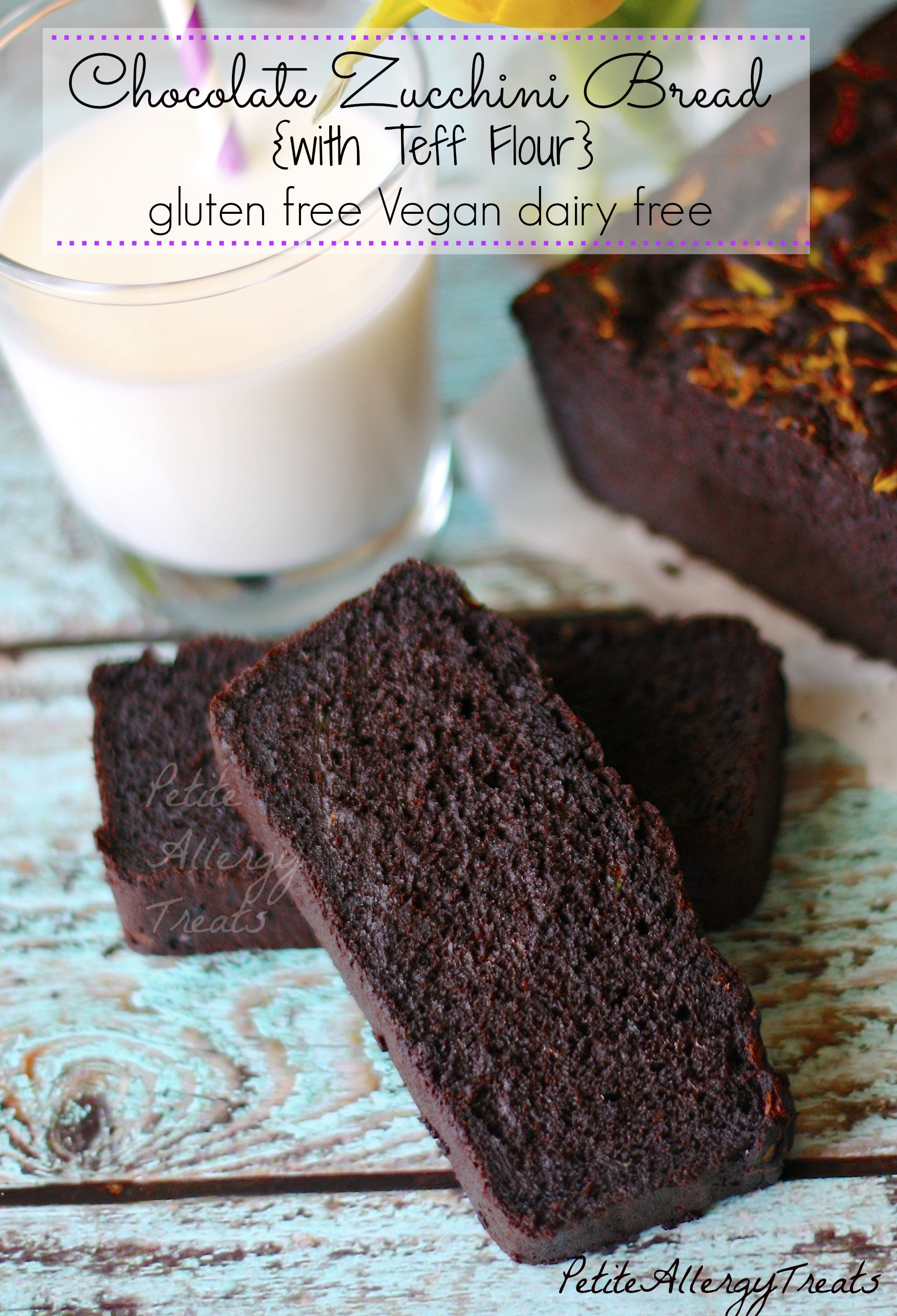 The Original Gluten Free Vegan Chocolate Zucchini Bread with Teff Flour– vegan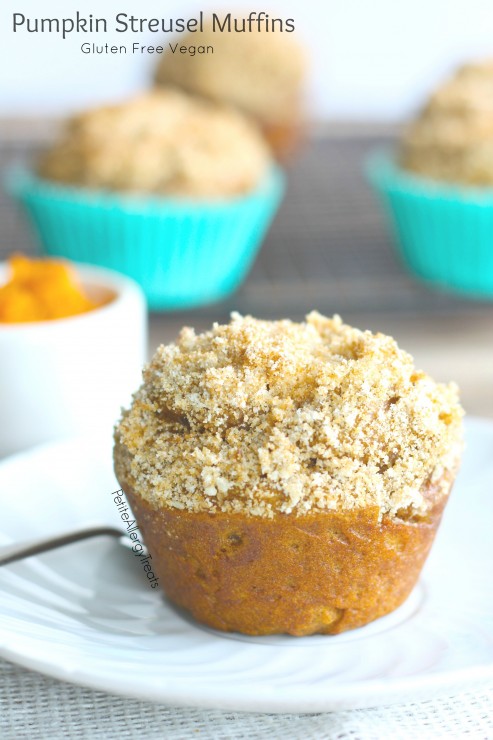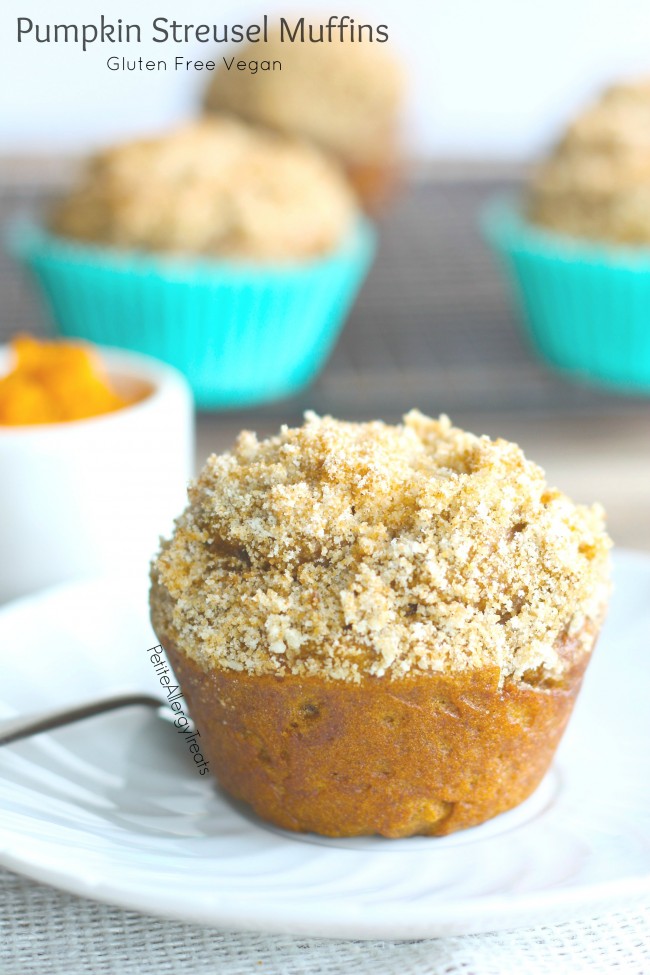 Pumpkin Streusel Muffins (gluten free Vegan)– dairy free egg free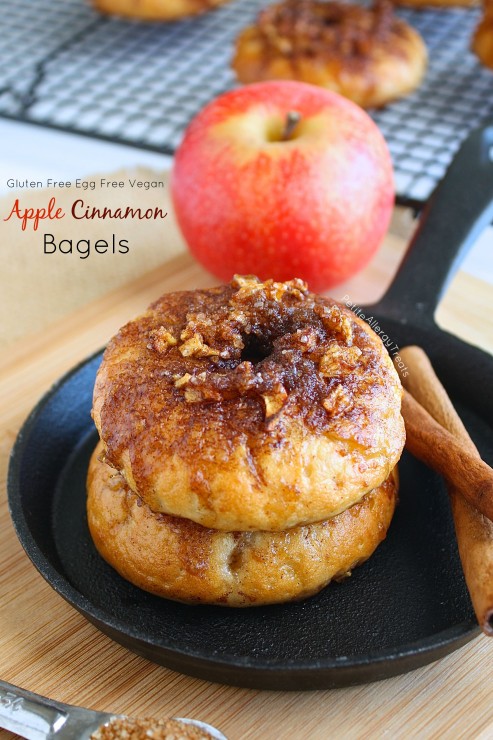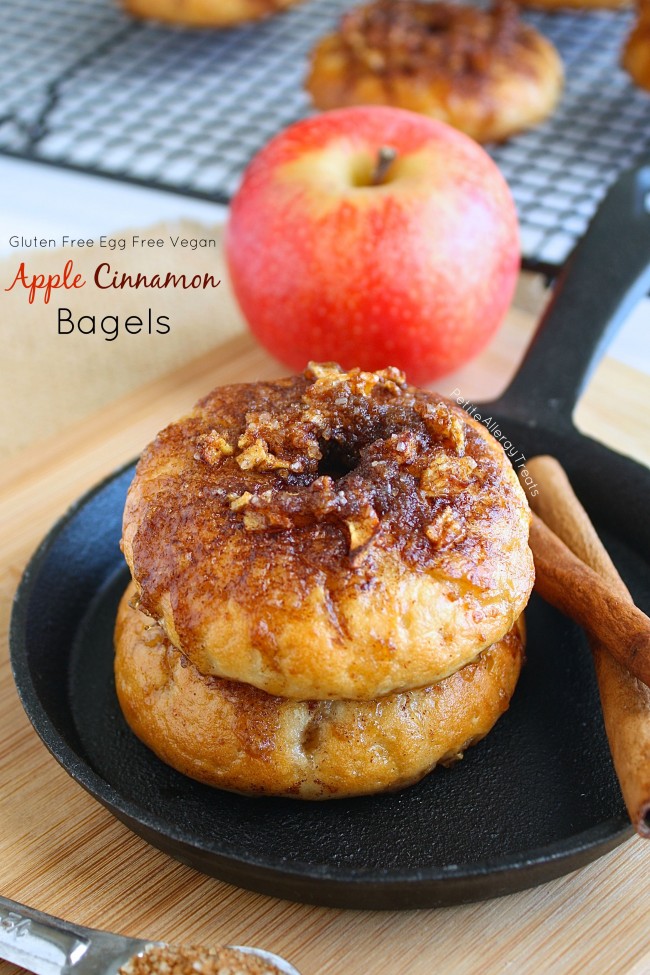 Gluten Free Cinnamon Apple Bagels (Vegan Egg Free)– dairy free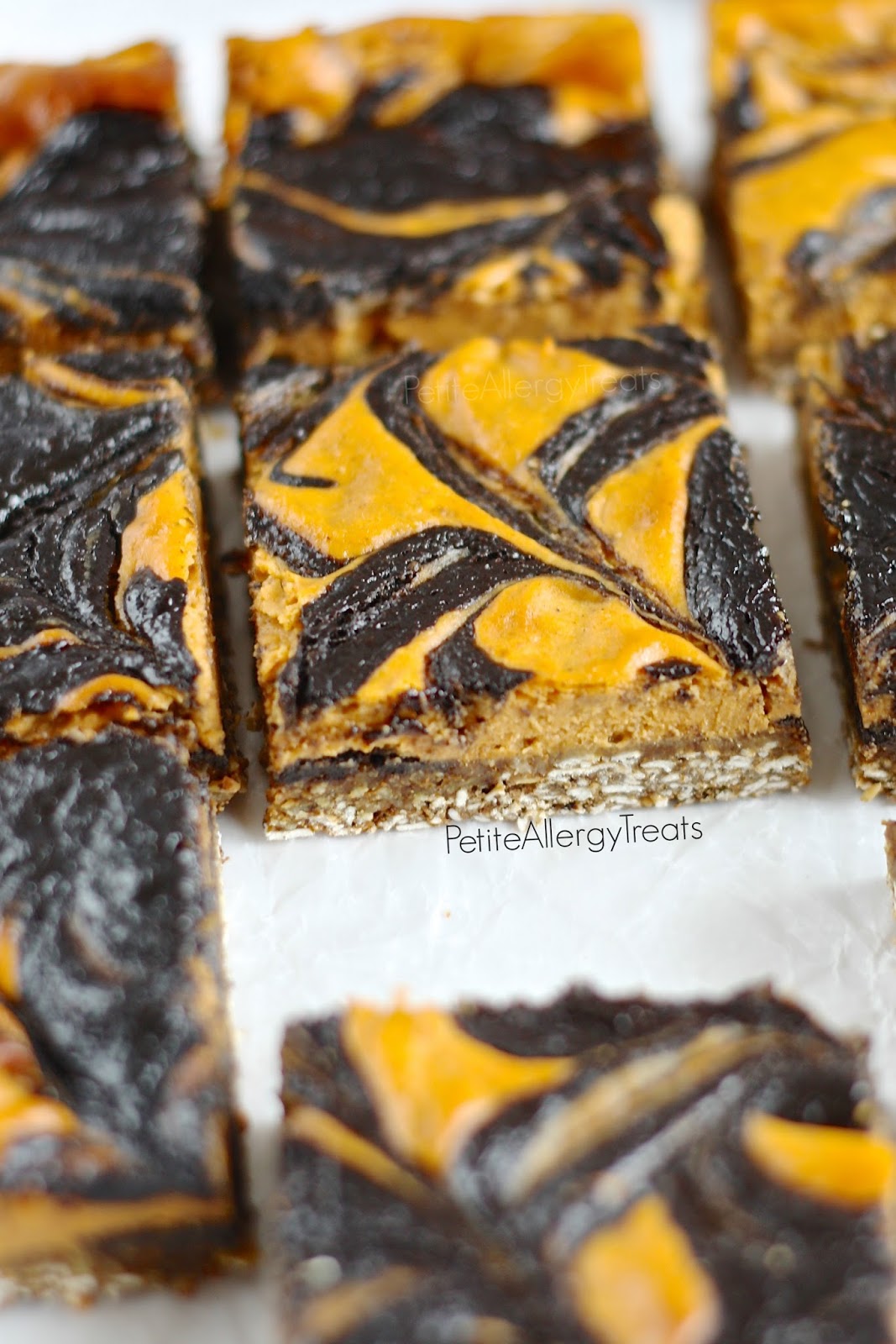 Pumpkin Nutella Cheesecake Bars (egg free nut free gluten free)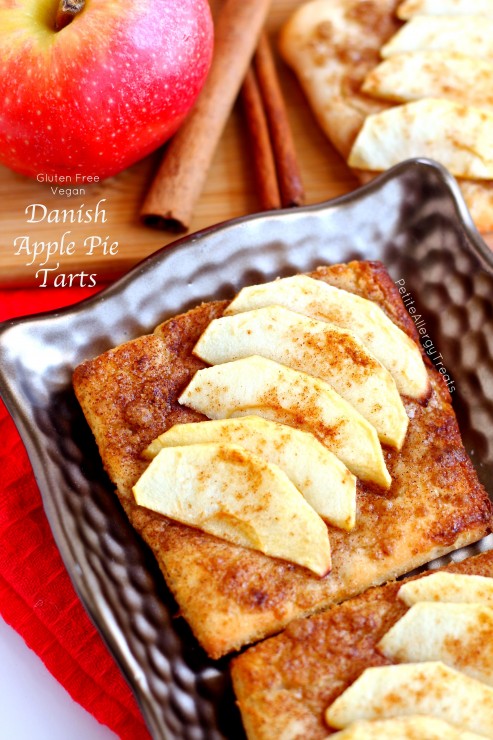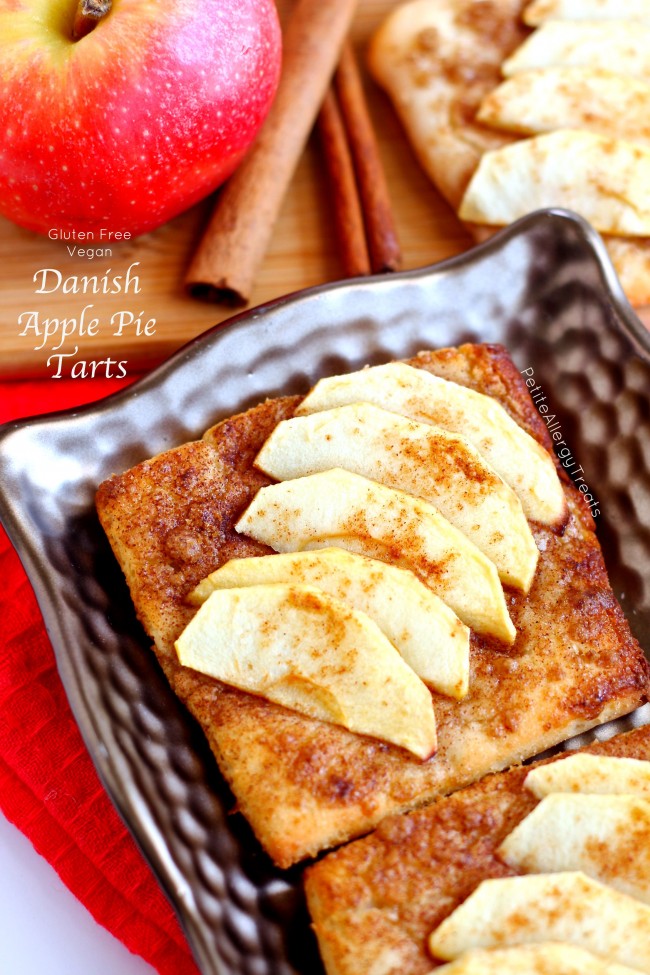 Gluten Free Danish Apple Pie Tart– vegan dairy free