These Pumpkin Nutella Cheesecake Bars so rich and creamy.  They are also egg free, nut
free and gluten free.  I used my own nut-free nutella to create a safe treat.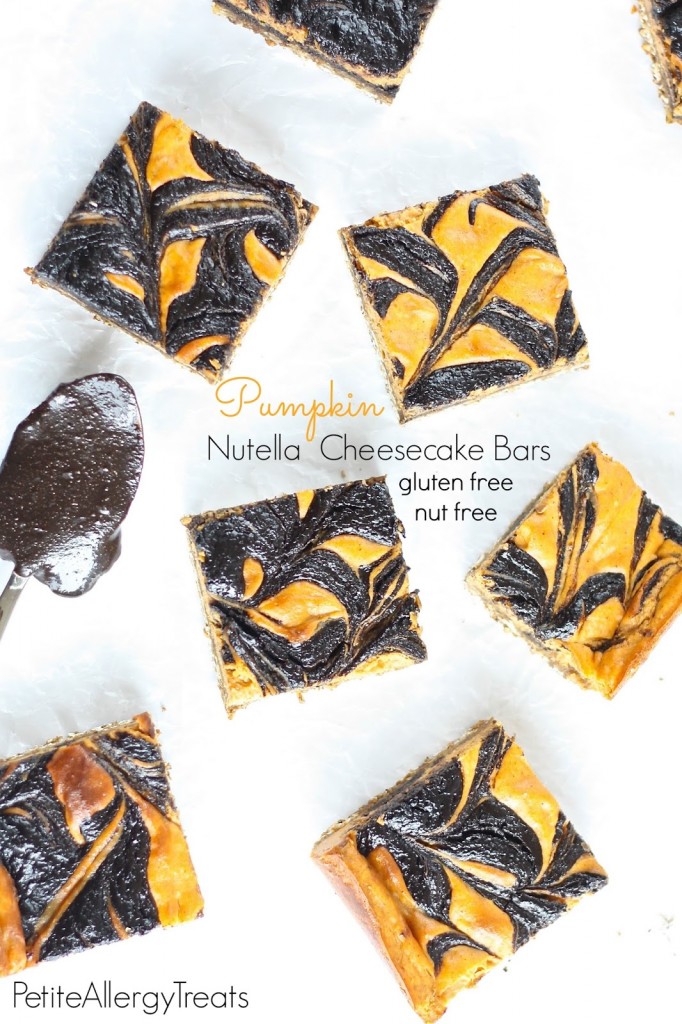 Time is counting down for my first half marathon.  LOL…I still can't believe I'm going to
do it.  #crazylady  I'm excited and scared all at the same time.  The weather's being a little crazy
at the moment being hot and humid in the 80's last week when it suddenly dropped to a high of
52 degrees.  Talk about a shock to the system.  The predicted forecast for this weekend is a
high 74 with an 80% chance of rain!! Oh well…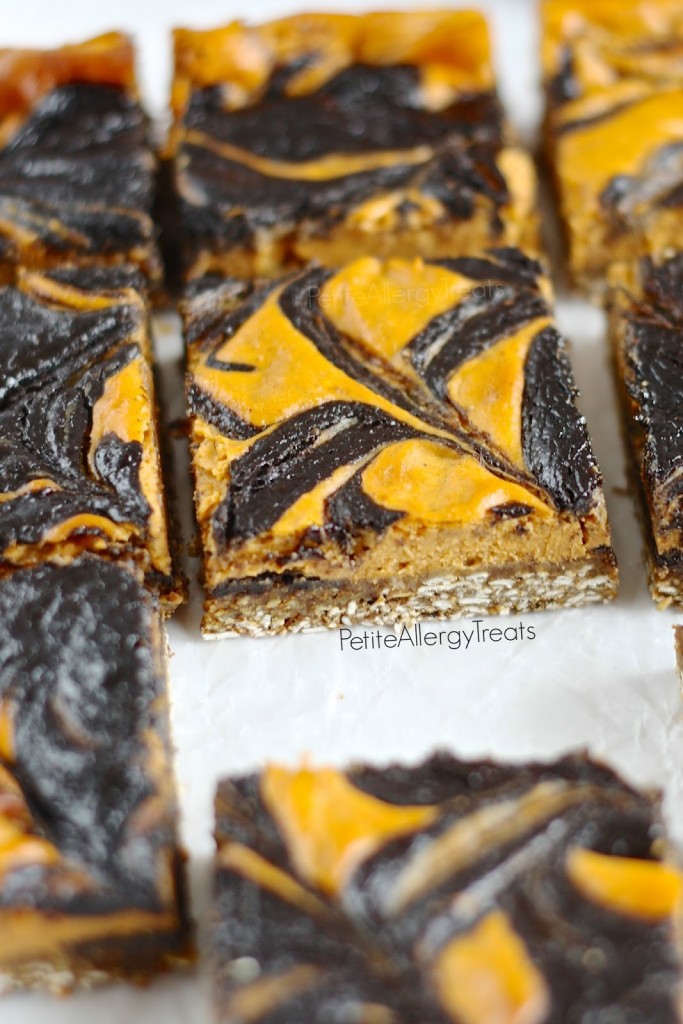 But now, I'm completely confused as how I should dress.  It's cold enough in the morning for
pants, a long shirt and mittens.  Have any of you completed a marathon or long distance run?
I'd love to hear some last minute advice or tricks.  As the event comes closer, I'm freaking out…
it's the small little details I tend to think about leading into new territory. #fearoftheunknown.
Running became one of those challenges I've decided to give myself.  I barely consider myself  a 
runner, given the fact that I don't really enjoy it and I haven't been out much this year.
So why the heck am I running?
Good question.
It all started 6 years ago after I had Sir.  I was
so overwhelmed with being a new mom.  I was also completely stressed out and overweight (a
good 30 pounds) that I decided to do something about it.   This was when the 2014 Winter
Olympics started.  I drew inspiration from how strong all the athletes were.  They had complete
dedication year round to achieve the level of success of the Olympics.  I decided right then and
there, I would run my first 5K.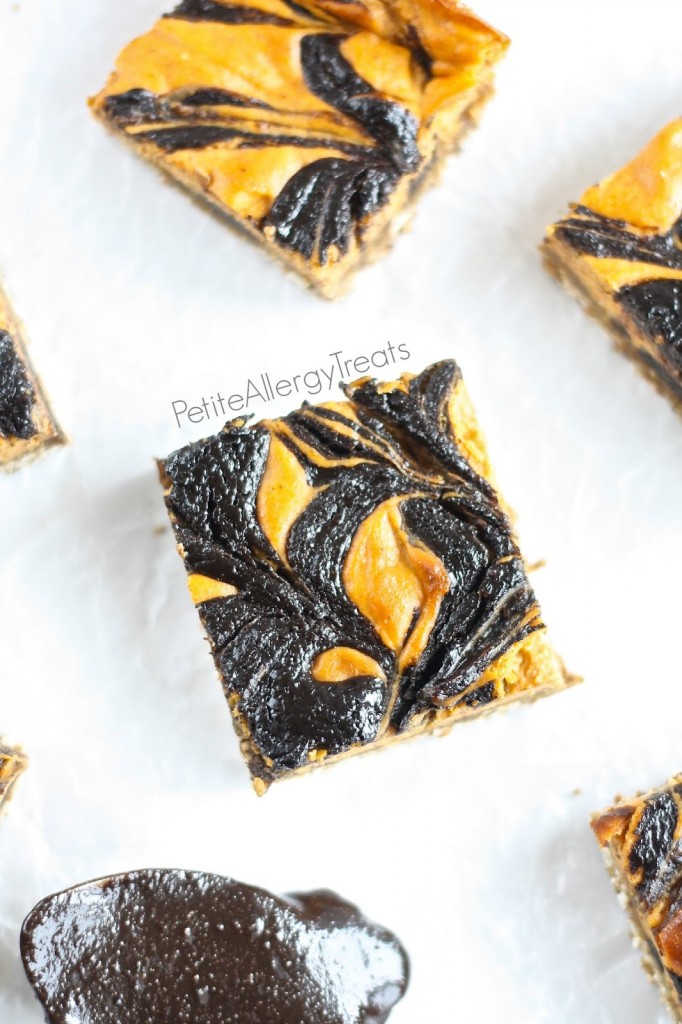 And I did.  I don't have a history of running but I was a gymnast.  Gymnastics and running
are so different.  Short bursts of energy vs long aerobic runs were very hard to adjust to.
Gymnastics taught me to be competitive and achieve goals.   A great part of running was being
able to achieve a goal over several weeks, it made me feel empowered.  And I felt strong.
This year I decided to test myself again.  I've been able to run on the elliptical easily for 8
miles and usually would run 3 miles outside.  Why not try running 8 miles for real, outside?  And
I did it, without too much pain either.  So then I pushed for 10 miles.  And then just to be sure,
I did 10 miles again.  It made me think maybe I could really finished half marathon.  This will
be the ultimate physical challenge for me.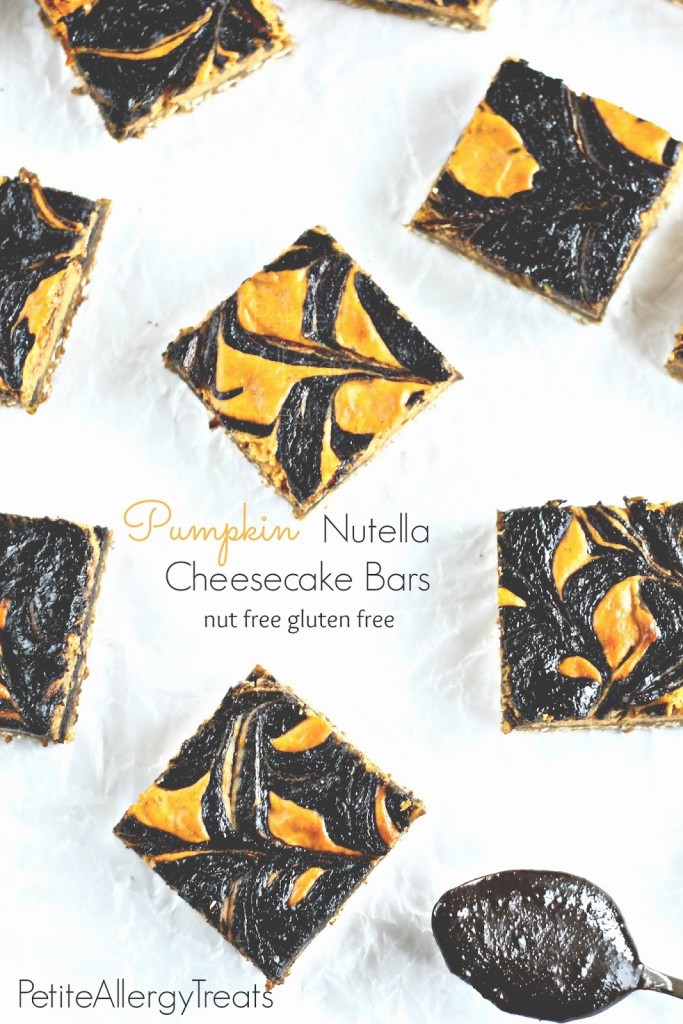 These pumpkin bars are my latest and greatest baking challenge.  I mentioned before we can
tolerate dairy.  I've attempted eggless cheesecake a few times only to be disappointed This is
a very loose (and a little healthier) version of the Cheesecake Factory's pumpkin cheese cake.
I only tasted a sample once but I swear I can still taste it.  This version is egg free and uses the
nut free nutella. Follow me for up to date information and see the newest things I'm creating.
Filling
1 cup pumpkin puree
8 oz cream cheese
1/4 cup maple syrup
1/3 cup nut free nutella
CRUST
1 cup GF rolled oats
1/2 cup GF oat flour
10 prunes or dates
2 T water
Directions
Crust: In a food processor pulse chop  rolled oat until slightly broken.  Set aside
Without cleaning processor add prunes and water and puree until smooth.   Mixture will be thick.
In a separate bowl mix prunes and flour.
Press into an 8×8 pan.
Bake for 5 minutes.
Filling: Soften cream cheese and blend with pumpkin puree and maple syrup.
Pour onto crust.
Drop spoonfuls of nut free nutella on top.  Drag a knife through to make swirls.
Bake for 25 minutes.  Allow to cool completely before cutting.
Some other things you may like: