Hooray for gluten free Vegan Blueberry Coconut Muffins! These are great for the morning
or anytime and they are also: peanut free, soy free and dairy free. (Almost tree nut free
*
See
notes below)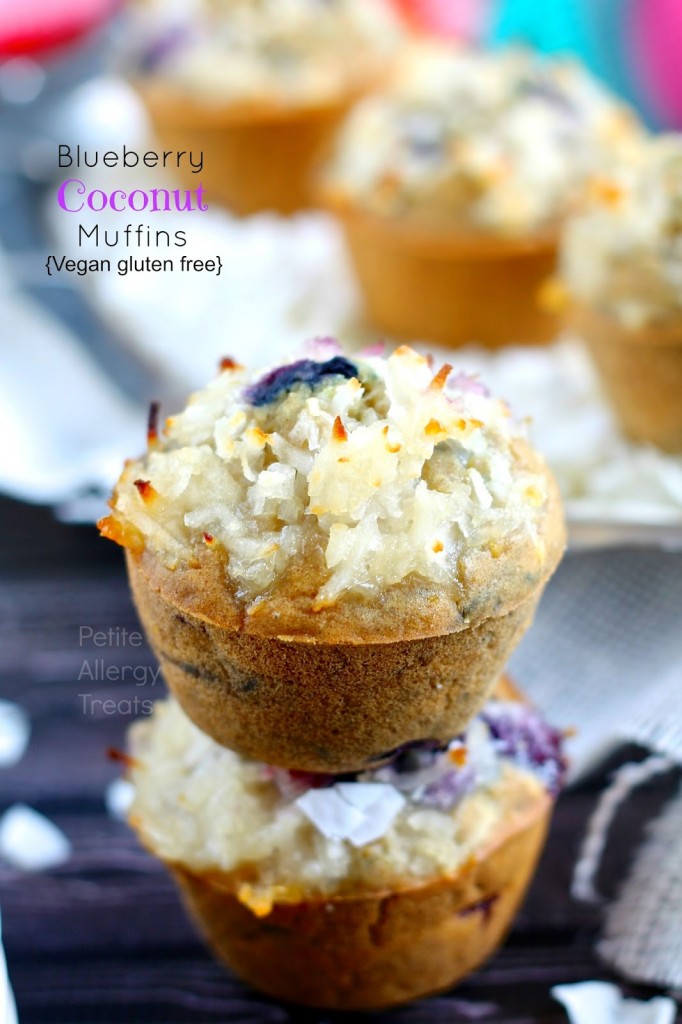 And I'm sure you've read the title and you can figure it out our great news, but I just want to scream it tothe world:
WE PASSED OUR COCONUT CHALLENGE!!!!
Just a tad exciting. This has been one of the biggest allergy breakthroughs yet.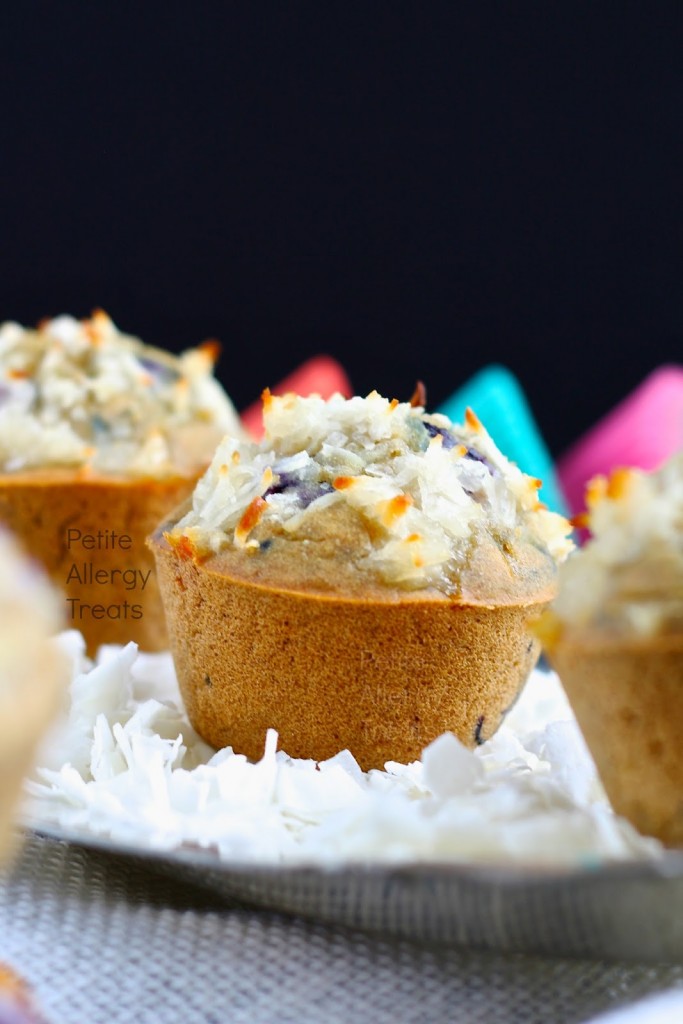 Not just because I love anything coconut and really want to use more for healthy benefits.

Not because coconut oil is one of the best oils for cooking at high heat.

And it's not because I've discovered the delicious roasted coconut chips at Trader Joe's.
(so, so good if you can find them).
The main reason is coconut is in everything. If you're not managing food allergies, it's a bit
hard to wrap your head around this… Food was by far the easier way to avoid coconut. But
coconut is in lotions, shampoos, lipsticks, makeups and sunscreens. This was
one of those unavoidable allergens since I could not find a coconut-less shampoo or sunscreen.
(There are so many obscure derivatives of coconut.)
It made me nervous using any new products (hoping that no reaction occurred). Once you
apply a lotion, the oil is difficult to take off. So basically, we try a brand and watch. Thankfully,
no reactions have occurred and then it becomes our brand.
I am so happy to cross this huge allergen off our list and move forward with tackling others
next. And what better to celebrate than a classic Blueberry Muffin with some healthy coconut?
Just to warn ya, I might get little crazy with coconut recipes. (Don't worry I still have plenty
of my other obsession, pumpkin too) 🙂
Gluten Free Vegan Blueberry Coconut Muffins
Author: Laura @PetiteAllergyTreats
Ingredients
Bake at 350 for 18 minutes
3 cups gluten free hybrid mix
1 3/4 cup coconut milk
1 cup applesauce
1 cup blueberries
1/2 cup maple syrup
1 1/2 tsp baking powder
1/2 tsp guar gum
oil for greasing muffin tin
1/2 cup shredded sweeten coconut
1-2 tsp maple syrup
1/4 cup coconut milk
Combine all dry ingredients (except topping) and mix well. Add applesauce, milk and maple syrup. Mix well.
Lightly Grease muffin tin. Pour batter to 3/4 of the way to the top.
In a separate bowl, mix topping ingredients and evenly distribute on top of muffin batter.
Bake for about 18 minutes.
Allow muffins to cool on a wire rack.
Notes: Coconut is classified by the FDA as a *Treenut. Scientifically, it's considered a very
large seed and is completely different from a traditional tree nut.
It's better to just grease the pan instead of baking cups. The maple syrup sticks to the paper
and ends up ripping the finished muffin and making a mess. These will freeze well and if you
do have an allergy to coconut (or just don't like the flavor change the milk and omit the topping)