Mini Baked Double Chocolate Donuts great fresh or frozen for later.  They could even be a healthy snack that is gluten free, Vegan, dairy free, egg free, soy free, peanut free,and tree nut free.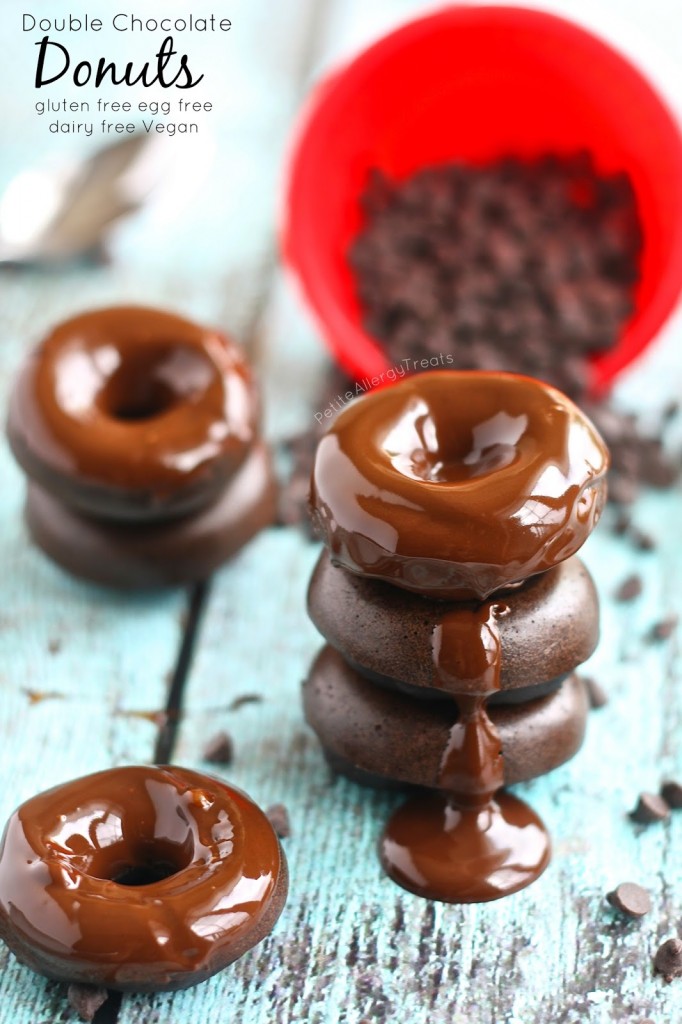 Chocolate donuts are something special.  Or donuts of any kind really.  Chocolate donuts are our favorite by far but the S'mores donut comes in a close second.  Is it just me or do donuts usually show up on lazy days like the weekend?  Or if you're like us, just about any day in Summer. 😀
Are you ready for school?  I've gotten spoiled with a laissez-faire schedule for Summer.  We wake up eat and 'what do you feel like doing' kinds of days.  I'm ready for the learning to start but school is hard on kids.  8 hours of attention for anyone is difficult.  
Confession: I would get so bored in college lectures I fell asleep many times.  Not proud to admit it, but true.  Still managed to get top grades though. 😛 
In the last days of Summer, I've been spoiling my oldest with special breakfasts.  It's been a plethora of chocolate chip pancakes, waffles, breakfast sausage etc.  Almost like Mardi Gras, because once school starts it's over.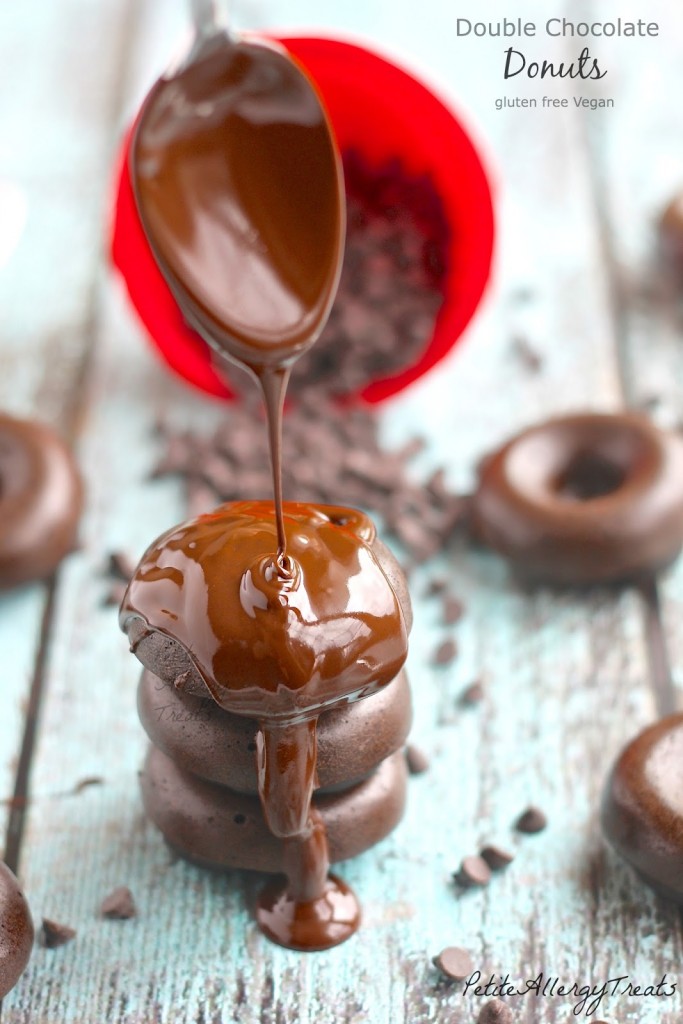 No.  I'll still feed him. 🙂  I'm actually planning on spoiling him the first week or two of school.  It's so exciting when school starts and so exhausting at the same time.  Our school starts early, Sir needs to be up by 6:30 am!  Waaay too early for a 6 year old if you ask me.
I'm going to try make things easier for me too.  It's the "back to school stock up" in my house.  I've been busy clearing out prime real estate in my freezer.  Whenever I cook, I'm making double recipes and freezing the excess for during the week.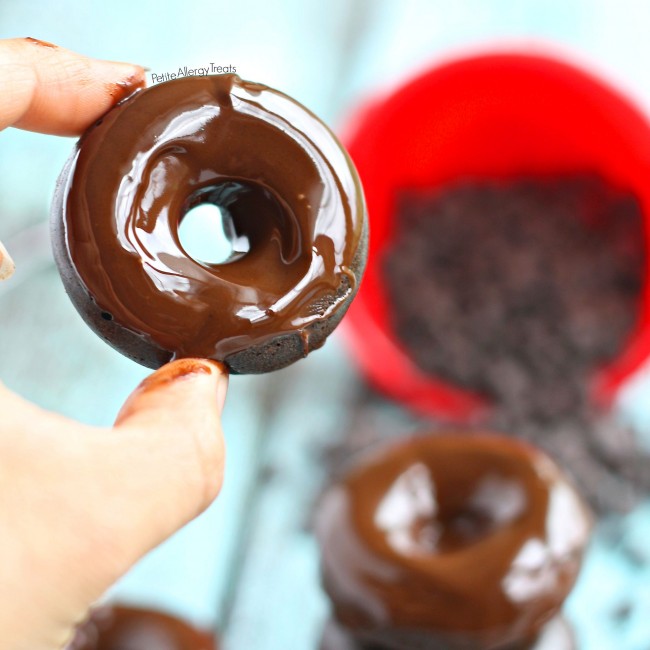 Like these double chocolate donuts for instance.  I actually made them a while ago but since they freeze so well we can eat them anytime.  Since they are made with teff flour and only 2 T of oil I'm not gonna feel guilty letting him enjoy a few either.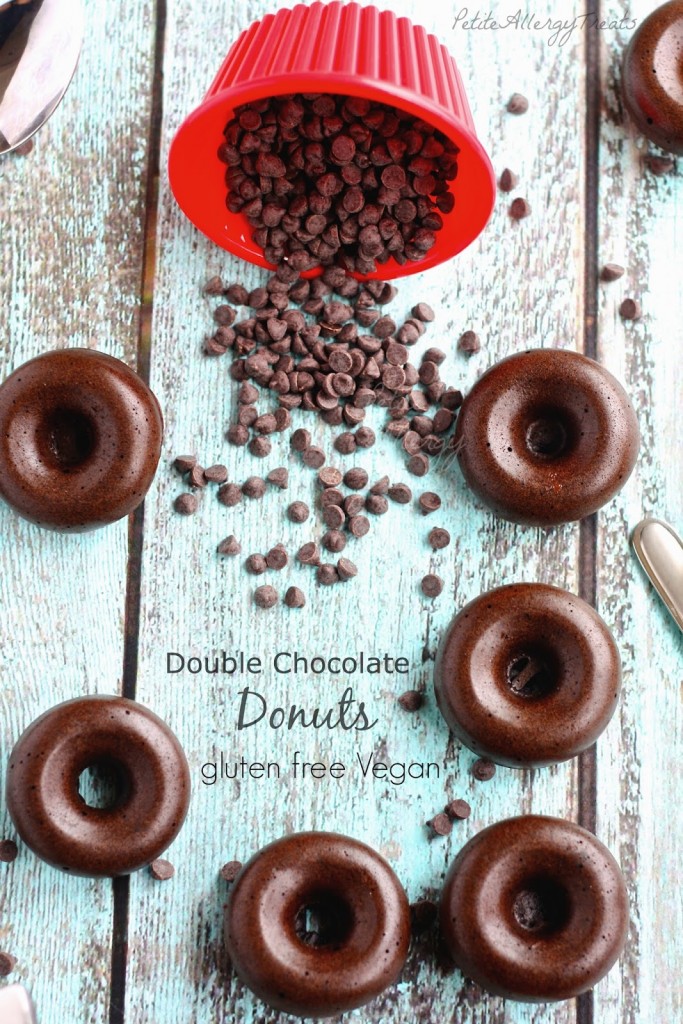 Yesterday he wanted waffles.  Wish granted.  I'll add those to the freezer too. 🙂
Baked Double Chocolate Donuts
Author: Laura @ Petite Allergy Treats
Ingredients
Bake at 375 for 12-15 minutes
makes about 3 dozen (mini donuts)
Donuts
1/2 cup teff flour
1/2 cup gluten free hybrid flour
1 cup milk of choice
1/3 cup cocoa powder
2 T oil (I used avocado)
1/2 cup applesauce
1/4 cup maple syrup
1 tsp baking powder
1 tsp guar gum
Chocolate Glaze
1 cup Enjoy Life Chocolate Chips
Directions
Donuts– Combine all ingredients and mix well.  Pour into donut pan and bake for 12-15 minutes or until toothpick comes out clean in the center. Allow donuts to cool on a wire rack.
Glaze– Melt half to chocolate chips in the microwave.  Mix in remaining chips and stir until melted.
Drizzle melted chocolate on top.  Enjoy!
Notes: These freeze extremely well.  Just allow the chocolate glaze to set and place in the freezer for quick grab and go.  And since these only contain 2 T of oil for the entire batch, I'd say it's healthy enough for a regular breakfast treat.
Some other things you may like: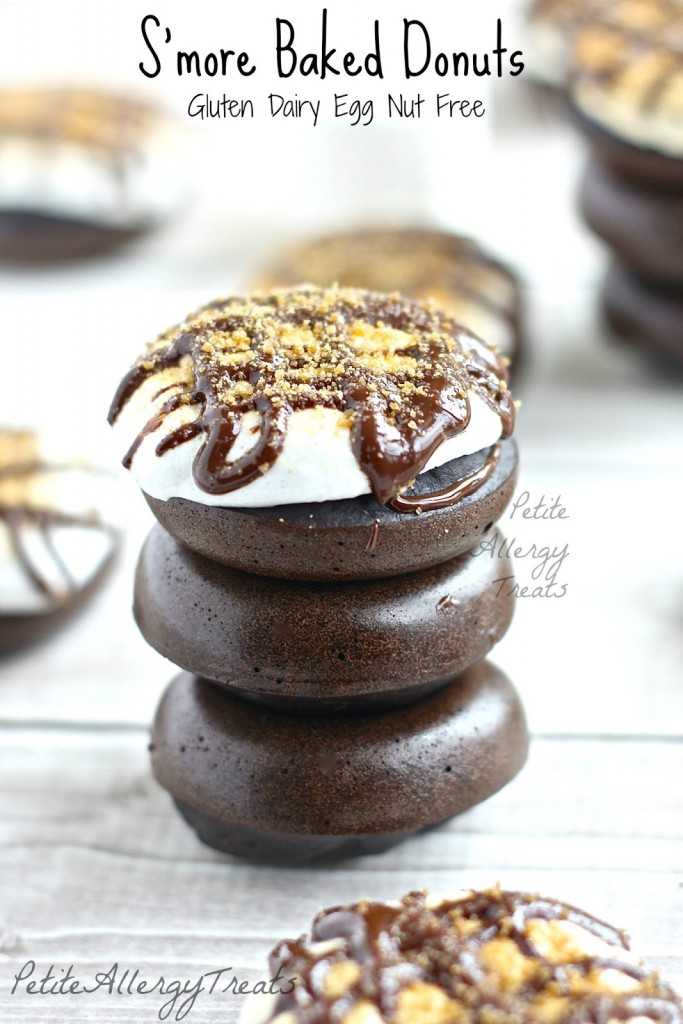 Baked S'mores Donuts (gluten free, Vegan)