Skinny Bacon Mac and Cheese with Zucchini could be a new favorite in our house.  It's
made with carrot instead of cheese but with the added flavor of bacon.  And it's gluten free,
dairy free, soy free, egg free, peanut free, tree nut free and seafood/shellfish free.  It would be
Vegan with you take out the bacon too.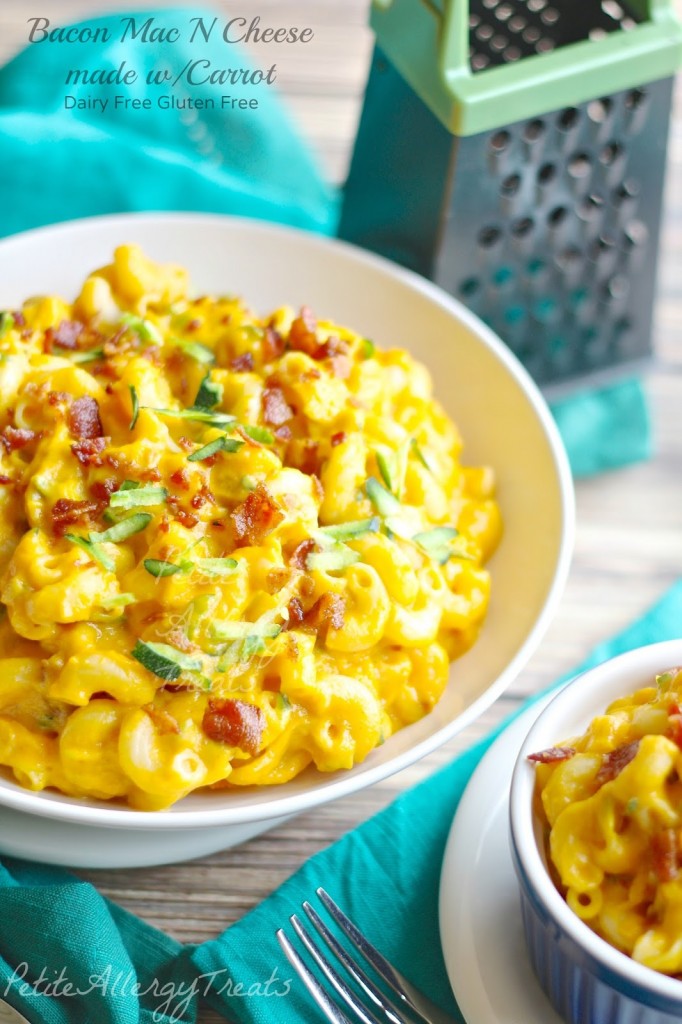 Macaroni and cheese is just one of those things kids beg for.  Add in bacon and they won't
care (or maybe just not notice) this is full of dairy free carrot sauce and zucchini.  Hehehe…We are
getting ready for school, are you too?  Back to school shopping for the school
supplies, uniforms and backpacks.  Sir is headed off to first grade this year.  First Grade.  Time
seems to flies exponentially these days.  I remember Sir crawling around the house like it was
just a year or two ago.  Fast forward 6 years and he's a boy.  Not even little boy.  This is the first
year he has to wear a uniform white polo and navy pants.  That adds at least 2 years the instant
he puts it on.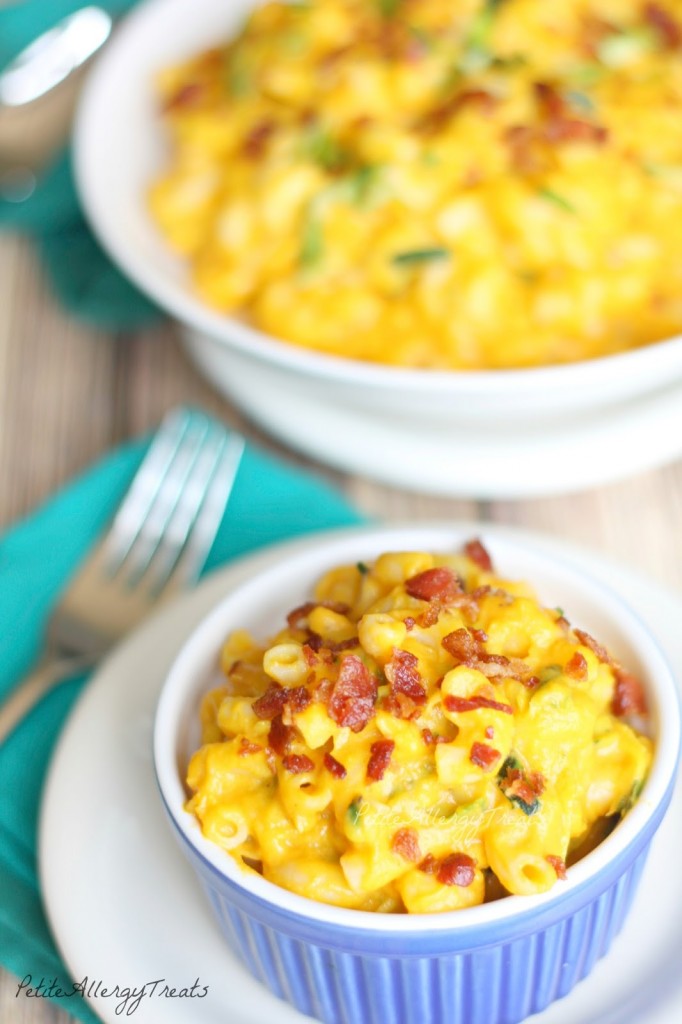 I am a little sad know he'll be back in school all day… Truth be told, it will be nice to
spent more quality teaching time with Mr. Naughty.  I know we shouldn't compare our kids
to each other but I do just to get make sure I'm teaching them the right things.  At age 2, Sir
knew each letter of the alphabet and could match words with pictures.  Mr. Naughty knows
almost all of his letters but doesn't really care to show me.  Don't get me wrong, the kid is
smart.  Cunning is more like it.  He hears extremely well but doesn't listen.  Case in point,
Raspberry picking.  Mr. N. was chowing down on his little basket full of raspberries when I
told him to stop.  He tried to negotiate:
N: Eat just daurk red wans.
Me: No, they're all dark red.
N: Eat MORE Mamma!
Me: No, we need to save some for home and pay for them.
Gives me a look, then turns around.  Looks over his shoulder and stuffs another
 handful. :-
See?  Naughty.  Looks like I've got my teaching cut out for me.  And it's not because
he isn't smart; he's too smart for his own good.  In the end, Mamma outsmarts the boys with
this healthier version of bacon mac and cheese.  Instead of cheese, I used carrots to give it a
vibrant natural color orange.  Not only is it full of carrots, the bacon helps balance out the
this time I added bacon and shredded zucchini.  Aside from a little bacon fat, this dish is pretty
healthy with 2 serving of vegetables.
I hope you're all getting ready for school and spending the last days of summer together.
Skinny Bacon Mac and Cheese (dairy free gluten free)
Author: Laura @Petite Allergy Treats
Ingredients
1 box favorite GF macaroni pasta (I used Barilla)
1 1/2 cups unsweetened milk of choice
16 oz bag of carrots
1 cup shredded zucchini
6 slices of bacon
3 T bacon drippings
3 T white rice flour
1 tsp onion powder
1/2 tsp garlic powder
1/4 tsp smoked paprika
3/4 tsp salt or to taste
pepper optional
Directions
Prepare boxed gluten free pasta using directions from the box.  Drain and rinse, running under cold water to stop cooking.  Set aside.
Boil carrots until fork tender.  Blend with a hand stick or food processor until smooth consistency.  Set aside.
Cook bacon until crispy.  Set aside.  Reserve 3 T bacon drippings, discard the rest.
In a sauce pan, heat oil under medium heat and whisk in flour.  Cook for about 2 minutes.
Slowly add in milk stirring constantly with the whisk.  Sauce will thicken up immediately. Keep stirring.
Add shredded zucchini, carrot puree and other spices.  Crumble bacon and mix well.  Taste and add more salt if needed and optional pepper.
Pour sauce over pasta and gently fold to coat noodles.  Best enjoyed the first day warm.
Enjoy!
Some other things you may enjoy: