This homemade Pumpkin Seed Butter is the next best thing behind peanut butter, sunflower butter or even nutella.  It is gluten free, Vegan, dairy free, peanut free, tree nut free, egg free and soy free.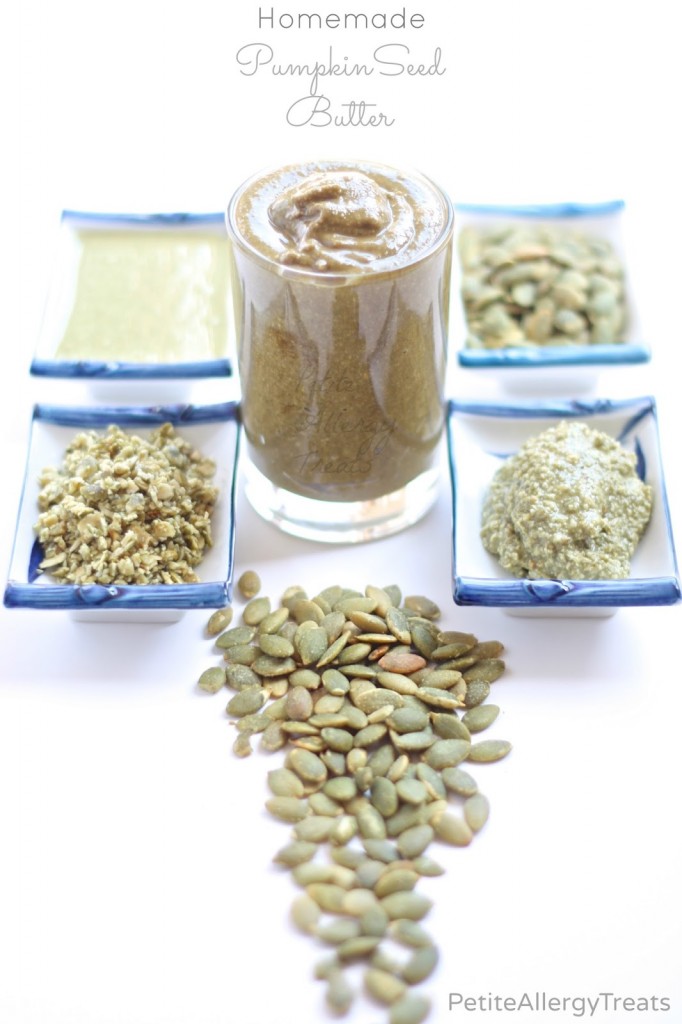 Are you sitting down?  You better be because this is HUGE.  Like, Change Your Life Forever,
huge.  Like, the best. thing. ever.  Evverrr.
Safe pumpkin seed butter.  And not just any store bought, but homemade pumpkin seed butter.
Hold on a minute.  This is a big deal for us.
Finding safe pumpkin seeds has taken me 5 years to find.  5 YEARS.  And the definition of
safe pumpkin seeds for us is: processed on dedicated equipment in a facility that is free
sunflower and of the Top 8 Food Allergens: wheat, egg, dairy, soy, peanut, tree nut,
seafood, and shellfish.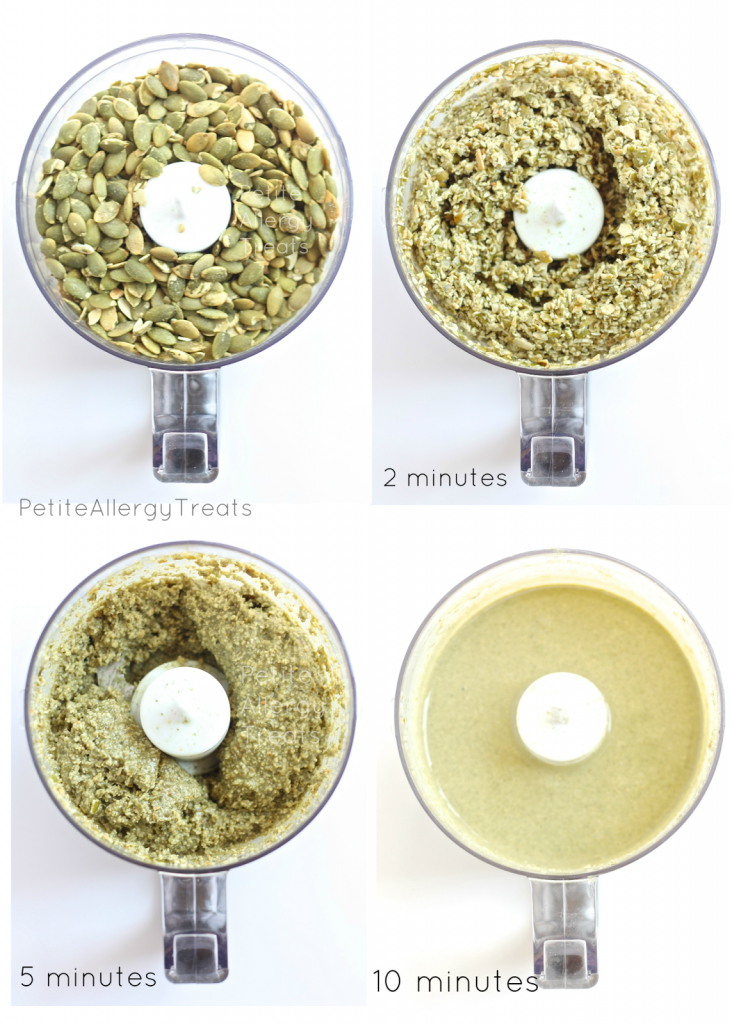 I am so excited I just want to scream it to world while doing backflips.  (aaand I really could do
that.) 🙂
There are so many things we can't have with our list of food allergies.  Peanut butter and all
tree nut butters happened to be some of them.  But another huge loss for us has been sunflower
butter.  Sir (me too) was devastated when Mr. Naughty tested positive for being severely
allergic to sunflower.  Highly allergic food allergens are banned in our house.  It's just not worth
the risk.
If you follow me on
Facebook
or
Instagram
, you may remember a rare but vulnerable moment
where I let the frustration of food allergies get to me.  I had a breakdown after visiting a grocery
store over not being able to find safe pumpkin seeds.  And I know food allergies are unfair.  It
is just something our family (and millions of others) have to deal with.  It just got to me… I let
myself have a moment, and then I moved on.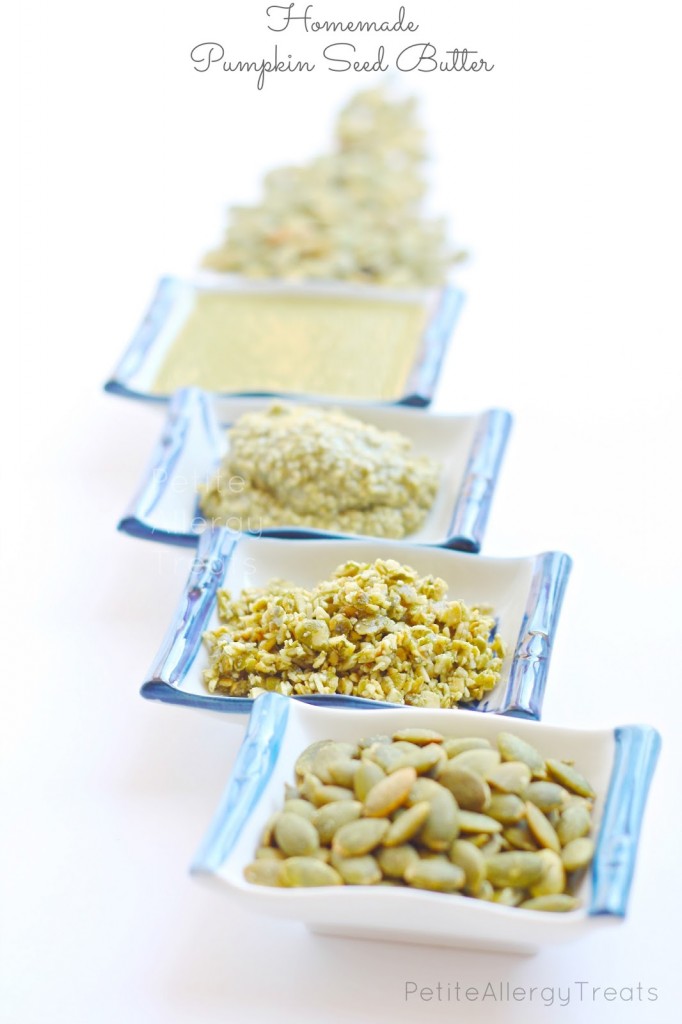 The very next week I returned to the same store and my prayers were answered.  Sitting on
the first aisle shelf was a very noticeable blue pumpkin
SuperSeedz
bag.  Before I got too
excited, I took a picture and sent it on
Twitter
to the company asking about allergens
including Sunflower.  I got a response in less than 10 minutes.  They were free of the top
8 and sunflower free!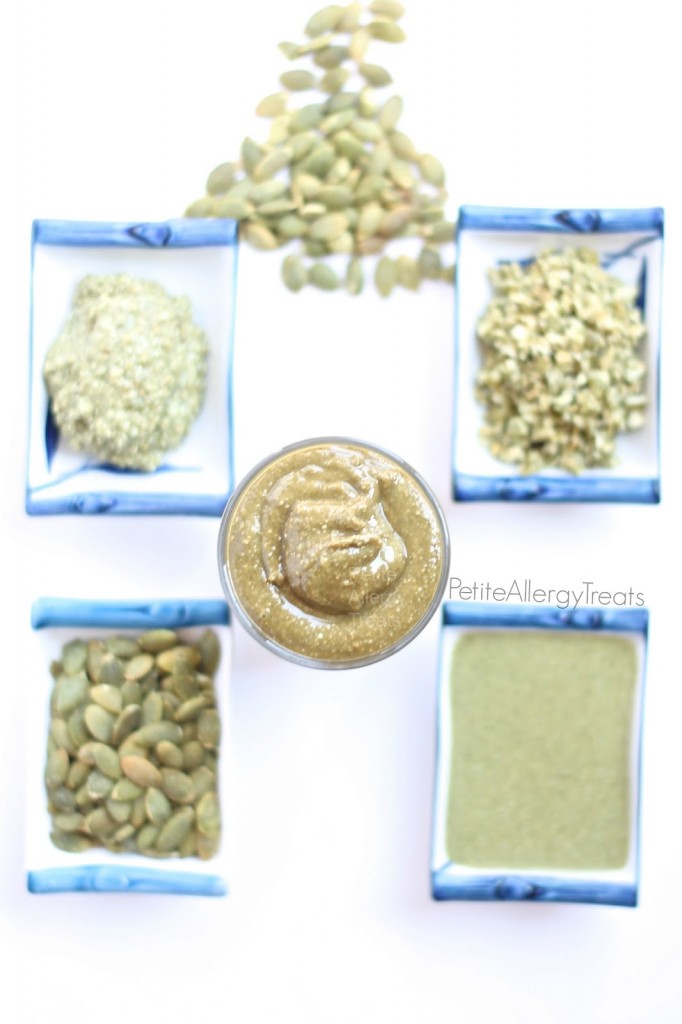 Ever since then, we've been enjoying them as a snack and take them everywhere we go.  I love
the nutrition in these and wanted to try making a butter for a very long time.  This recipe has
truly helped us regain some normalcy in foods.  Sir can now take a pumpkin seed butter and
jelly sandwich to school and field trips, almost like a regular kid.  Sir was so happy and excited
the first time we made this.  He thanked me with a huge hug and a very vocal "I LOVE IT!"
Me too buddy, me too. 🙂
 Author: Laura @ Petite Allergy Treats
Ingredients
2 cups shelled pumpkin seeds (I used SuperSeedz)
2 T oil (I used avocado oil)
2 T powdered sugar
optional 2 T molasses for color + 1-2 more T oil*
Directions
Combine oil and seeds in a food processor or blender.  Coarse pulse chop for 1 minute.  Scrape down sides and pulse again for another minute.  Scrape down sides
Turn the speed up on processor or blender for 2 minutes.  Mixture should just start to liquidly.  Add powdered sugar and blend an additional 5 minutes.  Scrape down sides again.
Continue to blend until the desired consistency is reached.  Mine took only 10 minutes total.
Optional molasses for color: Add the molasses plus 1-2 more T of oil*.
Notes: I've made this a few times in both the blender and food processor.  I think the blender made a smoother consistency and was much quicker to coarse chop.  Use what you have.  Just make sure to add oil or else the consistency will be too thick and cause strain on your machine.  I tried making it without oil and ended up making a thicken paste that would not spread well.
*The molasses contains moisture and will cause the pumpkin butter to thicken like a paste.  More oil is needed to help smooth and thin it out.  Extra oil isn't required but highly suggested to achieve a spreadable butter consistency.
For all my updates and things that I'm working on or other information follow me on:
Some other things you may like: