This Easter, make your own Chocolate Covered Bunnies and not have to worry about cross contamination of peanuts, tree nuts, soy, dairy or gluten. This bunnies are free of the top 8 food allergens and made with Enjoy Life Chocolate.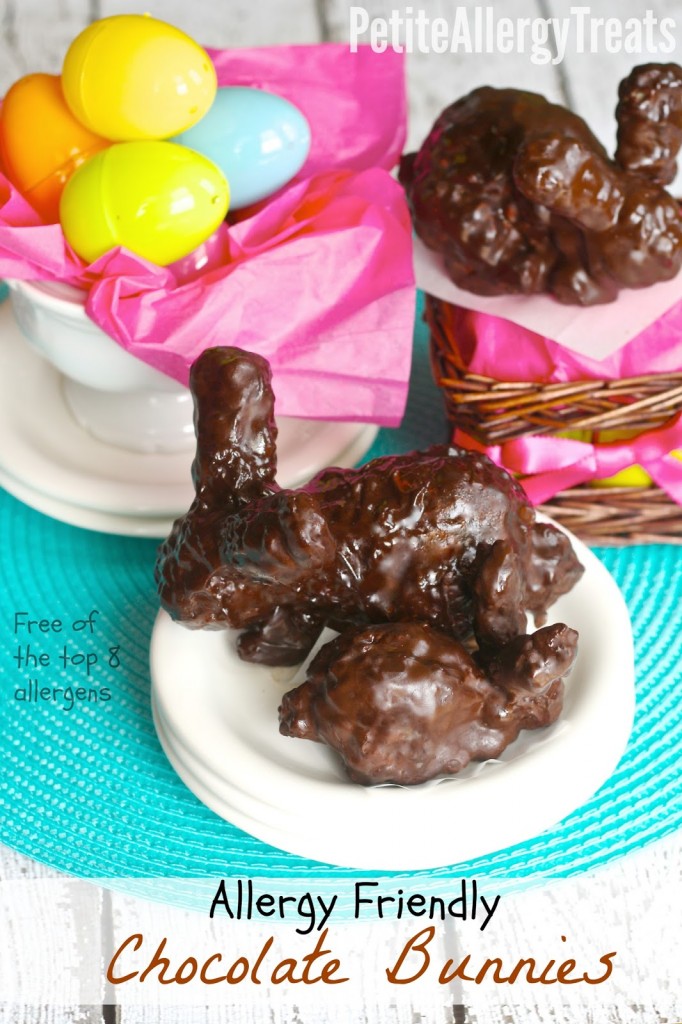 Every parent of a child with food allergies at one time or another, has felt bad for their child at holidays. Each holiday has its own theme of candies and traditions. Easter has become such a large celebration with all the egg hunts, chocolate bunnies and tradition of dyeing eggs.

What do you do when your child can't participate in none of these events?
Seriously.
I would love to hear how your family celebrates holidays with events like egg hunts if your child is allergic to eggs. I've heard of larger cities hosting "egg-less" egg hunts. I think Milwaukee needs one. Maybe next year…
This would be the first year my youngest son could actually participate in an egg hunt, but of course, he can't due to his egg allergy. I also feel bad for my older son who isn't allergic to eggs. We don't even attend outdoor egg hunts and we stopped dyeing eggs. He'll be able to dye eggs at school but has to donated them because I don't want them in the house.
*sigh*
Thankfully, some of our local grocery stores have hosted an egg hunt indoors with plastic eggs and a controlled environment. The candy usually isn't safe to eat but my older son knows he can trade it for a safe treat at home.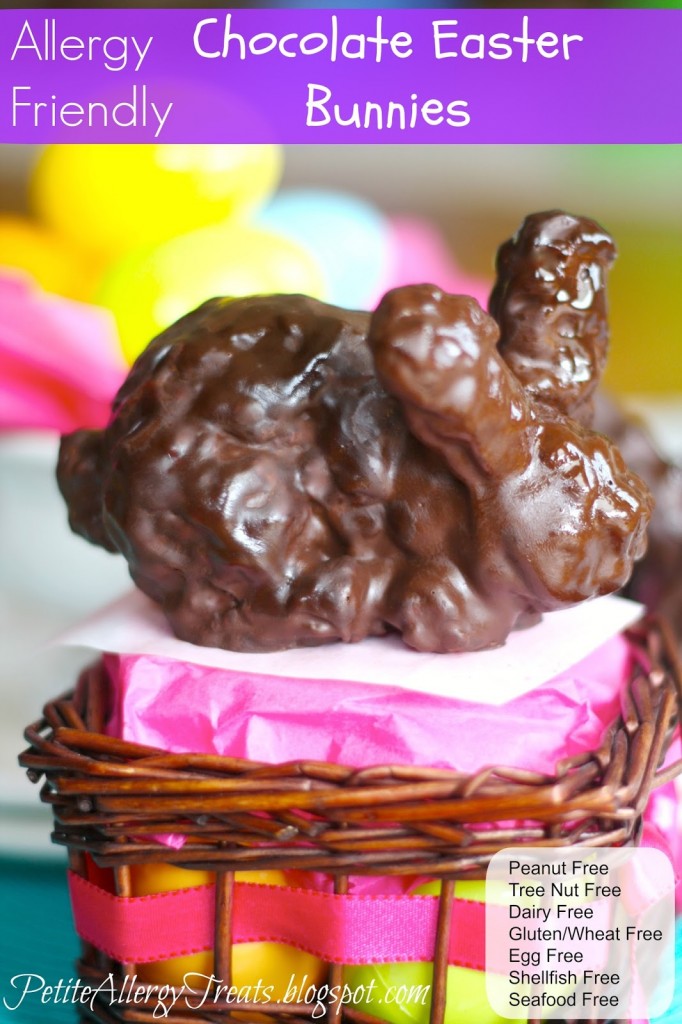 This year we'll decorate plastic eggs at home with stickers and colored paper. But I also wanted to do something special.
This year, the boys will finally be able to enjoy a real chocolate Easter bunny!
Due to their peanut allergies, I've never found a brand of chocolate that makes allergy safe chocolate bunnies.
It's the cross contamination that scares me.
Almost every brand of chocolate contains the "may contain" traces or nuts. There are a few new brands emerging that are made with dedicated equipment but honestly, they are expensive and must be ordered online and shipped. I don't even know if these companies would be safe for other food allergens like wheat, soy, egg or sunflower.
So I made my own. (Like everything else too!)
These chocolate bunnies are made of gluten free Rice Krispies made with marshmallows and non hydrogenated palm shortening. After the bunnies were born, I covered them with a layer of melted chocolate from Enjoy Life brand which is free of the top 8 food allergens.
The bunny shapes are pretty simple to make but keep in mind you need to work quickly, before the rice krispies firm up. Dipping them in chocolate was pretty easy too. I actually was planning on double dipping to give a smoother texture. I ended up leaving them because I thought they looked more realistic with some bumpy texture.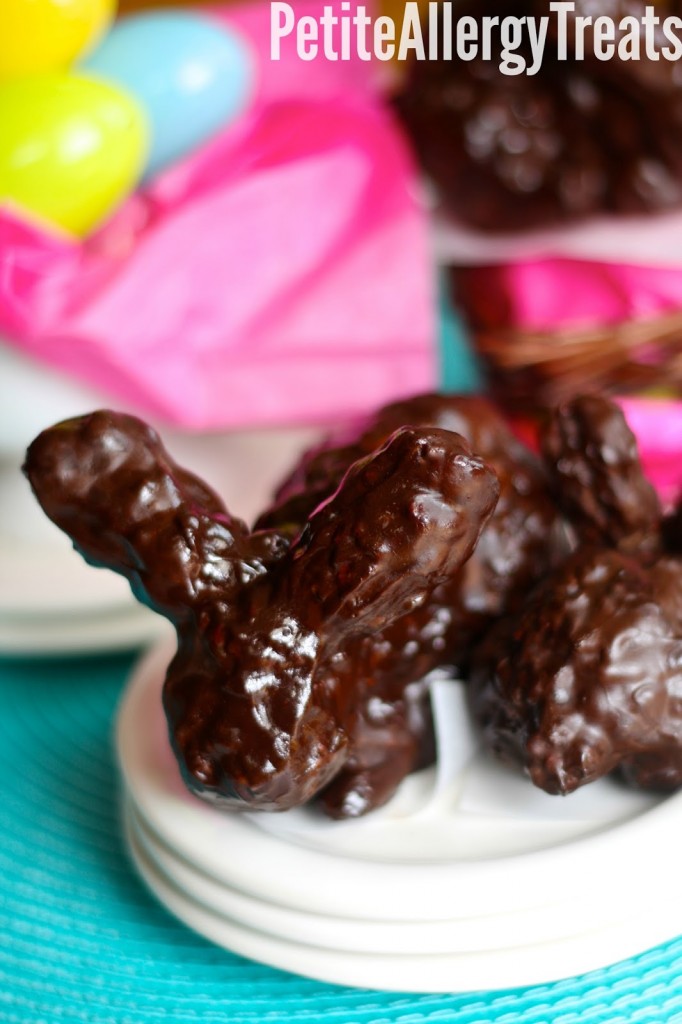 I also made a nest with a few eggs but I decided not to cover them with chocolate (or include any photos). Rice Krispies are pretty awesome plain. So… I don't know how many bunnies I could have made. I would also have to note Mr. Naughty insisted on "helping", by eating the one of the bunnies. 🙂 I ended up making only 3 bunnies, a nest and 3 decent size eggs. I think smaller bunnies would be easier to handle.
It's up you. But have fun, whatever you do!
Gluten Free Chocolate Bunnies (Nut Free, Free of the Top 8)
Author: Laura @ Petite Allergy Treats
Ingredients
1 box gluten free rice krispies
1 10 oz bag of marshmallows
3 T non-hydrogenated palm shortening
2 bags Enjoy Life Chocolate Chips (free of the top 8 allergens)
Directions


1. Prepare the Rice Krispies treats as state on the box.
2. Allow mixture to cool before handling.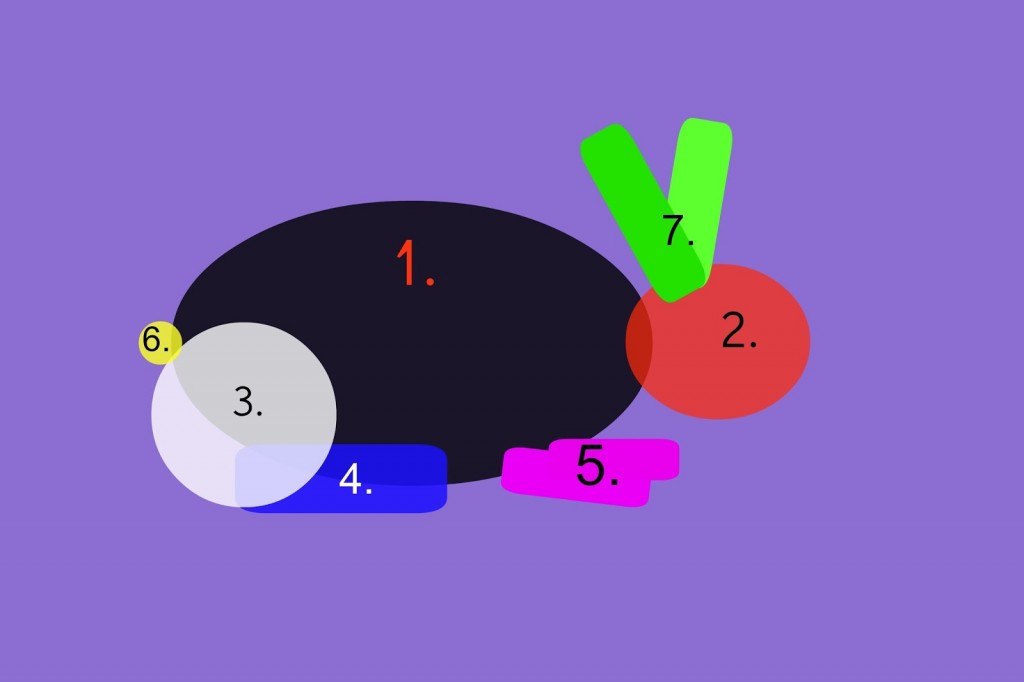 To make the bunnies:
-1. Shape the body into a an egg shape #1.
-2. Make a similar but smaller one for the head #2.
-3. Roll a ball for back hip and cut in half (one for each side of the body) #3. Make a small ball for the tail #6 and gently press to attach.
-4. Roll a thin line (like a snake) of rice krispies and double the length needed for leg #4. Cut in half. Press leg part into #3 half circle to make the full back leg. Then press and shape to the body #1. Repeat for the other back leg.
-5. Roll another thinner line for the front legs #5. Fold in half to shape a V and press under and infront of the body #1.
-6. Lastly roll some rice krispies for the ears. Make sure they are thick enough to support themselves or else they will fall off during the chocolate dipping.
3. Melt the chocolate chips in a double boiler or gently microwave.
4. Dip the bottoms first and tap off excess chocolate. Repeat with the top until completely covered in chocolate.
5. Allow chocolate to set on parchment paper before trying to move.
6. Wrap them in plastic or store at room temperature in an air tight container. I wanted to freeze these but I'm afraid the chocolate will become discolored. Either way, they'll still taste great but most of all they will be SAFE to eat! 😉
I hope your family can enjoy these safe Easter Bunny treats!
Some other things you may like: