Make some extra special gluten free Snowman Cookie Pops for the holidays!  These vegan snowman cookies are gluten free, egg free dairy free, peanut free, tree nut free, egg free,  and just darn cute!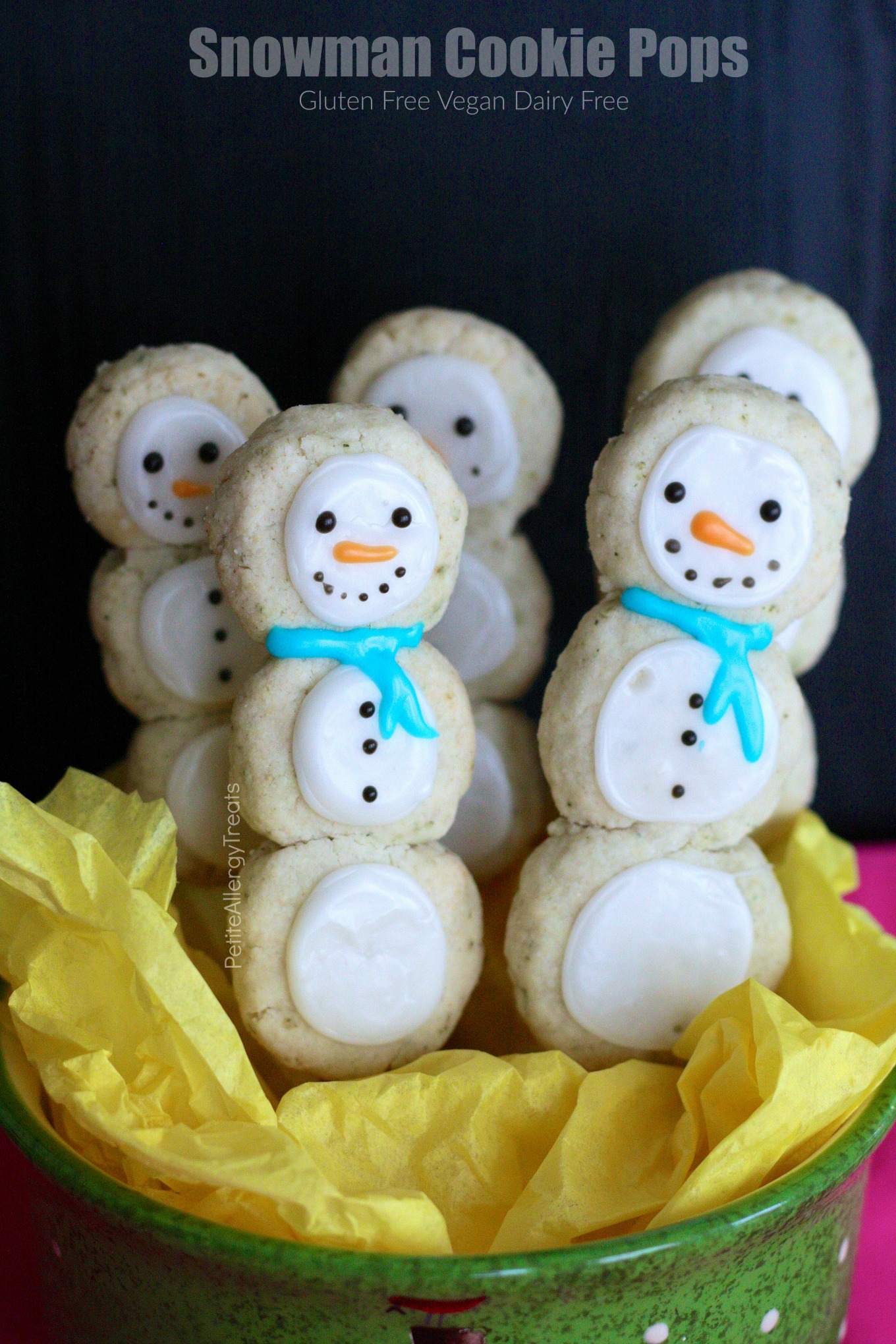 The holiday spirit has finally gotten to me, in a good way.  When it gets cool enough for snow, I always think of Snowman.  Instead of waiting for snow, why not make some gluten free snowman cookies Forget all the busy shopping and extra things to complete around the house.
Start making some memories of your own.  Christmas is for kids after all, at least that's what I think.  We as parents try our very best this time of year to make best memories with our children.  I'm sure you can think of a few holiday traditions your family did.  Hopefully, most of the memories are good and some traditions are being passed on.  I want my children to remember the excitement of the season.  Looking forward to seeing friends and family mainly.  Of course, opening presents Christmas day will be a huge memory.  For us as parents, too.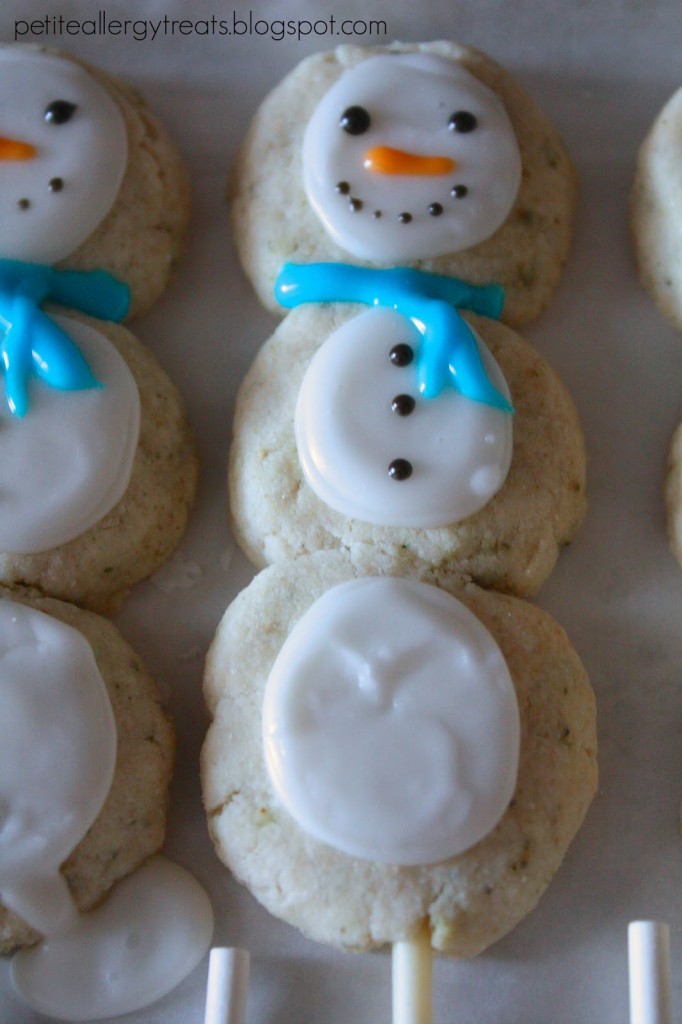 I always remember being excited at school with all the events leading up to Christmas break.  Special holiday crafts.  Secret Santa shopping.  Eating candy canes in class.  🙂  And learning special songs to perform in front of the school.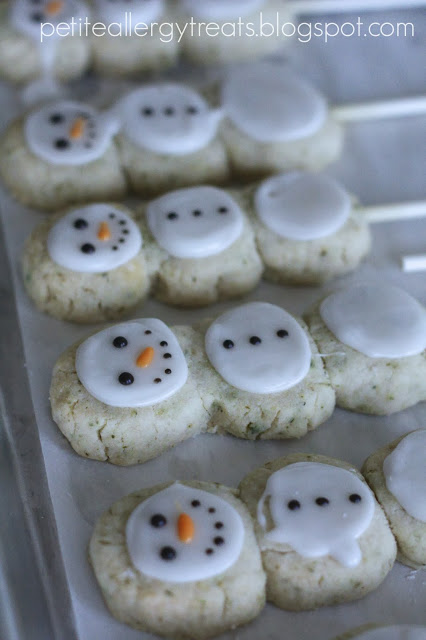 I recently attended my son's Christmas performance. It was fun to see all the children dressed up with the proud parents looking on.  The sound of young voices singing beautiful Christmas carols was amazing.  It's a memory I will cherish.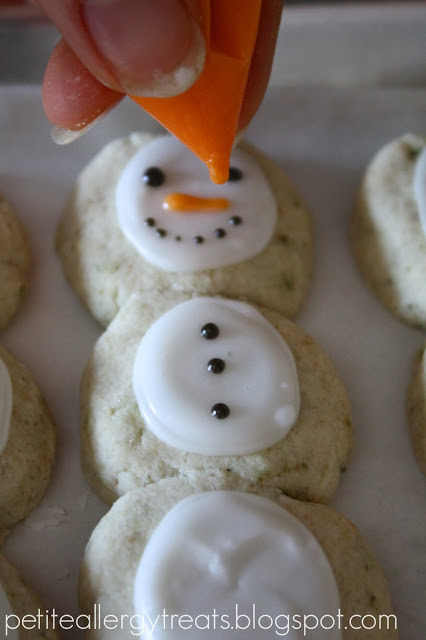 To wrap up the last festivities at school, my son has his party this morning.  I made these cookies for my his special party snack.  They're probably the cutest thing I've ever made.  The snowman cookie pops that are gluten free vegan and free of the top 8 food allergens.  I made these after I saw Munchkin Munchies snowman thumbprint cookies.  They looked so cute!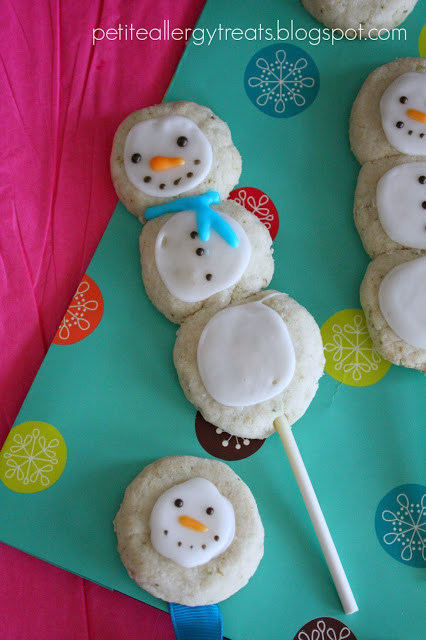 I wanted to make something cute but easy since it's such busy time of year.  These are very easy to make, it just takes some time.  Plan on making them so the icing can dry overnight.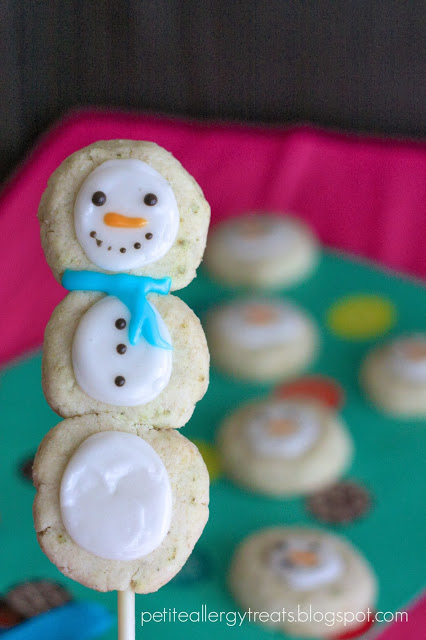 Both of my sons loved these.  They're so adorable you won't want to bite their heads off (but you will). 😛
Please be sure to stop by and see the original post by Munchkin Munchies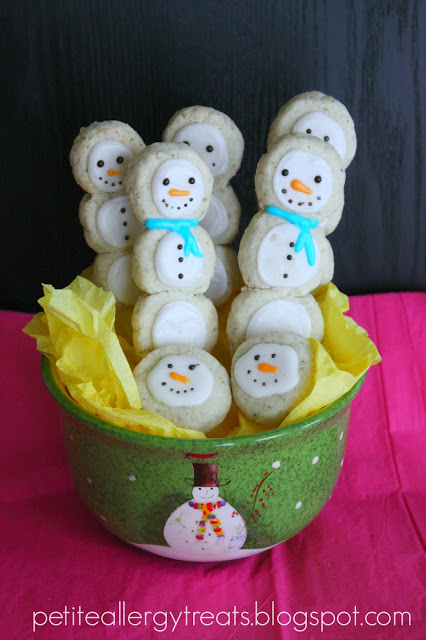 Inspired by Munchkin Munchies guest post at In Karina's Kitchen
Ingredients         preheat oven to 350 degree
1 cup pumpkin seed flour (food processed seeds)
1 cup palm shortening
1/4 cup organic sugar
1 T egg replacer
2-3T water
1/4 tsp xanthan gum
15 lollipop sticks
Icing
1 1/4 cup organic powdered sugar
2 T milk of choice
natural dye food coloring for face and buttons
Directions
Beat shortening, egg replacer, xanthan gum and water for 2-3 minutes.  Add in sugar and beat for another 2 minutes.
Slowly add in gluten free flour until incorporated.  Dough will appear dry and may even be very crumbly.  If the dough is extremely dry and won't form into a ball if pressed, add in 1-2 T water. *Don't add too much water or else the texture will be compromised and won't end up crunchy melt in your mouth. Trust.
Add pumpkin flour, fold in by hand or else dough will get a green tint.
Scoop and shape in to a ball.   Shape 3 balls together and insert stick.  The dough will split, reshape to make stick together. Carefully place on a parchment lined baking sheet.  These won't spread so pack them in. 🙂
Bake for 13-15 minutes or until just turning golden brown.  Allow to cool completely before icing.
Mix sugar with milk until a smooth glaze is formed.  Reserve 3 T for coloring the face and buttons.
Pour icing into a zip lock bag.  Cut a pin size hole in one corner.
Squeeze into an outline of a circle for each cookie.  Allow circle to dry and firm up for 5 minutes.
Cut the zip lock bag again to make the opening slightly bigger.
Squeeze icing into the center of each circle.  Use the back of a small spoon to move icing to fill the entire circle.
Allow to dry for several hours.
Divide reserved icing into thirds.  Mix 1/3 of icing with black food coloring for the eyes and buttons.  Place in a ziplock bag and cut a very tiny hole in one corner.  Pipe on eyes, mouth and buttons.
Mix orange icing for the nose.  Since the nose is so small, only about 1 tsp total is really needed.  If you are going to make a scarf, make sure to leave some extra icing white to use later if needed. Cut a small hole in the ziplock.  Squeeze a small drop and drag the bag to create the pointed nose.
Mix scarf color.  Cut a small hole in the ziplock.  Pipe a line around the neck.  Then pipe 2 additional lines vertically.
Allow to thoroughly dry before handling either overnight or several hours.
Store in a single layer or individual bag.