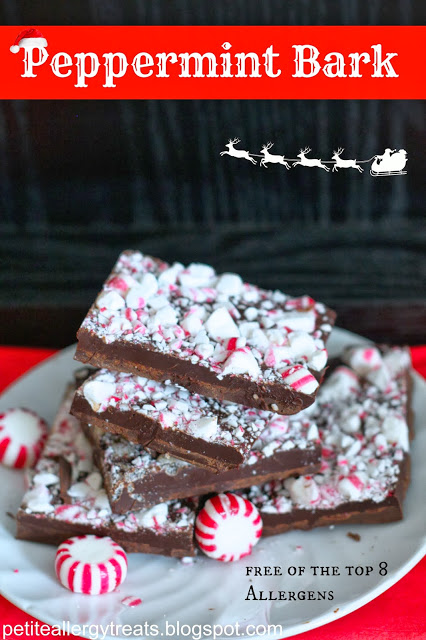 Busy. Busy. Busy! Is it just me or are you feeling like there's not enough time in the day to get
everything done? Things have gotten out of hand this year. I'm the snack person for this week and the special snack for my son's Christmas party.
Add that to all the holiday shopping, wrapping and extra holiday baking of course. (I know, I brought the last one on myself. But I really do love baking. I've slowed down on the frequency of posting but I still have tons lined up. If you only knew what was going on in my head… So many things I want to try but so little time. I have visions of gluten free gingerbread skyscrapers, peppermint ice cream, mint chocolate cookies/brownies… So many things that will have to wait.)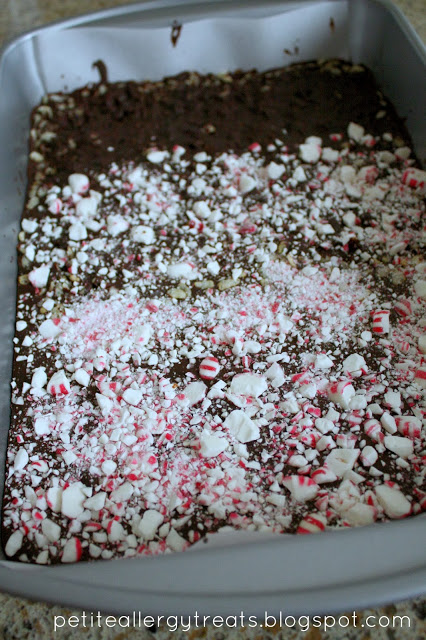 This was a very simple fast dessert that people can snack on or that you could give away as gifts. All you need are allergy safe chocolate chips from Enjoy Life, gluten free rice krispies and peppermint candy. Melt the chocolate, and sprinkle with rice krispies and peppermint. Done.
Short and to the point. I hope you enjoy this allergen friendly classic holiday treat. Free from the top 8 food allergens.
Notes: I made one large pan and split it into thirds. One part was just chocolate with peppermint, one was just chocolate and rice krispies and one was all three. I did this because my husband don't really like peppermint. The recipe is written for one full pan using all three ingredients equally. Feel free to break it down into different sections.
Ingredients
1 cup gluten free rice krispies (for the entire pan)
2 cups peppermint candy (for the entire pan)
2 bags chocolate chips (Enjoy Life Brand)
Directions
Melt chocolate in a double boiler. Pour into a 13×9 inch pan lined with parchment paper
Crush or food process peppermint until small chunks remain.
Sprinkle rice krispies and gently mix to cover with chocolate.
Sprinkle on crushed peppermint.
Allow to cool before breaking or cutting into bite size pieces.