Teff is one of those gluten free flours you should try. What better way to enjoy than with a Gluten Free Gingerbread version?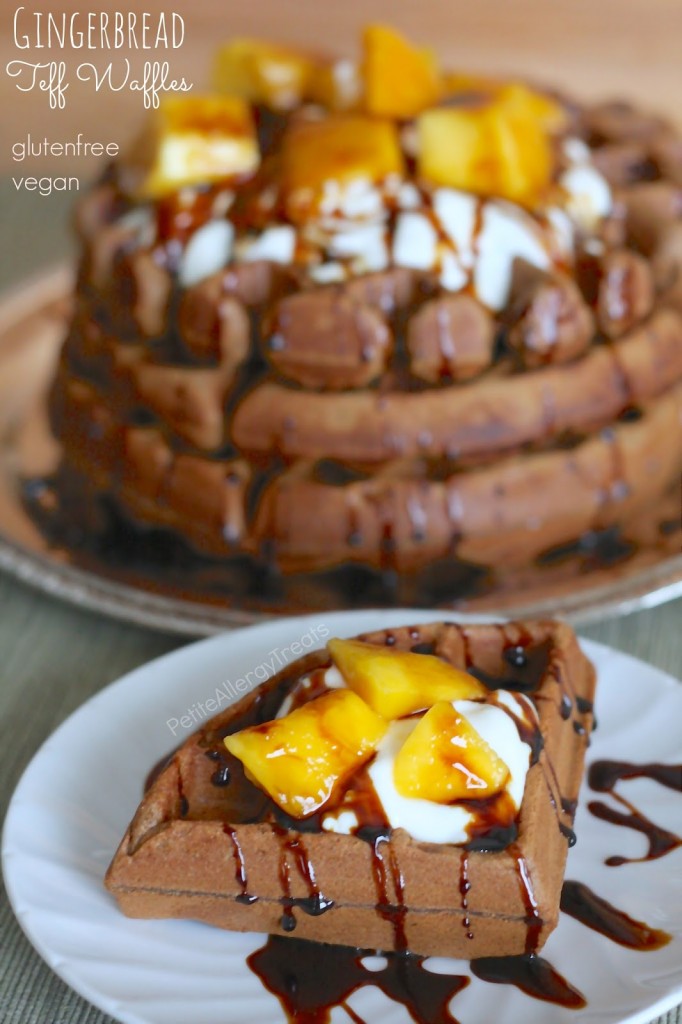 The holidays are super busy now… Since there's always so much to do on Christmas, I'm making
waffles for an easy ready made breakfast. Not just any waffle, ones that hold some nutritional value and are also dairy free, egg free, soy free, peanut free, and tree nut free. Even though it's the holidays, food should still be healthy and delicious.
In the past, I've gotten up extra extra early to make fresh homemade cinnamon buns. That meant staying up late to make sure Santa had eaten cookies, cleaned up after himself, wrapped/delivered gifts and filled stockings. Then, it was up extra early the next day to bake. By the time the kids opened gifts and ate breakfast I needed a nap. Not to mention it was only 7:30 in the morning! Holidays can be exhausting. But memories with your family are worth the effort, right? I think so.

The kids are older this year, 5 and 2. I really want to enjoy watching their reactions to all the surprises and toys. I don't want to be tired and crabby. This year I'm making them ahead of time. I'm going to freeze and toast them up on the special day. No making them fresh (although this would be ideal). This is one way to help simplify the day and give you more time to enjoy the holiday with your family. There are plenty of things to keep you in the kitchen all day.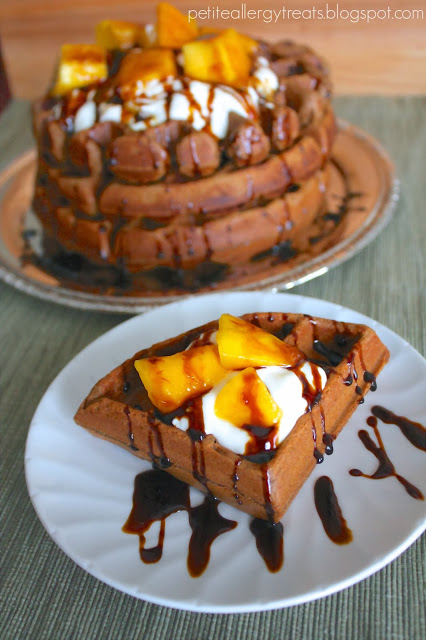 They won't even notice you made them ahead. Simple warm up in the oven and garnish with yogurt and fresh fruit. Sneak some extra iron in your kids. I used molasses as an added syrup to make it look like rich chocolate. They'll thank you for it too.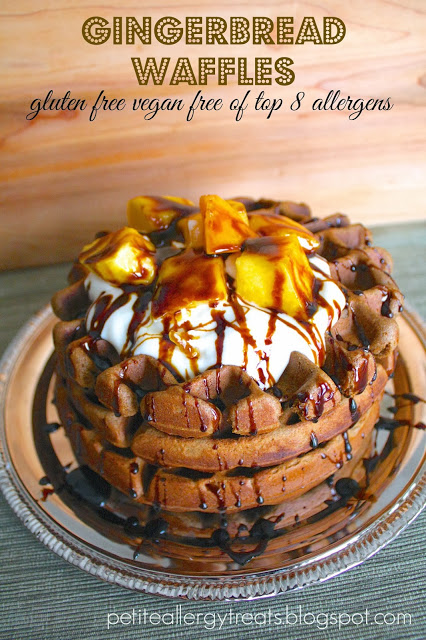 Easy. Delicious. Christmas breakfast. Done.
Teff flour can be tricky to find. I've had luck at Whole Foods and my local health store. Amazon carries it Just make sure it's ground flour and not the whole grain.
The Original Gluten Free Gingerbread Waffles
Author: Laura @ Petite Allergy Treats
Ingredients
2 cup Teff flour
1/2 cup molasses
2 1/2 cup milk of choice
2 tsp baking powder
1 1/2 T +egg replacer
2 T canola oil
1 1/4 tsp ginger
1/2 tsp cloves
1/2 tsp cinnamon
1 T organic sugar (optional)
Directions
Heat waffle iron and combine all dry ingredient and mix well.
Add liquid ingredients to dry. Batter may seem too thin, wait a little. Teff flour absorbs huge amounts of liquid. I'd say wait at least 2 minutes. Trust. You may even need to add more liquid if it becomes too thick.
Pour onto a hot and waffle iron. Mine has a sensor that beeps when finished.
Carefully remove the waffle and allow to cool. Don't stack too early or it will become soggy.
Serve topped with your choice of fresh fruit, yogurt and syrup (I chose molasses). Or spurge with a little chocolate syrup.