These easy gluten free breadsticks will be ready in just about no time. What's even better is
they are gluten free, egg free, dairy free, peanut free, tree nut free and soy free.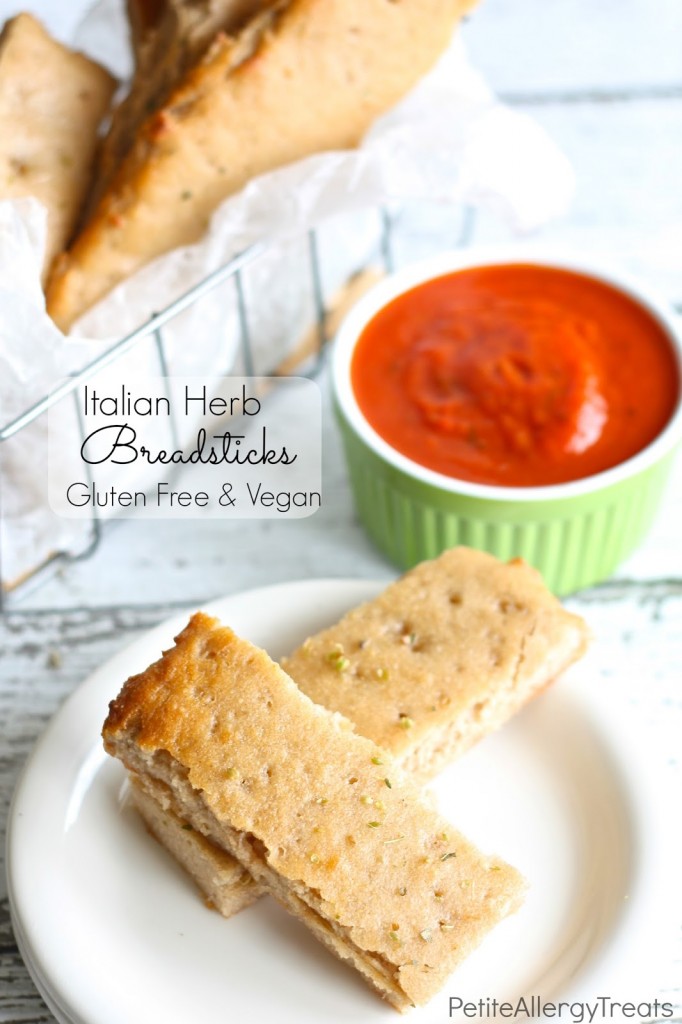 Hope all of you had a wonderful start to November! Things always start to pick up this time
of year. Holidays are great for seeing family and friends and just being social.
I'm actually busy entertaining my mother and father in-law. They will be staying with us for
the next week to help celebrate Mr. Naughty turning 3 years old. (warp speed ahead for
this kid.)
I asked him what he wanted for his cake. He loves trains, cars or anything with
wheels. So what did he ask for?
A Great White Shark Cake.
Goodness…. How in the H am I supposed to pull that one off?!
#youdoanythingforyourkids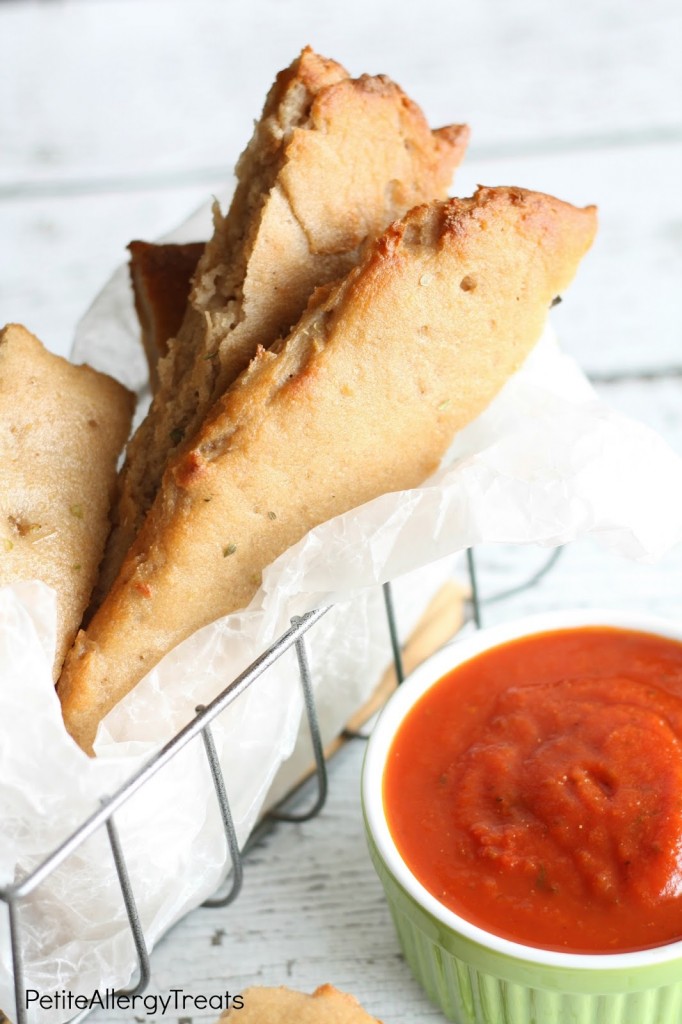 Since I'm going to be busy entertaining guests and preparing for his birthday( and hopefully
not crying over a cake fail), I'm keeping things short but leaving you with an easy recipe.
These breadsticks are really just my pizza crust in disguise… Just press the dough out, brush
with oil and add some garlic powder and oregano. Apologies if you think this is cheating…
It's not. :p It's using all available resources when short on time. It's perfect for dipping
anything or serve plain as a side for dinner.
Ingredients
One batch of my gluten free pizza crust
1/2 tsp garlic powder
1/4 tsp dried oregeno
1-2 T oil for brushing
favorite marinara sauce
Directions Bake at 400 for about 8-10 minutes
Heat liquid to 110 degrees. Add yeast and sugar. Allow to sit for at least 5 minutes to start foaming.
In a separate bowl, combine all dry ingredients. Mix thoroughly
Pour all wet ingredients. Mix by hand for 2 minutes (or use a stand mixer if you own one)
Dough will be sticky. Grease hands lightly with oil. Scoop out and knead with your hands another 5 minutes on parchment paper or cutting board sprinkled with GF all purpose flour.
Preheat oven for at least 15 minutes prior to baking with the baking sheet inside the oven (measure the parchment paper size before placing in oven)
Divide dough in half. Grease parchment paper with oil.
Press dough into a rectangle, making sure to keep dough at least 1/8 inch thick for a chewy breadstick.
Brush with oil. Cover and allow to rise 10-15 minutes in a draft free warm area.
Carefully remove the hot baking sheet from the oven and slide under pizza dough and place back into oven. (The hot pan really helps crisp and set the crust.)
Bake for 12-15 minutes on the sheet. Move to directly on to the rack for the last 2 minutes if you want a crispy bottom.
Sprinkle dry herbs on top. Cut into strips and serve with your favorite mariana sauce.
Some other things you may like: