Get your game food on with these Gluten Free Broccoli Ham N Cheese Crescent Bites.  Perfect as an appetizer or easy dinner.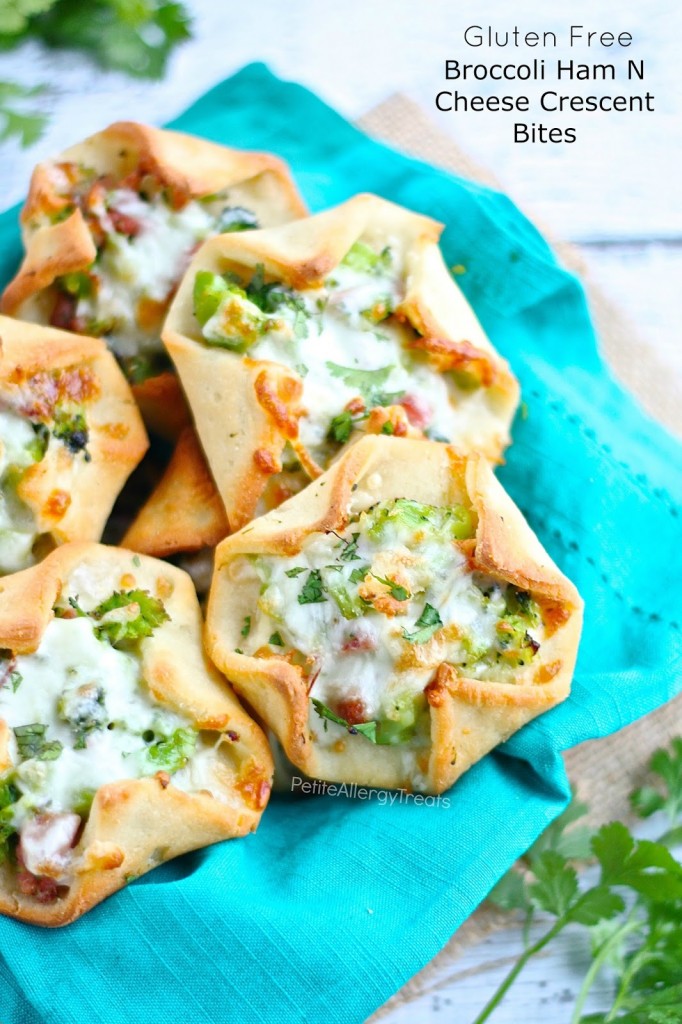 Warm flakey crescent rolls are the best…really any warm bread for that matter is heavenly.  Good gluten free breads are harder find but so worth the effort.
Now that the holidays have officially ended, I guess the Superbowl Party season has begun.  Do you guys like watching football?  And I mean like really watch the game and not just have a party with friends.
Believe it or not, I do.
I love watching football games.  For a few years it was my job to watch them.  Really.  And no, I wasn't a cheerleader or manager… I was the Athletic Trainer.
The who?
Athletic Trainer.  Not to be confused with a personal trainer.  So different and a little annoying when people assume it's the same thing. 😉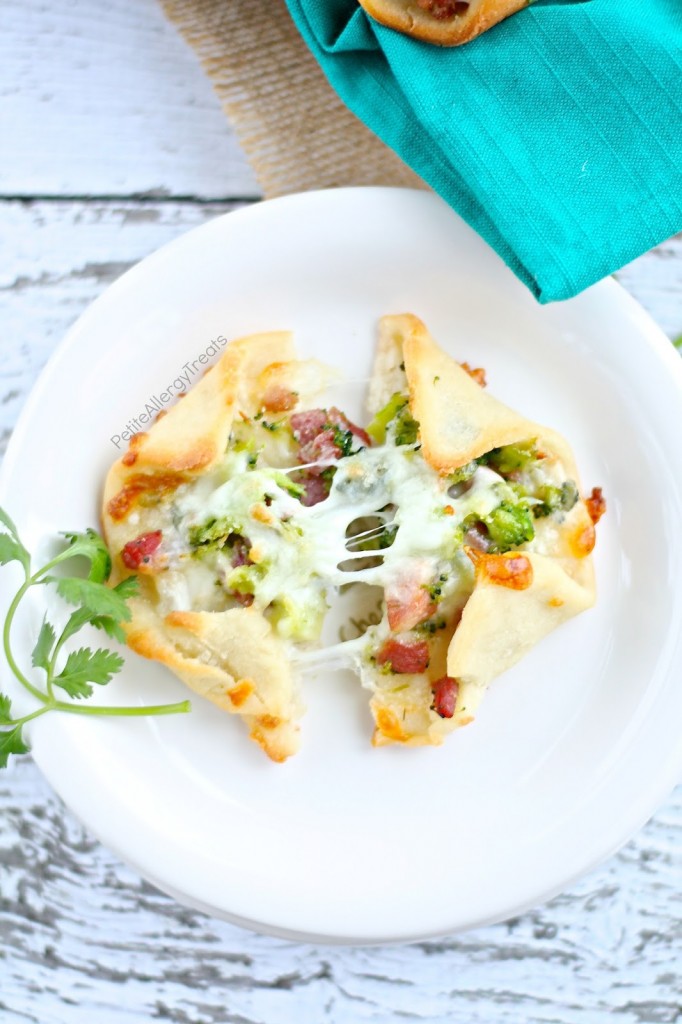 An athletic trainer is the medical coverage.  When you see someone run out on the field, that was me.  I would assess injuries when necessary, tapes ankles, thumbs, etc, and I was also in charge of creating and overseeing rehabilitation exercises for injured athletes.  A bachelors degree is needed as well as passing a written and oral test that lasted 6 hours to obtain the official title of a Certified Athletic Trainer.
Although I'm only 5 feet tall, (the size of a 12 year old), I had the huge task of winning the respect of said athletes and old skool male coaches.  They were a little skeptical at the beginning but I won them over in the end.
I always do.  😀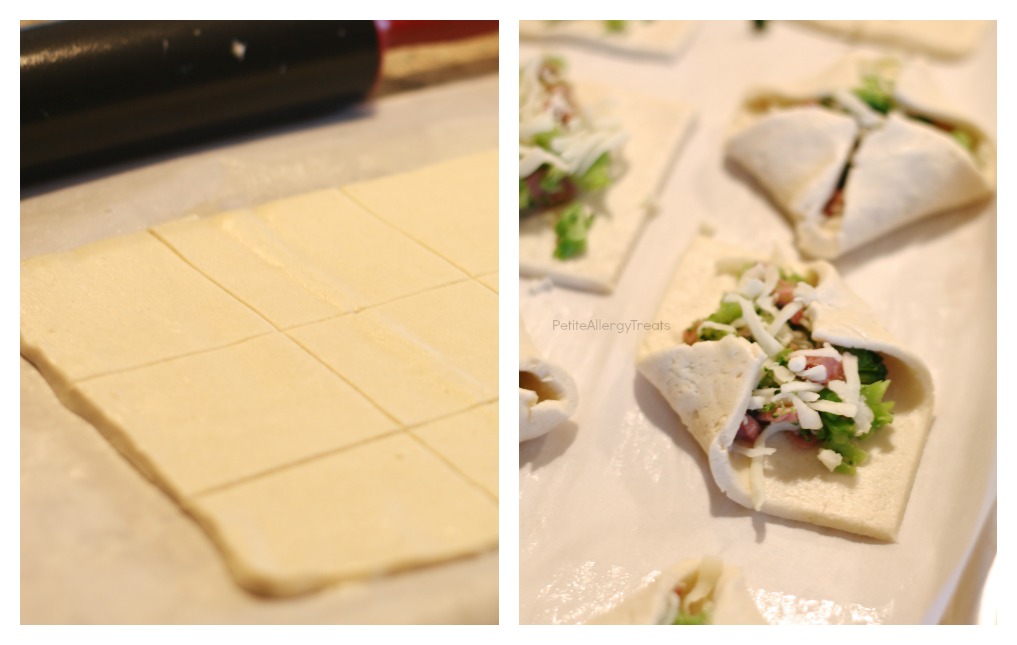 That job was probably one of the most demanding yet rewarding I've ever had.  Coverage included all sports like soccer, track, ice hockey, basketball and wrestling.  My job was through a hospital which covered local high schools.  The kids made it fun.  The parents and coaches… well, let's just say they kept things interesting.
The on the go lifestyle was fun and exhausting all at once.  I was the only medical coverage for any home event so weekends quickly filled up with tournaments and traveling.
That chapter of my life has ended and now I can sit and actually enjoy watching any game or sport on TV without ever having to worry about each play, blood on the uniforms, running across a field, or my personal favorite of being pulled on the ice by the hockey captain to access an injury.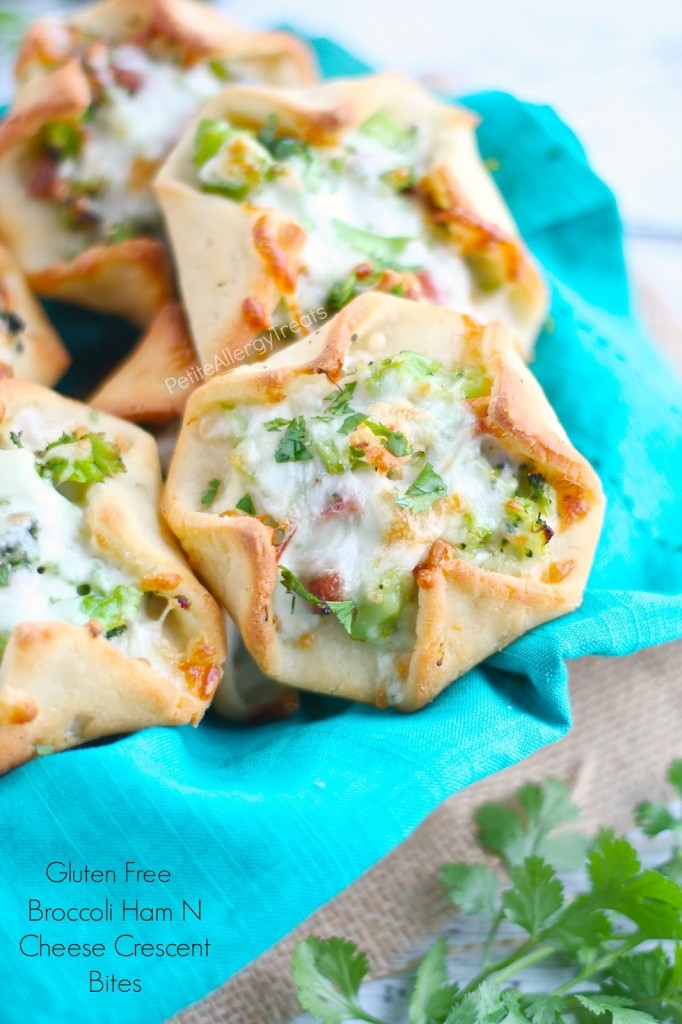 I love watching the game with friends and good food, like these Broccoli Ham N Cheese Crescent Bites.  They're relatively easy, quick and will please a crowd.  Serve these with while watching the game or for a regular dinner.
Ingredients
Dough
1 1/4 cup + 2 tbsp milk of choice
1 rapid rise yeast packet or 2 1/2 tsp
3 tsp xanthan or guar gum
1/2 tsp salt
4 tbsp melted vegetable shortening + extra for parchment paper
Filling
2 cups blanched broccoli
1 cup ham
3/4 cup mozerella cheese
1 tsp garlic powder
Directions 
 preheat oven to 375 degrees
Heat 1/4 cup of milk to 100 degrees.  Add yeast and set aside for 5 minutes or until foaming.
Mix all dry ingredients for the dough.  Combine yeast, 3 T melted shortening and remaining milk.
Mix ingredients by hand for 5 minutes to help activate gum.
Lightly grease a sheet of parchment paper the size of a baking sheet.  Divide dough in half. With greased hands, gently press out dough to form a rectangle approximately 14×18 inches.  Use a rolling pin to make extra thin.
Cut into desired size squares, smaller for appetizers, larger for meals
Add approximately 1 T full of filling in the center of each square.  Top with 1/4 cup of the shredded cheese.   Carefully fold up each corner towards the center.  (It's ok if it does not close completely since it expand and open during baking.)
Brush remaining 1 T melted shortening on the tops and allow to rest 10 minutes before baking.
Bake at 375 degrees for 10-12 minutes or until just beginning to turn golden brown.
Add remaining cheese and bake another 3-4 minutes until cheese is melted and dough is browned.
Some other things you may like: