Chocolate chip bagels (egg free gluten free Vegan) are further proof that living without gluten or eggs can still be amazingly good.  Enjoy these warm and fresh from the oven with the dairy free and soy chocolate chips still melted and gooey.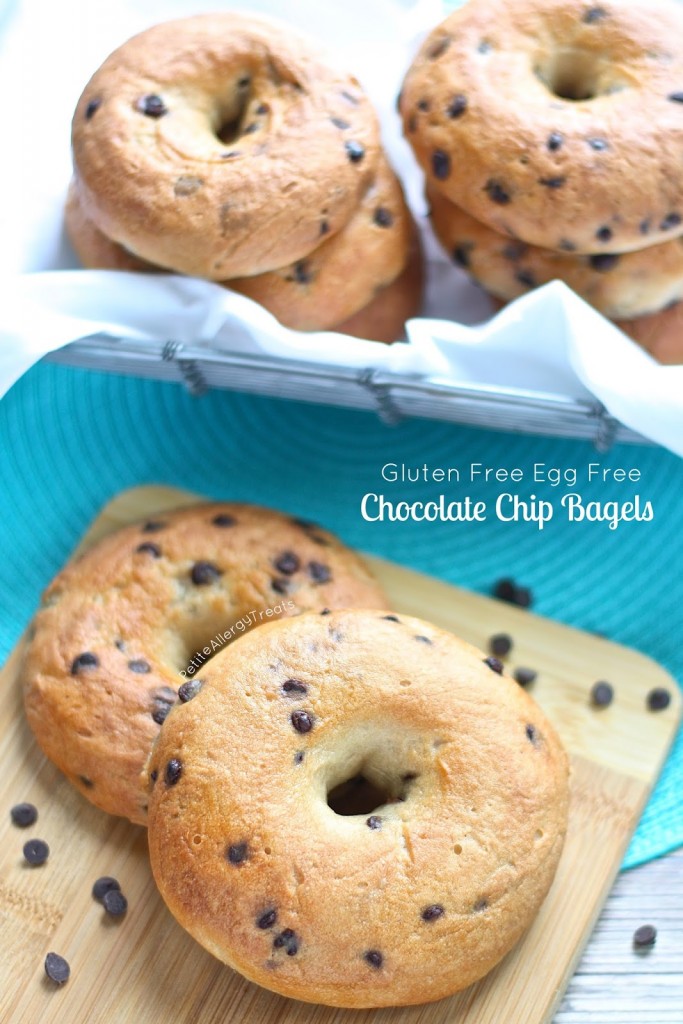 And the winner is…..
Chocolate Chip Bagels.
Was there really any doubt these amazing chewy bagels wouldn't beat some fierce competition from the gluten free Pizza Bombs and a scary (but cute) gluten free egg free dairy free Shark Cake?
Not really.
You know as much as me that good gluten free bread is hard to come by let alone ones without eggs or nut flours.  I have you covered with these Top 8 Allergen Free bagels.  To keep them top 8 you really need to use Enjoy Life Chocolate but if you don't have allergies to dairy, soy or nuts any chocolate will do.
I have to be honest… I wanted these to win.  I've been so excited at how well they turned out, I just want to shout it to the world:
FRESH HOT GLUTEN FREE EGG FREE CHOCOLATE CHIP BAGELS!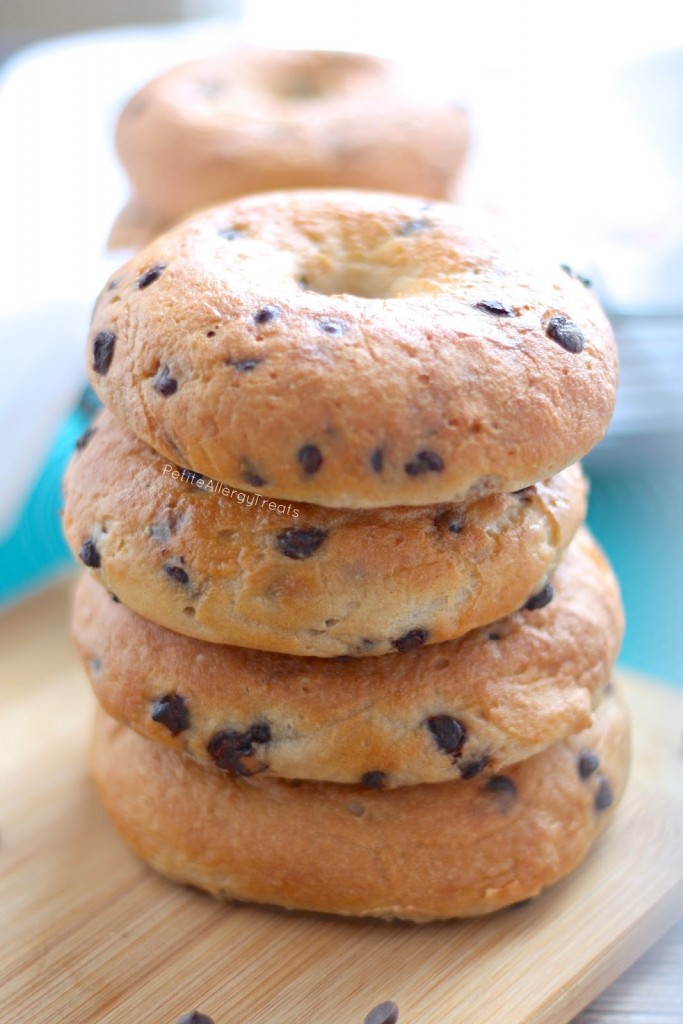 Ahhhh.  There.  I feel better. 🙂
Seriously though, I wanted to share these now since you might have a little extra time to make them.  My older son is off of school for a full week and I suspect many of you might be too.  If you aren't traveling and have some days off, now would be the time to experiment with baking.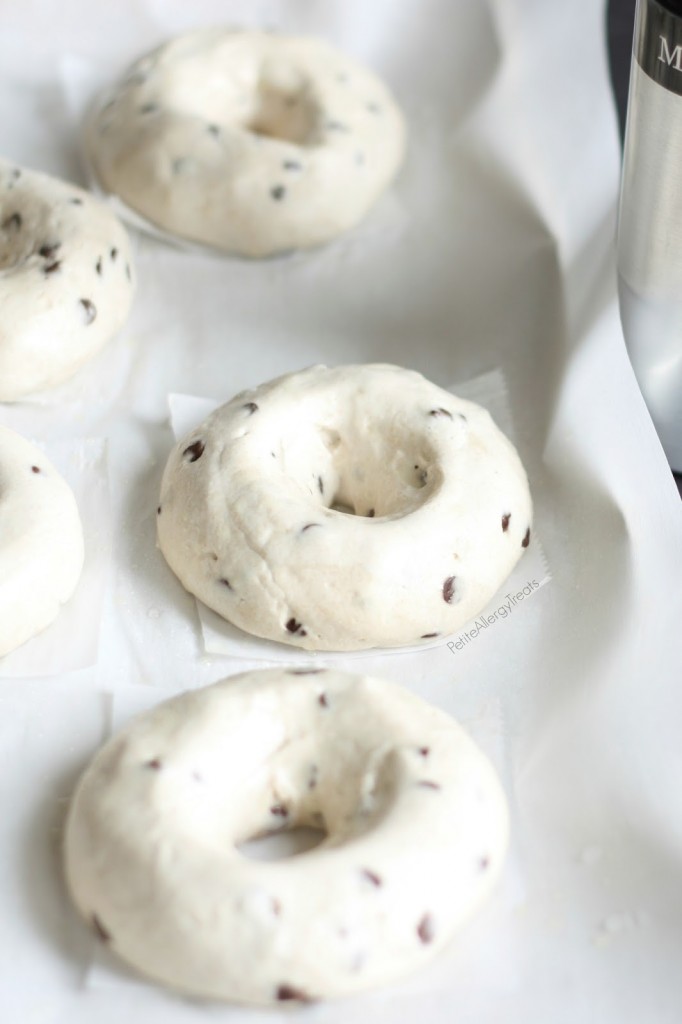 These bagels are unique in the sense they are egg free and do not use egg replacer, flaxseed, chia seed or psyllium husks.  Just plain ole guar gum.  You could always use xanthan gum too, we just don't tolerate that as well as guar (btw, the brand I use is Now Foods).  Another thing that sets these beauties apart is my attempt to make it a tad bit more nutritious with a splash of Teff Flour.
Teff is a great nutritional power house for gluten free flours.  My only reservations about teff are how dense baked good can become if used in large quantities and the cost.  I played around and ended up with this, which adds more of a whole grain brown color when baked,  almost simulates a whole wheat bagel.
Almost.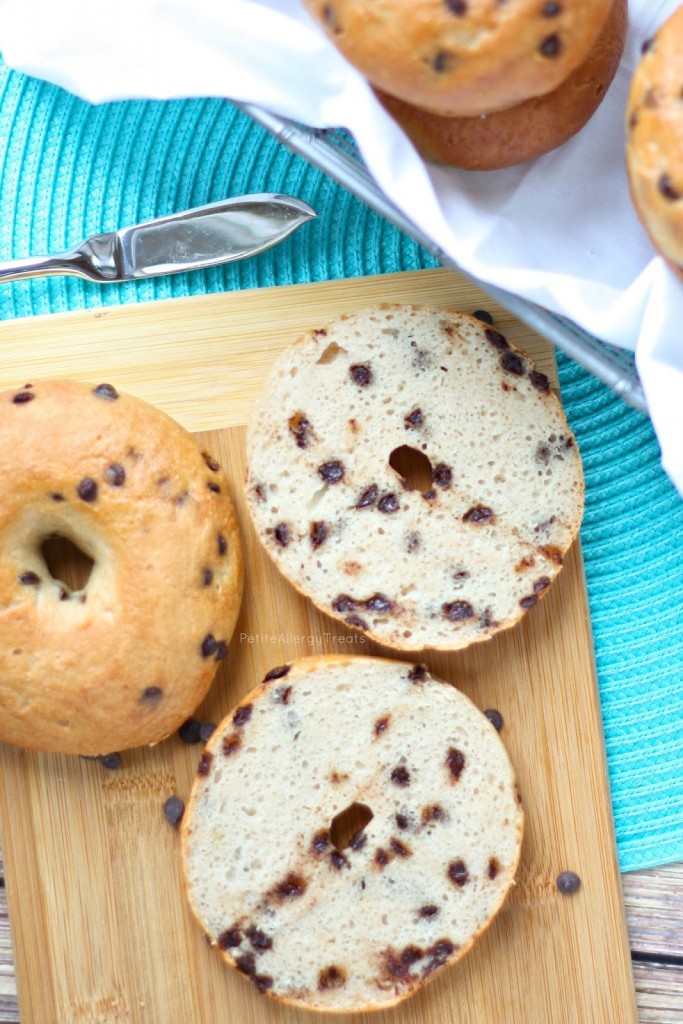 I had fun asking what YOU what you wanted.  It was interesting since there were different winners on different social media.  Pizza Bombs won on Instagram.  The Shark Cake won on the actual blog and the Bagels blew the competition out of the water on Facebook.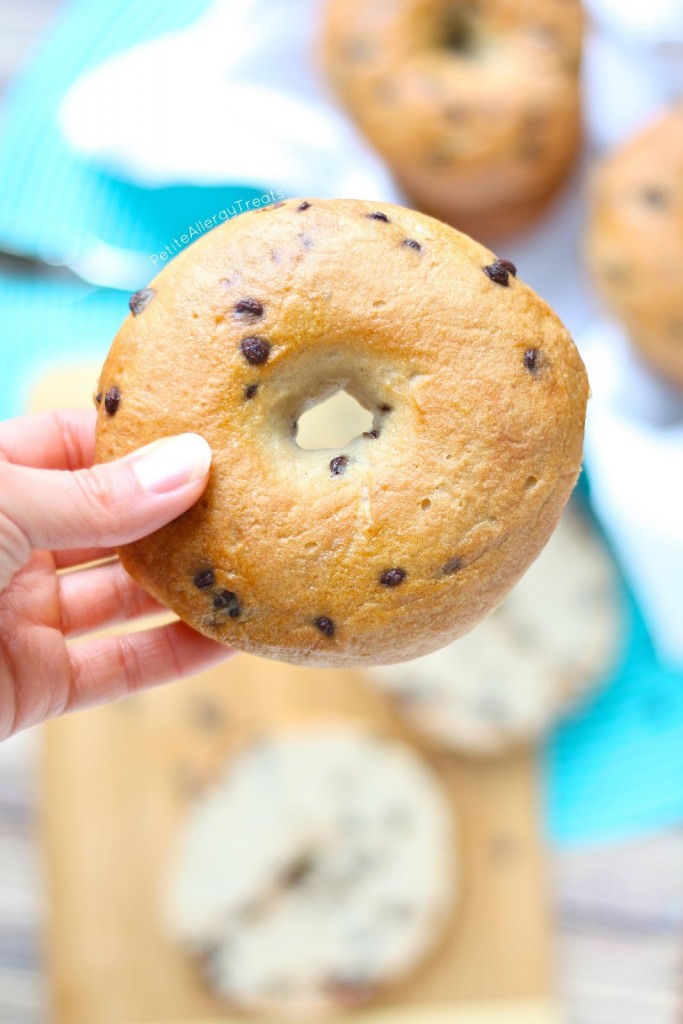 We'll have to try that again, it was fun!  And I will be posting the others soon.
I hope you all have a fantastic trip if you are traveling for the break.  I'll catch up with you next week.  I'm taking the rest of the week off.  Be safe.  Enjoy a lazy day if possible.  And pay-it forward by being nice for no reason at all. 😀
-Laura <3
Chocolate Chip Bagels (Gluten Free Egg Free Vegan Dairy Free)
Author: Laura @ Petite Allergy Treats
Ingredients 
Bake at 450 for 14-16 minutes makes about 6 large bagels
3 1/4 cups gluten free all purpose white blend
1/4 cup teff flour
1 3/4 cups milk of choice or water
2 1/2 tsp yeast or 1 packet
3 tsp guar gum (I use Now Foods)
1 tsp vanilla
2 Tbsp oil
3/4 tsp salt
1 cup allergen chocolate chips (I use Enjoy Life)
Directions
Heat liquid to 100 degrees F.  Add yeast and mix and allow to sit for 5 minutes.
In a separate bowl mix flours, gum and salt.
In large bowl combine liquid and oil.  Gradually mix in all the flour mixture by hand to avoid big lumps.  Mix until all incorporated and smooth.  Add chocolate chips.
Use a large cookie scoop or spray a 1/2 C measuring cup scoop the dough.  With wet hands form dough into a ball and use a finger to poke a hole in the center.  Gently shape into bagel form by expanding the hole.  Place on a individual piece of parchment paper on a baking sheet lined with parchment paper.
Spray tops with oil, cover with plastic and allow to rise in a warm place for about 20 minutes.  (Don't allow to double in size or else it will lose its shape and fall apart in the bath.)
Bring large pot of water to a rapid boil. Gently drop a max of 2 bagels in the water and boiled each side for only 30 seconds each side.  Remove individual parchment paper pieces and place back on baking sheet.
Bake at 450 degree for 14-16 or until golden brown.
Notes:  Be careful moving bagels to and from the water.  The extra sheet of parchment paper makes it easier to move and comes off easily after boiling.  The water should be a rapid boil and only let them sit for a short while on each side or else they will absorb too much water and become soggy.  Allow your oven to preheat at least 20 minutes prior to baking.  These freeze extremely well. 


Follow me for the latest news!
Some other things you may like: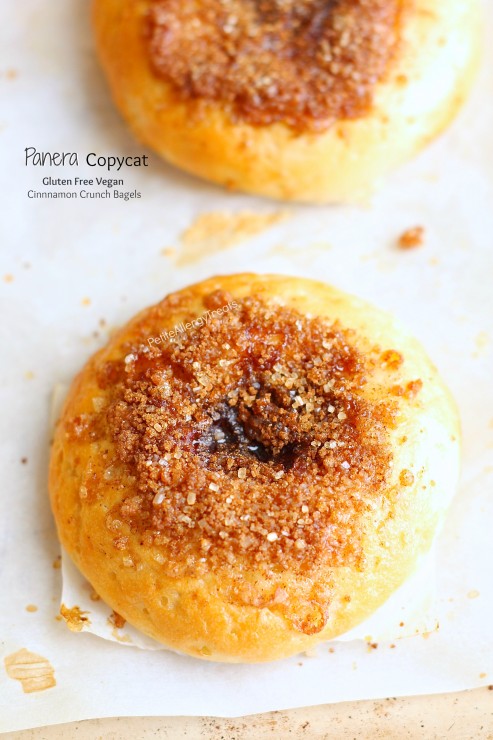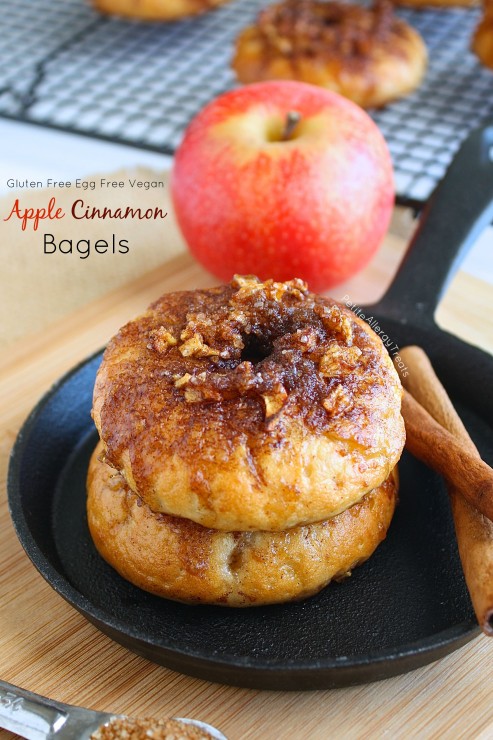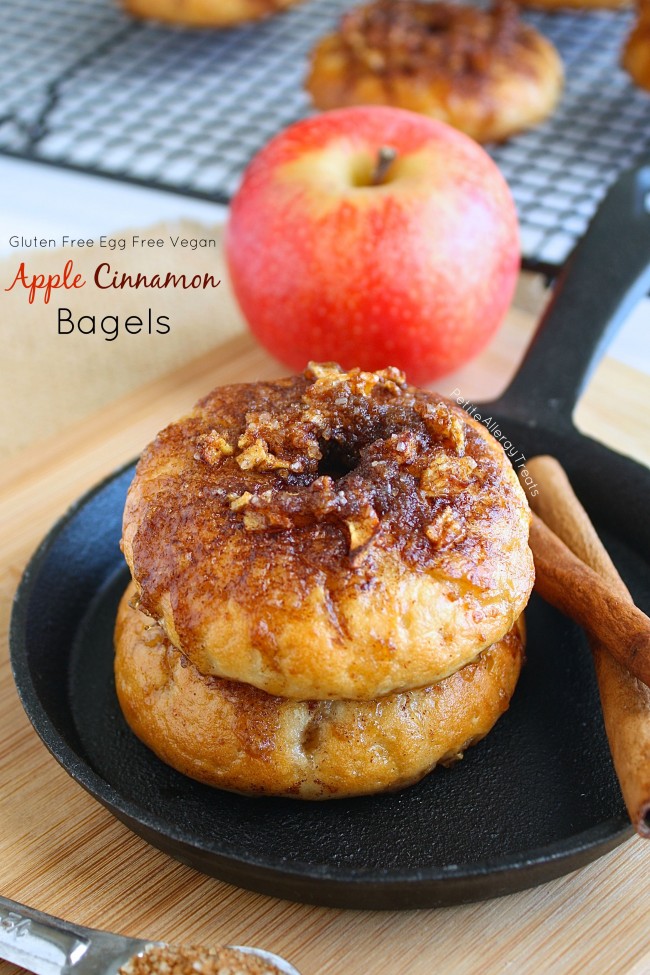 Gluten Free Apple Cinnamon Bagels- egg free dairy free Vegan