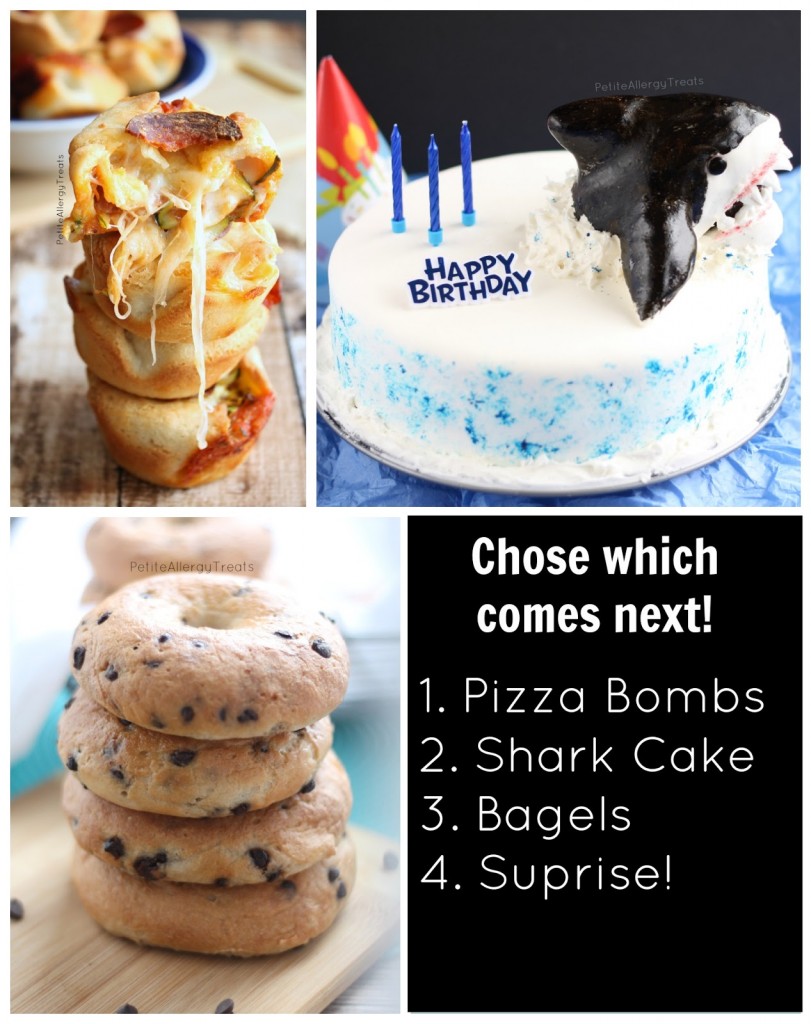 Hi there! You probably thought I was going to sneak in another spinach recipe or Easter Treat, huh? Yeah… I like to change things up and keep you guessing since I'm really a Ninja.

Ok. Maybe not a exactly a Ninja… but it was fun to say… And this will be just as fun.
I promise.
I think know I can trust you. So let me hand off the reigns for a moment and let's play a game.
If you could chose the next recipe I post what would you choose??? Here are some choices:


1. Pizza Bombs- loaded with fresh veggies, tomato sauce and cheese in a flaky gluten free crust.
2. Great White Shark- a ferocious looking chocolate cake with a marshmallow fondant.
3. Chocolate Chip Bagel- a newer (and better) version of my original gluten free egg free bagels.
4. A Mystery???- you'll find out the day I post. Similar to what happens now but with more uncertainty.–LOL
What will you chose and why? Is there a birthday coming up that you need a Shark to attend? Or how about serving Pizza Bombs at the Final Four Basketball Tournament? (Wisconsin made it, Woot!!) Bagels AND Chocolate, do I really need to explain more?
Let me know what YOU want next. In the past, I've played the 'guess what I'm making' game on Facebook and I've gotten so many great suggestions and answers that were not the recipe I created but made me wish I did.
I know most of you don't have a Google + account and cannot leave a comment but I really do like hearing what you think about recipes. I hear through Facebook which is great but most of the time they won't even show you my posts.
I know, frustrating.
That's another great reason to sign up for my Weekly Newsletter that will be starting soon. You can SIGN UP HERE. You'll receive a weekly email highlighting all the posts, incase you missed any.
I absolutely LOVE hearing that some of you made a recipes and it's changed your lives. You are the reason I keep working on creating recipes for families with food allergies… (annnd because I need to feed Mr. Naughty.) 🙂
Let me know what you want next and I'll post it. Find me here by leaving a blog comment and be sure to TAG me as + Laura O and I'll receive a notification.
Other social medias to find me are here. Can't wait to see what YOU choose next!
PETITE ALLERGY TREATS –>|TWITTER |FACEBOOK |INSTAGRAM |GOOGLE+ | PINTEREST