These cute Easter Birds Nest would be a great food allergy friendly family craft.  These eggs are all naturally colored, dye-free and the whole thing is gluten free, egg free, dairy free and Vegan.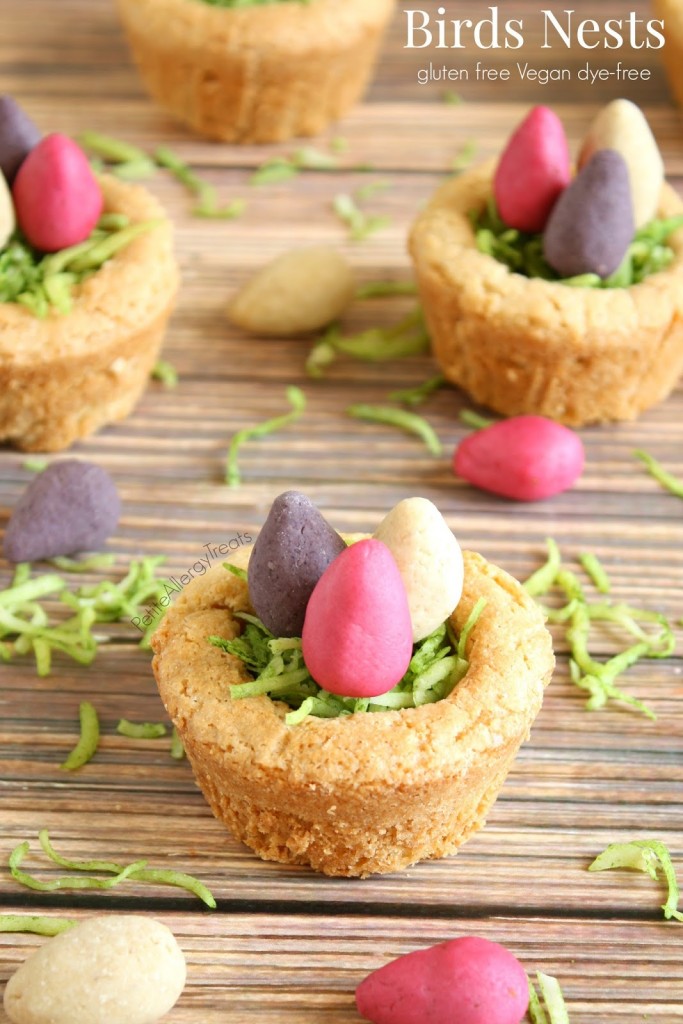 Easter is right around the corner and these nests were a fun little project.  I'm usually not into creating time consuming treats but holidays and birthdays are always the exception.  This little project is not what it started as… it was supposed be an edible Easter basket filed with eggs along with a handle.
I envisioned a darker brown cookie cup with a hollowed out center large enough to add my edible Easter grass, some colorful eggs and a real chocolate handle.  Obviously, it seemed much easier in my mind.  Instead of all those wonderful things happening, I had a few hiccups along the way in this recipe.  The cookie cups came out thicker (er… almost a blob) than expected and the fruit leathers for the handle were much too short to be proportionally the correct size.  So what do you do when a fail is eminent?
ABANDON SHIP.
LOL…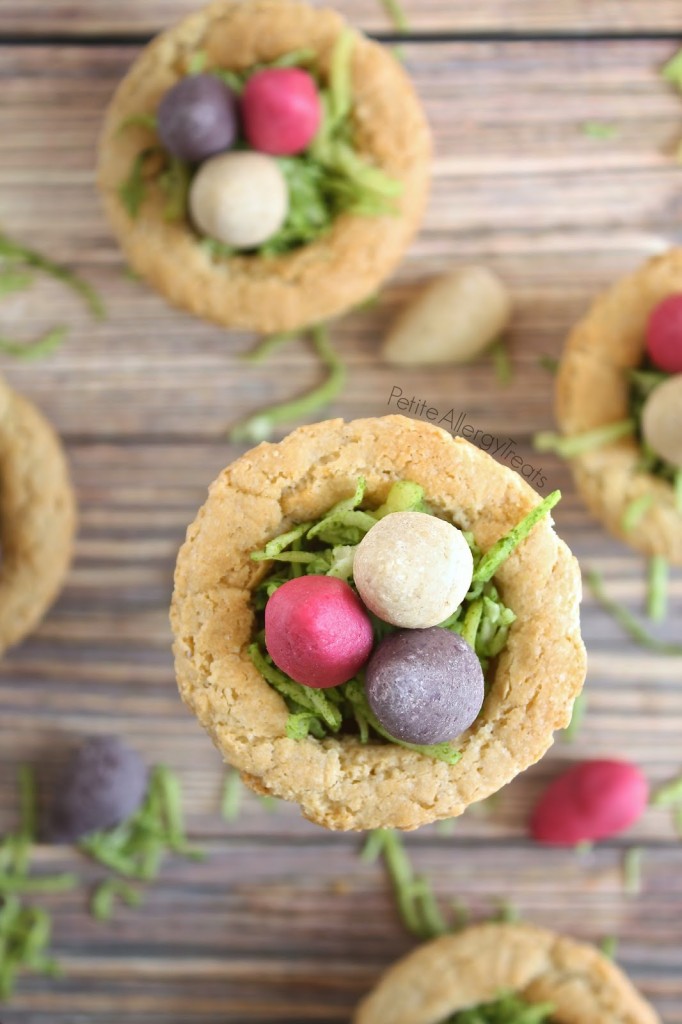 If I'm being completely honest, I was just plain tired and wanted this project to be done and over.  I could have made it work… and maybe I'll attempt it again next year.  After working on the Chubby Bunnies for almost 2 days on and off, along with another project not yet seen (nor completed in time) I was tired and busy with everyday life.
So this naturally morphed into birds nests.
Not bad, huh?
Almost perfect in a way since I didn't want to waste this versatile gluten free sugar cookie dough and I already had the raspberry, blueberry and white doughs from my oat bars ready.  The sugar cookie dough for the nest worked well since it doesn't spread much when cut into shapes.  But would it hold up to baking in a muffin pan with the center pressed in?
Sort of…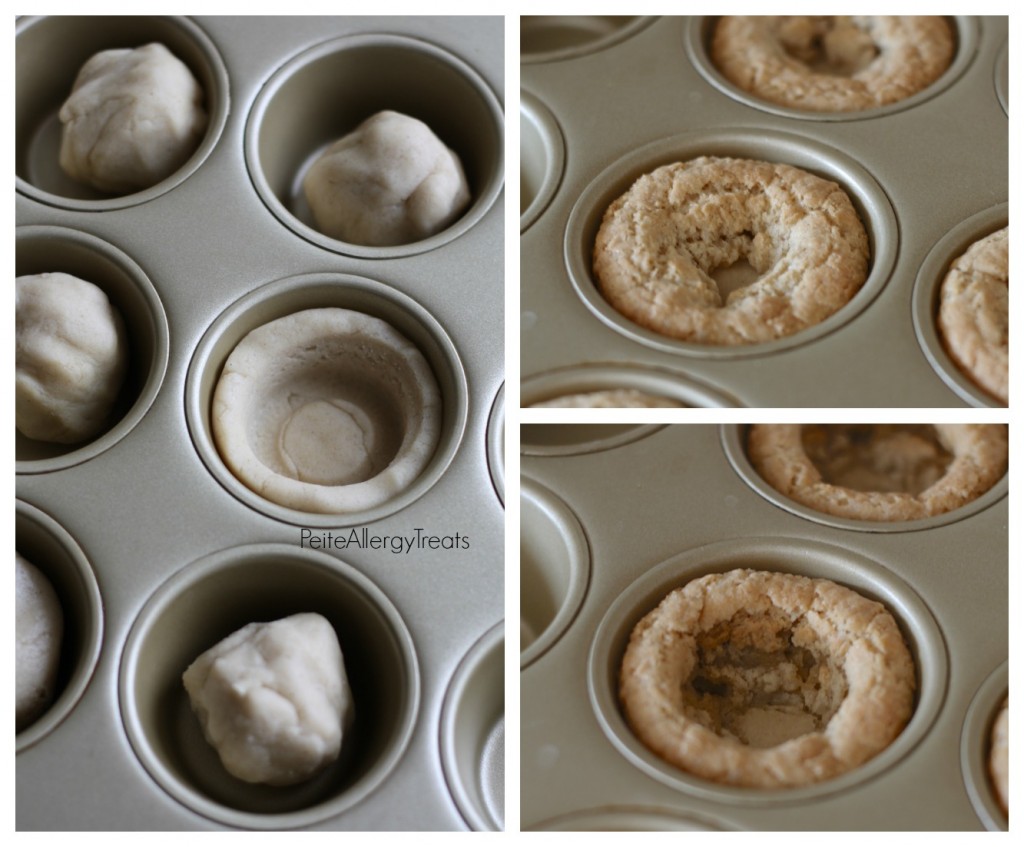 I already made extra dough for the bunnies and needed to let it thaw from the freezer.   I ended up being distracted with Mr. Naughty and completely forgot to move the dough to the refrigerator.  I remembered the dough after lunch.  It ended up being warm but super soft and pliable.  I didn't have time to chill it again.  If the dough was chilled, I don't think the minor reshaping with a spoon would be necessary.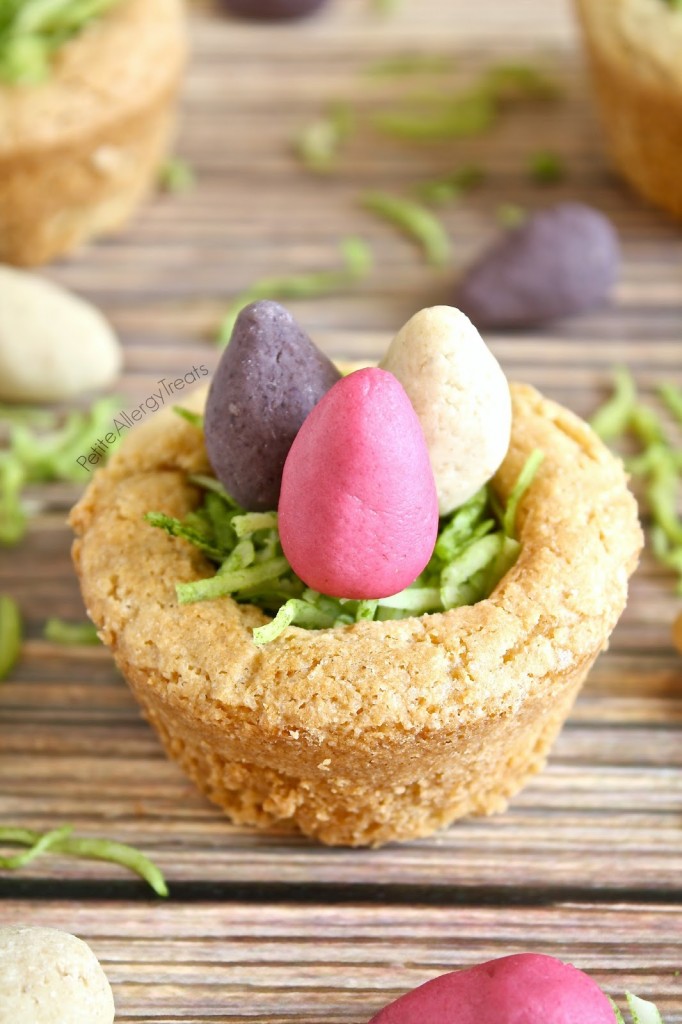 I hope you enjoy these!
Birds Nest (gluten free, dairy free, dye-free Vegan)
Author: Laura @ Petite Allergy Treats
Ingredients
Directions
COOKIE CUPS-Drop 2 Tbsp size sugar cookie dough ball into a well greased muffin tin.  Use a small shot glass to shape and form a depression.  Bake for 12-14 minutes or until golden brown.
Immediately after cooking, take a spoon to gently reform the hollow center.  Allow to cool completely before trying to remove from tin. (I used a tooth pick to gently loosen any stubborn cookies)
COLORED EGGS- measure about 1-2 teaspoons of filling and gently form into an egg shape.  Measure to make sure it will fit into nest.  Cover with plastic to avoid drying out.  Repeat with all colors.
ASSEMBLY- Sprinkle cup with edible grass and top with 3 different colored eggs.
Notes:  This would be a fun craft for the whole family!  All of the dough listed can be made in advance and frozen.  Using a chilled sugar cookie dough will keep the nest shape better but also stiffer to work with.  Freeze any excess dough for more cookies later or press into bars to create a similar version of my Raspberry Bars.
Some other things you may like: