Decorate food allergy friendly Gluten Free Chubby Easter Bunny Cookies.  Made dye-free with natural carrot and spinach puree for a treat that is gluten free, egg free and Vegan.  These bunny cookies contain natural dye are egg free, dairy free, and Vegan!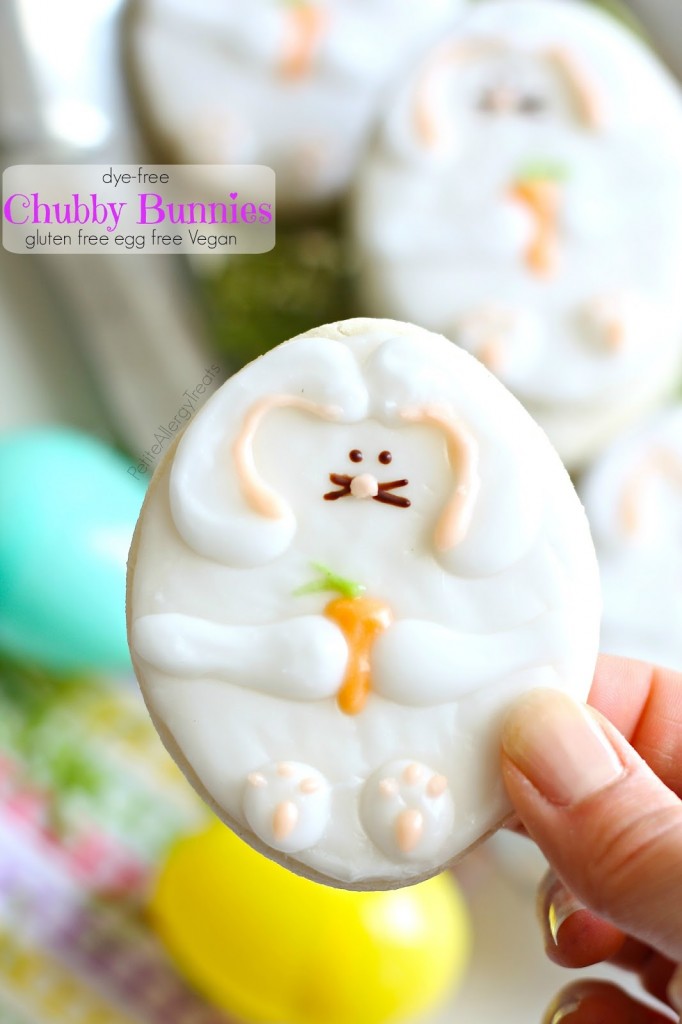 It's SOOO cute…  I don't even want to eat it…
Really.
I would consider this a major WIN for food allergy kids if I say so myself.  😀  I'm not exactly a cookie decorator.
I usually try a little of everything I make after I finish the photos and share a bit with the kids later.  Not his time, no one was eating a rabbit.  I'm saving all of these for Easter.  I already packed them nicely in the freezer and I'm toying with the idea of mailing them to Florida.  Chances are they wouldn't make it.  I'd be too sad if no one would be a to enjoy a bunny.
As you can see, I'm going a bit crazy trying to post all the Easter recipes so you'll have enough time to make them…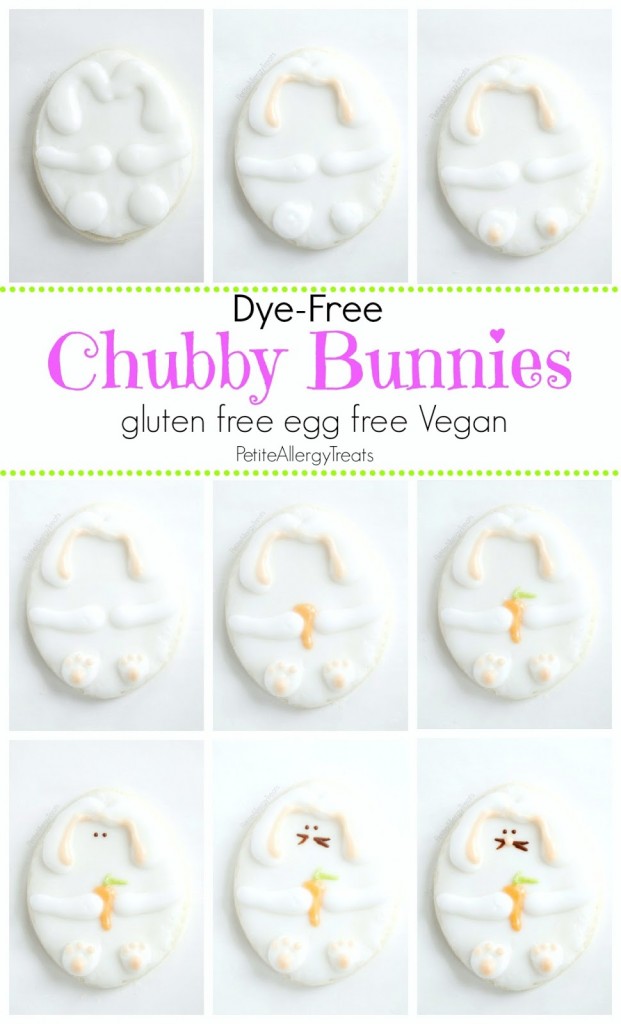 Of course I'm just realizing now most of you are probably on Spring Break.   <—-good for you!
So…I may in fact, be talking to no one.
Ok…
I'll tell you a story.  A really funny story. It has nothing to do with Easter or these chubby bunny cookies, but I promise it will entertain.
It's a story about my childhood friend, Kiki, who literally stopped traffic.  Kiki and I grew up in the same tiny town and endured what seemed a never ending bus ride.  It was there we forged a friendship forever.  She has that bubbly sweet and funny personality everyone needs as a friend.  This girl is hands down, truly an awesome girl.
Once upon a time I was young, single and fun (I'm still fun occasionally), I lived on the East Side of Milwaukee that borders Lake Michigan.  The lakefront was a great place to run, fly a kite and rollerblade.
It was during the summer when Kiki came to live with me and my roommates.  The Milwaukee lakefront has a series of bridges and steep pedestrian paths that connect to the downtown area.  It was on one of these declines that ithappen.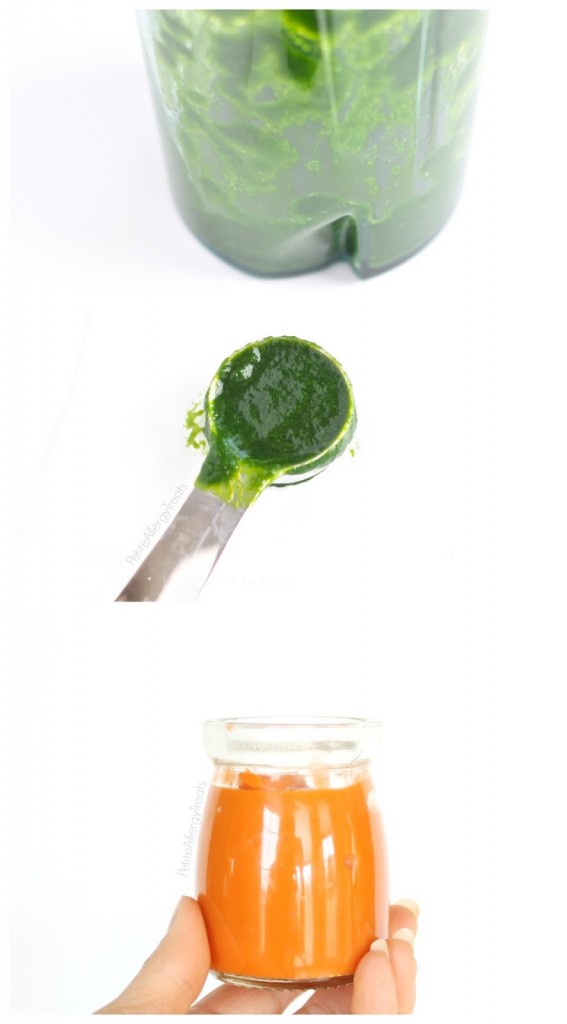 One of my roommate was above average for rollerblading, and was especially used to those steep hills with a sudden turn at the end leaving literal no room to stop or slow down.  There was the hill then just a square of cement at the bottom to stop. Thankfully grass surrounded this. Kiki had no idea how quickly the pavement disappeared at the end.
So the story goes (I wasn't even there and but it's forever etched in my memory) my roommate headed towards the hill without warning Kiki.
About a 1/3 of the way down Kiki realized she wouldn't be able to slow down in time to stop.  Instead of fighting it, she she embraced it. She readied herself.  She rapidly picked up speed and out of fear of falling, she crouched down lower the ground.  To help further balance, she put both arms out. Like an airplane ready for take off.   This airplane, however, was careening down a hill on rollerblades and clearly out of control.
At this point my roommate turned around to witness this spectacular sight.  She was going to say something but the words never made it out.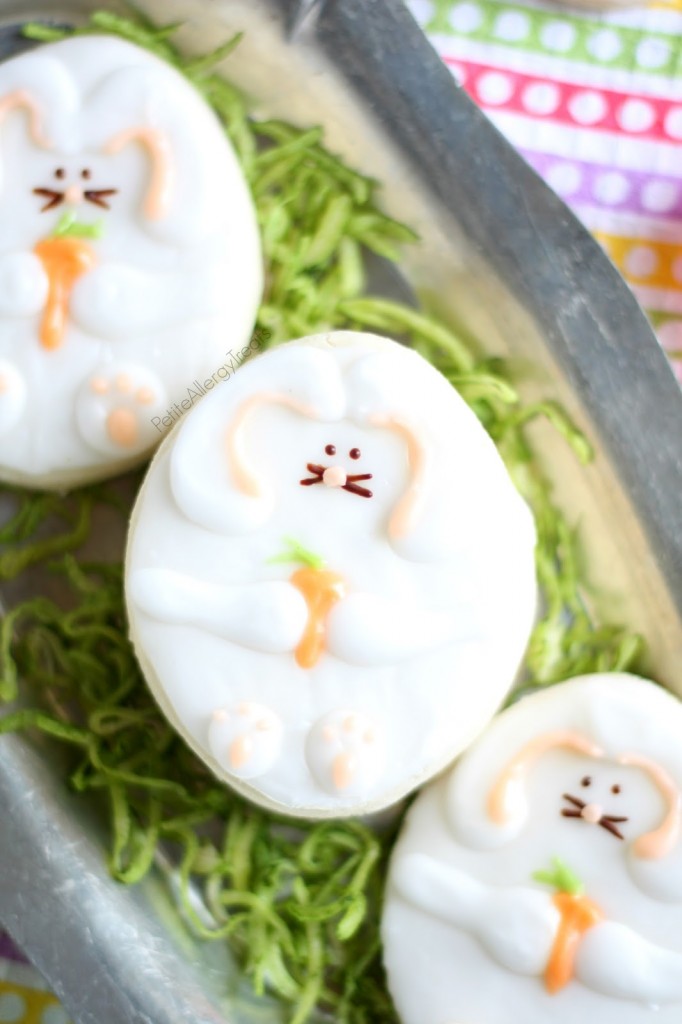 Poor Kiki… she really was ready for take off… and boy did she takeoff.   With a sudden stop, she hit the end of the sidewalk and flew into the air. She hovered almost in slow motion for a moment, before hitting the grass in front of the busiest streets in the city…
And then she bounced.
Twice.
Cars passed with drivers visibly shaking with laughter along with ecstatic honks.  Clearly she made their day.
It was this sight that I can still picture today.
That's Kiki.  Always making me and everyone else smile…by falling.  It's a theme.  There's another story about Chicago… I'll probably tell you about another adventure some day. We had some fun times together.
Since we're speaking of fun you'll love making with these Easter Chubby Bunny Cookies with your family…  I used a simple egg shaped cookie cutter since I didn't have a bunny cutout. I figured this is a pretty common shape to have and use.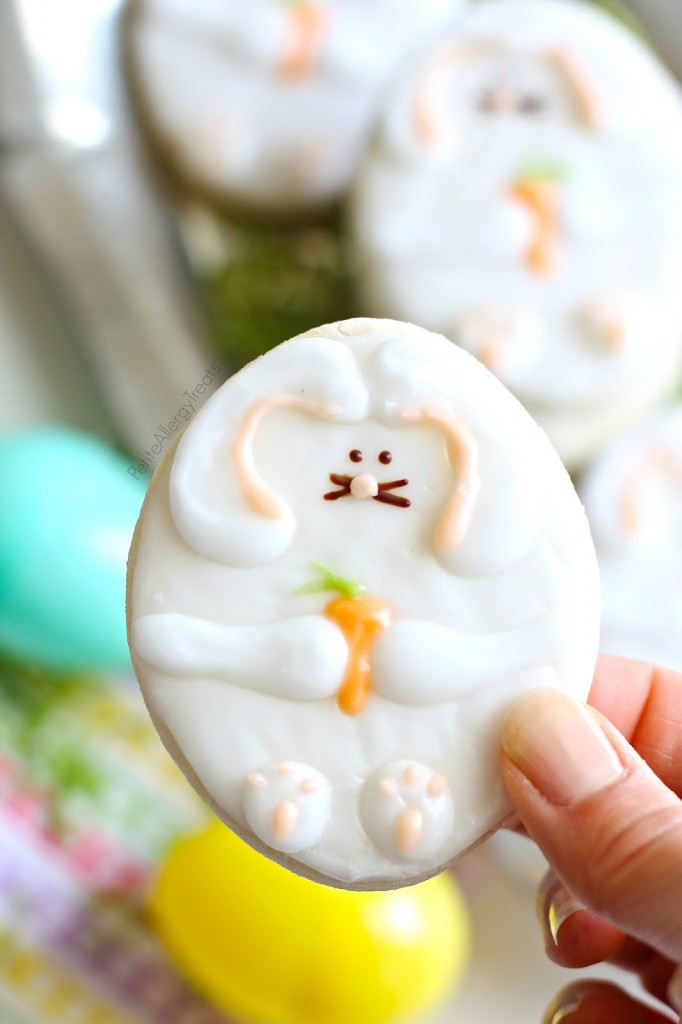 And if you get a chance, make these chub chub bunnies for a special treat.
 If you're on spring break, enjoy it!
Chubby Easter Bunny Cookies Natural Dye (gluten free egg free dye free)
Author:
Laura @ Petite Allergy Treats
Ingredients
Cookies
½ cup dairy free milk
1 cup white sugar
½ cup non hydrogenated shortening
1 tsp baking powder
4 tsp guar gum (slightly less with xanthan)
Egg Free Icings
-White
2 cups powdered sugar
8 tsp water
-Pink-ish
(light orange)
1 cup powdered sugar
2 tsp carrot puree
2.5 tsp water
-Orange
¼ cup powdered sugar
1 tsp carrot puree
-Green
⅛ cup powdered sugar
spinach puree to reach desired color
Black (dark brownish)
1 Tbsp Enjoy Life chocolate chips
¼ tsp oil
Instructions
Cookies
Preheat oven to 325 degree F. Combine all dry ingredients and mix well. In another bowl, add shortening, sugar, dairy free milk, and mix until fluffy. Gradually add all flour until a dough is formed.
Roll out dough on parchment paper to ⅛ inch thickness. Cut into shapes and carefully transfer to a parchment paper lined baking sheet. Use the scraps and repeat until dough is gone.
Bake for only 7-8 minutes or until tops appear dry and slightly cracked. The cookies won't appear golden brown or fully cooked. They will continue cooking on the sheet and will firm up after they cool. Allow to fully cool before decorating.
Icings
For all icing, mix powdered sugar with liquid amount stated until smooth. Create each in a separate bowl and cover any unused icing to keep from drying out. (To create the puree, a high powered blender or food processor is needed.)
Carrot Puree-
cook until soft before pureeing. Although the recipe doesn't require much, it's necessary puree more than you need to achieve a smooth puree. I found little water is necessary to help start the puree and thin it out just a bit. I started with 1 cup carrots and used about 1-1.5 Tbsp water. Freeze leftovers to use later.
Spinach Puree-
use fresh spinach to achieve a vibrant green.
Decorating (reference photos)
Transfer icing to individual zip lock bags.
Cut a small hole in the white bag and pipe a line surrounding the entire cookie. Use a toothpick or spoon to make any adjustments and fill in the rest of the cookie.
Ears: make a C-shape that is thicker on the bottom and thin on the top. Line with a thin light pink on inside.
Feet: two white dots center bottom. Drop one light pink dot in the center with three smaller dots on top for toes.
Arms: drag a line slightly down from the outside border towards the center. Allow space for carrot.
Carrot: center dark orange in the center where the arms meet and thinly allow icing to fall in-between.
Carrot top: Use a toothpick to paint two faint green lines extending from carrot.
Face: Use a toothpick to drop two chocolate eyes and paint whiskers.
Allow to dry overnight before trying to move.
 Follow me for the latest news!
Some other things you may like: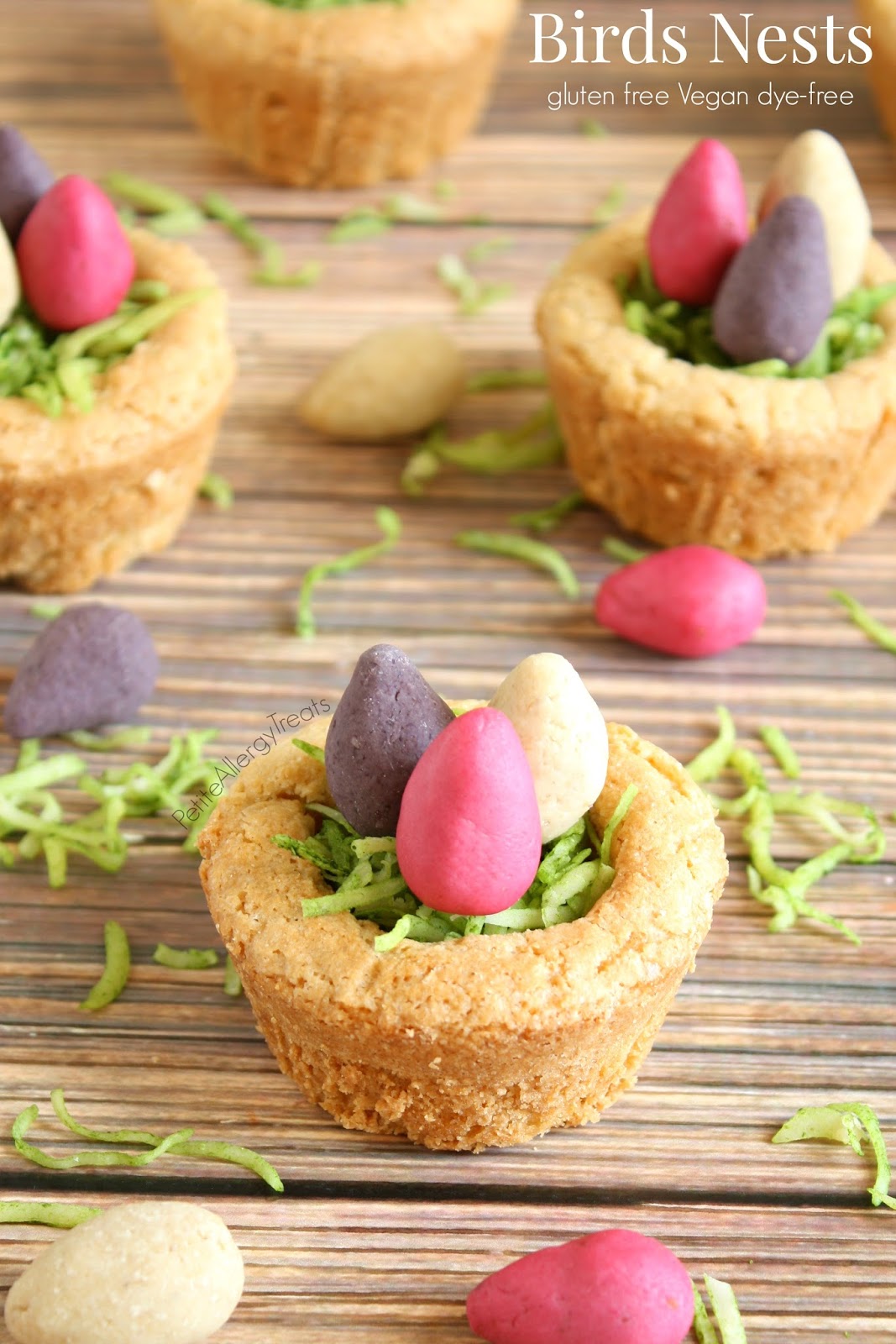 Birds Nests Sugar Cookies (gluten free dye free egg free dairy free Vegan)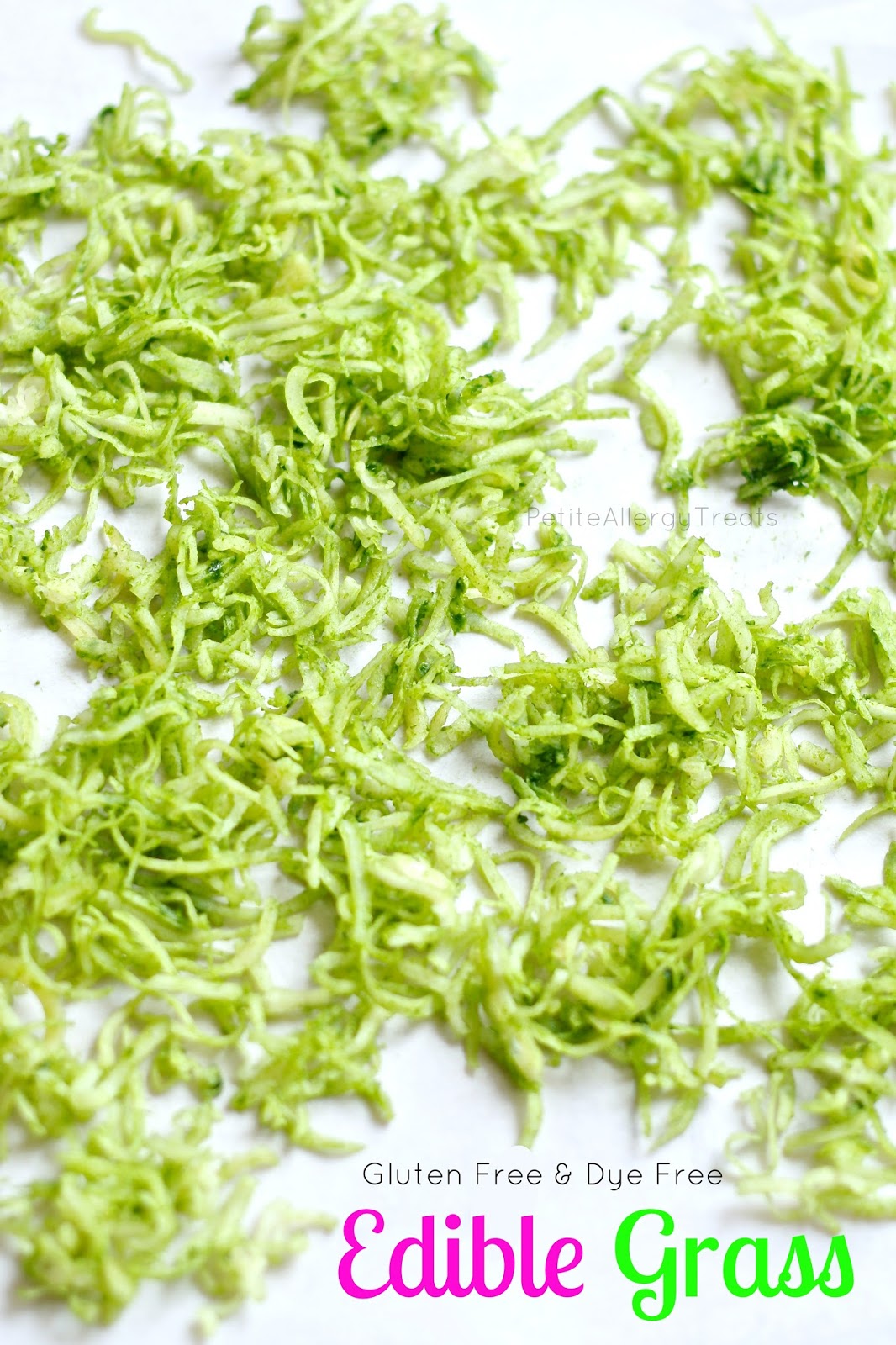 DIY Edible Easter Grass dye free