Any gluten free bagel is a good thing but Gluten Free Spinach Onion Bagels add a tons of flavor and antioxidants.  Made allergy friendly without dairy or egg to make these free of the top 8 food allergens.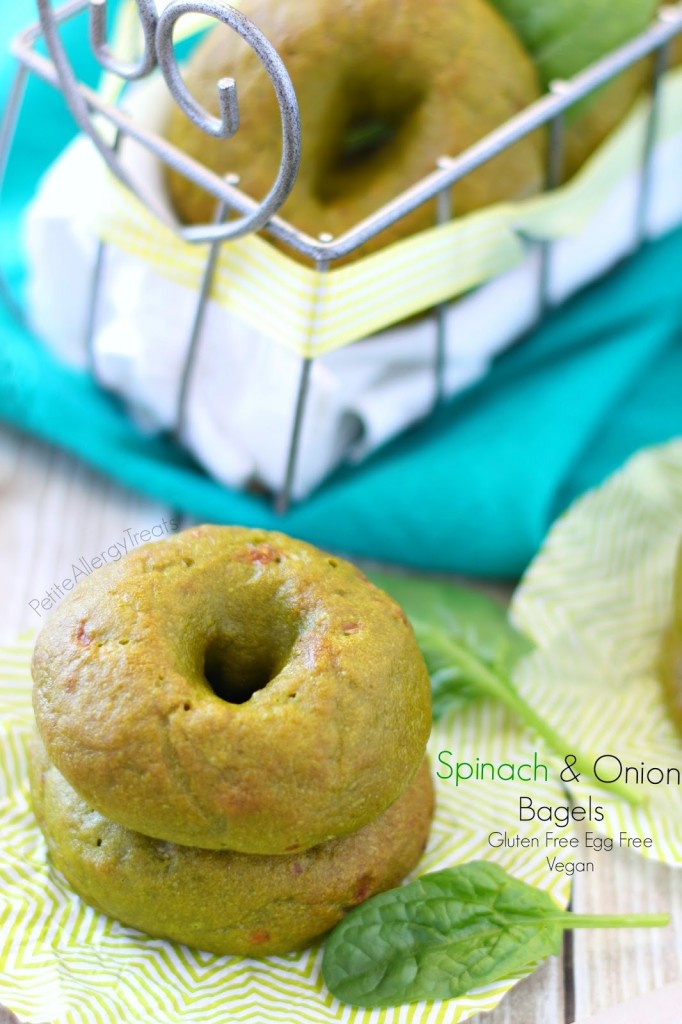 Do you ever get a craving you just have to have?  You know what I mean…You just suddenly
want
 need something and it's a no brainer-gotta-have-it
now
.
I'm talking about carbs my friends.
Bagels in particular. My ultimate carboholic weakness.  Always has been.  If you recall my
original bagel post
,  I managed to stuffed 4 large bagels with cream cheese in my poor collage days since they were so good (and
free
).
All this running has awakened the carb craving monster.  As much as I would love to shove a whole bag of  Hawaiian Buns in my face, I don't.  In part since I don't like bringing excess wheat into the house.
The other reason being, I think I have a sensitivity towards gluten…
That's a big one I've hinted at for awhile.  I'm almost positive I do.  I'm not allergic to it in the sense that I break out in hives or need benadryl but I notice things after eating any amount of wheat.  My stomach hurts.  I get bloated and I have joint pain in my fingers the following few days.  It could be just my imagination… But not likely if it occurs every time after I eat wheat.  When I in my early 20's, I used to carry antacids with me 24/7 in a little pill box in my purse, like an old lady, since I never knew when or where a raging stomachache would strike.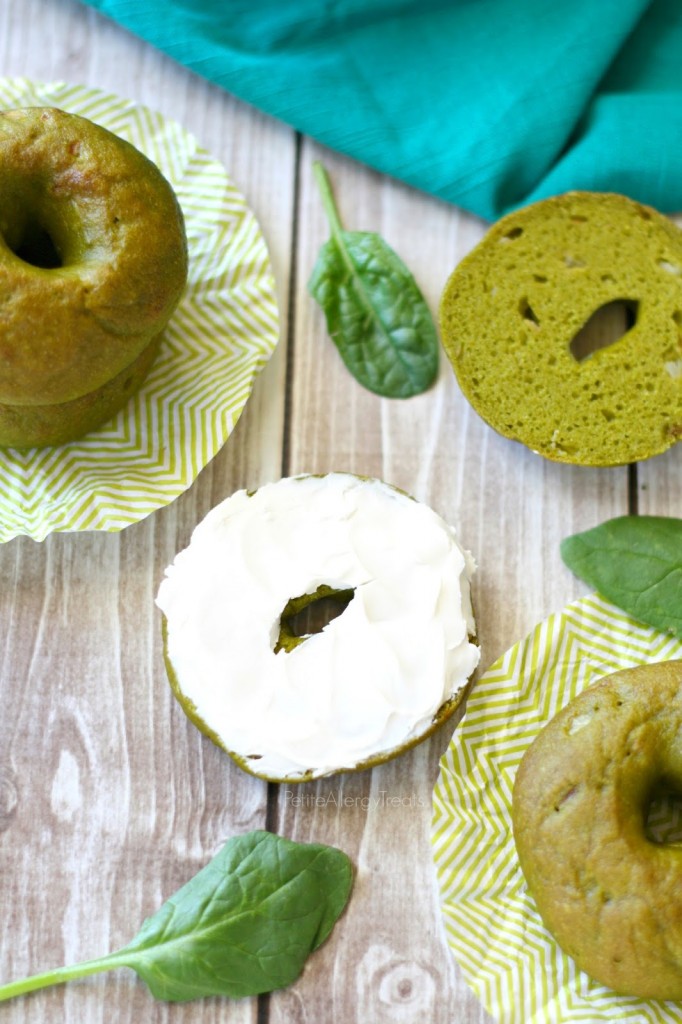 It's strange but going gluten free while I nursing my son 2 years ago, made those horrible stomach pains disappeared.  And you know what?  I had completely forgot about them until now.  It's only now I remember since I've been cheating here and there.  Which is something I really need to stop altogether.
So back to that craving.  I wanted bagels.  Panera's bagels… but I opted for these since I really don't want more problems.  The kids always love and appreciate fresh gluten free bread too.  Since I'm running more and trying to get in shape for the half marathon, I'm changing things up a bit.  Bagels will be plenty, that's for sure, but instead of plain ones, I felt like spinach and onion.These bagels contain 3 cups of fresh antioxidant rich spinach.  A mother's dream veggie… a child's nightmare perhaps??  Either way, the kids might appreciate the effort around this time of year with all the green treats.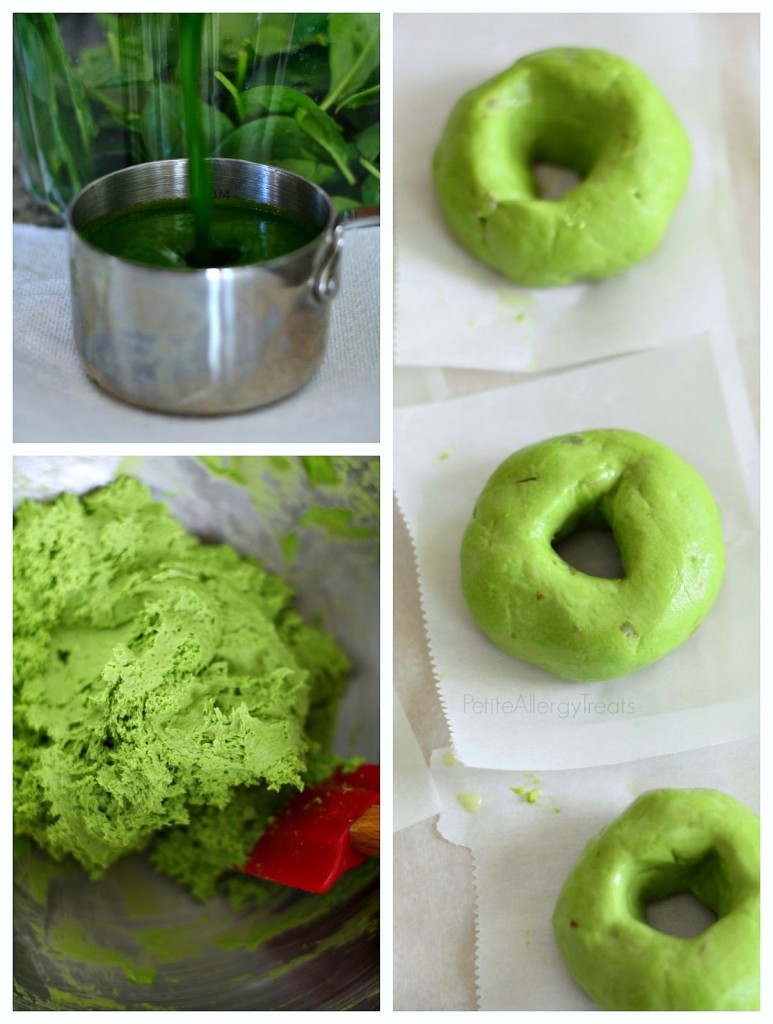 I really wish the color would have stayed as bright and vibrant as the dough was.  See how pretty it was?  Doesn't matter though, it still has all the goodness inside.
So for now, here's another version of gluten free egg free bagels.  I was worried the kids wouldn't like them so I made them into mini bagels that could be more of a side than a full breakfast.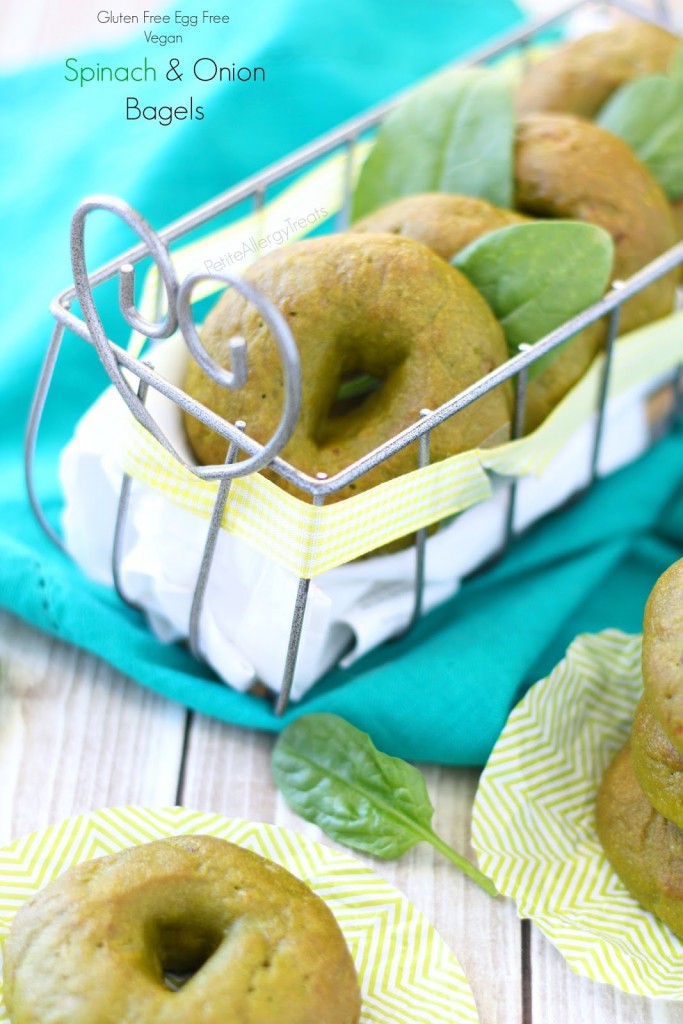 Gluten Free Spinach & Onion Bagels (Egg Free Vegan Dairy Free)
Author: Laura @ Petite Allergy Treats
Ingredients 
Bake at 450 for 10-18 minutes makes about 14 mini or 6 large bagels
3 1/2 cup gluten free all purpose white blend
1 cup milk of choice or water
3/4 cup spinach puree + 2 tsp water (approximately 3 cups fresh spinach)
2 T caramelized onion (1/4 onion + oil)
2 1/2 tsp yeast or 1 packet
3 tsp guar gum
3 tsp powdered pectin
3 T oil
3/4 tsp salt
Directions
Heat liquid to 100 degrees.  Add yeast and mix and allow to sit for 5 minutes.
In a separate bowl mix flour, gum, pectin and salt.
Puree spinach with 2 tsp water in a high powdered blender until smooth.  A food processor might not be able to get it as smooth.
In large bowl combine spinach, water/milk and 2 T oil.  Gradually mix in all the flour mixture by hand to avoid big lumps.  Mix until all incorporated and smooth.
Finely chop onion and sauté with a little oil until they reach a brown caramel color.  Allow to cool for 3 minutes before adding to dough.
Use a cookie scoop or small measuring cup to scoop the dough.  With wet hands form dough into a ball and use a finger to poke a hole in the center.  Gently shape into bagel form by expanding the hole.  Place on a individual piece of parchment paper on a baking sheet lined with parchment paper. (see pic)
Spray tops with oil, cover with plastic and allow to rise in a warm place for about 20 minutes.  (Don't allow to double in size or else it will lose its shape and fall apart in the bath.)
Bring large pot of water to a rapid boil. Gently drop a max of 2 bagels in the water and boiled each side for only 30 seconds each side.  Remove individual parchment paper pieces and place back on baking sheet.
Bake at 450 degree for 10-14 mins for mini, 14-18 mins for large or until golden brown.
Notes:  Be careful moving bagels to and from the water.  The extra sheet of parchment paper makes it easier to move and comes off easily during boiling.  The water should be a rapid boil and only let them sit for a short while on each side or else they will absorb too much water and become soggy.  If you can, allow your oven to preheat at least 20 minutes prior to baking.  These freeze extremely well and can be used for sandwich bread.



Some other things you may like: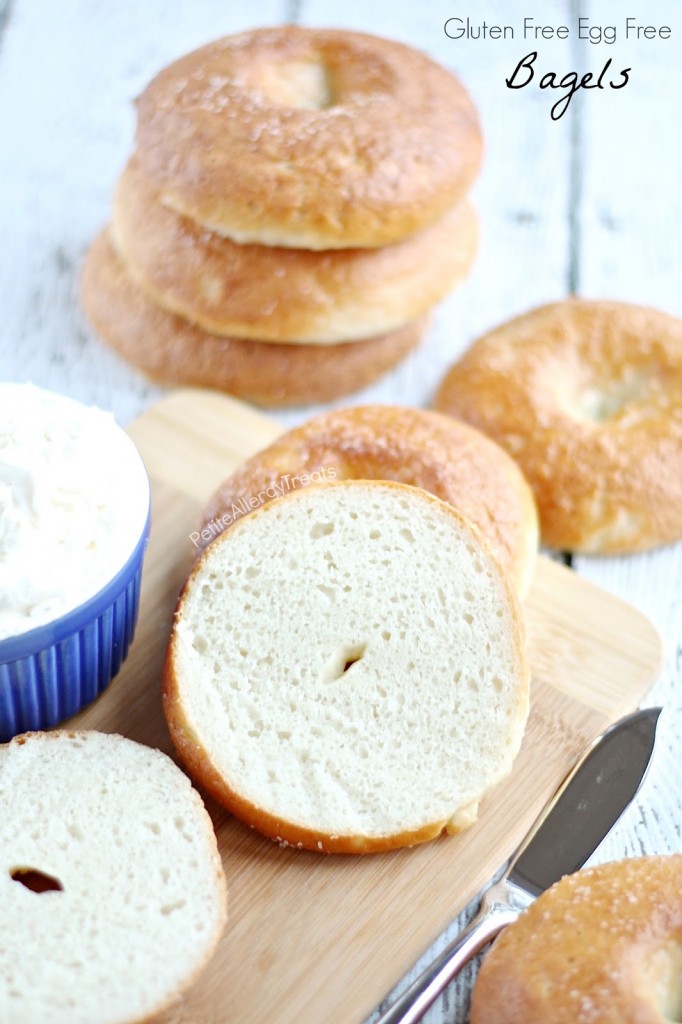 Gluten Free Bagels (egg free dairy free Vegan)