Chocolate and mint cookies meet to make allergy friendly homemade Mint Oreos. Not only are these gluten free they are Vegan and dye-free.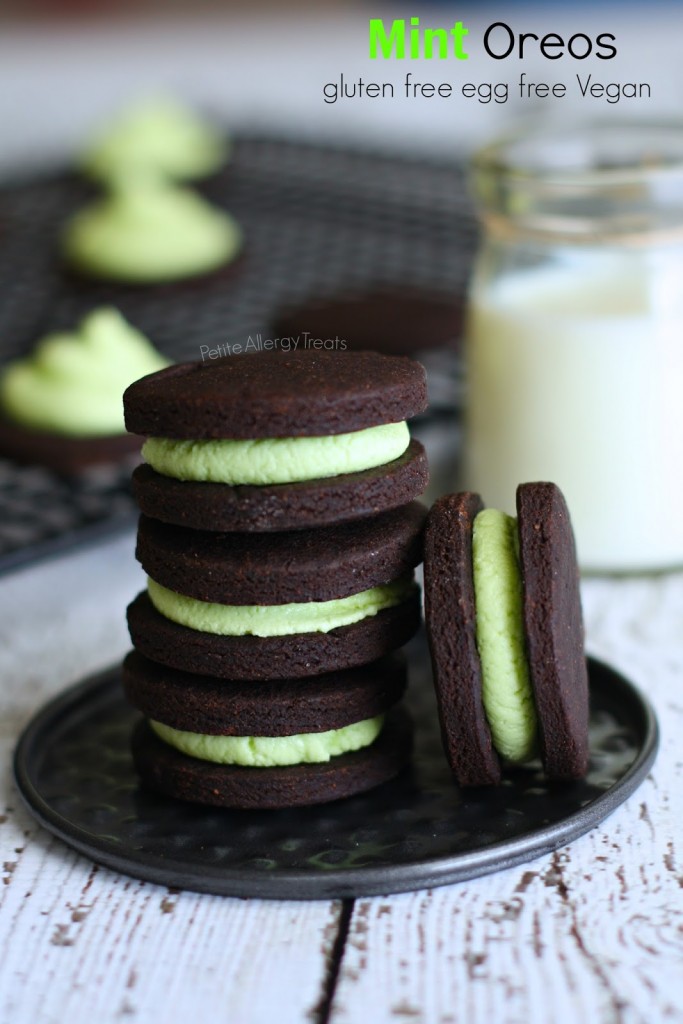 My apologies on being a little quiet last week. Things are busy as always and are starting to get busier. Last weekend I made a major decision and I so far I'm following through. This decision is to I'm running another half marathon.
Yeah.
It's a big thing.
It has a domino affect on a bunch of things. Time becomes even more precious. It effects things like family time and blogging. It puts eating better/more vegetables with incorporating more protein into a higher rank of importance.
Last week was time to stop thinking about running actually get out and do it. (And there is no waaay I was going to run in sub temperature weather). Thankfully there's an indoor running track inside the Petitt Ice Center.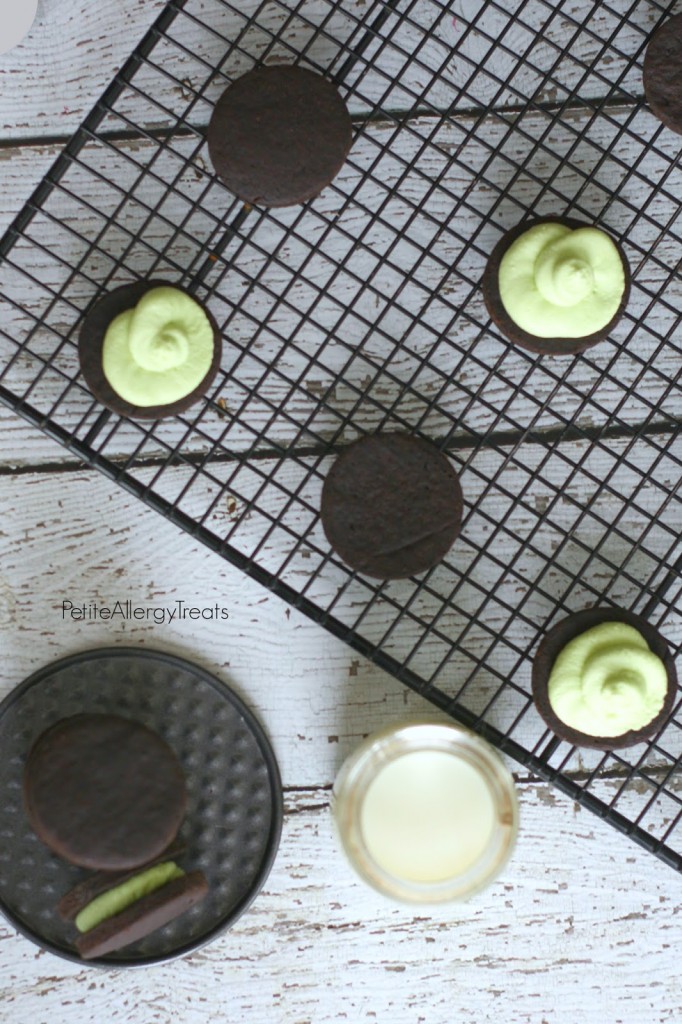 May this be the only indoor place I ever run in! In that precious hour I was there, I was able to witness figure skating, hockey and official speed skating time trials. I was able to witness 2 time Olympian Dave Tamburrino complete his time trial in his official comeback for the world championship and possibly the Olympics.
Not only was I not bored the entire time, I was inspired to keep going. And the temperature was perfect at a slightly chilly 55 degrees. The only small hazard is the blind zamboni crossing. Really. It crosses the track there's a sign with a little miniature zamboni on it stating, Yield. And it almost got me.
The only downside running indoors is, reception is limited in the entire building. In myfirst run, Spotify worked awesomely, cranking out whiney boy bands and one hit wonders. Last weekend was a different story with none of my apps working making it a difficult run. Surprisingly, my running app worked… sort of.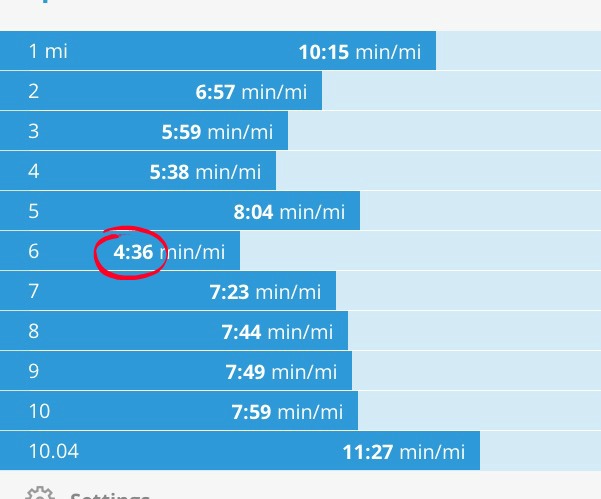 Gotta love the fact it says I ran 10 miles in just over 1 hour… Am I dreaming or does it seem a teensy bit off at mile 6 with a pace of 4:36? After all, world record pace for a women is 4:12… Or could running be my new career? Pretty sure this is when I went to the bathroom…
So let's review the course map, cause that's gotta be accurate right? It should be an oval shape, like the speed skating oval. Funny how I managed to darted out of the building and onto the HWY (yellow line) and back again for a lap. 😛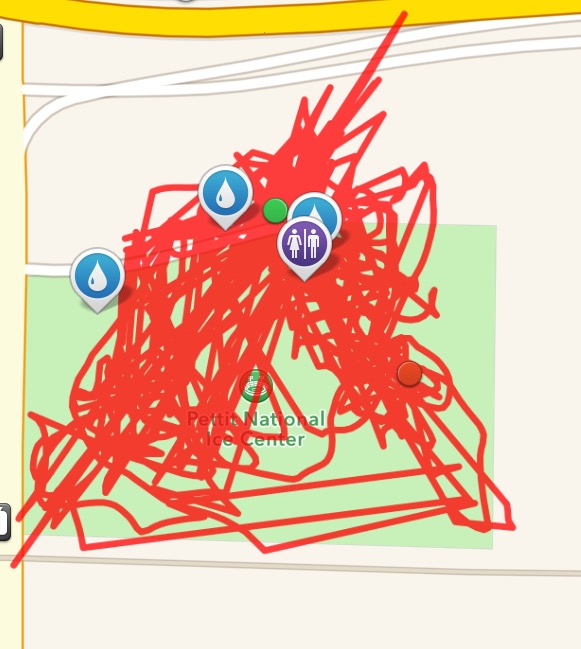 If you recall, last summer I made a last minute decision to run a half on a whim, since I was able to run 10 miles a few times. My 'training' regime consisted of running just twice a week with one long run on Sundays in the 80 degree weather. To sum it up, this was NOT a training program and it should not be attempted unless you want an major injury. It was lucky to make it through everything without a real injury, of course… it was at least a month after the race until I felt normal and ended up losing 2 toenails.
As the crazy running ritual starts again, things will be different this time. I will be following a training program as well as adjusting our diets to incorporated more nutrient rich vegetables, grains and search for more protein sources. We've had problems with quinoa when Mr. Naughty was just 1 year old but it's overdue to try again. If you follow me on Facebook, you might have seen Skipjack Tuna photo. This is another protein source we can try since our allergies tests came up negative. When we try it is another thing…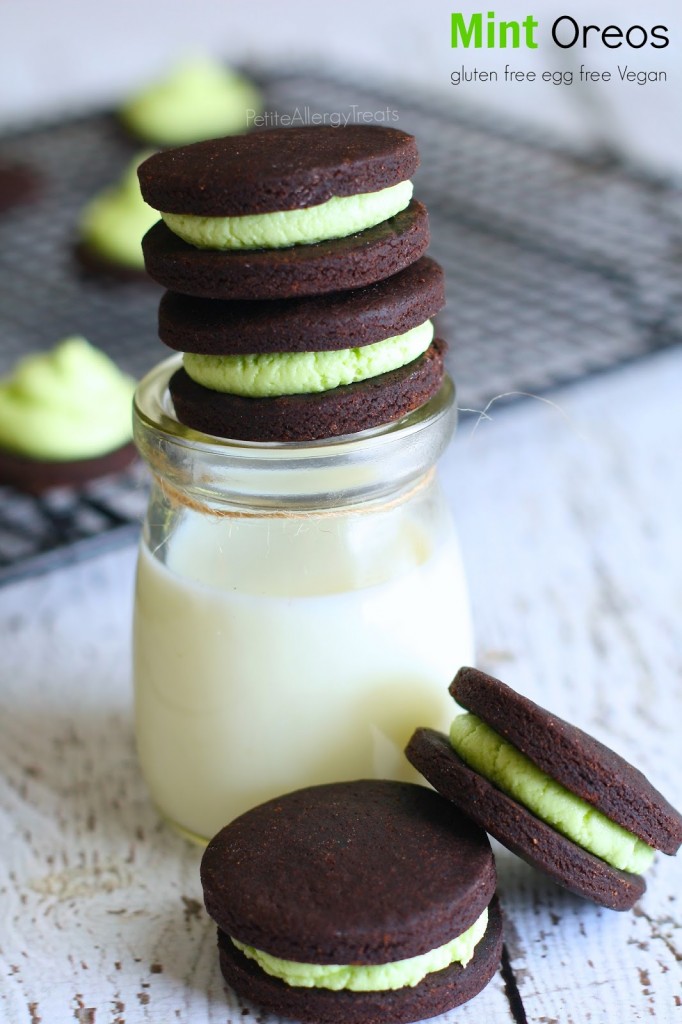 So for now, here's another version of gluten free egg free mint oreos. The filling uses real fresh spinach leaves for color and aren't necessary if you just want that great mint flavor.
Enjoy these after a hard run or anytime!
Gluten Free Mint Oreos (Vegan Egg free Dairy Free)
Author: Laura @ Petite Allergy Treats
Ingredients
preheat oven to 350 degrees bake for 9-10 minutes
Cookies
1 cup sorghum flour
1 cup teff flour
1 cup + 2 T sweet rice flour
1/4 cup white rice flour
3/4 cup cocoa powder
3/4 cup non hydrogenated organic palm shortening
3/4 cup organic sugar
1/4 cup + 1 T milk of choice
1/2 cup applesauce
3/4 tsp guar or xanthan gum
1/2 tsp baking powder
1/2 tsp baking soda
Mint Filling
2 cups organic powdered sugar
1/2 cup non-hydrogenated organic palm shortening
2-3 tsp spinach puree (approx 1 cup fresh leaves)
1/2 tsp mint extract
1/8 tsp vanilla
Directions
Cookies
Combine all dry ingredients in a bowl and mix well.
Beat shortening, applesauce, milk, and sugar for 2-3 minutes.
Add dry ingredients. Dough should be thick but not dry and crumbly.
Roll out between 2 sheets of parchment paper.
Cut into small circles. Transfer to baking sheet.
Bake 9-10 minutes. They will harden a little after they cool on the pan. Allow to cool completely before assembling.
Mint Filling
Puree fresh approximately 1 cup + 2 tsp water spinach leaves in a high powered blender. Blend until smooth. You'll only need 2-3 tsp. Freeze excess puree for a later use.
Beat shortening with a mixer until fluffy. Add in vanilla, spinach puree a mint extract
Slowly add in powdered sugar. Scrape sides of bowl and continue to beat until fluffy. Filling will appear slightly dry. Add more milk if mixture is too dry however, filling needs to be thick or else the frosting will fall out when biting the cookie.
Scoop filling into a reinforced ziplock bag and cut off one corner to pipe filling on to center of cookies.
Notes: Filling will be thicker than frosting, like a real oreo. If it becomes too think for your mixer or crumbly, add just a little water or milk. The color is optional and the more spinach you add the darker the green. Overall there is no hint of spinach but it could be noticeable depending on the amount used.
Follow me for all the latest up to date happenings!
Petite Allergy Treats –> PINTEREST |TWITTER |FACEBOOK |INSTAGRAM |GOOGLE+
Some other things you may like: