Avocado makes a perfect thick and creamy sauce similar to a pesto but with tomatoes, cilantro and garlic to give the full flavor of guacamole.  Gluten free brown rice pasta never tasted this good.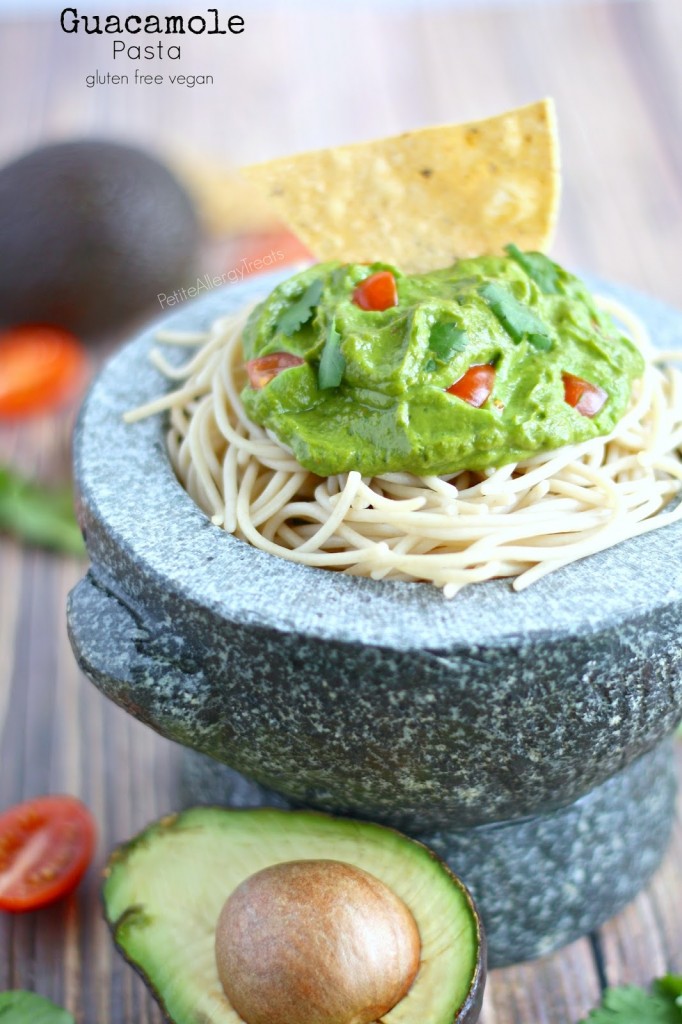 Pasta is one of those staples that families depend on.  Not only is it an easy when you're short on time, often it's a cook once eat twice meal.  Whether you switched to a gluten free diet by choice or as a necessity, you'll find that gluten free pasta just isn't the same.
Many brown rice pastas we've tried have had problems.  They create a sludge while boiling.  They fall apart.  They get soggy and then fall apart.  Any leftovers are deemed inedible, because… they fall apart. There's a theme.  🙂
Until now.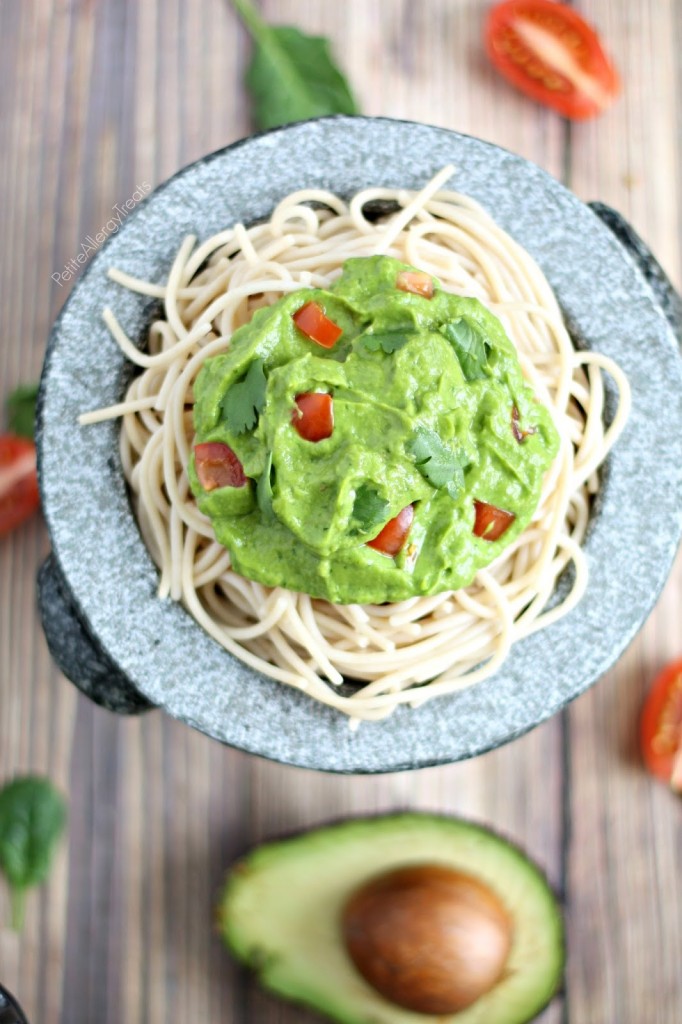 Have you heard of Jovial Foods?   A little while back (umm, around Christmas) they contacted me asking me if I wanted to receive some samples, no strings attached.  I looked through their website first, to learn a little more about them.  I receive so many emails from companies asking to send me products and usually decline since they do not meet our allergies needs.  I was pleasantly surprised to find Jovial actually exceeds our needs and my expectations.
The company has multiple dedicated facilities that are gluten free, egg free, casein free, peanut and tree nut free facilities.  There is a statement 'it may contain traces of soy' since other products manufactured on the same line contain soy.  I was told they thoroughly wash equipment in between products.  We have a mild soy allergy and have not have problems.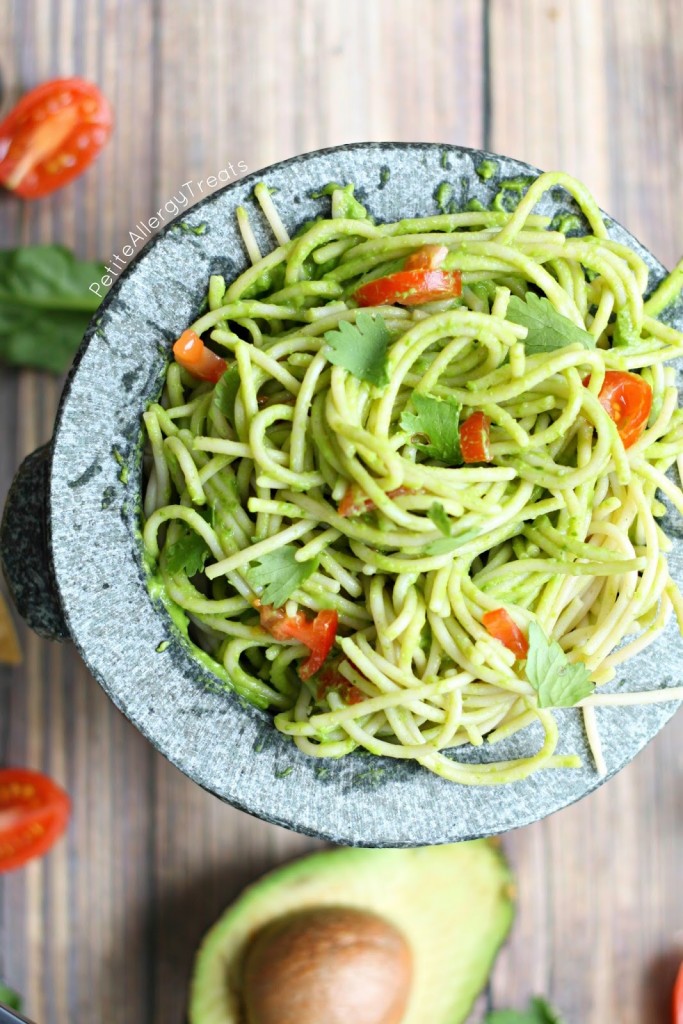 So they send me some of their gluten free pastas and sauce to try and I received brown rice pastas in spaghetti, penne, lasagna and caserecce shapes. There is another a gluten free egg based pasta, Tagliatelle, that is made in a separate facility that I asked to not received.   I specifically asked about this gluten free egg pasta and found it is made on a different line in another dedicated gluten free facility.
All of the pasta held up exceptionally well to boiling and really had an al dente texture after cooking.  They even passed the ultimate test of reheating the next day!  They have several different lines of products, including ancient wheat based, Einkorn, products.
Ok, on to Einkorn wheat.  This is one of those things I'm really intrigued with.  This unrefined grain is closer to the wheat our ancestors grew.  The modern wheat processed today has been genetically modified to meet demands.  Countless pesticides and other techniques are used to produce the most crop.  It's not without wonder that people are getting sick and then go gluten free and feel better.  Many say it's because there is more awareness of Celiac's Disease and the gluten free diet fad…Wouldn't it also make sense that significant changes in foods (at a cellular and genetic level) could also be to blame for this?  Our bodies and brains cannot recognize this as wheat.  If we could get back the original unmodified version of wheat, would people still be intolerant to it, and would some suffering from Celiac's Disease be able to tolerate it?  An interesting thought.  I don't have an answer.  But the owners found their daughter (who is allergic to wheat) was able to tolerate Einkorn, even though it contains gluten.  Makes me wonder if my son could tolerate einkorn too.  (While einkorn isn't like modern wheat it does contain gluten and may not be suitable for those with a wheat allergy or have Celiac's Disease.  This is something new I found to be intriguing and would follow up with our doctor before attempting to introduce this to my son's diet.)
Another rare but amazing product I want to mention is the Organic Crushed Red Tomatoes packaged in a glass jar, to avoid BPA found in virtually all canning of tomatoes products.  The vibrant red color is simply stunning and really showcases how natural food should look.  It's looks as if they crushed the tomatoes in the morning and handed them off to you for dinner.  Oh, and did I mention it's sodium free?  Another rare find.  I don't like how much salt in found in regular pasta sauces but have never attempted to make my own since that would require using canned tomatoes.  Problem solved… for another day.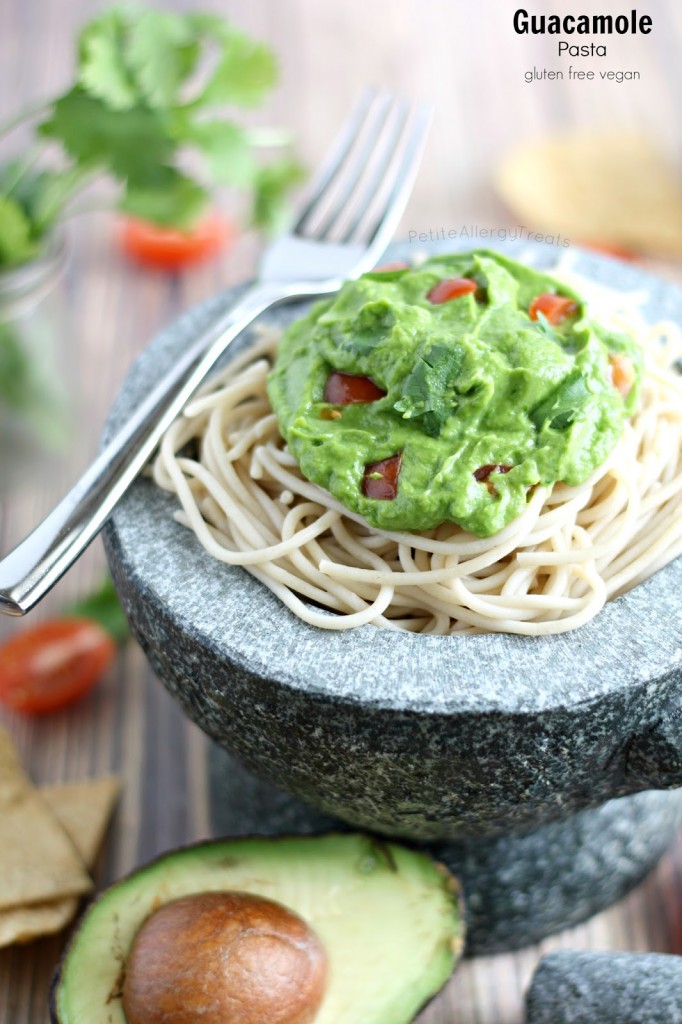 Instead of making a tomato based sauce, my love for avocado won.  I had a crazy urge to create a green pasta sauce.  I have missed pesto and thought this sauce would fit the bill.  Don't worry, it's really good.  If you like guacamole this is for you.  I added some fresh spinach to add volume, more greens 🙂 and stretch the avocado a bit.
Hope you enjoy your pasta!
Avocado Guacamole Pasta
Author: Laura @ Petite Allergy Treats
Ingredients
1 box gluten free spaghetti (I used Jovial Foods)
1 ripe avocado
1/2 cup packed fresh spinach
1/2 cup water
1/2 bunch of cilantro
10-20 grape tomatoes
1/4 tsp garlic powder
1/2 tsp salt or to taste
Directions
Prepare spaghetti according to package.  Drain and set aside.
Combine avocado, spinach, water and half of cilantro in to a high powered blender.  Mix until smooth.
Dice tomatoes and coarsely chop remaing cilantro.
Toss spaghetti and sauce until evenly coated.
Notes: Since this uses avocado, the leftover pasta will turn slightly brownish.  Keep sauce separate until ready to serve in an air tight container removing as much as a possible.  This recipe can be halved or doubled.
Disclosure: I was compensated any further for my thoughts or review of Jovial Foods, I just really like their products. 

Some other things you may like: