Not your typical seven layer bar which usually includes buttery graham crackers, chocolate chips, butterscotch chips, sweeten condensed milk, nuts and coconut flakes. No. Go dairy free with these quick and easy gluten free No Bake Chocolate Seven Layer Magic Bars (Vegan + Gluten Free). Tons of dairy free chocolate chips, some nut-free seeds, truffle like protein bites and crispy chocolate bars to make a special crunch. Top 8 food allergen friendly and coconut free. Food allergies rejoice!
Disclosure: Thank you Enjoy Life Foods for sponsoring this post.   #eatfreely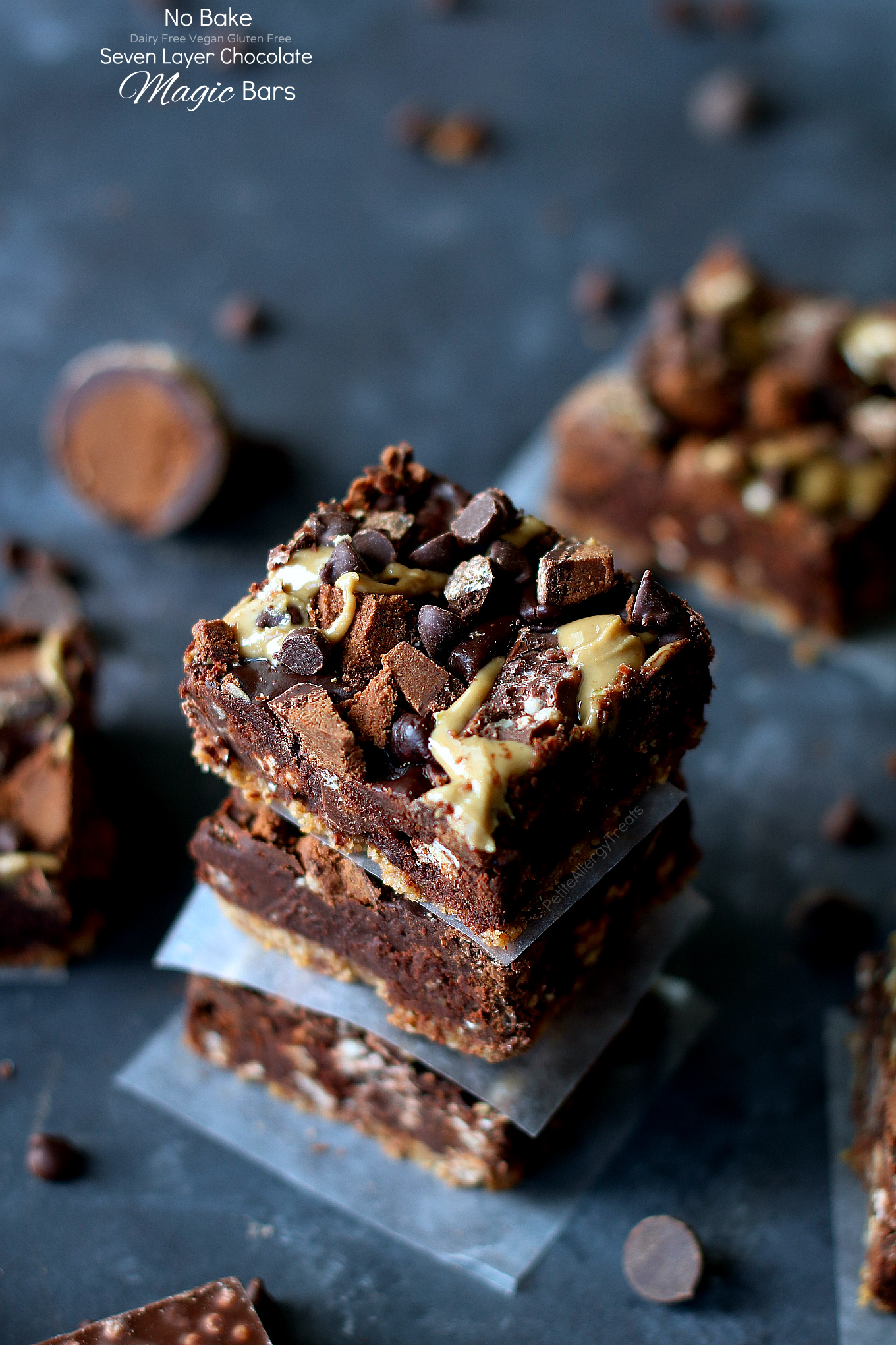 You guys. I am going  crazy this time of year. It's the cold. And planning the school Mardi Gras Party. Preparing for Valentine's Day party. And lets not forget the school party I loathe the MOST– the 100 Day Party. Ugh. 100 things to wear + 100 things to bring in a container. Planning. Cramming. Annnd freaking out a bit. There is never enough time.
My go to stress relievers in order are as follows:
Exercise
Chocolate
Coffee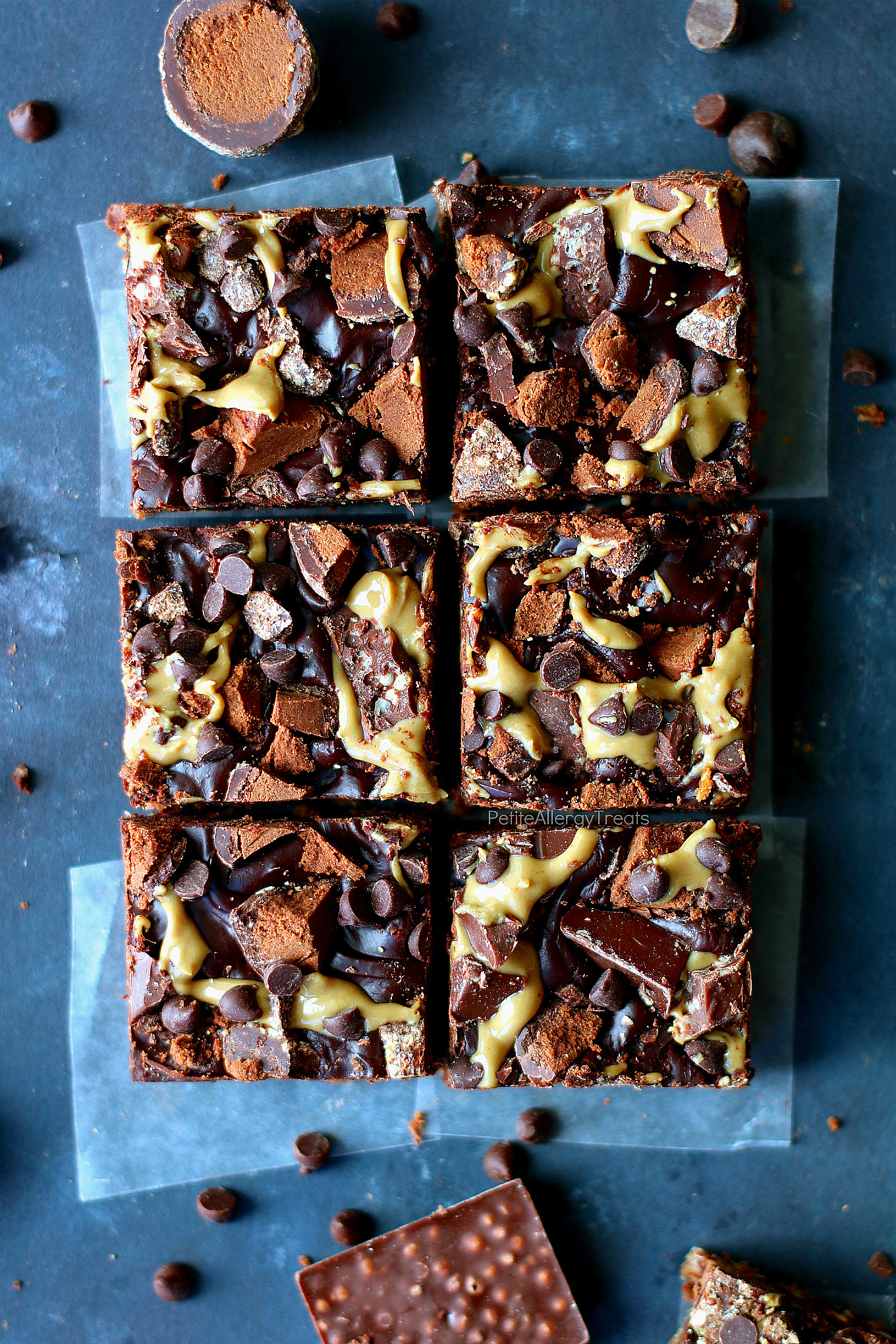 Since exercise takes the most time, it's the first to go. Thus chocolate stuffing and coffee guzzling become the norm. My diet turns to 80% chocolate and 20% coffee with these super easy No Bake Chocolate Seven Layer Magic Bars…Totally kidding. *ahem* Sort of.
What?
Don't you do that too? It's cool. I won't judge. Whatever keeps the day going, right? Riight.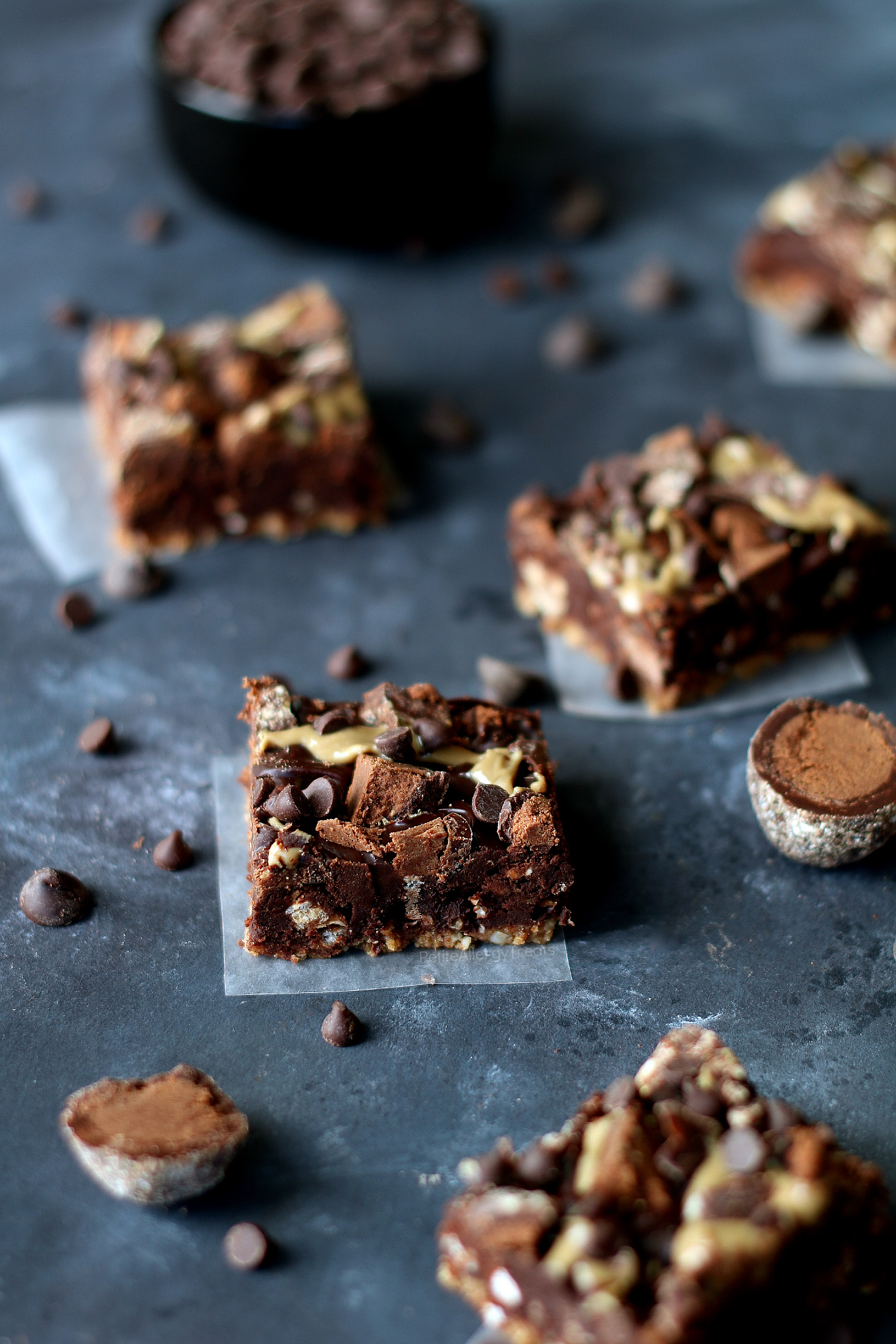 But if you're going the chocolate therapy route like me, head over to Enjoy Life Foods. And soon. All Enjoy Life Foods Baking Chocolate and Chocolate Bars are NOW 15% off thru Feb 1-14. use code: CHOCOLOVE15 Sale has now ended.
You. Go. Now.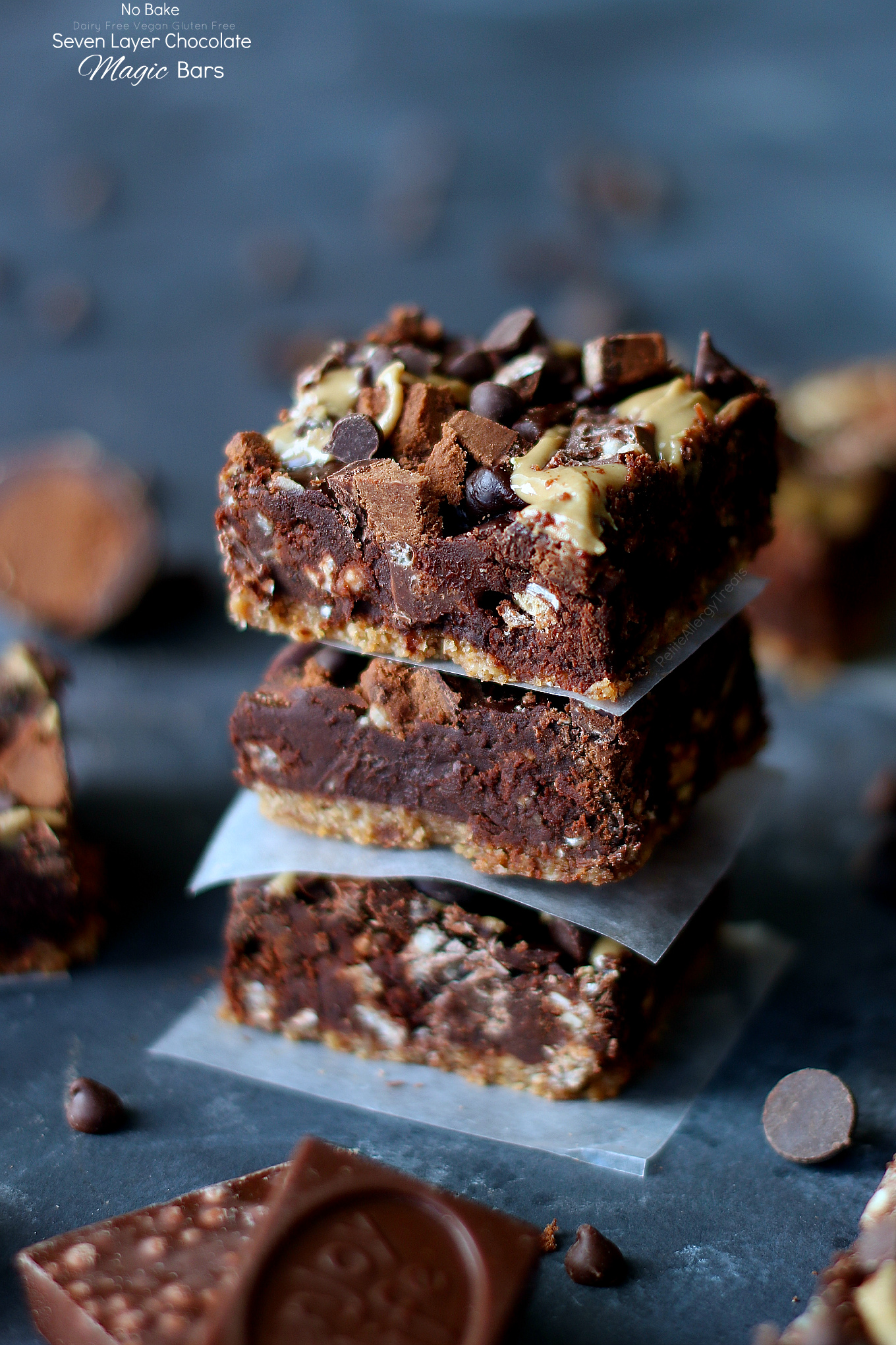 Dairy free and soy free chocolate-on sale! Such a beautiful thing. I'll be stocking up on all the baking chocolate chips and chocolate bars for the rest of the year! Or at my consumption rate, at least for the next few months…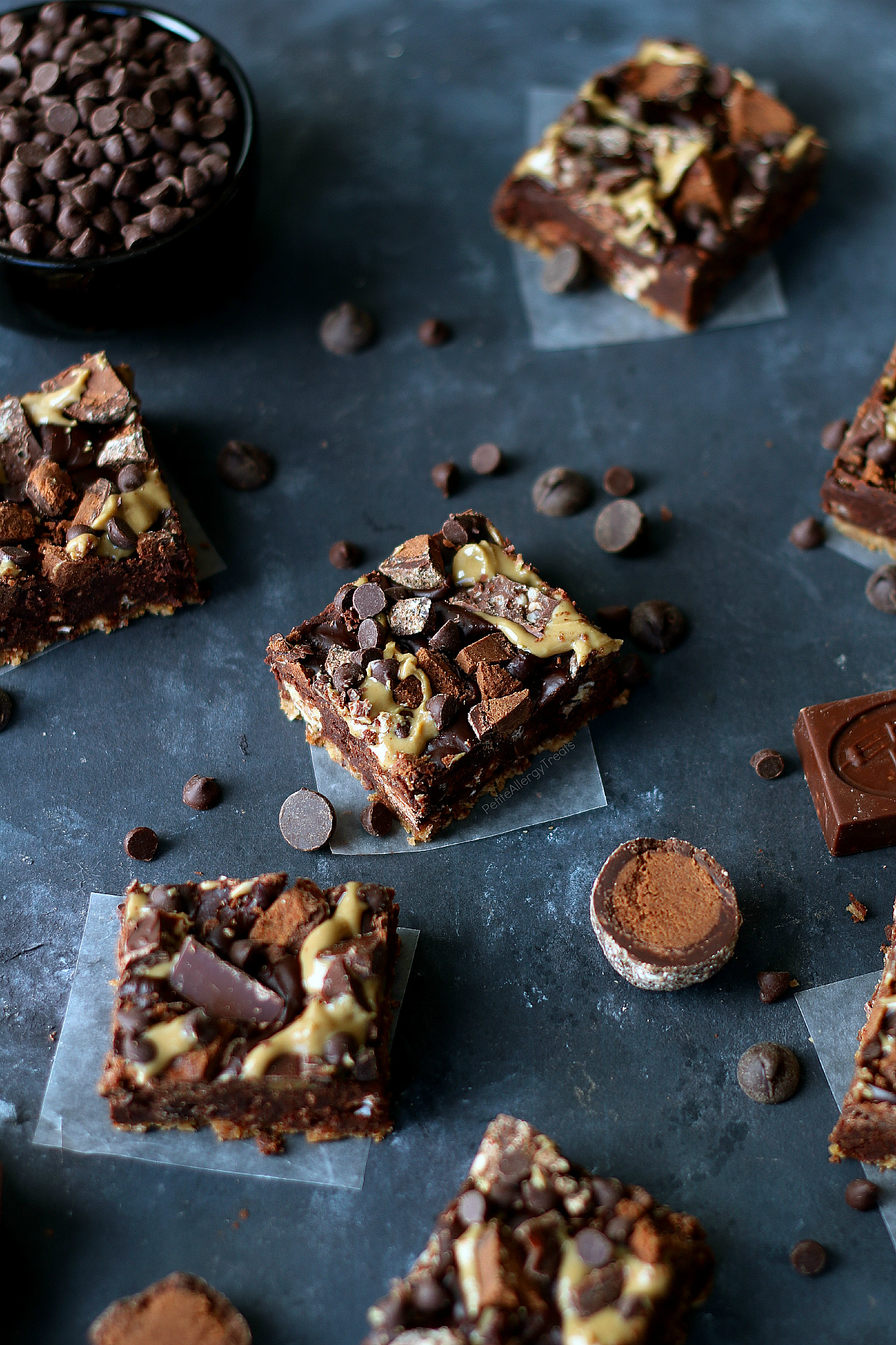 Anyways, at least I figured out my Valentine's Day class treat. It's quick. And easy. It's dairy free no bake seven layer chocolate magic bars! Yep. No baking. Just chop. Drop. And eat. Ok, there's a little bit more to it but not too much.
The ganache layer would be the most intensive. And by intensive I mean mix the chocolate chips in a bowl of hot water. Oh, and pour it. Super tough, right? Just take it easy with chopping. I had a small accident trying my ninja chopping skills. #fail
Plus, have you seen the new cool packaging? Have a look.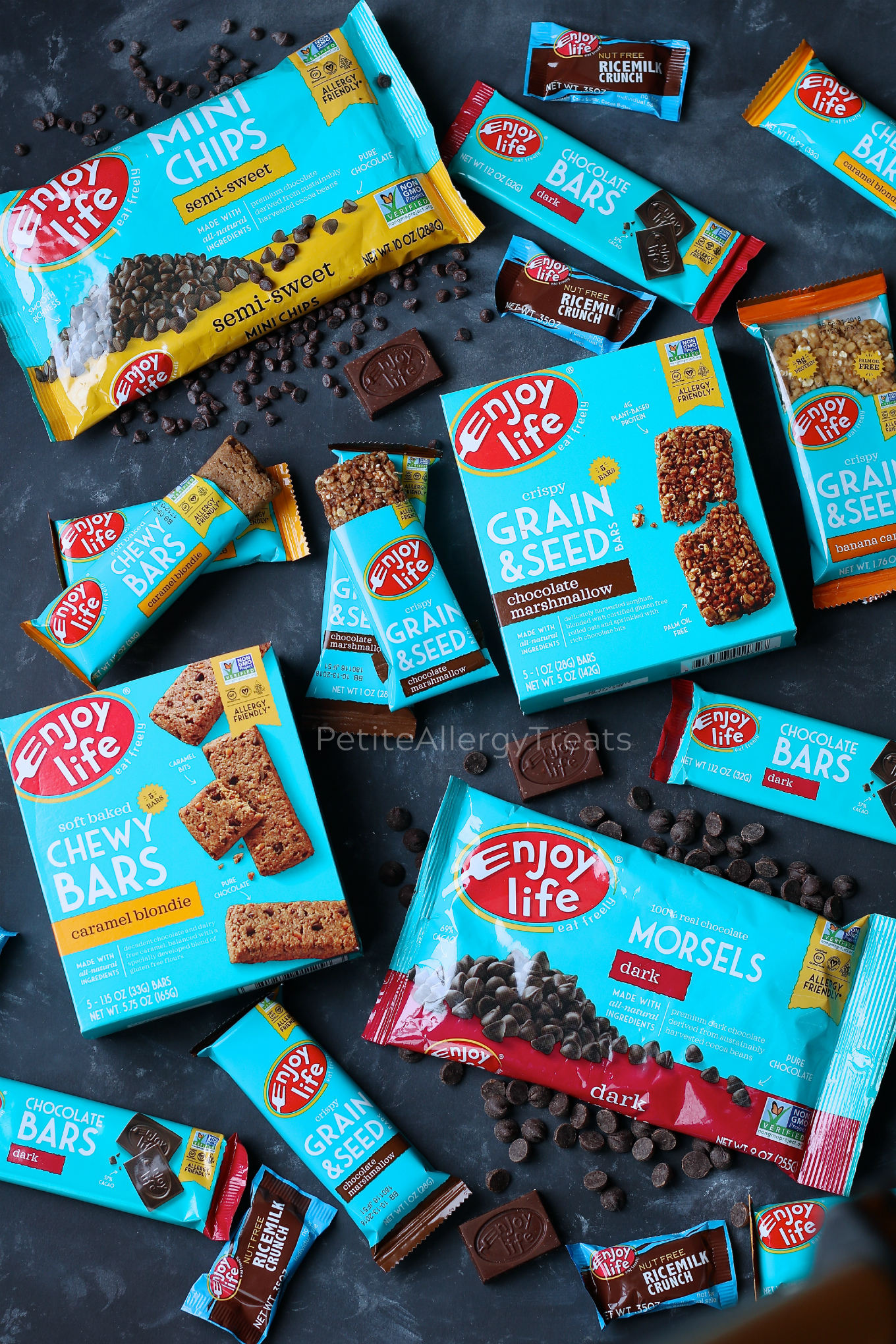 Enjoy Life Foods is changing over all their amazingly food allergy friendly foods to bright teal. Why teal?  Because the color teal has rapidly become the identifying color for food allergy awareness such as in the Teal Pumpkin Project.
Want to know what else is new? How about more protein packed on the go snacks like the new grain and seed bars. There are 4 delicious flavors which include 4 grams of plant based protein, certified gluten free oats, all natural ingredients free from 14 allergens and made palm oil free. All this is made in a dedicated bakery free of the Top 8 common Allergens and more. This means it is free from Wheat, Dairy, Soy, Egg, Peanut, Tree Nut, Fish, Shellfish AND Crustaceans, Sesame, Mustard, Sulfites, Lupin, & Casein.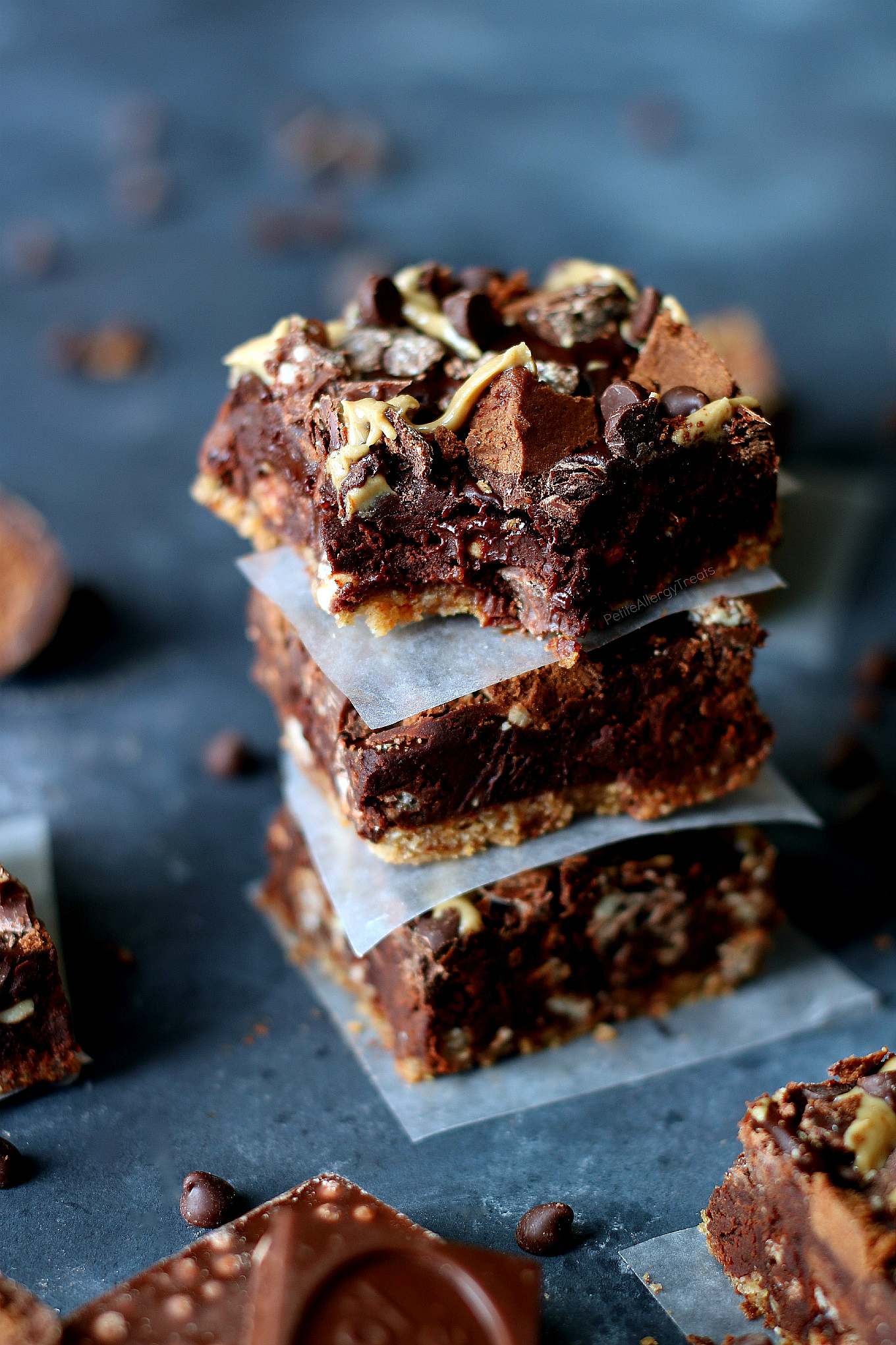 So far we're loving the Chocolate Marshmallow grain and seed bars. Think cocoa krispie cereal but heartier with a super crunch factor from the pumpkin seeds and sorghum crisps. There is lots of crunch in these no bake chocolate seven layer magic bars. But the real magic is still how Food Allergy friendly these bar are AND the fact there is no baking involved.
Enjoy!!
And
Don't forget to stock up on your favorite dairy free soy free nut free chocolate, now thru February 1-14, Enjoy Life Foods Baking Chocolate and Chocolate Bars are 15% off use code CHOCOLOVE15 Sale has now ended.
Here are other amazing chocolate packed dairy free, soy free, gluten free recipes (and more) from food allergy bloggers. You gotta see this amazing Gluten Free Chocolate Raspberry Cake from Nicole at Allergylicious, naturally colored red Dairy Free Strawberry Patties from Alisa at Go Dairy Free and super fluffy Vegan Chocolate Mousse from Amanda at Gluten Free Miami.

Disclosure: This post has been sponsored by Enjoy Life Foods.  All opinions are mine alone.  Thank you for allowing me to continue working with brands that meet our food allergy needs!  For more about Enjoy Life Foods be sure to follow them for the latest news on  Facebook and Twitter
Follow me for the latest news!
Some other things you may like:
Gluten Free Vegan Chocolate Pancakes -dairy free egg free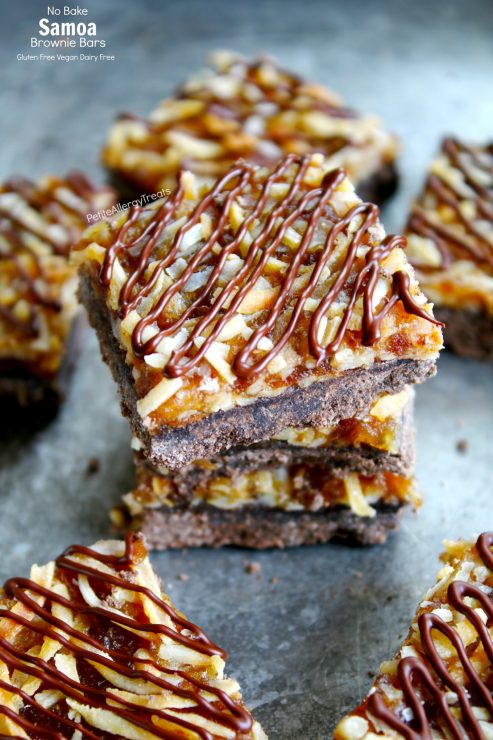 No Bake Vegan Gluten Free Samoa Brownie Bars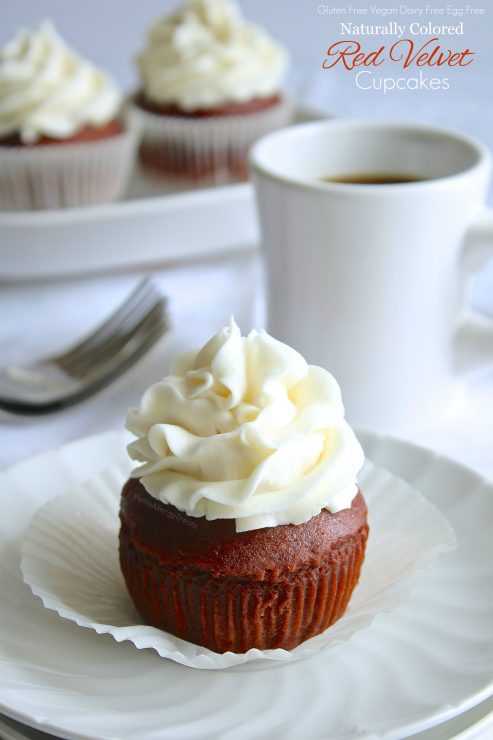 Gluten Free Red Velvet Cupcakes (Vegan Dairy Free)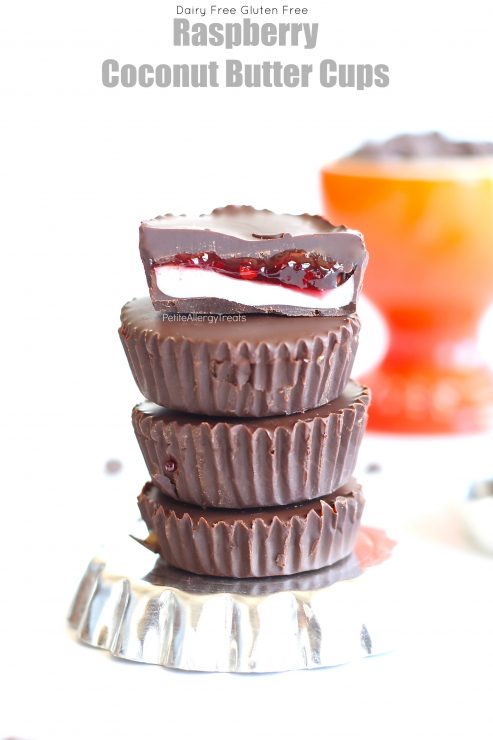 Dairy Free Vegan Raspberry Coconut Butter Cups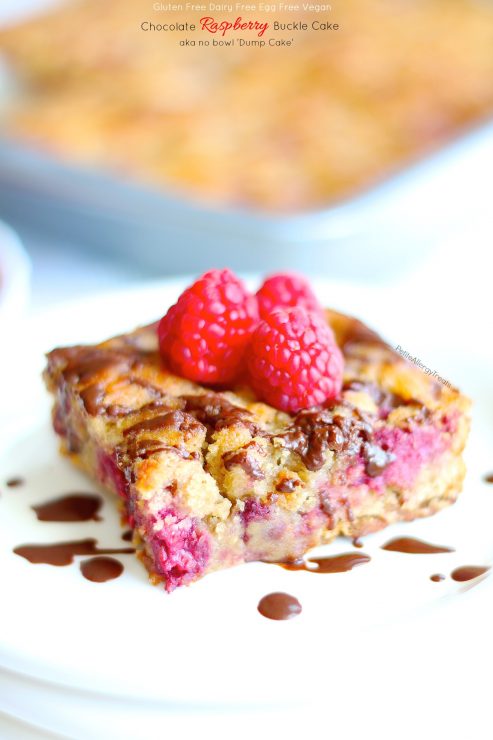 Gluten Free Raspberry Buckle Dump Cake (vegan dairy free)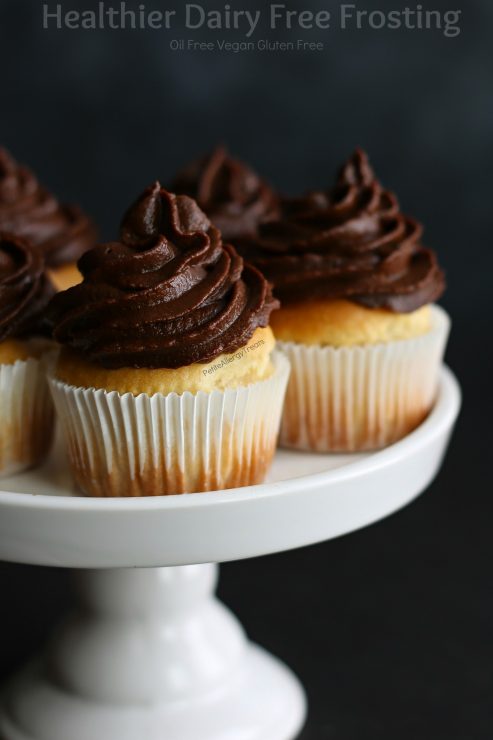 NO mixer Healthier Dairy Free Chocolate Frosting-vegan