Enjoy a healthy stack of protein packed Gluten Free Vegan Chocolate Pancakes for breakfast.  Nothing beats a dairy free chocolate protein packed breakfast.  These vegan chocolate pancakes are free of the top 8 food allergens, making them food allergy friendly.
Thank you Enjoy Life Foods for sponsoring this post! #ProBurstBites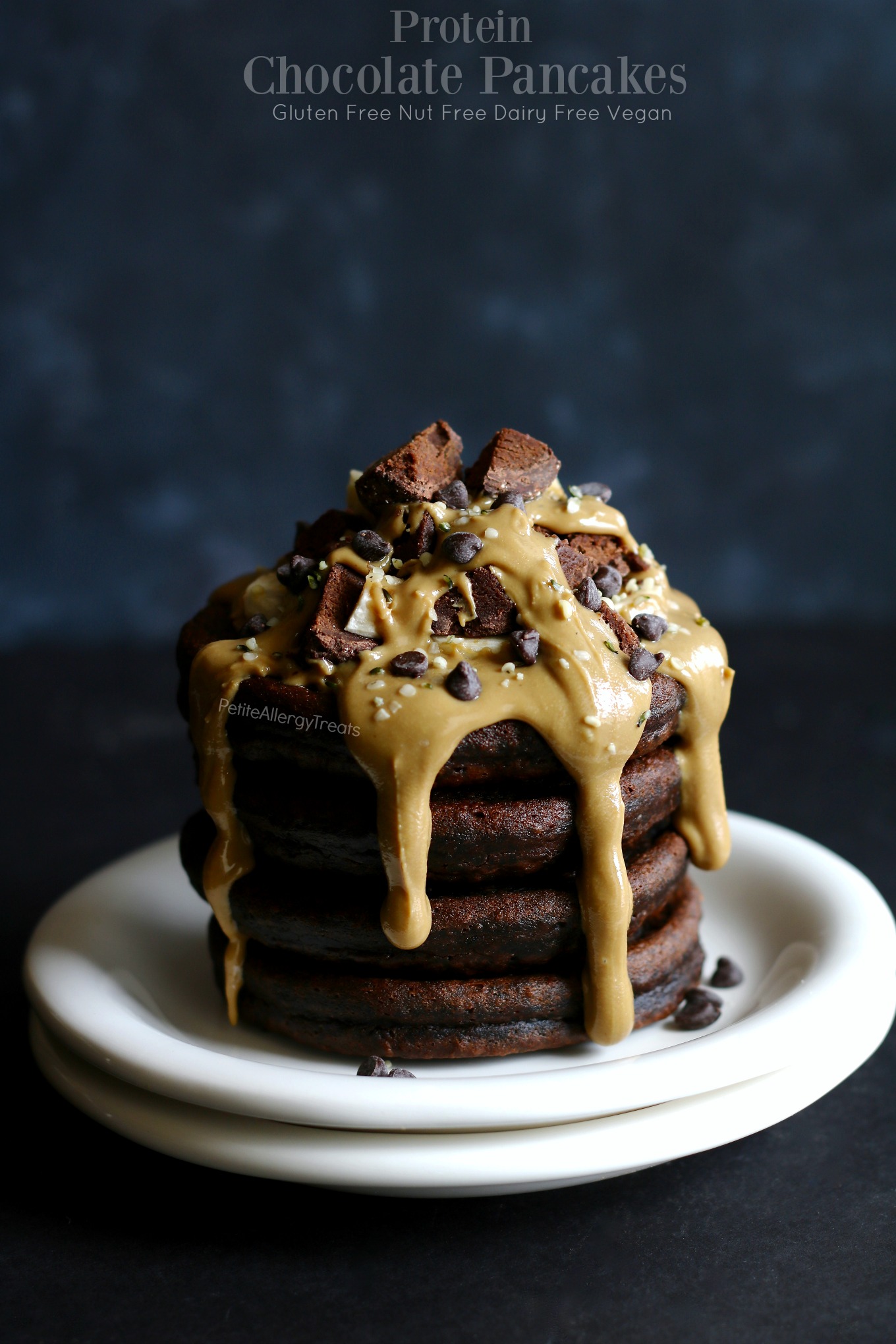 Ever have those jam-packed weeks?  The weeks that never seem to end??  Our past week was stacked with school and extra curricular activities.  Planning ahead is important but this week was going to be killer. Thankfully, I had a master plan to power me through—breakfast.  Not just any breakfast either.  A protein filled breakfast to keep my energy constant, like these gluten free vegan chocolate pancakes.  And did you notice those chocolate truffle things on the top?  Yep.  More Chocolate. And more protein.   I can't take credit for those, though…
Those fudgy truffle chocolate protein balls are the newest brain child from Enjoy Life Foods.  Just three truffle protein balls (ProBurst Bites) contain 6-7 grams of plant-based nut-free protein.
Nut-Free PROTEIN people!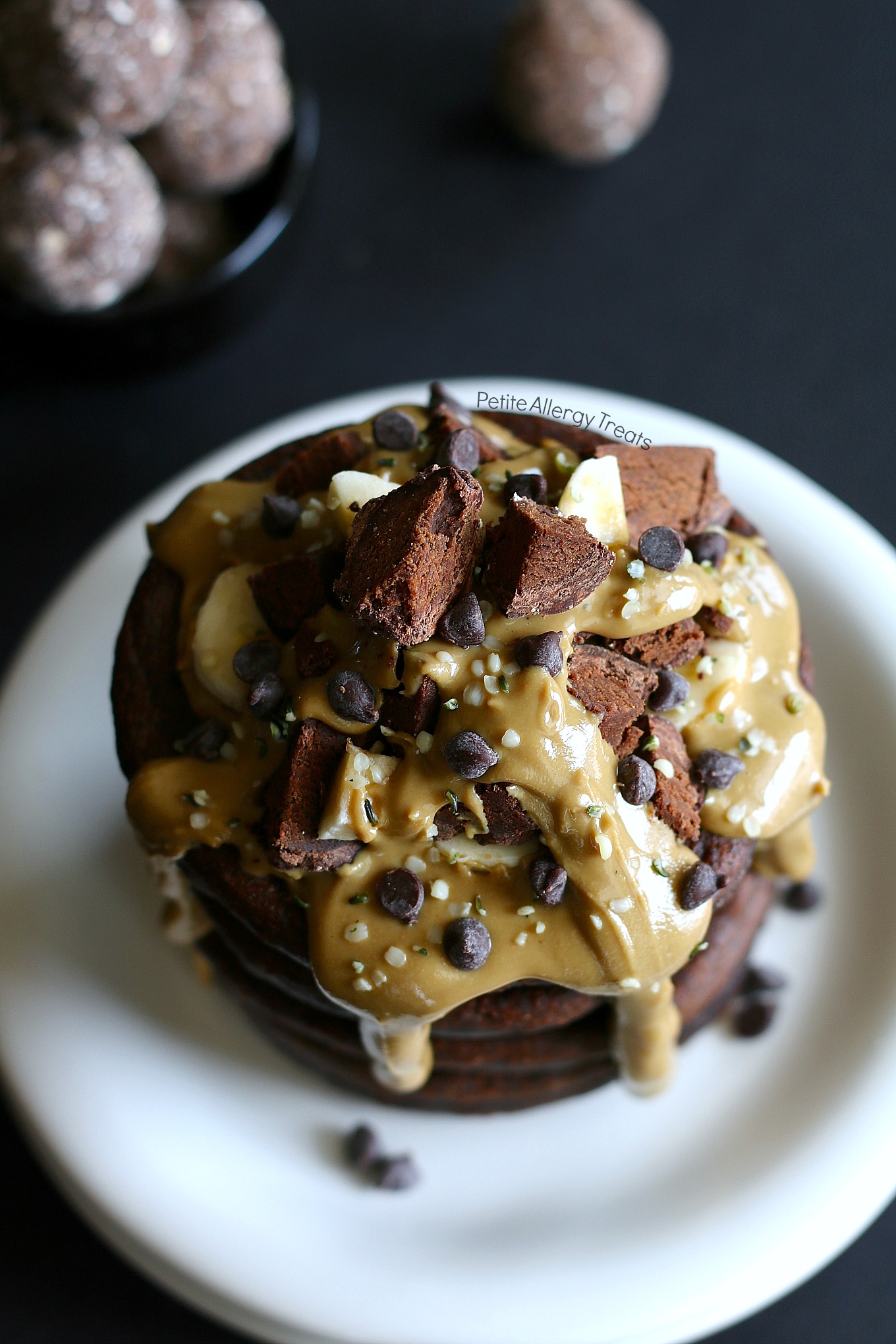 That's a big deal for nut allergy suffers.   And we can rest assured there is no chance of cross contamination of nuts or any of the Top 8 Food Allergens since Enjoy Life Foods has dedicated top 8 free facilities. In other words, completely NUT free but also dairy free, gluten free, soy free and egg free.  There are four varieties of these protein packed ProBurst Bites- Cinnamon Spice,  SunSeed Butter, Mango Habanero and Cranberry Orange.  All are wrapped in a chocolate outer case with a soft truffle like center.
All varieties were surprisingly good.  I've tried plenty of protein bars pre-allergy days that were thick and gritty.  The ProBurst Bites had a nice dual texture and great flavor pairings.  The Cranberry Orange was my favorite, then the SunSeed Butter but the Cinnamon Spice was a close third.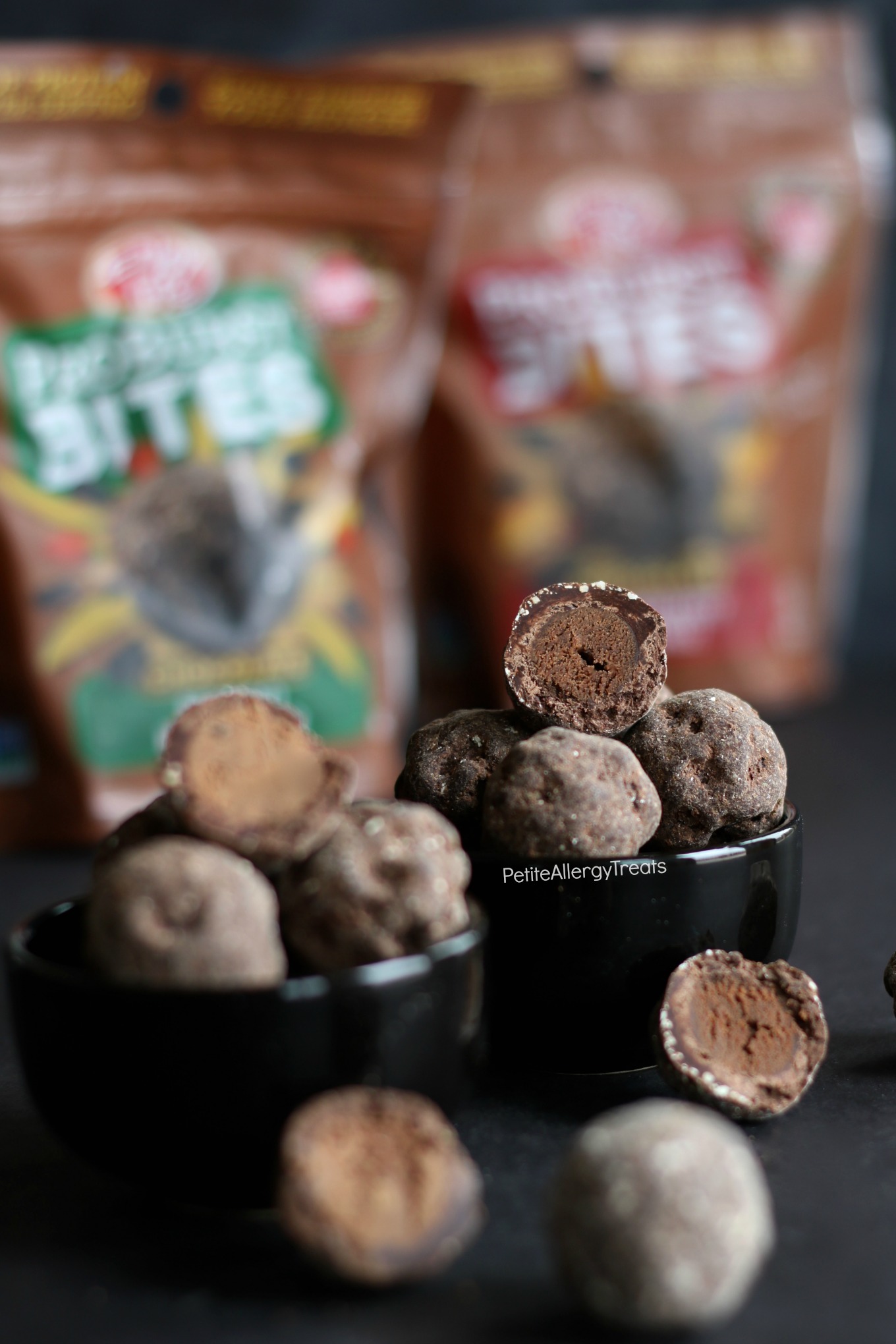 I thought about skipping the Mango Habanero.  Hot peppers scare me.  I stared down the ProBurst after slicing it in half.  I could see real bits of either mango or habanero pepper staring back at me… After about 5 minutes I gather the courage to pop it in my mouth.  And you know what?  It was good.  The sweet mango came through first with a barely noticeable smoky spice from the habanero. Not hot. Not gross.  (So don't be scare of the name!)
These bites saved me last week.  Last week I was at school for library duty and Mr. Naughty had his "Star of the Week" project.  From creating a huge 40 photo collage poster, to reading at the school library, crafting paper sharks in the classroom, to driving 40 minutes downtown for a piano recital, the ProBurst Bites were a perfect snack.  There was no mess to clean up and I felt good about grabbing something nutritious and chocolatlatey.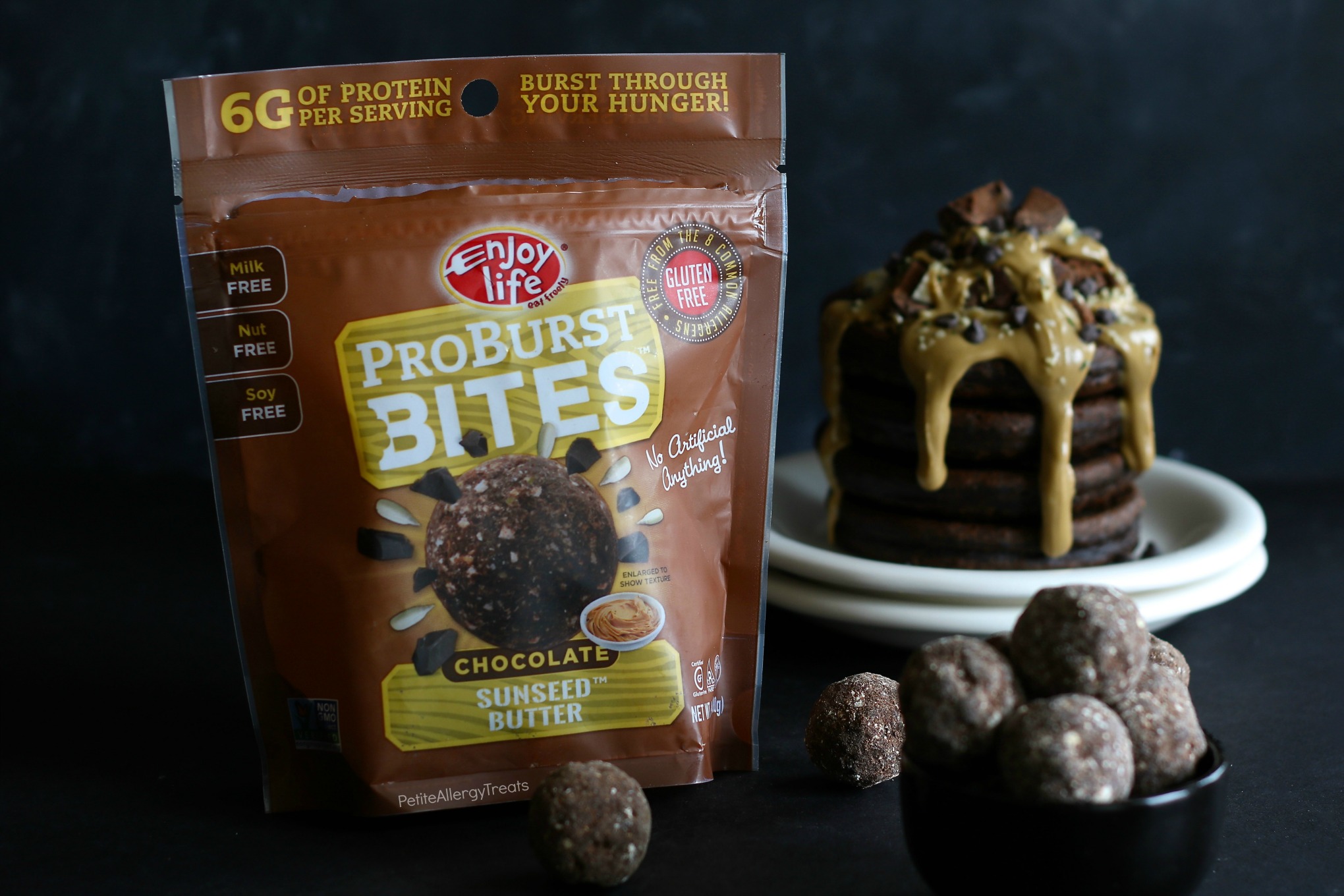 As you know, I've already been experimenting with more protein based snacks and treats.  I've dreamt up my own version of Nut Free Protein Energy Bars and recently I've posted my Gluten Free Oatmeal Bars.  While I love using my own recipes, it's sooo nice to be able to grab something already made.  Busy weeks make me appreciate on-the-go food allergy friendly food even more…
When I do have time for cooking, I love making pancakes.  These pancakes have extra protein with hemp seeds and sunflower butter.  I even topped the stack with more protein from the ProBursts Bites and sunflower butter.  Soooo good.  I felt a little guilty I haven't shared the protein balls with the boys yet.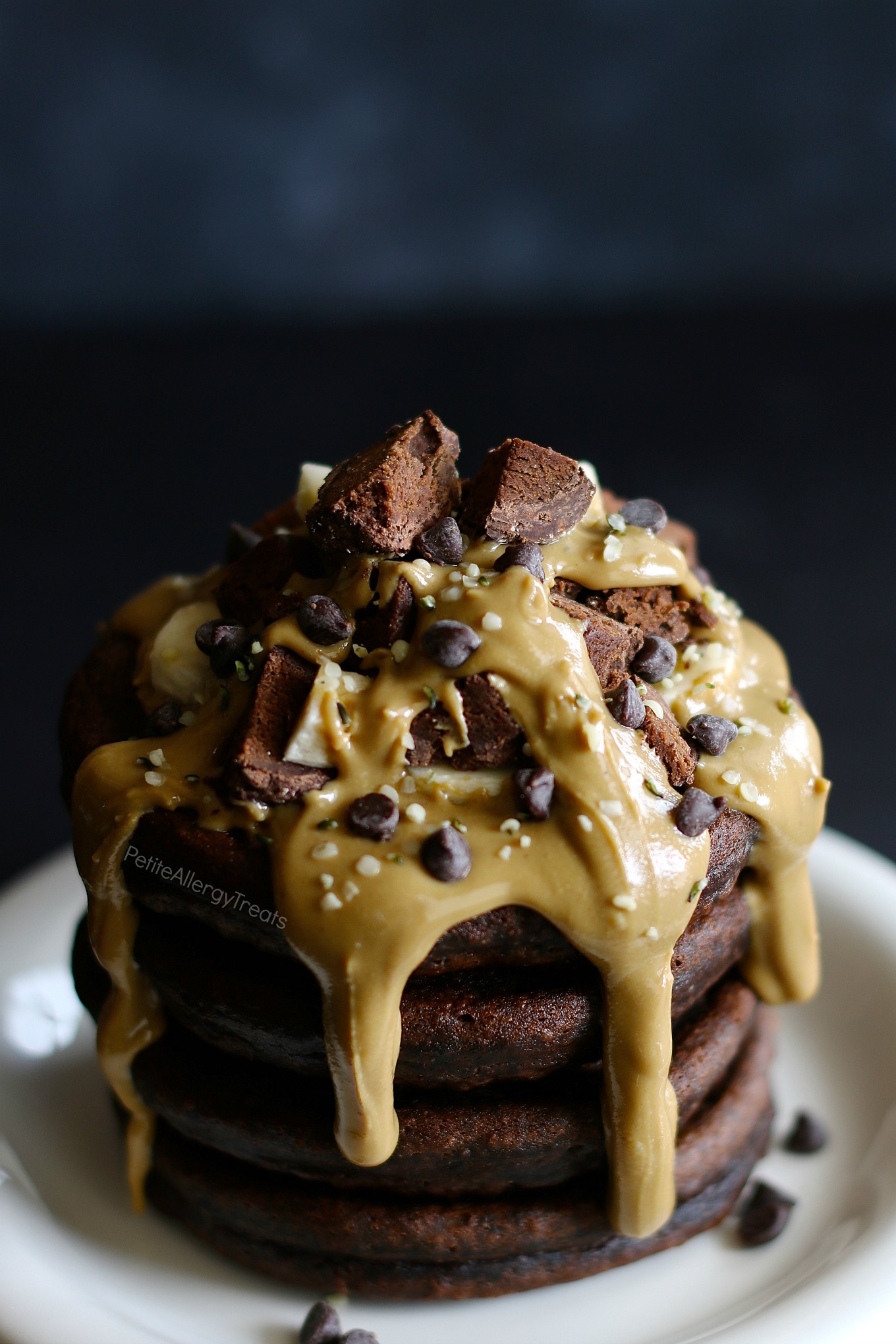 If you remember Mr. Naughty had a food reaction shortly before Christmas.  It took weeks for his immune system to recover.  He is scheduled to see his allergist next week. Since we have a strong history of seed allergies, we haven't gotten around to trying chia seeds for awhile now.  The ProBursts contain chia which will be eventually  introduced in his diet.
You can grab your own bags of ProBurst Bites through the Enjoy Life Food website.  They even have a special 10% discount for using the code PROBURST770 through March 31, 2017.

Gluten Free Vegan Chocolate Pancakes
Author:
Laura @ Petite Allergy Treats
Ingredients
Gluten Free Vegan Chocolate Pancakes
1 cup of my gluten free basic white flour
⅔ cup teff flour
3 Tbsp dutch cocoa powder
1¼ cup dairy free milk
¼ cup hemp seeds
¼ cup sunflower seed or pumpkin seed butter
3 Tbsp oil + plus more for cooking
1½ tsp baking powder
¼ tsp salt
¼ tsp guar gum
Topping
3 Tbsp sunflower seed or pumpkin seed butter
1 Tbsp hemp seeds
⅓ banana
1 Tbsp Enjoy Life Foods mini chocolate chips
Instructions
Heat a large skillet over medium heat with oil.
In a large bowl, combine all dry ingredients and mix until incorporated. Add seed butter, hemp seeds, dairy free milk, oil and mix well.
Pour ¼ cup of batter into an oiled hot skillet. Cook pancakes for 2-3 minutes on each side and then flip. Repeat with remaining batter.
Top with banana slices, seed butter, hemp seeds, chocolate chips and ProBurst Bites.
Enjoy!
Disclosure: This post has been sponsored by Enjoy Life Foods.  All opinions are mine alone.  Thank you for allowing me to continue working with brands that meet our food allergy needs!  For more about Enjoy Life Foods be sure to follow them for the latest news on  Facebook and Twitter
Follow me for the latest news!
Some other thing you may like: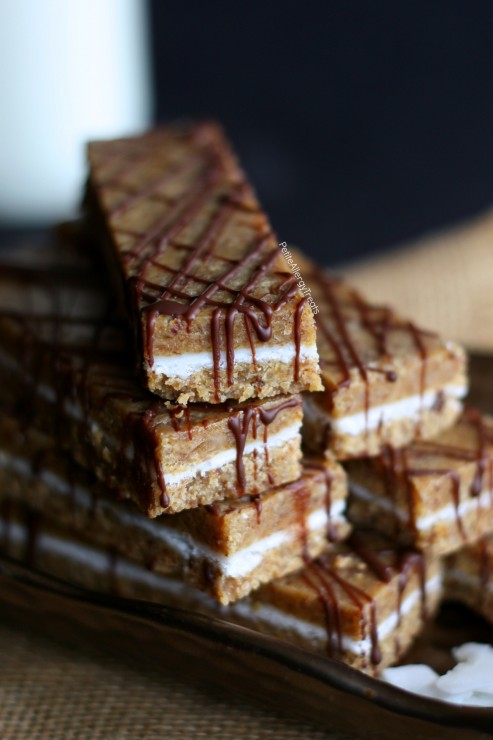 Homemade Nut Free 4 Ingredient Protein Energy Bars-vegan gluten free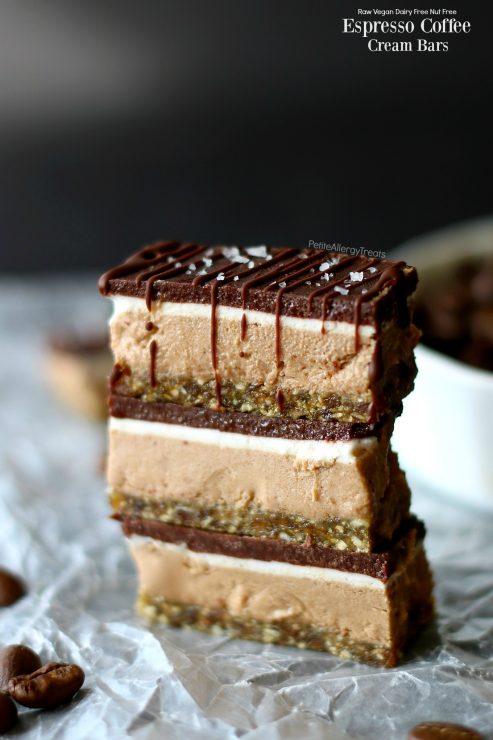 Raw Espresso Coffee Cream Bars– dairy free gluten free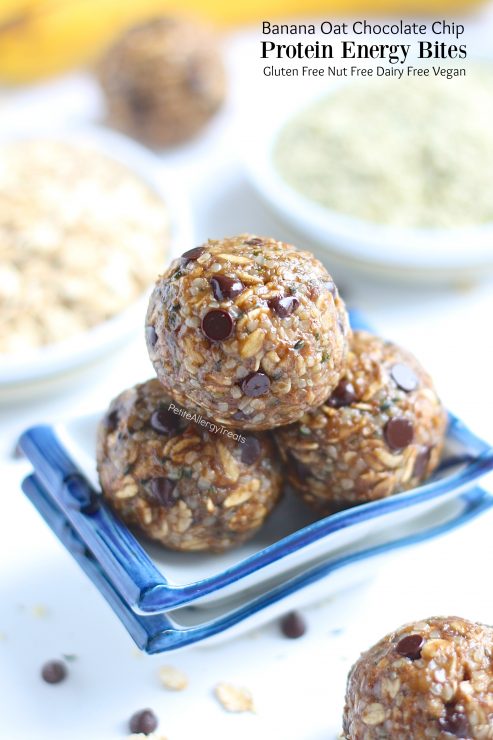 Nut Free Banana Oat Protein Energy Balls– dairy free vegan