Do you love pastries?  If so you'll love a Raspberry Cheese Danish (gluten free and egg free).  Whether you like plain mascarpone cheese, blueberry or raspberry filling, these danishes would be a great breakfast treat.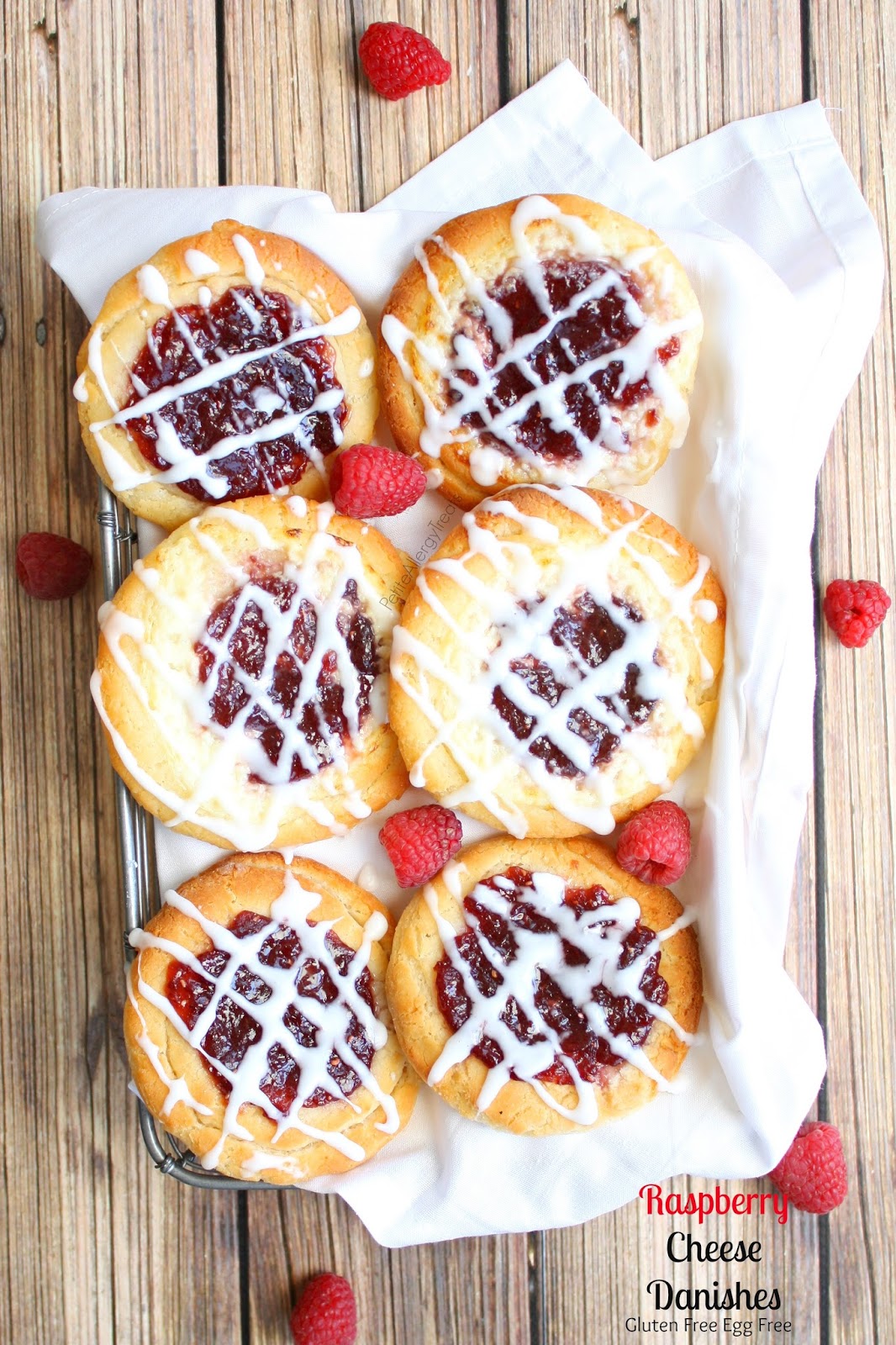 Pastries and gluten free often just don't get along.  A flaky pastry is such a beautiful creation that takes time and effort. When you turn it egg free and gluten free things are bound to get mucked in the process.  But that's baking with food allergies, right?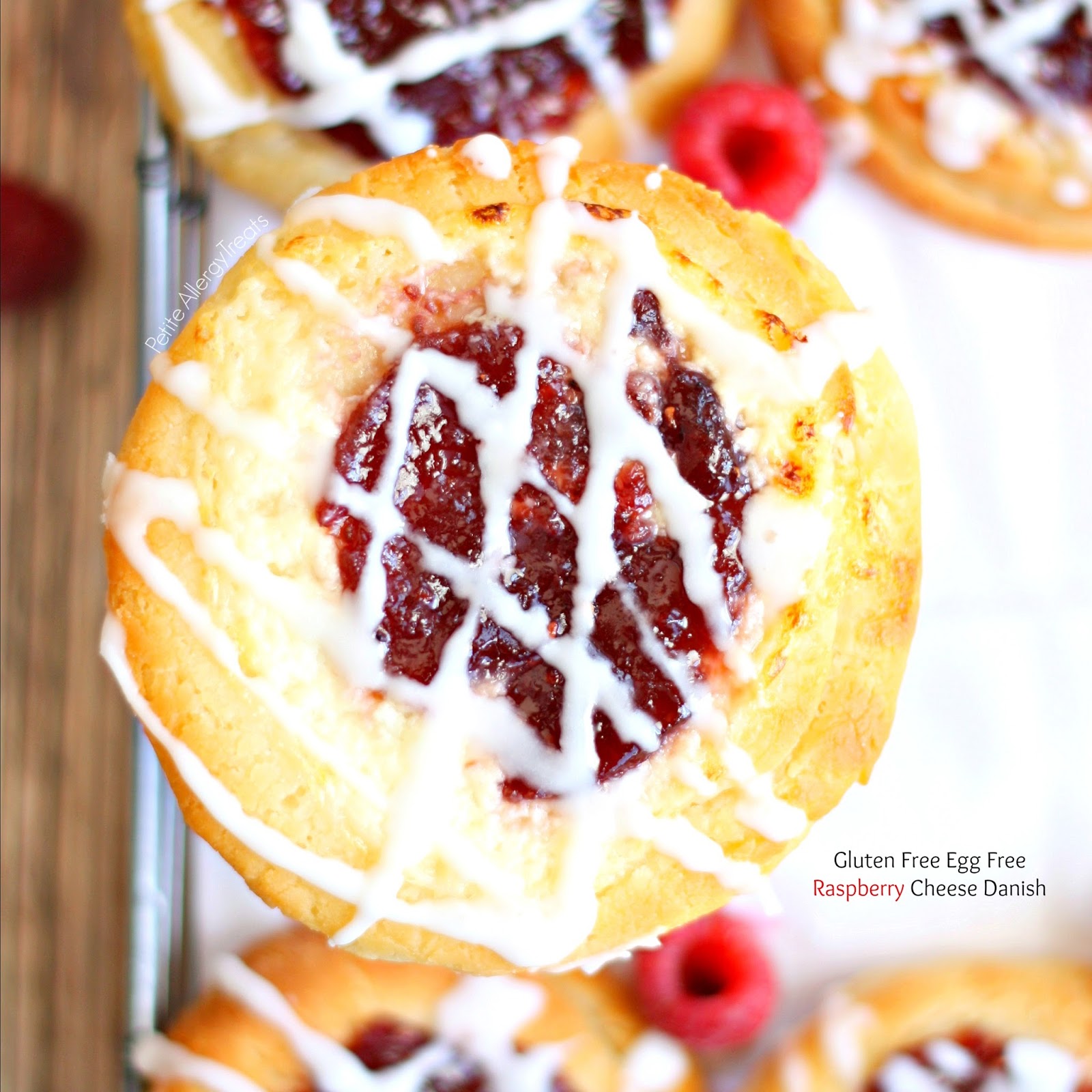 These raspberry and cheese danishes are probably as good as you can get without egg or wheat for binders.  I even made a few without the cheese and they were pretty AWESOME if I may say so myself.  If you are allergic to dairy, you could simply omit the cheese.  There are also dairy free cream cheese substitutes like Tofutti or Daiya cheese spreads.  Just be sure to read all the ingredients to see if they meet your allergy needs.
I have to tell you, the boys had no idea what to think of these at first.  ( I should probably mention they've never eaten a danish before.)  All they saw was the jelly and immediately assumed it was a donut of some sort.  Either way they ate every. last. crumb.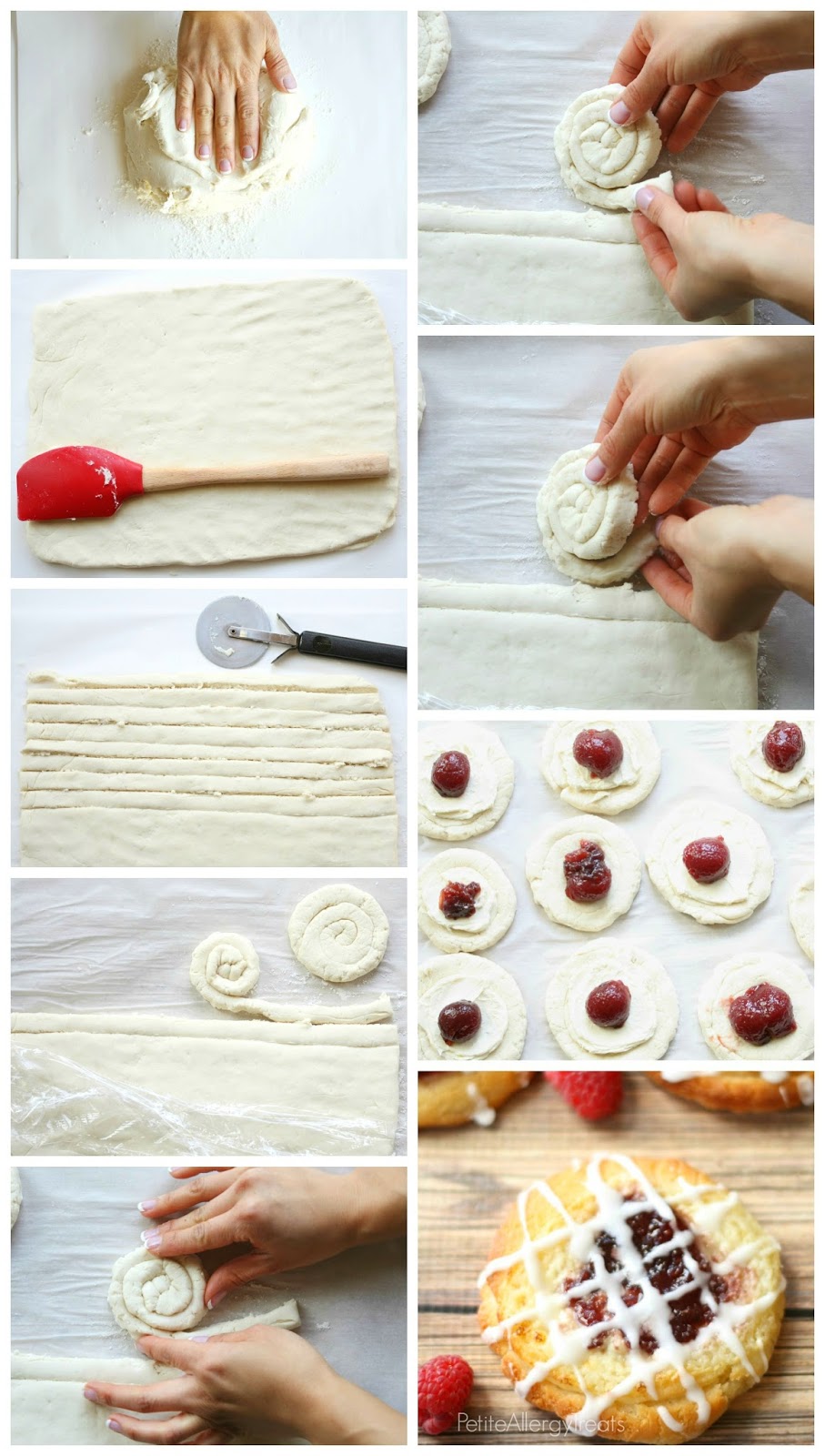 These are in no way healthy but you're aren't talking about health when consuming a real donut or danish.  They are a treat.  A treat to be reserved for special occasion…
Like an upcoming Mother's Day???…(hint to any dads reading this)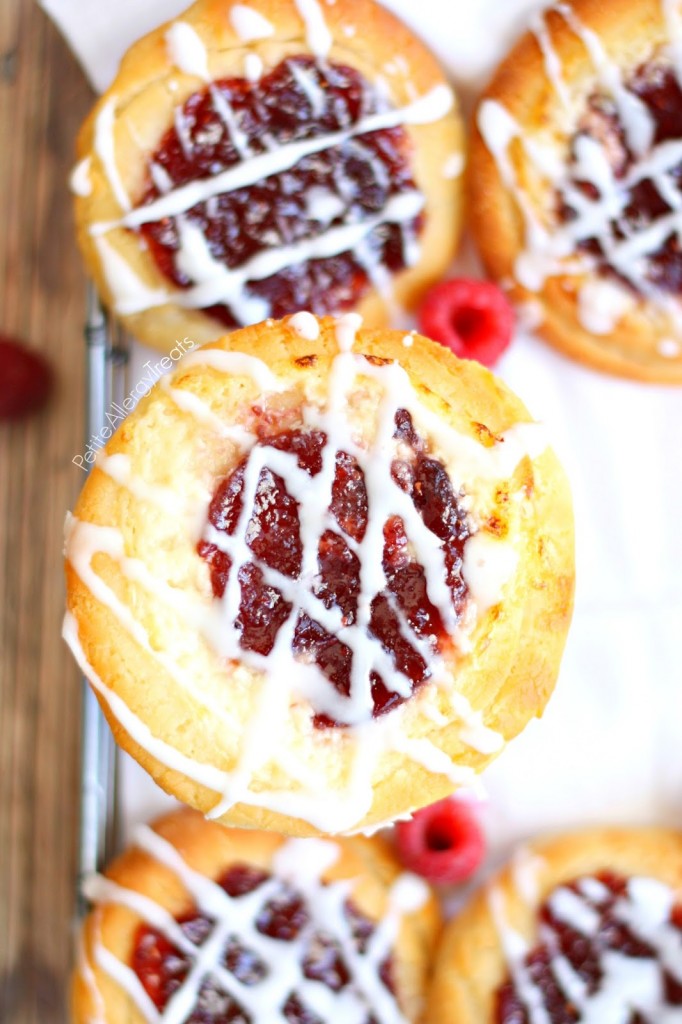 Of course, these take some work.  As fellow allergy mom,  I suspect you'd be making these for the family instead of dad.  No offence to dads.  I just know my husband is a deer in headlights with the concept of baking.
And did I mention they freeze extremely well?
I hope you enjoy!

Raspberry Cheese Danish (gluten free egg free dairy free option)
Author:
Laura @ Petite Allergy Treats
Ingredients
Dough
1 packet yeast (I use Red Star)
4 Tbsp vegetable shortening--reserve 1 Tbsp for top
¾ cup pineapple juice
¾ cup milk of choice
2¼ tsp guar or xanthan gum
¼ tsp powdered pectin
Filling
1½- 2 cups raspberry jam or jelly
1½-2 cups mascarpone cheese (omit or use Vegan cream cheese for dairy free)
Instructions
Heat ¼ cup of milk to 100 degrees.  Add yeast and set aside for 5 minutes or until foaming.
Mix all dry ingredients for the dough.  Combine yeast, juice, 3 Tbsp shortening and remaining milk.
Mix ingredients by hand for at least 5 minutes to help activate gum.
Lightly dust parchment paper with extra flour and gently press out dough to form a rectangle approximately 14x18 inches.  Use a rolling pin to make an even layer.
Cut length wise into 16 equal stripes with a floured pizza cutter.  Cover dough unused dough with plastic wrap to avoid drying out.
Slowly peel away each strip and form a circle.  Tug in the tail underneath to stop unraveling. Repeat with remaining dough and cover finished disks with plastic wrap.
Fill the center of each disk with approximately 1 Tbsp of cheese.  Slightly flatten cheese and create a well in the center for the jelly.  Add 1 Tbsp of raspberry jelly.
Melt remaining shortening and lightly brush the sides of each danish.
Bake at 400 degrees for 10-12 minutes or until just beginning to turn golden brown.  Centers will be wet and bubbly.
Allow to cool on a wire rack and set for at least 5 minutes.
Notes
The dough can dry out quickly so be sure to cover any unused dough with plastic wrap to help.  The filling will melt down a bit and spread.  Trust me when I say you only need about 1 Tbsp of filling for each.  My jelly was really thick so I ended up pressing it down just a bit to flatten before baking.
Some other things you may like: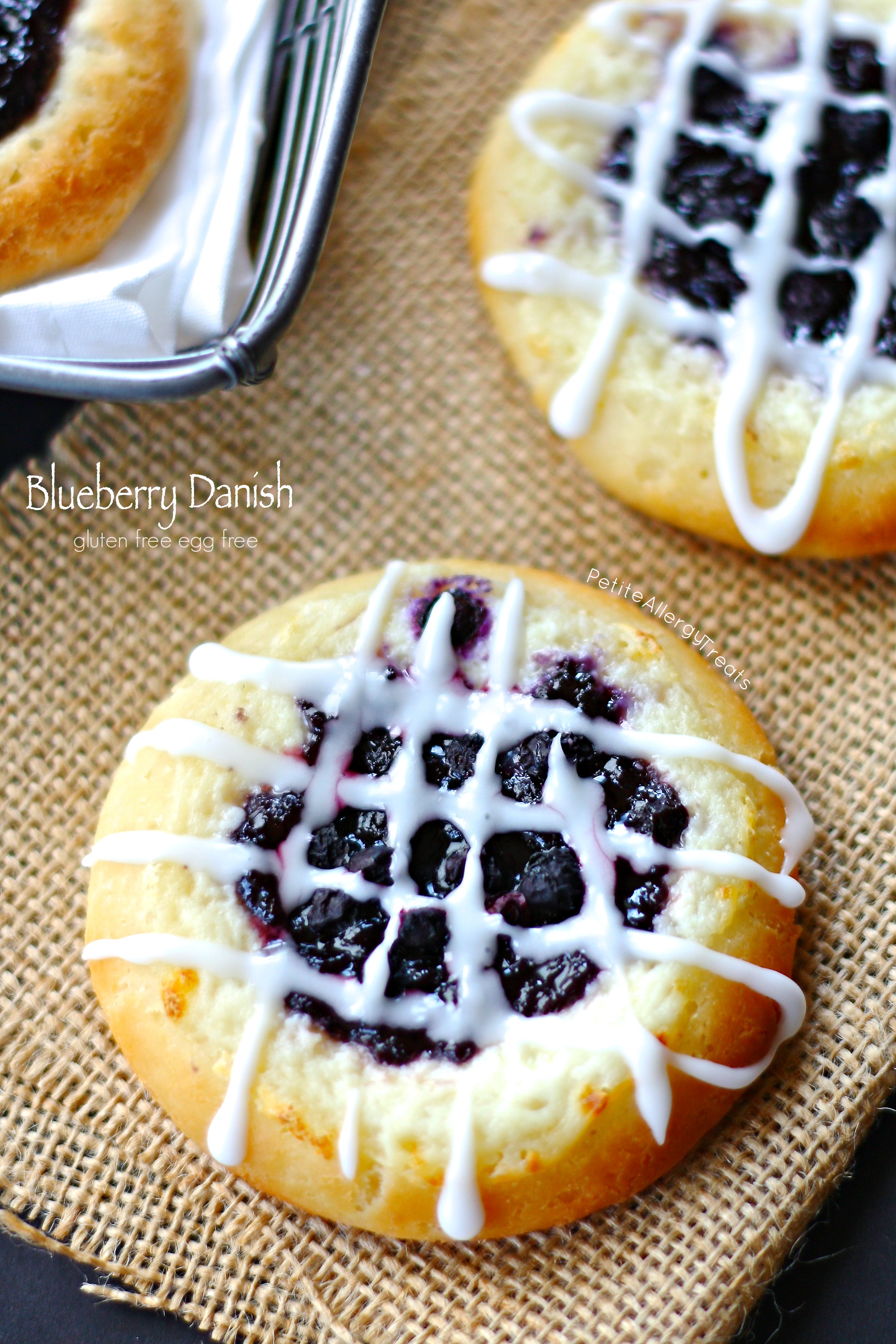 Gluten Free Blueberry Danish- egg free dairy free-option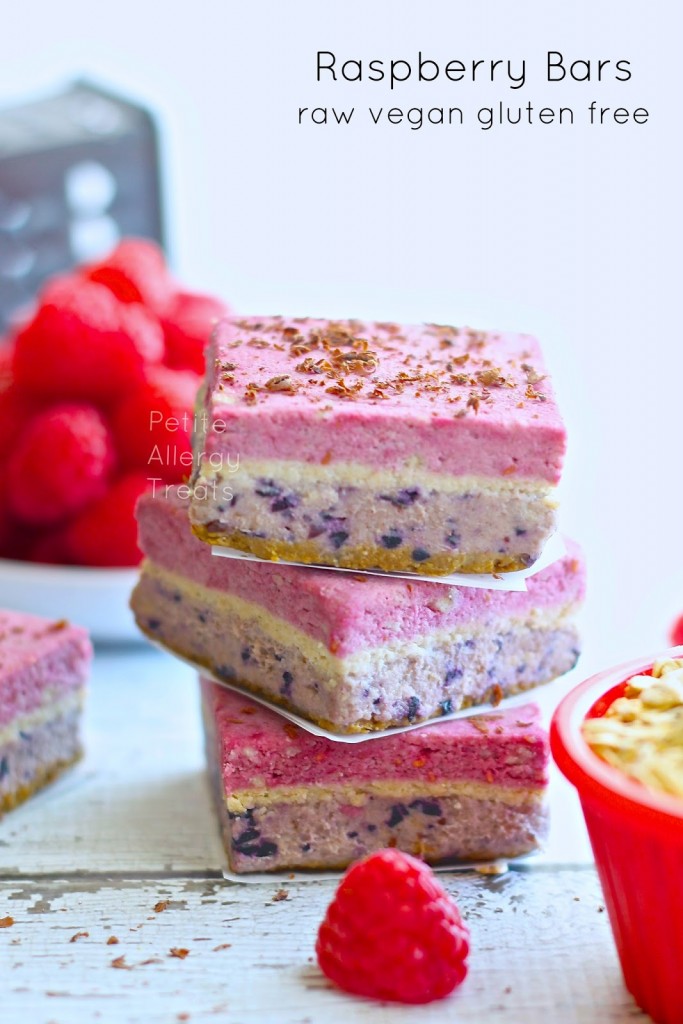 Raspberry Bars- gluten free vegan raw