Picture a healthy skinny gluten free and dairy free Creamy Alfredo Sauce that's super easy and ready in about 15 minutes.  This nut free sauce also contains no extra oil, nutritional yeast or even coconut cream.  Made from a simple potato.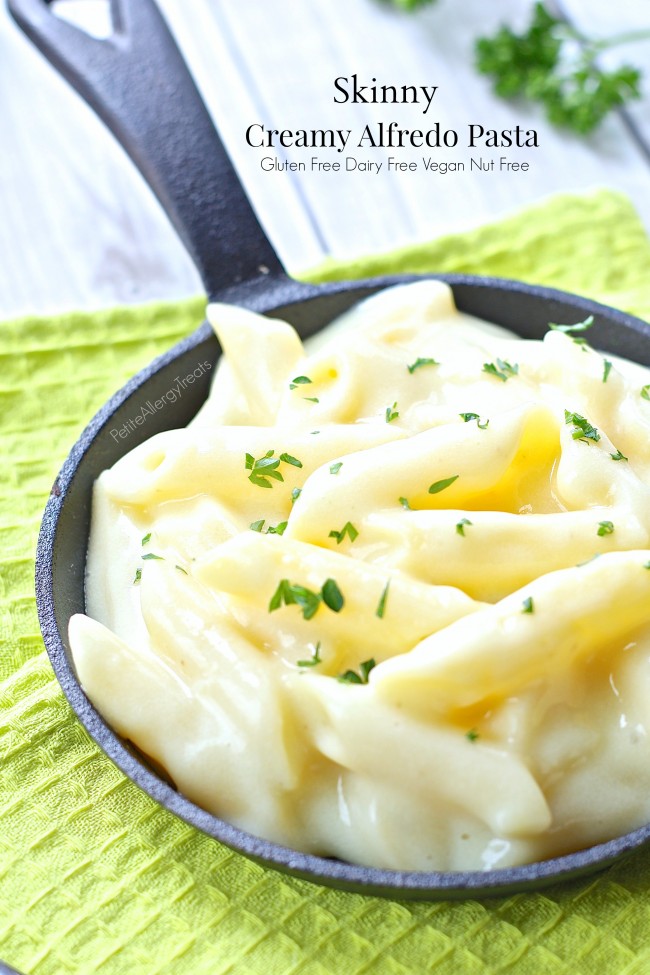 How are you doing?  Hanging in there for end of school?  Didn't that just creep up quickly?  I swear May just started yesterday and POOF, it's already almost mid-June.  And the end of school craze has gotten to me.  You know what I mean… There's a special t-shirt day here, the end of the year field trip here, be sure to send money, last week of piano lessons, summer baseball is starting now…There is just so much to remember to do.
I love it but this year has just brought too many surprises in the last 'lighting weeks', as I call them.
As you know Mr. Naughty broke his arm at Lego Land of all places.  He was in a splint and finally got his cast. He choose bright, burn your eyeballs ORANGE.  Apparently, the morning of the appointment it was his new favorite color.  One doctor appointment down and we dodged a huge bullet with the declaration that no surgery was needed!  Whew…
So it seemed like smooth sailing from there, predictable doctors appointments and outcomes.  (I'm a planner.  Allergy moms just have to be.)
BUT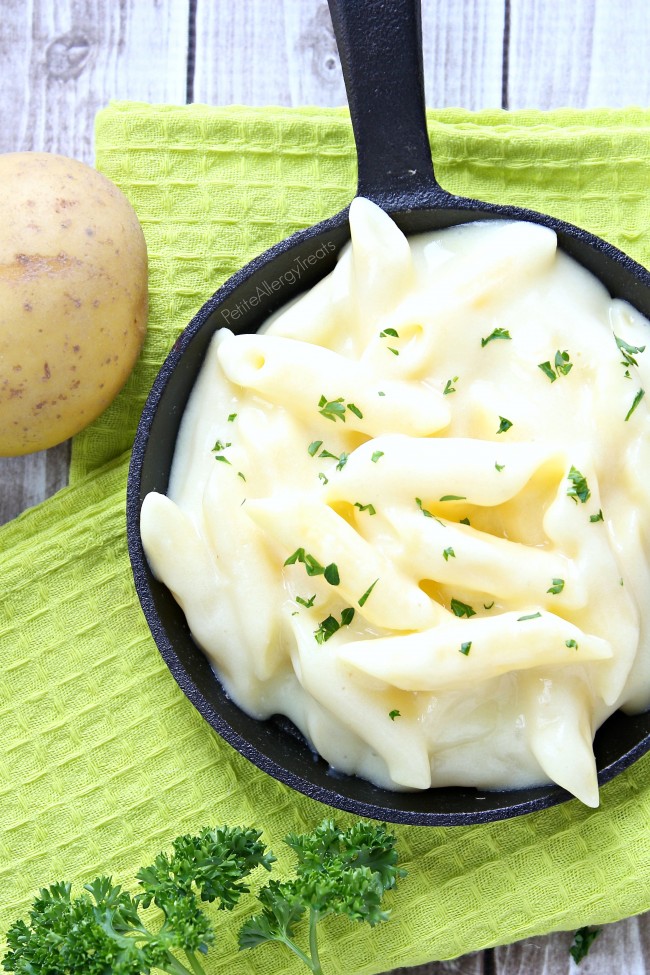 Do you ever have those days (or a week) of where nothing seems to go the way it should?  Like, when you end up in the emergency room as the patient?
Uh huh…
First off, I just would like to say, I have wanted a mandoline for almost 12 years.  I refrained from buying one out of fear for my fingertips.  Until Sunday.
You can see where this is headed…
Slicing my first potato, caused problems.  The potato started to break instead of being sliced.  Clearly that would not make good photo right?  So against my better judgement, I thought I'd tried just. one. slice without the guard.
One.
And that's all it took.  I won't get into the gory details (it's a food blog after all) but part of my nail is no longer…and either is part of my right shift/enter finger.  😮
I was a super trooper mom who still made dinner and said goodnight to the boys before driving myself to the ER after my husband got home from work.
*sigh* Crazy how fast life gets you sometimes, isn't it?
So much in fact it it has literally driven me to start drinking… (and I'm not embarrassed to say I stuffed a few brownies in my face too.) Lol, don't worry, it's nothing more than a glass of wine here and there.  After a little too much fun combined with an excellent memory, I simply stopped drinking after college.  One night of fun just wasn't worth it.  And the older you are the less you need to drink to reproduce those 'fun' nights.
But the silver lining to some of this???
I got carded.
Yep, I was actually asked to show my ID.  And I was EXCITED.  Pretty sure the last time that happened was at least 11 years ago.  I was so flipping happy to hand over my ID I couldn't contain my excitement.  The cashier did a double taken before looking for my date of birth.
"Wow, I would have never guessed you were that old."
😀 Music to my ears.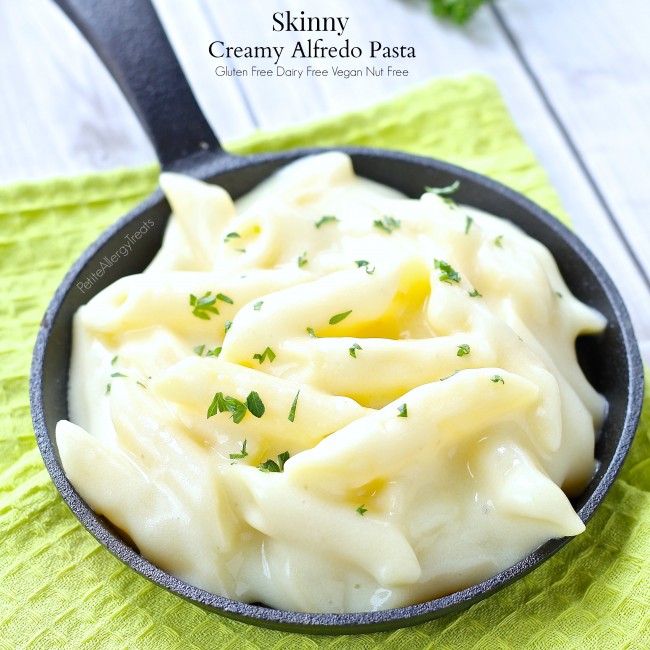 Just goes to show that such small thing can make you happy.  Like an easy healthier dinner meal idea of a dairy free alfredo pasta.  This ironically also uses potato (don't worry no mandolins are involved).  Just coarsely chop the potato and boil until tender, blend and toss with your favorite gluten free pasta.
Do you have any crazy knife or mandolin stories?

(Dairy Free Vegan Gluten Free) Alfredo Pasta
Author:
Laura @ Petite Allergy Treats
Ingredients
Alfredo Sauce
2 medium gold potatoes
1 cup milk of choice
½ tsp garlic powder
¼ tsp onion powder
½ tsp salt
Pasta
1 box favorite penne pasta
Instructions
Prepare pasta according to directions on the box. Drain under cool water and set aside.
Peel potato, chop and boil until fork tender. Drain excess water.
In the same pot, use a hand stick blender until smoothly. Add milk, garlic, salt and onion powder.
Mix with pasta and toss until coated evenly. Serve immediately.
Notes
This sauce is best enjoyed the first day. Reheat on low being careful to not over mix the pasta since it will fall apart.
Some other things you may like: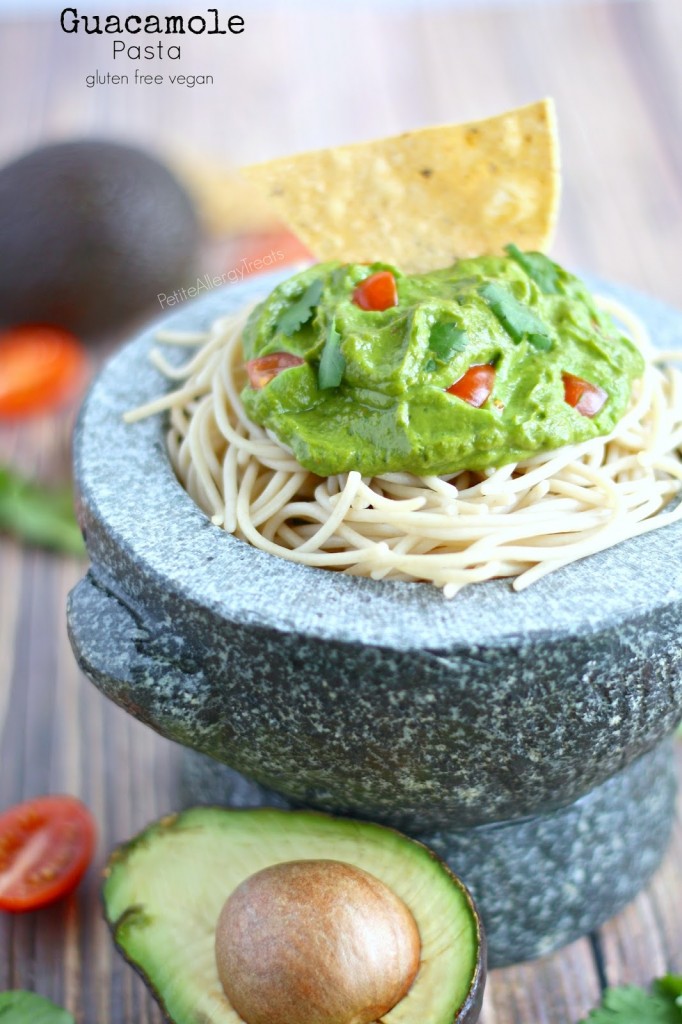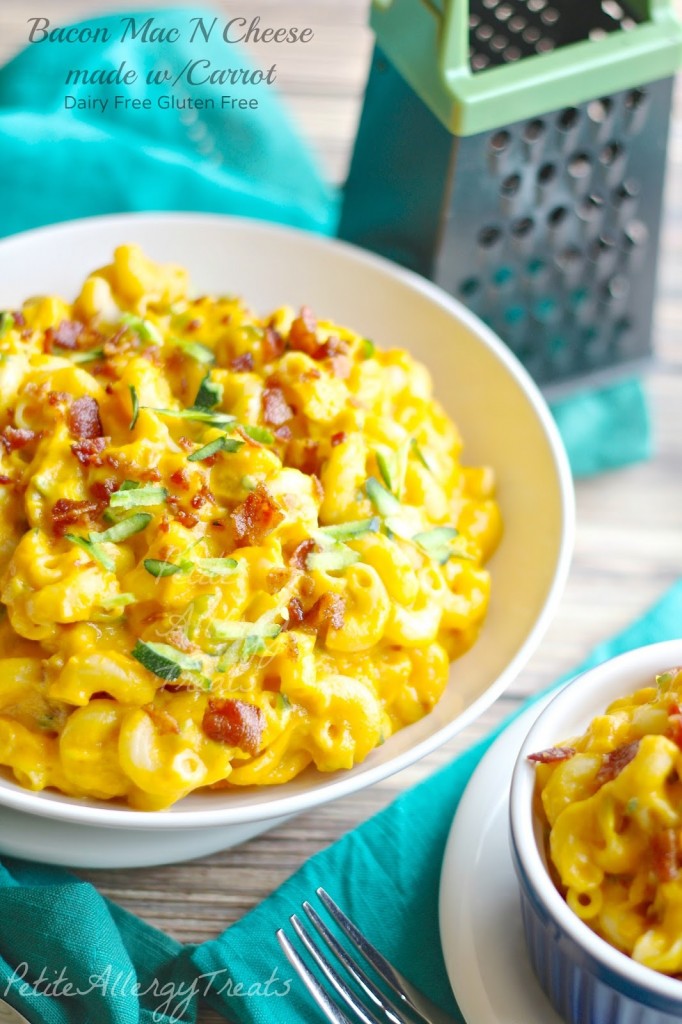 (Dairy Free) Light Bacon Mac N Cheese