Gluten free Thin Crust Pizza will never be the same… This is hands down the best gluten free thin crust that is also food allergy friendly: dairy free, soy free, peanut free, tree nut free, egg free and Vegan.
The following is a review of #theBakingSteel.  I was given a Baking Steel for this review but not compensated in any other way, and all opinions are mine.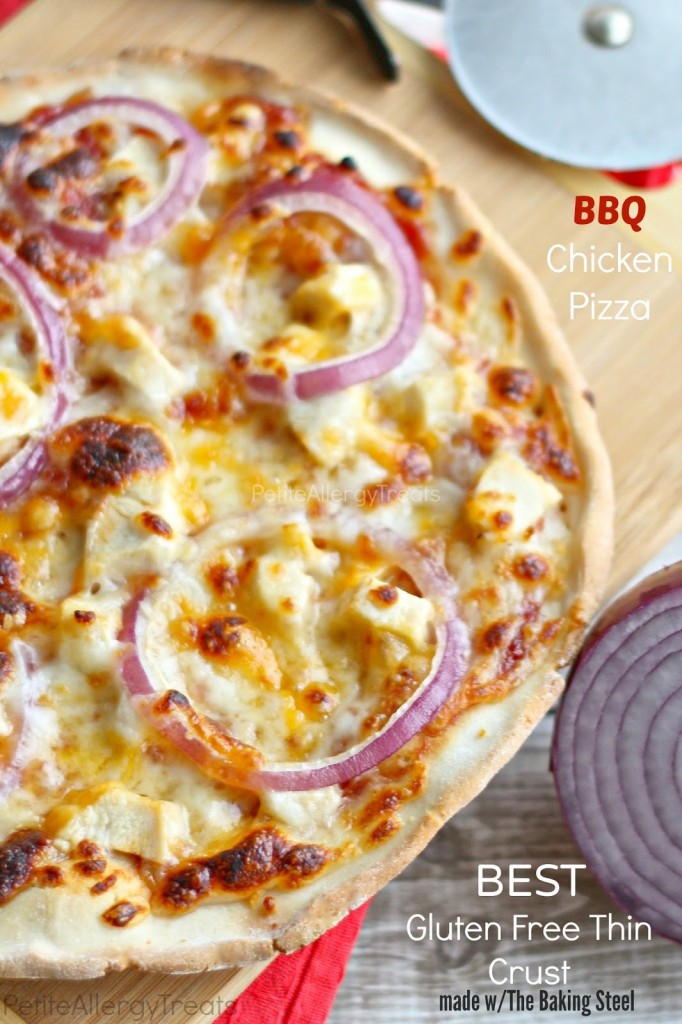 This has to be one of the most exciting kitchen gadgets.  Ever.  If you are a foodie or a former recovering one, like me (due to family food allergy restrictions), you'd like The Baking Steel.  It's revolutionary as far as kitchen tools goes, since this thick piece of steel transforms the simplest of ovens into a professional screaming hot pizza oven.   Can you imagine having perfect pizza at your beck and call whenever you feel like turning on your oven?  This gadget is a relatively new modern tool that is gaining popularity in the foodie quest for perfect at home gluten free or regular wheat based pizzas.
ENTER BELOW TO WIN ONE!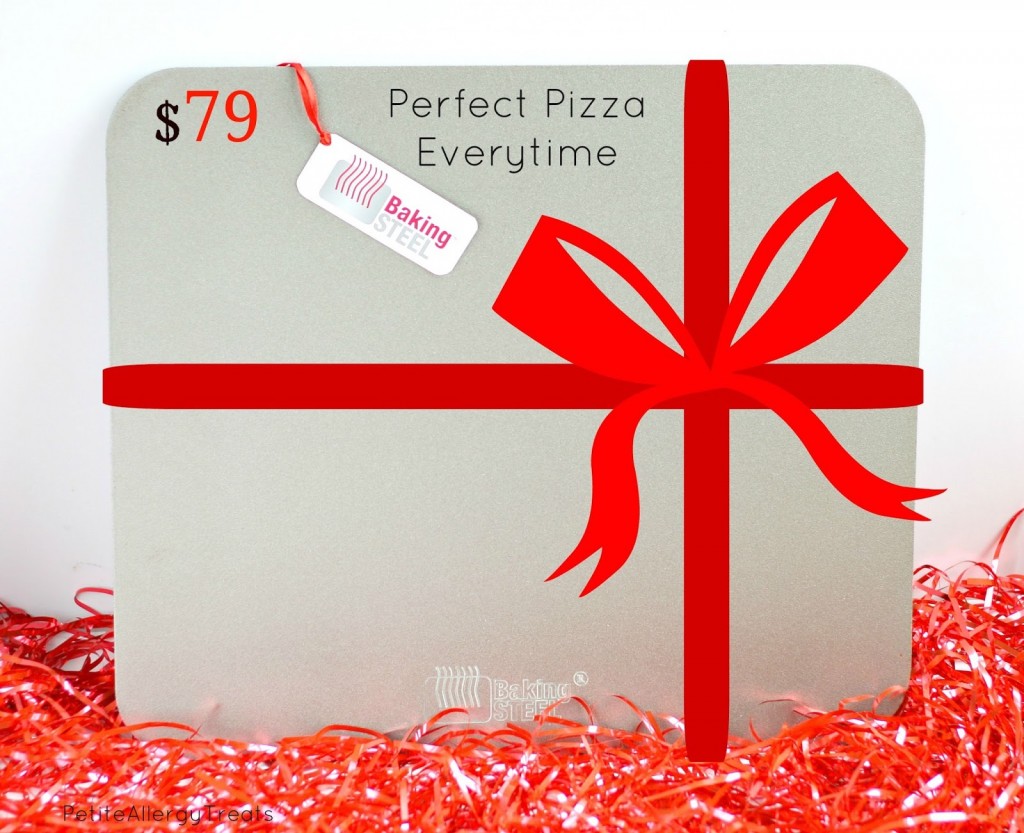 Before we start the whole in depth review, can we be honest with each other?  I'm talking family member type of honesty.  I'm gonna tell you the truth without any sugar coating no matter how ugly it may be.  Ok?   here goes…
Gluten free pizza is…
well…NOT good.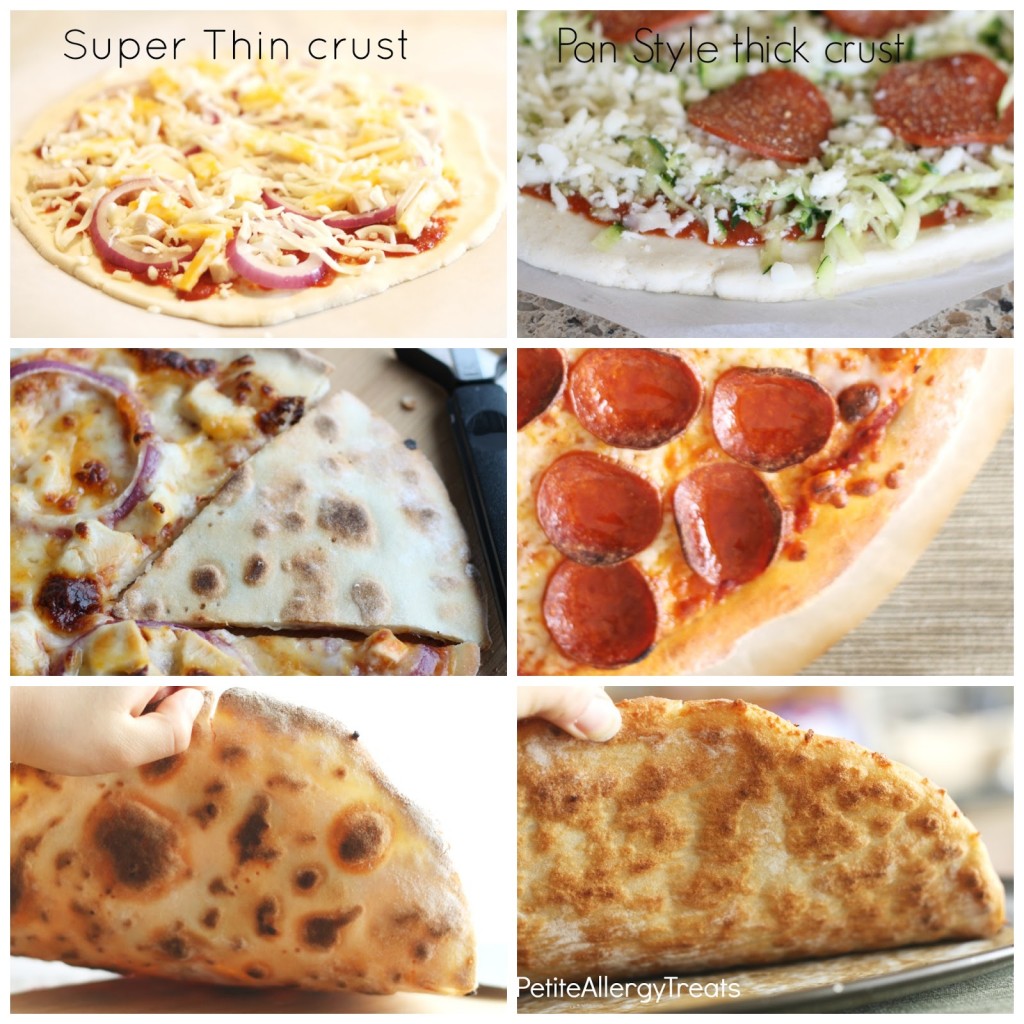 Often gluten free is filled with a range of possible problems.  It can be soggy.  It can be gummy.  It can as dry as cardboard.  It can be GROSS. 🙁
Now don't get me wrong.  A safe pizza is better than none.  And it 
can
be pretty good, remember my 
best gluten free pizza crust
?  And my definition of good pizza will probably differ from yours… BUT… The best pizza I dream of, has that crispy crust that's charred underneath from baking at a high temperature in a dedicated pizza oven.  Thick or thin crust, doesn't matter.  It just has to be crisp.   A restaurant has that guaranteed crispy crust you've been looking for.  But here's the thing, since those restaurants also cook regular wheat based doughs, you can almost guarantee cross-contamination of wheat on your gluten free crust.
*sigh*
 And that's where the dream has ended.
Until now.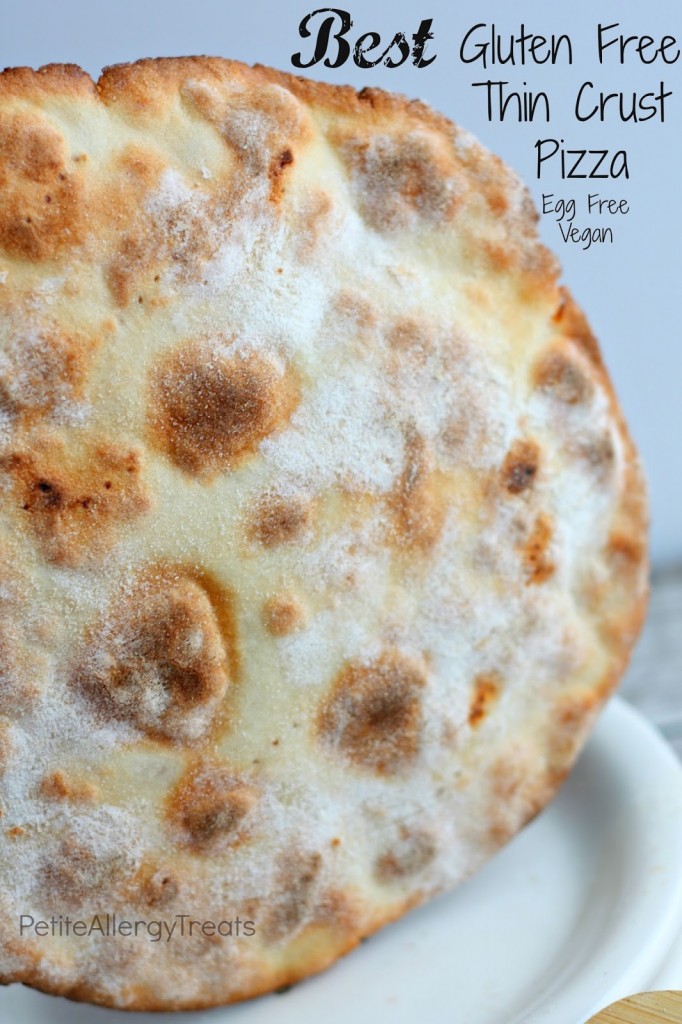 The Baking Steel can take you there.  For real.  Gluten free pizza needs all the help it can get and with the Baking Steel,  you can enjoy restaurant quality pizza- food allergy risk free at home.  This incredible conductor causes the dough to bubble and immediately starts to cook the instant you place your pizza on it.  You can see the bottom is slightly burned on the bubbles to not only look but taste like restaurant pizza.  As an added bonus, it smells like it too!  It's that smell from dry flour cooked directly over a hot surface.  Walk into any pizza place and you'll understand what I mean.
The secret behind this technology really lies in the fact that metal is a great conductor of heat.  This quarter of an inch thick chunk of steel is no exception.  I thought read somewhere it was 18 times more conductive than a traditional pizza stone.  Either way, it was fun to watch all the action through the window on the oven.
The nitty gritty honest truths about using this the bad boy…
This thing is HEAVY. 15 pounds to be exact.
Directions suggest preheating your oven with the Baking Steel in it for a minimum of 45 minutes at 500 degrees F.
The size with weight bring up the whole storage issue.
The plate stained on the first use
Ok, so not all of those sound great but let's talk about 'em.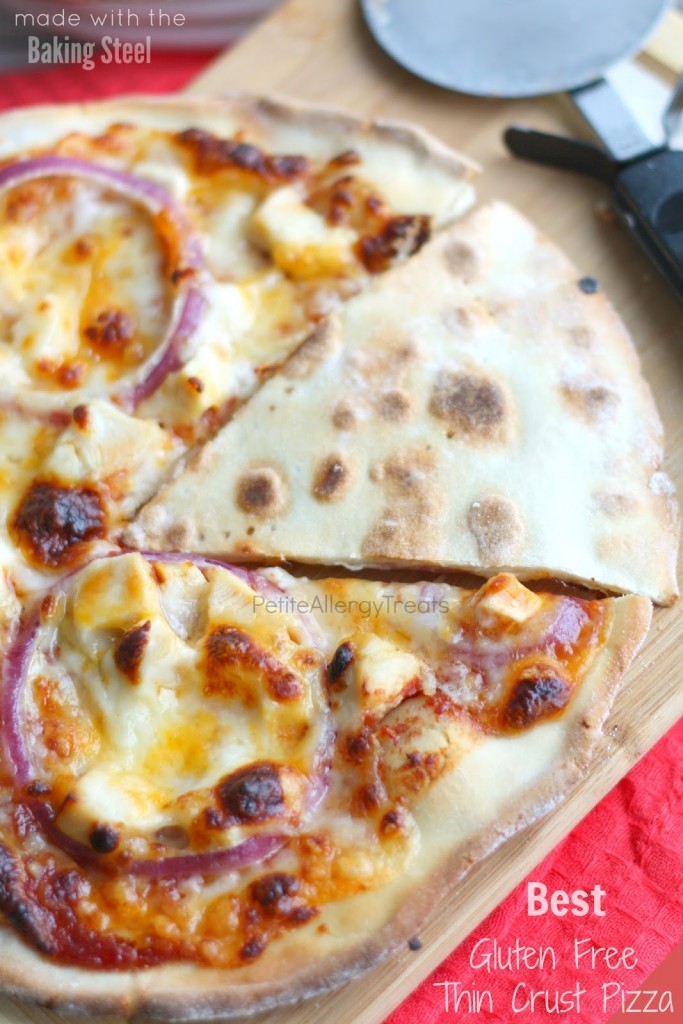 The weight: A regular pizza stone is closer to 10 pounds.  Heavy too.  If you want that crisp crust though, you need a gadget.  Period.  It's still heavy, but how often will you really be lifting it aside from placing in or out of the oven?  I'm pretty petite myself (the size of 12 year old, remember) but I was able to move it without any problems.  (I also like to add,  I consider myself a miniature Ninja.  It has absolutely nothing to do with this review, but I thought I'd mention it. :-P)
The preheating time is the same if you were eating out at a restaurant.  This isn't a deal breaker for me since there isn't a safe pizza restaurant for us as a back up.  If you have access to one, this might not be a selling point.
As far as the whole staining thing, it's expected to get darker with each bake.  For some reason, mine ended up only dramatically darkening where the oil from the cheese leaked.  The discolored spots won't impact the performance.  (It only bummed me out because I wanted to take more photos of it all shiny and new.)  Cleaning hasn't been an issue yet although it states in the owner's manual to not wash with soap and towel dry immediately to avoid rust.  Just scrap off excess food debris with a firm nylon brush or you can order their 
cleaning stones
.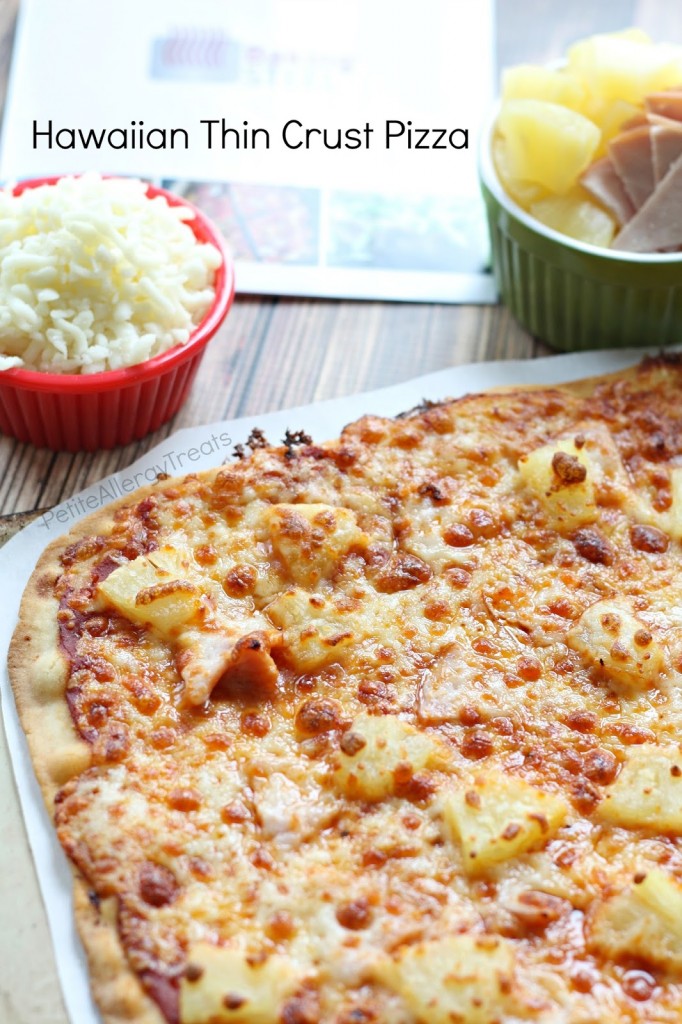 Storing is a bit more complicated, mine is currently a bit of a nomad.  Obviously, it depends on the space you have.  But I have been currently storing it in the oven and only periodically take it out when I'm baking a ton and need extra space.  I read a bunch of other people do that too and it's safe to leave it in there while baking other things.
There are countless other reviews out there outlining all the amazing qualities and test it with a professional kitchen which
you can read here.
 Keep in mind, my review is from me: a real mom, who wants to keep her son with multiple food allergies safe 
and
 give him regular foods other families might enjoy out at a restaurant.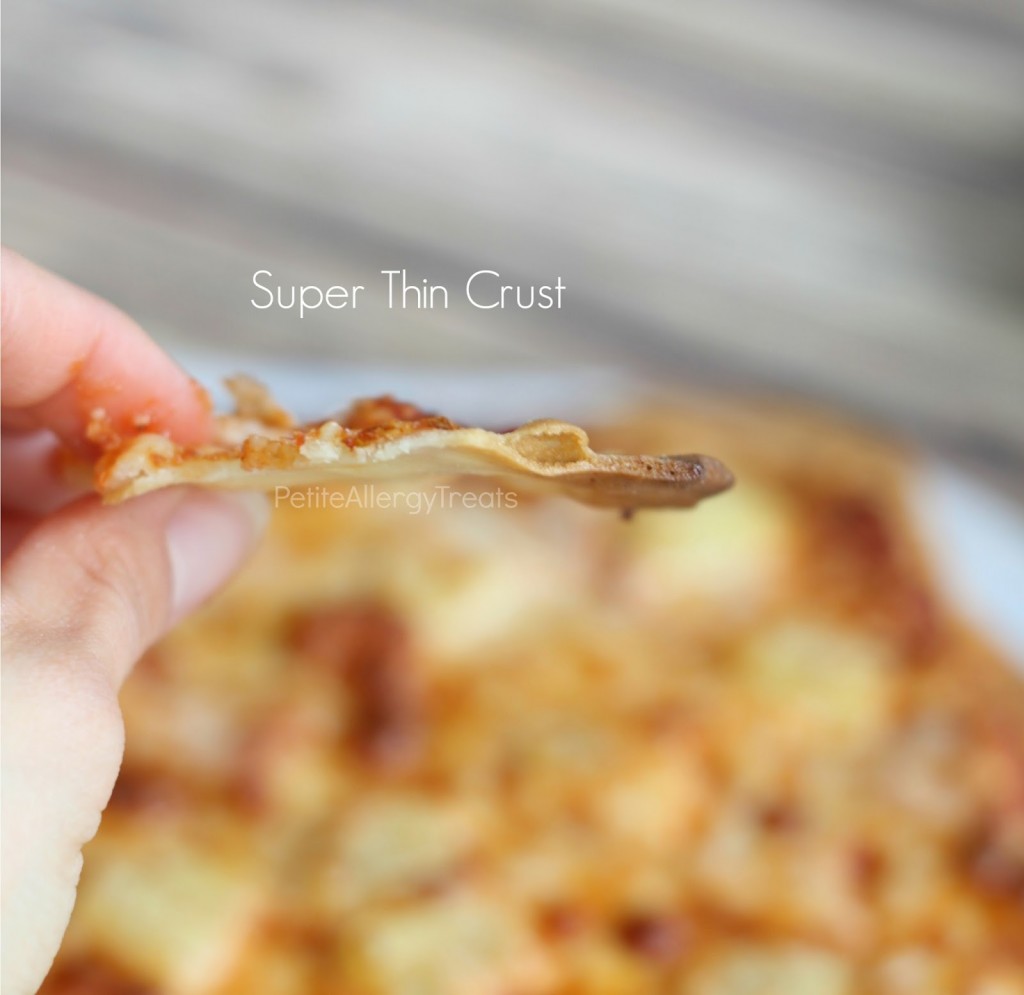 Chances are if you have food allergies, eating out can be a hassle and sometimes not worth the risk of getting sick.  What better than to have the freedom to turn on your oven and not think about food allergies or cross-contamination?    The thought of making my own restaurant quality gluten free-egg free pizza made get me excited, but it was the piece of mind of keeping my son safe, that really made me love it.
So do you really need this for gluten free and allergy families?  Maybe.  Ultimately, it depends on how much you cook and how severe your allergies are.  We are juggling over 15 food allergies, so it's safer to make everything at home in my kitchen.
Our answer is YES.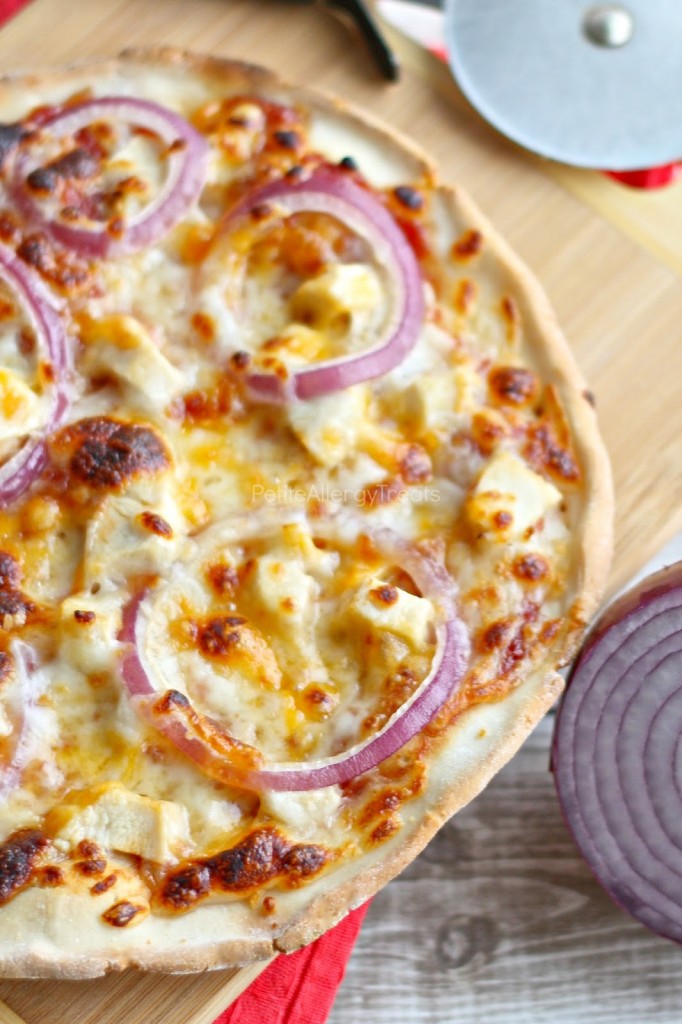 And good things are worth having…
Like this super awesome Gluten Free Thin Crust BBQ Chicken Pizza!  It's everything pizza should be and made exceptionally crispy with help from the Baking Steel.  My kids were never so excited for pizza.  I made a bunch of different pizza over the past 2 weeks like a
Hawaiian Style
, Shredded Zucchini, Pepperoni and plain old Cheese pizza.  They were thick, pan style and thin (I didn't get around to trying another
stuffed crust
).  ALL of them were the BEST pizza ever.  Really.  Each turned out amazing!
Best Gluten Free Thin Crust BBQ Chicken Pizza
Author: Laura @ Petite Allergy Treats
Ingredients
Gluten Free Vegan Thin Crust
Toppings for BBQ Chicken makes 2 large 14 inch pizzas or 6 small 8-inch pizzas
3 cups mozzarella cheese
1/2 cup coby jack cheese
1 1/4 cup chicken
1 1/4 cup BBQ sauce
1 red onion thinly sliced in rings
Directions
Place Baking Steel in oven and preheat to 500 degree for 45 minutes.
Heat 1/4 cup of liquid to 100 degree and add yeast.  Allow to stand 5 minutes until foamy.
In a separate bowl, combine all dry ingredients and mix well.
Combine all remaining ingredients plus yeast and mix well.  Dough will appear dry.
Knead dough by hand for 2-3 minutes or until smooth.  If dough is extremely dry and crumbles with pressure, add 1 teaspoon of water at a time until dough comes together. Cover bowl and allow dough to rise in a warm place for 15-20 minutes.
Divide dough into desired portion, cover the rest of the dough to avoid it drying out.
On a well floured parchment paper surface, press dough out as flat and thin as possible starting from the middle out.
Dock or prick the dough with a fork to avoid air large bubbles.  Evenly apply sauce and toppings.
Use another cookie sheet or pizza peel to move and slide pizza onto Baking Steel.
Cook until crust in brown and cheese is golden brown.  Cooking times will vary, approximate times: small 8 inch 6-9 minutes  14 inch 10-13 minutes
Carefully remove pizza from the oven with the same cookie sheet or peel. (Do NOT try and remove the pizza with the Baking Steel.  It's still a screaming hot 500 degrees and it will burn ya!)
Allow pizza to cool off 2-3 minutes before slicing.  Enjoy the crispiest thinnest crust ever!
Notes:  The preheating is very important.  The steel needs that extra time to heat throughly and evenly.  That said, you'll need to wait long time for it to cool off before moving since it retains so much heat.  Using milk or water in the crust up to you.  I tried both and noticed the water based crust seemed to 'squeak' a little but was still a nice crisp texture.  This works with a thick crust and regular wheat based crusts.  You can even bake breads directly on it, something I'll be trying in the future.
You can pick up one of these directly through 
The Baking Steel site
 for $79 with free shipping or you can find it in your local Sur La Table store.
ENTER TO WIN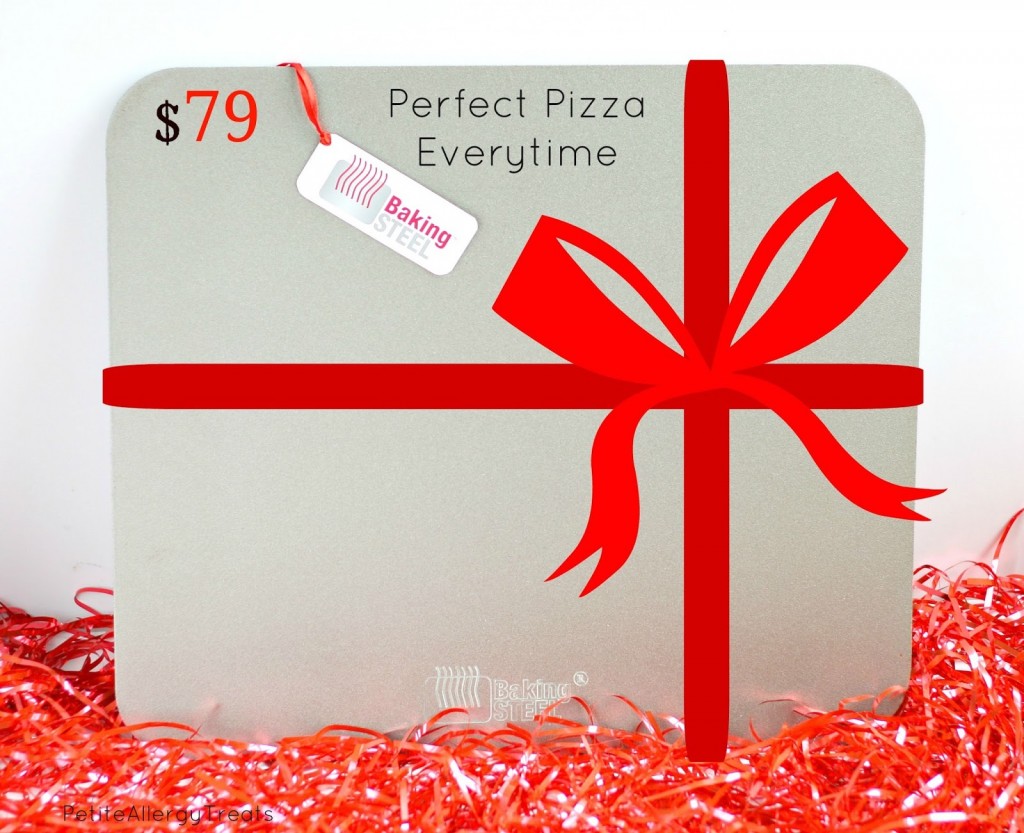 Love what you saw and read?  You can thank Andris over at the Baking Steel for graciously offering one lucky reader their own Baking Steel!  
Enter here for your chance to WIN
 <—- jumps to another page with full rules and eligibility.  Good luck!
Follow me for all the latest up to date things things coming out of my kitchen.
Some other recipes you might like: