This Cilantro Lime Rice with Slow Cooker Pulled Pork is a simple easy dinner. The whole meal is also naturally gluten free, egg free, dairy free, soy free and peanut free. The pork was made in the crockpot and rice in a steamer making it an easy dinner for us.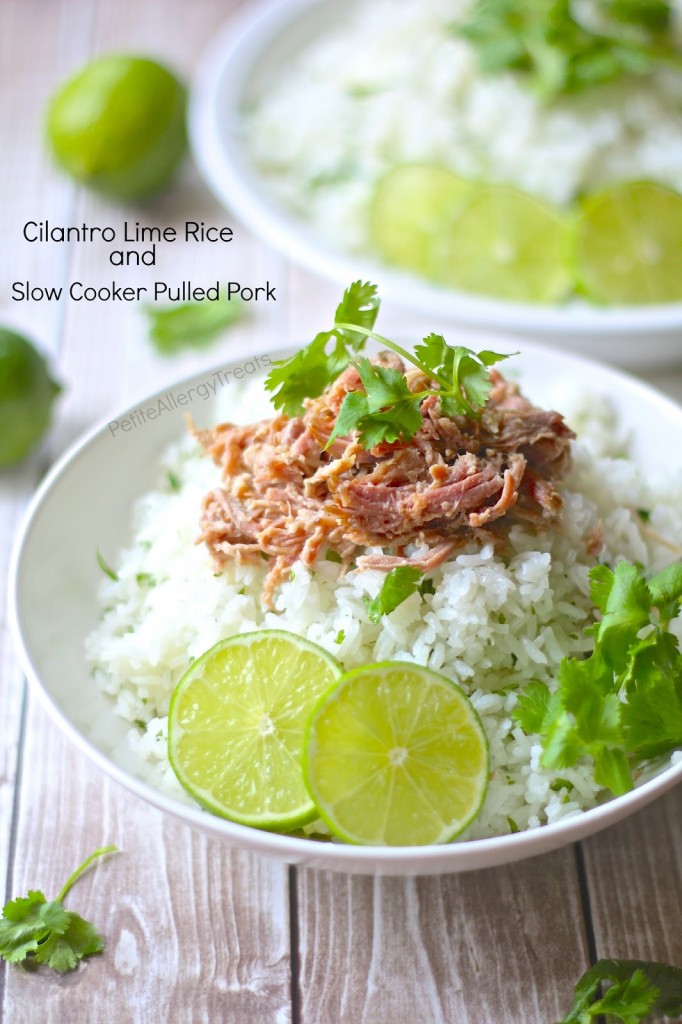 We eat a lot of rice. I'm talking way too much, the rice cooker makes it too easy. I'm hoping to try quinoa again with Mr. Naughty. Last time we tried it, he had some type of reaction to it or another food so I just haven't gotten around to trying again. As another alternative, I just recently started investing time in developing an eggless gluten free bread that doesn't taste like cardboard and can to hold its shape. Look for my new soft hamburger buns coming soon. You can always see my new projects on
Facebook
and
Instagram
.
Rice is good but gets boring. I love giving it a makeover with a little bit of cilantro, lime juice, oil and a touch of salt. This recipe isn't new but instead remade with the addition of crockpot pulled pork. (And some much better pictures.)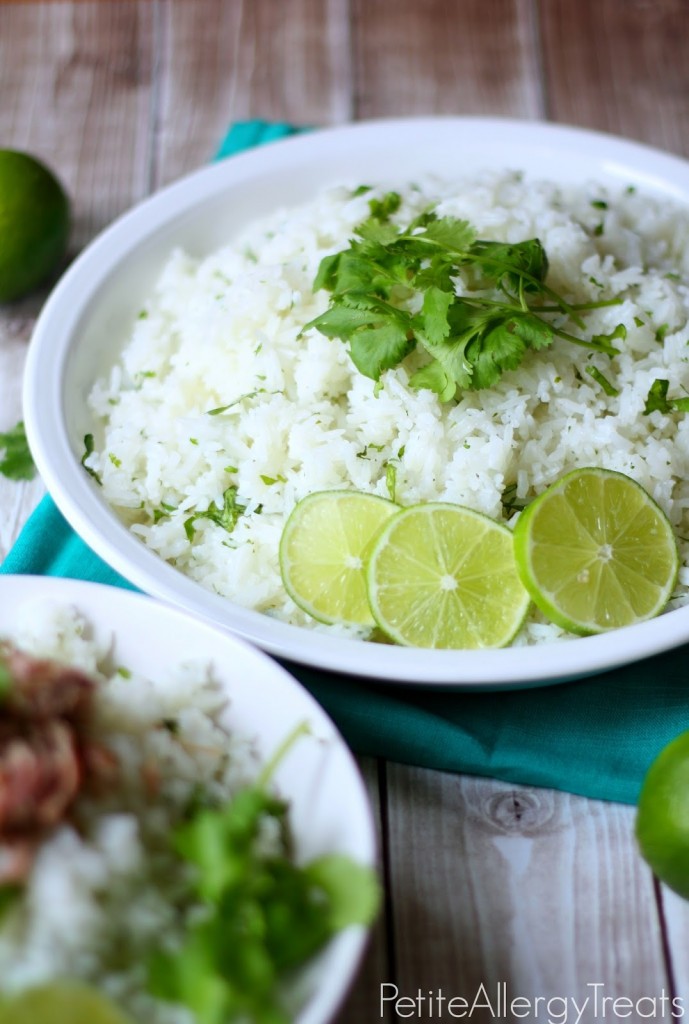 There's something special about cilantro. It packs so much flavor into it's teeny tiny leaves. Can you believe I never willing tried cilantro until age 22? Yep. I was horrible at trying new foods. After all, you can totally tell if you'll like a food by the way it looks, right? Avocado was another one of those things I just knew I wouldn't like at all. Now, I eat them in many of my
desserts
. Thank goodness my roommates convinced me to 'adventurous'.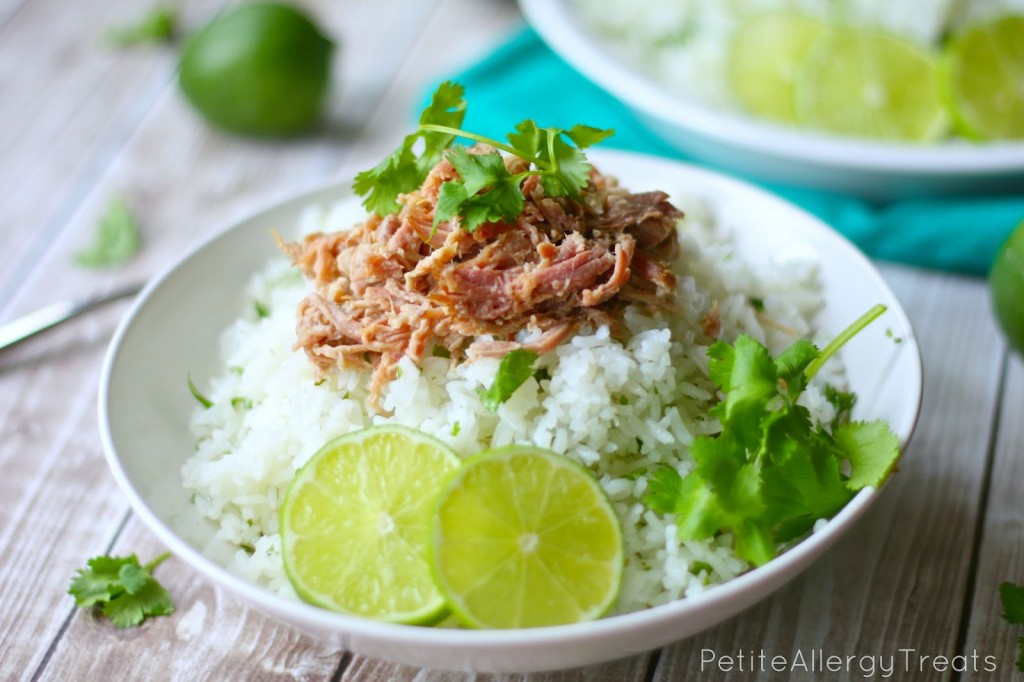 Pork was another thing I would rarely eat. This pork is soo easy and makes enough for days of leftovers for another quick and easy meal. Put the pork in the crockpot with some garlic and allow to marinate overnight in chicken or vegetable stock (make sure it's gluten free). You could add more salt, but I find the stock contains plenty. Turn the crock pot on low for 6-8 hours or on high for close to 4 hours. The pork will be so tender it just falls off the bone. And the rice? So easy. If you have rice cooker you just wash and push a button.
Done.
Cilantro Lime Rice and Slow Cooker Pulled Pork
Author: Laura @ Petite Allergy Treats
Ingredients
Rice
3-4 cups uncooked jasmine rice
1 lime
1/2-tsp salt
2 T canola oil
1 half bunch fresh cilantro leaves
Pork
1 large pork shoulder
3-4 cups chicken or vegetable stock
1 tsp powdered garlic
Directions
Combine pork shoulder in the crockpot with stock and garlic. Allow to marinate overnight.
Set crockpot on low for 6-8 hours or on high for 4 hours. Check pork for doneness with a fork, it should fall apart.
Wash rice throughly until water is clear. Add equal parts water to the rice.
Steam rice in a rice cooker. When button pops to signify it is done, wait at least another 10 mins to open lid and check. Do not open or else you'll allow all the steam to escape and rice won't be cooked enough.
Pour cooked rice into a large mixing bowl. Gently fluff and allow to cool until warm to the touch.
Wash cilantro. Pull off only the leaves and coarsely chop.
Squeeze lime into small bowl and combine with salt and oil.
Add cilantro to lime mixture and pour over cooled rice. Gently mix to coat all of the rice.
Add a generous portion of pork. Enjoy!
You may also like: