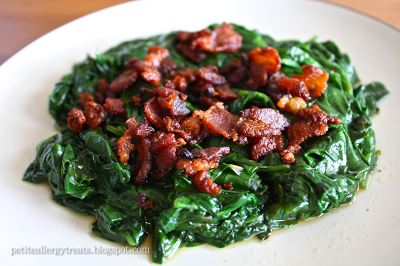 Spinach is a great way to boost nutrients for everyone in the family. Its just a little hard to convince the kids to try it and eat it. At some point it seems that all kids just don't want to willing eat veggies of all sorts.
Enter: Bacon.
Bacon makes anything better.
The best part is you don't really need much to make a huge impact. The delicious smell of frying bacon fills the house and gets the kids attention, "Mmm… Mommy what are you cooking for dinner?"
It's nice because I didn't have to hide the fact that we were going to eat spinach for dinner. It was met with little resistance but mentioning there's bacon in it was a pushover.
A whole pound tub of spinach from Costco was eaten up with no complaints or waste. It really only used about 4 slices of bacon total (with the fat used to wilt spinach) but I always find sampling is a must. I also don't enjoy the mess of all the frying and extra bacon grease, so I'll easily make the whole package and use it towards other dishes. Unleash the power of bacon!
Ingredients
1 lb of washed fresh spinach
1/2-1 package of bacon
salt (optional)
Directions
Fry bacon in large pan until crispy and fat has rendered out. Remove bacon and cool and drain on paper towels.
Add spinach into the same pan used to fry the bacon (if you decided to fry up the entire package of bacon there might be too much fat. Either remove some fat or cook the spinach in a new pan with enough fat to coat spinach).
Cook spinach on medium heat until wilted. Add cooked bacon back in, crumbling into bite size pieces. Mix well. Taste and add salt if necessary.
Serve as a delicious, nutritious side!