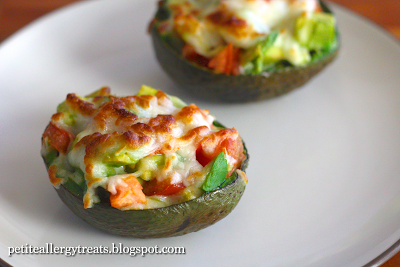 Where has the time gone? School is back in full swing and time seems to vanish into thin air. Do you feel this way too. Don't get me wrong, its nice to have the kids in school. For me it's shifting gears to a new schedule and mind set.
Sir now needs to bring cold lunch everyday due to his peanut allergy. He has his own segregated table with all the other "lucky" kids with peanut allergies. Whenever possible, I try and pack a sandwich loaded with avocado. I am so lucky he loves them. Avocados are fabulous for a number of reason but here's my top four reasons:
1. It's a serving of a vegetable fruit. (keep reading)
2. It's loaded with potassium, which helps with water retention from high sodium foods like his deli meat.
3. It's high in monounsaturated fat (the GOOD fat).
3.5 It's loaded with fiber! Kids can't seem to get enough of this.
Here are the facts and just the facts. One avocado contains:
250 calories
23 grams of monounsaturated fat
760 mg potassium
10 grams of fiber
RDV
6% Vitamin B6
4% Vitamin C
4% Vitamin E
2% Iron
2% Magnesium
6% Folate
Random fact: It's a fruit not a vegetable. Crazy huh? So the next time you family turns their noses at more vegetables, assure them that it's a fruit. So how or another I always managed to ended up two very ripe avocados at the end of the week that can't make it over the weekend. Avocados are such a great food.
I wanted something different than the usual guacamole with chips. (I'm still looking for a pre-made corn chip made without sunflower or cotton seed oil. If you know of a brand please leave me a comment. In the meantime, I make
my own chips
This recipe is a quick easy way to use avocados as the main ingredient. It could be an appetizer, lunch or dinner depending upon you garnishes. Yummy and so simple. I would add beans or meat to make it a complete meal.

Ingredients
2 avocados sliced
1 organic tomato
1 T canola oil
1/2 cup cheese
salt
garlic powder
Directions
Cut avocados in half length wise and remove pits. Gently scoop out the halves and slice into bite size cubes. Save the skins for later use. Place avocado in a bowl.
Dice tomato and add to avocado. Drizzle with oil and add salt and garlic powder to taste.
Transfer mixture back into avocado shells and top with cheese. There will be extra filling.
Broil on high until cheese is melted.
Eat as is or spread in top of your favorite toasted gluten free bread. Do you love avocados as much as me? See my
truffles.