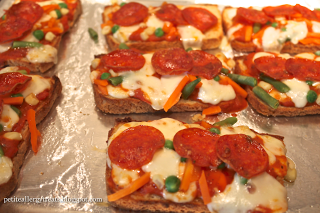 Every so often I get an urge to cheat… if I could it would be pizza. Adjusting to being gluten free was hard with bread but even harder for pizzas. I honestly haven't tried many premade crusts or premade pizzas due to egg or soy allergies. From the limited experience I've had, the quality is less than great. Soggy crusts that were chewy and no crisp at all. And expensive! I easily found recipes to make my own homemade crust.
The problem with that is it takes so much prep time. Mixing the dough, shaping it, baking, and allowing it to cool. Then the clean up. All the bowls for mixing and the mixer itself. It probably takes from 45mins-1hour just to make the crust!
I wanted pizza and I didn't have time to make the crust? My solution was to used my homemade bread to make individual pizzas by the slice (literally). I always freeze bread I make to use when needed. Due to all the allergies we have, I still find myself making fresh baked bread. I cannot find a premade allergy friendly bread that is also palatable. Plus I love the way the house smells.
This recipe is great because it still tastes the same as a GF pizza but the prep time in only 10mins! Plus, if you have a picky eater, they can have it their way and you can have yours.
I made this 2 times this week, once with on the stove and in the oven. Really this could be an open faced "grill cheese" pizza. That was my original intention. It morphed into pizza because I need a sauce to hide the vegetables 😉
Another bonus: is clean up is minimal. Be sure to make extra, it's great the next day too!
Ingredients preheat oven to 375
8 slices gluten free bread
1 1/2 – 2 cups frozen vegetables
half jar of favorite spaghetti sauce
1-2 cups mozzarella cheese
24 slices gluten free pepperoni
Directions
Line a baking sheet with foil, spread with slices of bread.
Add spoonfuls of spaghetti sauce to cover slices. Add vegetables and cover with cheese and pepperoni.
Place in oven and bake 10-14 minutes or until cheese is golden brown.