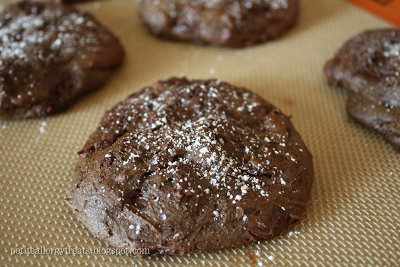 Are you ready? This is huge. Seriously. HUGE. I'm sooo excited to share this with you!! A gluten free brownie but it's really a cookie. That may not sound that great but really it is…
Confession: I loved these so much when I made them, I ended up eating all but 4. I should mention the batch makes about 3 dozen large cookies. Oops…
Don't judge me. I'm sure we've all eaten 20+ cookies at a time, right? No!? Huh. Ok, little awkward. Maybe I was just a little hungry. Maybe I was testing each one to make sure it was perfection. Maybe I was just hormonal. (Probably.) Maybe I'm just a big pig. But I love chocolate! And chocolate can mean love. And these are FULL of love. Life is short. Go ahead and be a pig. I won't tell.
Ok, more about cookies. Imagine the first warm soft bite… A little crisp on the outside but soft, warm and chewy inside. And of course, it's loaded with a rich chocolate flavor. One bite and it melts in your mouth. Add chocolate chips to enhance the chocolate experience… Mmm…Your mouth will thank you 🙂 The texture of these cookies are PERFECT. Once you make these, you'll want to make them again. And again. And again, since you'd eat all of them the first time 😉
These are great brownie like cookies that are free front the top 8 food allergens and Vegan! Great for any occasion or just because. Feel free to make substitution to make it sugar free with your favorite alternative.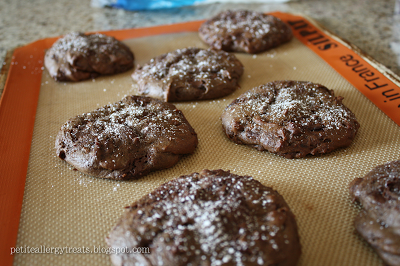 Ingredients preheat oven to 350 degrees bake 10-12mins
2 1/2 cup Gluten free whole grain all purpose mix
1 cup non-hydrogenated organic palm shortening
3/4 cup sugar
1 1/2 tsp baking soda
1/2 tsp salt
1 T egg replacer
1/4 cup water
3/4 cup + 2T milk of choice
1 1/2 tsp guar gum or xanthan gum
1 cup fine cocoa powder
Optional 1 bag allergen chocolate chips (Enjoy Life Brand)
Directions
Combine flour, cocoa powder, baking powder and salt in separate bowl. Mix well.
Cream shortening with egg replacer and water for 1-2mins.
Add guar gum and beat an additional 1-2mins. (this extra time helps activate the gum)
Immediately add dry ingredients and milk.
Beat for 3-4 minutes. Batter will be very thick and sticky.
Chill dough for 30mins (if you can wait). If you can't wait its all good… the cookies won't really spread, chilling just makes it much easier to handle the dough.
Drop on parchment paper or silpat. The dough does not spread so you will need to flatten a bit and smooth over with wet hands.
Bake until middle is dry and springs back if gently pressed.
Allow to cool. Serve will a glass of milk. Freeze any unused goodies. (If you have any. Oink!)