Have you ever heard of black rice? This Black Rice Vegetable Stir Fry is naturally gluten free,
vegan and loaded with tons of nutrients and antioxidants.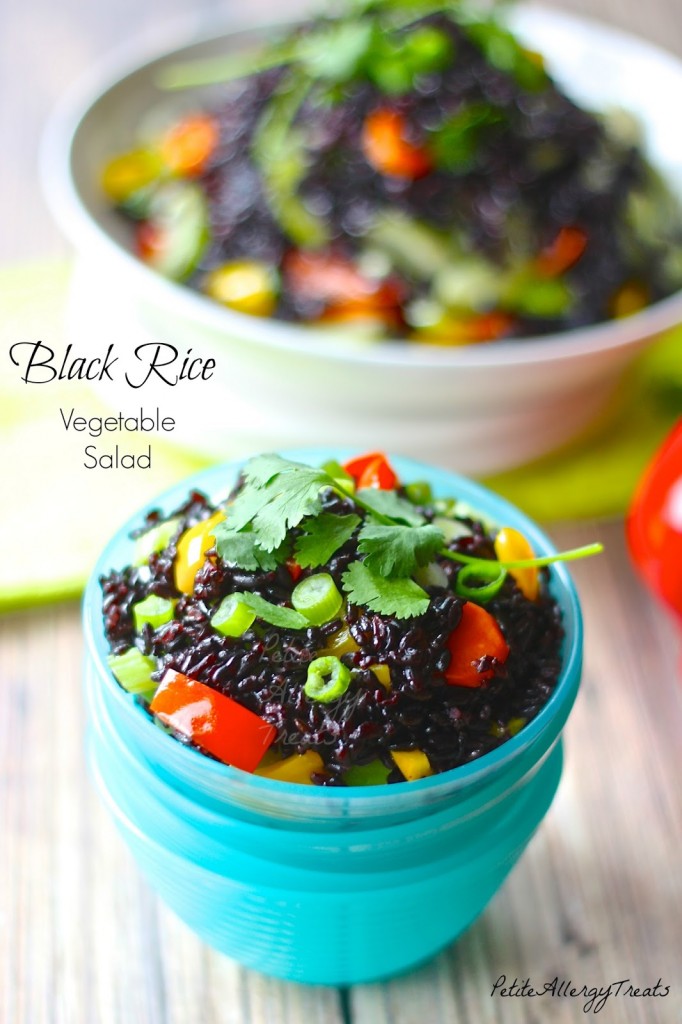 Black rice is one of those things I always wanted to try. It has a deep rich color, bursting
with flavor along with the perfect chewy texture, any good rice should have. I've been looking
quality black rice for a long time. Since all rice isnaturally gluten free, I had high hopes that
Mr. N would tolerate this without problems. And he did. In fact, he loved it so much he
ended up having too much of a good thing (fiber) if you get what I'm sayin' 😉
In addition to fiber, black rice is loaded with nutrients. In just 1/3 of cup, you'll
receive 6 grams of protein, with daily values of: iron 8%, magnesium 20%
zinc 20%, manganese 120%!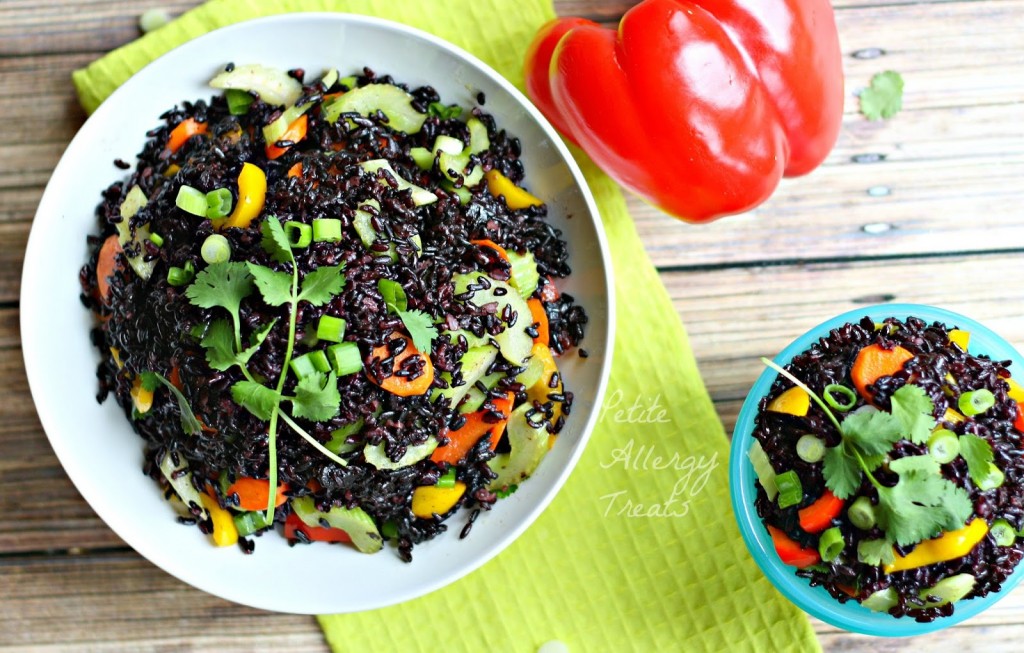 Pretty amazing for rice, don't you think? But there's more. The deep color should also
tell you this is high in antioxidants. Just how high? Well, studies have said black rice matches blueberries spoon for spoon. Again, pretty amazing.
I ended up making a ton. One cup magically triples and then almost doubles again with all the
vegetables. This is a super easy (and more nutritious) alternative to plain white rice. Some
day I hope we can incorporate quinoa or millet back in our diets too. Talk about protein
and vitamins. We are seriously lacking Omega 3 and Omega 6. Those natural sources
are typically found in fish and nuts. 🙁
I had some left over celery and regular carrots. My husband refuses to eat celery. I don't know
why but he just can't stand it. So this dish ended up really being just for me since the kids don't
like non-mush soft vegetables. I made a separate plain black rice and broccoli version for
them to enjoy too.
Ingredients
1 cup black rice
1 3/4 cup water or chicken stock
2 organic celery stalks
2 organic carrots
1/2 organic red pepper
2-3 green onion stalks
1/2 bunch cilantro leaves
1/2 lime juice
3 T oil (use 1 T oil for stir frying)
salt to taste (omit if using stock)
Directions
Wash black rice in a strainer and place in rice cooker with liquid. Cook and allow too cool.
Wash and chop vegetables in thin diagonal slices. Wash cilantro and coarsely chop and set aside.
Stir fry on a heated pan with 1 T oil for 2-3 minutes, more if you like your vegetables softer.
Combine rice, vegetables, oil and cilantro. Squeeze lime over and gently toss to coat. Salt to taste.
Some other recipes you may like: