Halloween themed treats are always a great way to celebrate such a fun and creative day.
These chocolate gluten free cookie dough spiders would be a perfect treat. They're
great for a classroom treat since they are dairy free, egg free, peanut free, tree nut free,
soy free and Vegan.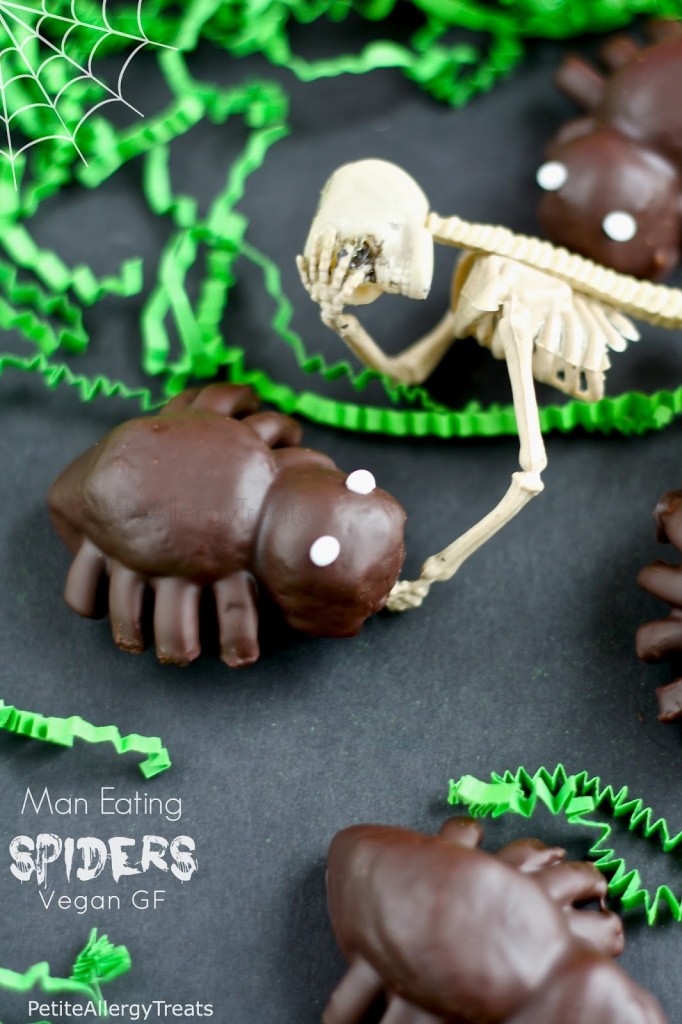 Halloween is rapidly approaching. This year we already have a hand me down costume
that's perfect for Sir and his STAR WARS obsession. He's going to be the bounty hunter,
Boba Fett. He also thinks the entire family should join him. Mr. N would be Yoda, my
husband would be Darth Vader and I should be Padme Amadala… Yeah, don't think that's
gonna happen. (
I ended up as Darth Vader, not even kidding
!)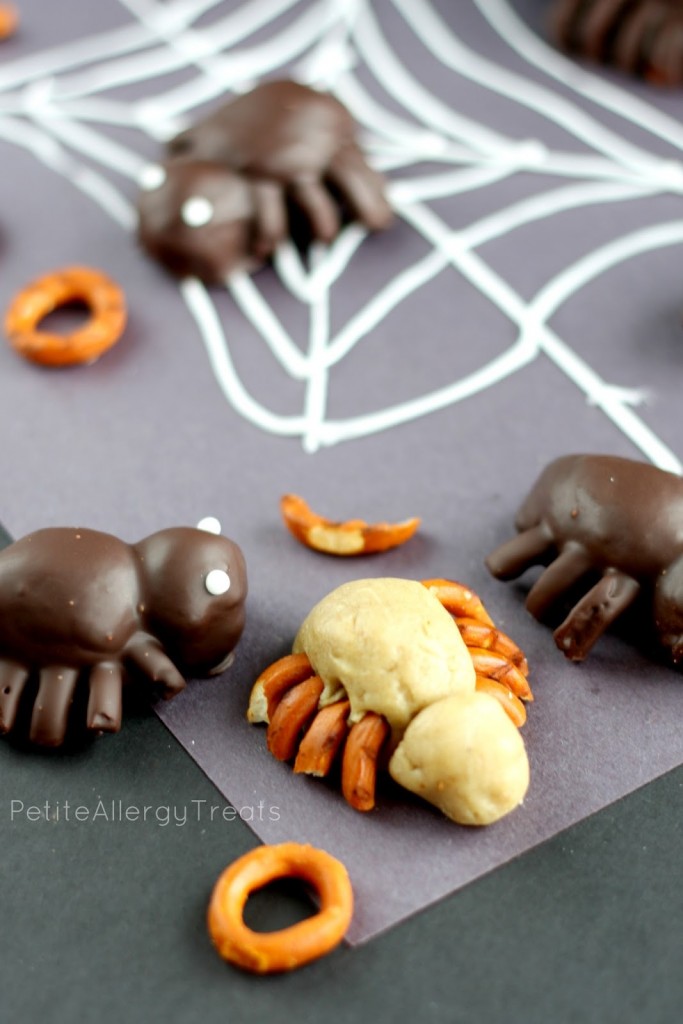 Costumes could be worse though… At least it's not gross zombies or vampires. (I'd totally be
ok with the vampire thing if it were Twilight vamps, though.) 😉
Why are boys so gross anyway? I mean, come on, it's gotta be a genetic thing.
How else do boys learn so early? Here's a perfect example. It's about changing innocent
nursery rhymes into a poop-fest of silliness.
Me: Can you sing the Itsy Bitsy Spider?
Mr. N: Itsy bizy pieder when up the water…POOP!
**giggles uncontrollable**
Me: Reeeally? Is there more?
Mr. N: Out came da sun and BROKE the window and POOOP.
*laughs some more*
Alas, I'm out numbered by them.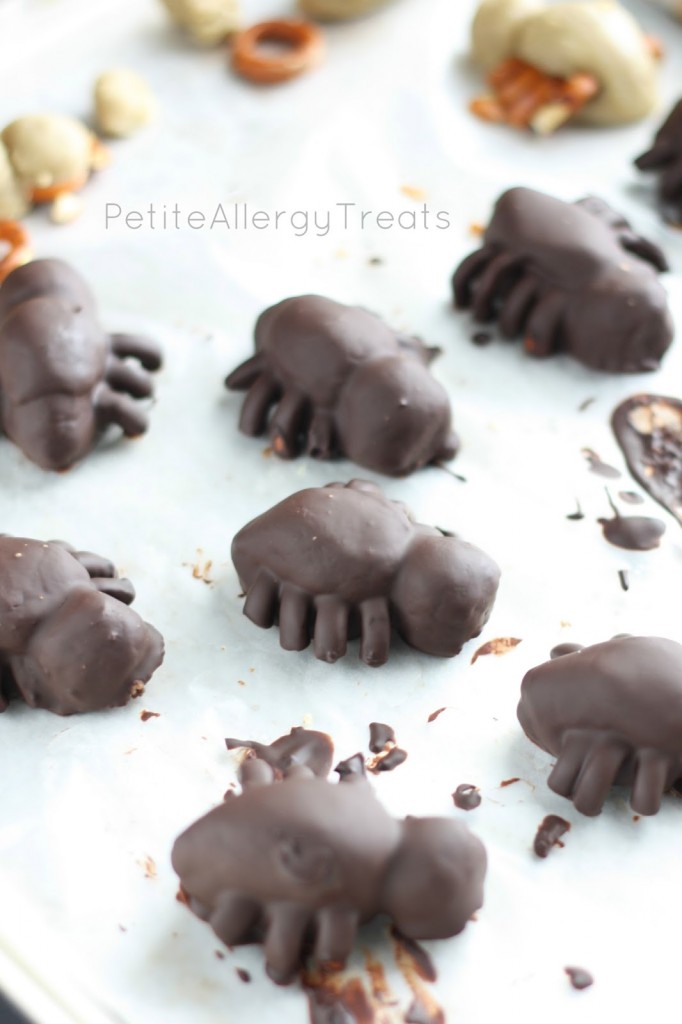 If you can't beat 'em….join them. We all sang various version of spiders doing more gross
things instead of any educational reading. It was a riot. 😀
Spiders are sort of gross too, don't you think? I'm not talking little daddy long legs. My kids
go BIG with gross. When Sir was just 3 years old he loved this bug book that had some
pictures that were just too real. One page had a huge dust mite zoomed up to fill the entire
page.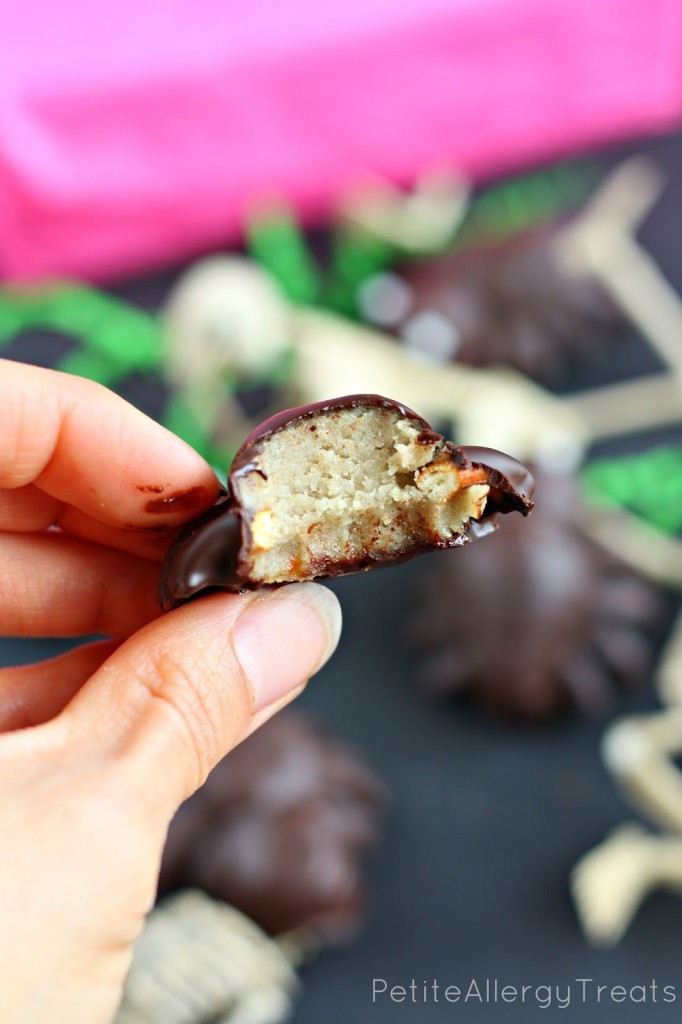 The joke in the house was leaving that book in various places with the dust mite page
open to scare my husband. (It wasn't me! It was something Sir dreamed up one day.) My
poor husband would come home from work and scream when he went to the closet for
comfortable clothes… the bathroom the next day…. kitchen the next. I think this went on for
close to a month straight.
My husband really ended up hating that book and wished it would disappear.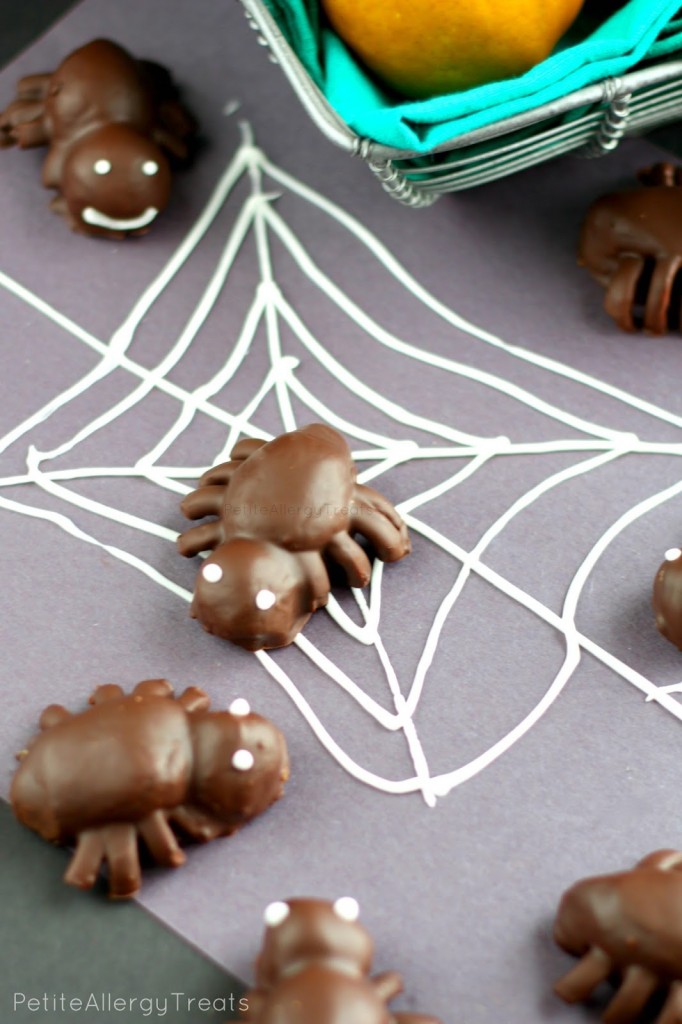 Guess what I found the other day?!
But the favorite book in the house is currently the National Geographic Spider book. In
additional to that, we have 2 disgustingly huge Red Kneed Tarantula stuffed animals,
named Terry and Harry. Annnd I have to say, the whole gross spider thing has grown on me.
They're so gross, they are almost cute. (Just as long as they are not real and crawling around
the house.)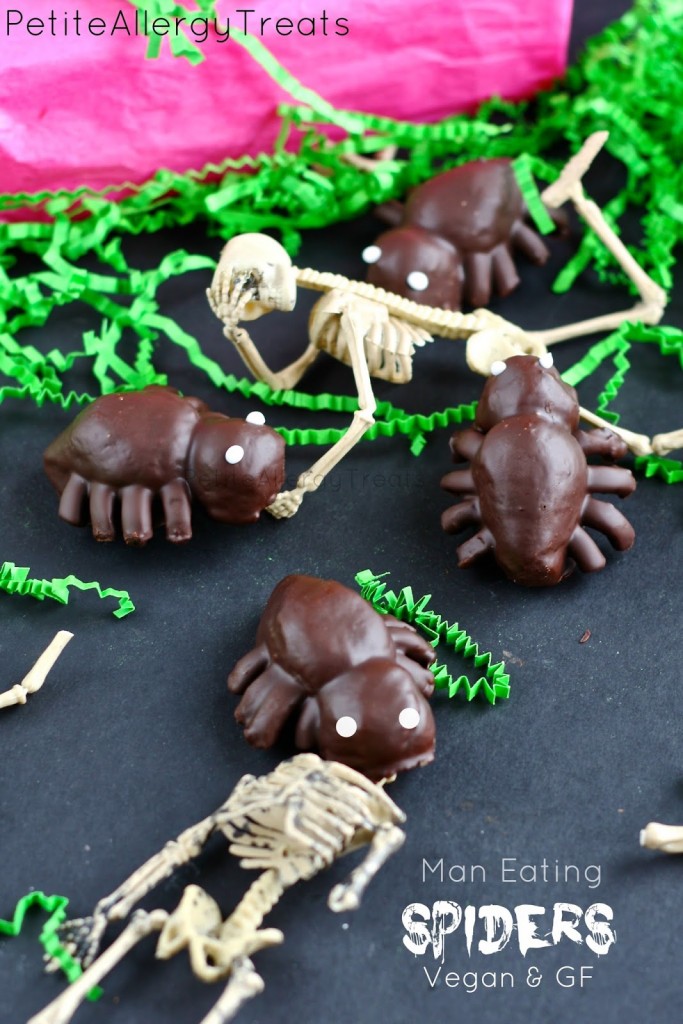 Like these cute-gross cookie dough spiders. Not super creepy looking, but you get the idea.
Made from cookie dough that is eggless and gluten free as well.
Ingredients
2 1/4 cup gluten free all purpose flour
1/2 cup + 2 T coconut oil or other oil of choice
3/4 cup sugar
1/4 cup applesauce
1 1/2 tsp baking soda
1 T egg replacer + 1/4 cup water
2 1/2 tsp guar gum
1 T fresh lemon juice
1/2 bag EnerG GF circle pretzels
1 full bag of Enjoy Life Dark Chocolate
1/2 cup powdered sugar + water (optional eyes)
Directions
Combine oil, sugar, egg replacer, water, applesauce, lemon juice and gum. Beat with a mixer on high for 2-3 minutes.
Add baking soda and gradually add in flour. Mix well until all combined. Place in refrigerator for at least 30 minutes to chill.
Break pretzels into quarters. (They will break unevenly. I even tried cutting with knife. )
Scoop chilled dough into approximately 1 inch ball and shape one side into a point (this is the abdomen) . Scoop another ball about 1/2 inch (head). Use a pretzel piece as the 'neck' to hold the 2 pieces together.
Push 4 pretzel pieces on each side for legs on the abdomen piece. Place back in refrigerator for 15-20 minutes and melt chocolate.
Melt half chocolate over a double boiler until smooth. Pour remaining chips to melt and remove from heat.
Dip in chocolate and lay on parchment paper.
For eyes simply add 1-2 teaspoons water to powdered sugar until a thick consistency forms. Use a zip lock with a cut corner to pipe on eyes, mouth or details you'd like.
Notes: Any cookie dough could work just be sure to chill before dipping in hot chocolate. Legs and heads will loosen or fall out completely. The pretzel shape is up to you too but the safe pretzel brand for us makes them in circle form.
Some other things you may like: