Entertain your guests this year with this Easy Gluten Free Stuffing.  Made with gluten free
bread and vegetable broth, this stuffing is also Vegan, dairy free, egg free, soy free, tree nut
free and peanut free.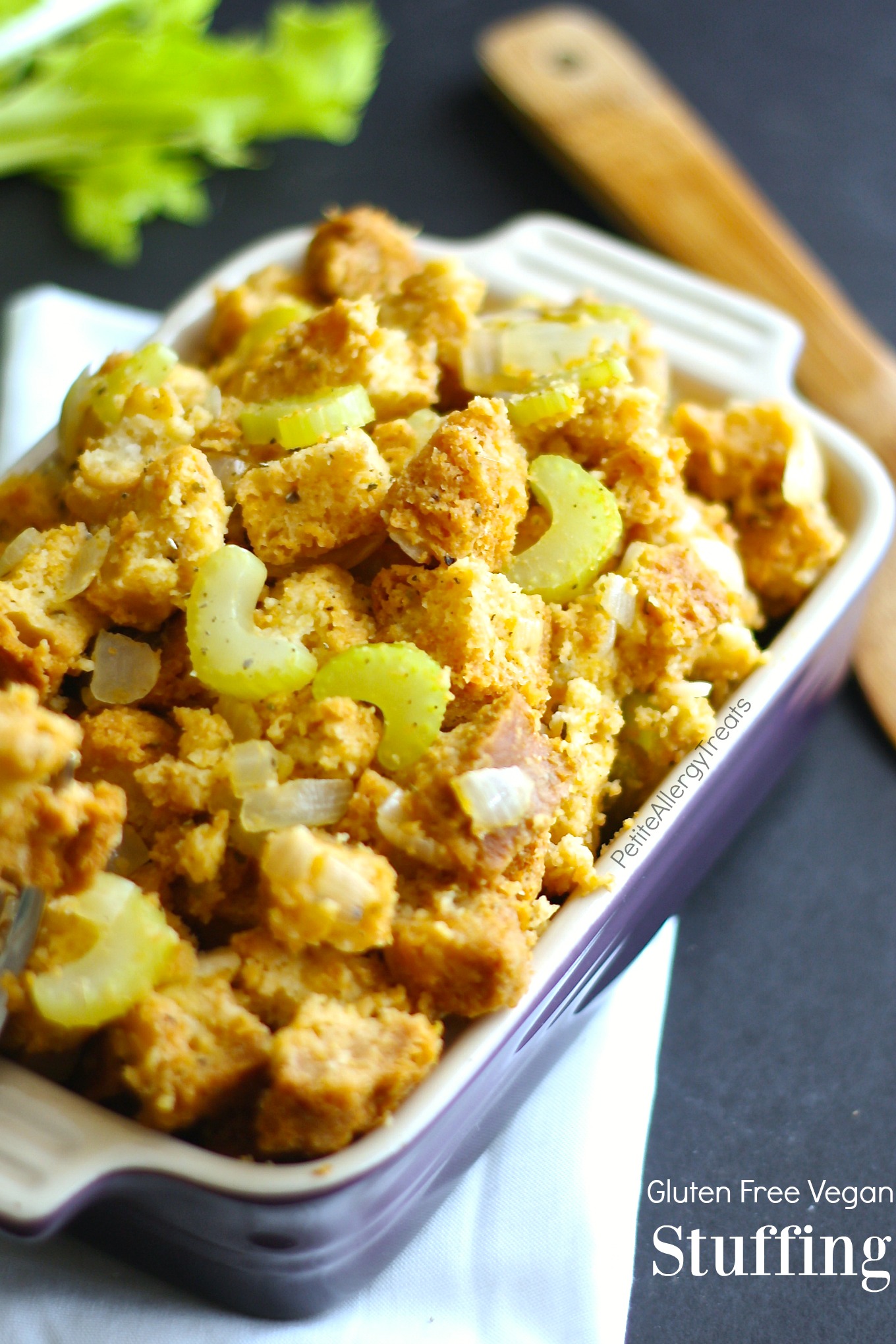 You need stuffing on Thanksgiving.  It's a rule somewhere.  Even if you don't like stuffing.
That familiar smell of sage brings back memories.  I get really excited for the Holidays.  I
absolutely love getting together with family and sharing a special meal with dishes and treats
 not normally served.
My in-laws are here visiting for Mr. Naughty's birthday but won't be here for Thanksgiving.
I'm enjoying all my time I possibly can with them.  It's been fun cooking a taking care of
everyone under one roof.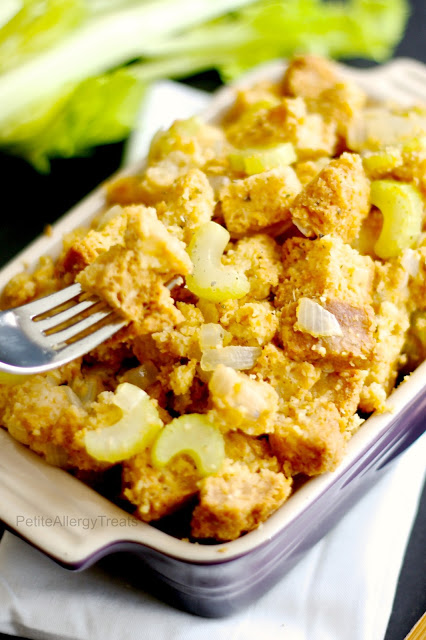 A couple things you need to know about my in-laws.  Both my mother and father in-law are
the best in-laws, ever.  Period. The End.  Part of what makes them so great is even in their 70's
they are highly adaptable and still put others first.  They continually want to be an easy guest
and truly will do anything to help.  BUT… sometimes this can be a bad thing.
For example, deciding where to eat out became a fiasco…My brother in-law, nicknamed Dab,
is the same way.  It was hilarious and yet a little painful, watching them decide where to eat.
With all three of them together, it went something like this:
Mom: Where do you want to eat?
Dad: Oh, anywhere is fine with me.  Pizza sounds good.
Dab: I don't want pizza, it's too much sodium.
Mom: Ok, where do you want to eat then?
Dab: Anywhere, just not pizza.  Dad, do you want steak?
Dad: No, that's too expensive.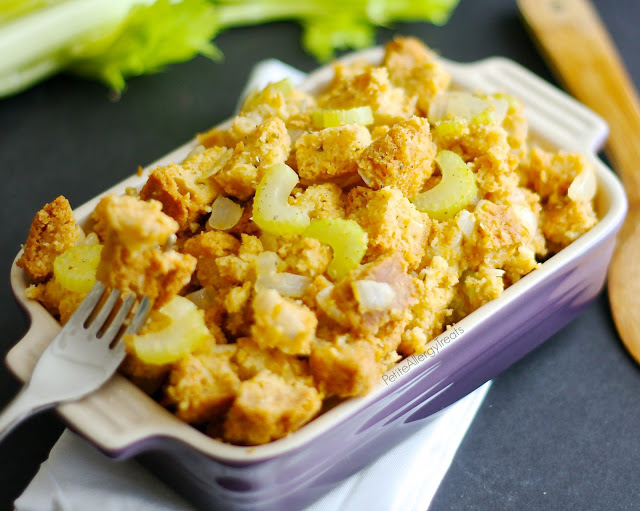 Dab: No it's not.  If you really want steak we can find a place *pulls out phone* How about this place?
Dad: Do they have pizza?
Dab: No, it's a steak place.  Do you want pizza?
Dad: No, no.  I just thought you or your Mom wanted pizza.
Dab: No, it has too much sodium.  Mom, where do you want to go?
Mom: How about Italian?  Or pizza?
Dab: No.  It's too much salt.  What about this place, it even has steak?
Dad: I don't need steak, it's too expensive….
LOL.  This discussion continued for 45 minutes.  No exaggerating.  Do all families have difficulty making decisions?  And by difficulty, I mean trying to guess what the other family members really
wants without actually saying it?  The funniest part of the whole thing was they left without
making a decision because it was already after 1pm and most restaurants are done
serving lunch.
So what did they end up eating?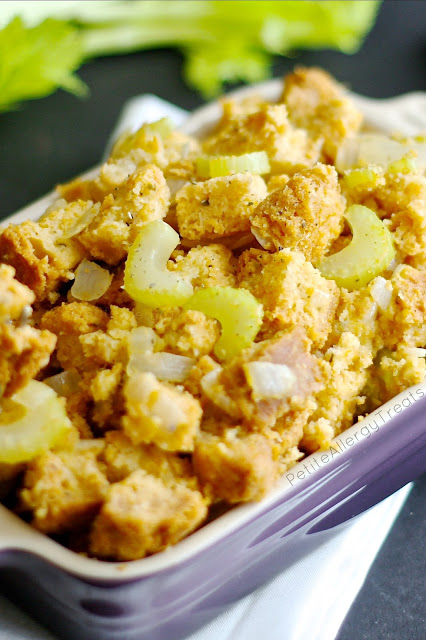 Pizza. 😀
Decisions can be tough but this gluten free stuffing wasn't.  This was so easy and can be
prepared in advance.  If you follow me on Facebook, you'll remember I've been asking for a
wishlish of allergy friendly Holiday dishes.  Stuffing was voted on a lot and so were gluten
free garlic buns.  The buns are ready and will arrive hot first thing Monday of next week.  Until
then enjoy the stuffing and you can see the latest I've been up to on all my social media.
1 loaf of your favorite gluten free bread or 10 cups of gf croutons
2 stalks of celery
1 medium onion
3-4 cups vegetable or chicken broth
1 T oil
Directions
Cut gluten free bread into cubes and bake at 350 degree until golden brown on a cookie sheet (about 15-25 minutes)
Wash and chop celery and onion.  Saute with oil on medium-high heat for 5 minutes.
Add sage and bring broth to a boil.
Gently mix in bread crumbs and allow to absorb broth.  Serve warm.
Notes:  This was so easy!  This is one dish you can make a day or 2 before and just warm and 
serve.  The more you mix, the more the stuffing will fall apart.  This is a very traditional recipe 
but feel free to add your favorite meat or dried fruit to make it your new gluten free family 
tradition.
Some other things you may like: