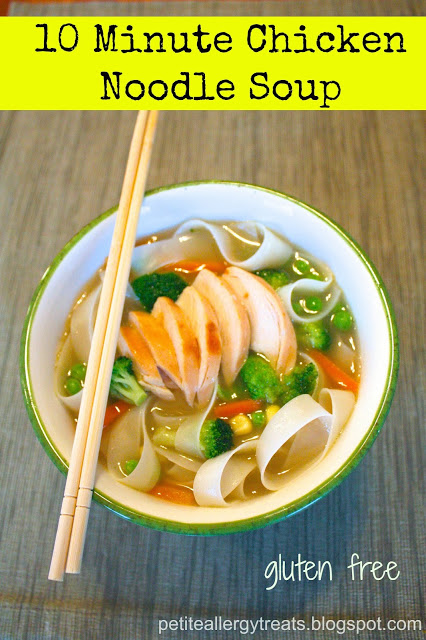 The holiday spirit is here! And along with that is the panic of finding gifts, planning parties and
keeping things safe with allergies.
Have you started shopping? Is your house all decked out for Christmas? I'm proud to say have my Christmas tree up and decorated. Typically I don't get around to it until this weekend or the next. I've been trying to get everything thing set for the holidays. I find myself scrambling for dinners along the way. So many things to do…
My easy solution is soup. Now that's it cold in Wisconsin, hot soup is always welcome at the table. Pair it with your favorite allergy safe bread and you have a filling meal. The a great thing about soup is, it doesn't need to take all day. I be honest, this soup is good but it's not gourmet. It is free of the top 8 allergens though, and there's usually enough for two meals. Win-win!
One shortcut I use a lot, is rotisserie chicken. Just be sure to check the ingredients label. Some stores will label with a "gluten free" sticker but many don't. The seasoning to look out for are ones with malted barley. Costco's chickens are gluten free. Be sure to check your local grocery store's ingredients. One of our grocery stores contains malt flavoring so we don't buy it. Malt is typically derived from wheat and is the primary sweetener in many cereals. This is the reason why regular Rice Krispies are not gluten free.
Store bought broths can also contain gluten so make sure to read labels. Costco's chicken stock and many others are gluten free but not necessarily labeled.
Ready for 10 minute soup? Alright, lets eat!
Ingredients
1 32 ounce box of gluten free chicken stock/broth
1/2 gluten free rotisserie chicken
1 bag frozen vegetables
1 bag rice noodles
Directions
Soak rice noodles in hot water for 10 minutes.
Bring broth to a boil. Add in frozen vegetables bring back to a boil.
Cut rotisserie chicken into strips or bite size pieces.
Add noodles to boiling broth. Allow to cook for 2-3 minutes.
Take pan off heat and add chicken.
Serve hot!