*groan*… I'm so full… *moan*… I shouldn't have eaten so much… Must learn to stop eating at a
holiday feast…
How are you feeling after the Thanksgiving Day binge? Are you bloated? I am. Have you instantly gone up a dress size? I sure did. I'm hoping it's just water. We served ham instead of turkey this year. I gained at least 5 pounds of water weight in one meal. My wedding rings were even tight and a little uncomfortable. Does this happen to you too?
My tummy says it wants to eat clean for the next few days. Fresh veggies. More fiber. Less calories. More nutrients. My sausage fingers request less sodium too.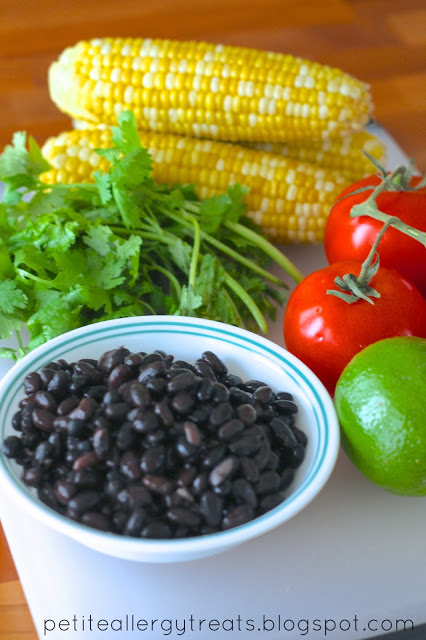 I've been trying to eat a lot of banana and avocado in hopes of wringing out the sodium quicker. I'm sure you know bananas contain high amounts of potassium. But you may not know that avocados contains almost twice as much as bananas. See my avocado truffles for some more great avocado recipes and facts.
Potassium is a very important mineral we need in our diets due to high sodium levels in foods. It doesn't necessarily push the excess water out of our body, but helps to restore the sodium-potassium pump within tissues. (In other words, balance.) I'd get all nerdy and go into great detail about how the sodium pump works, (I have a B.S. in Kinesiology), but I've fallen victim to Mom Brain.
Ever get words lost before you can find them? Do you remember yourself being so much smarter than you are now? If so, you are a victim of Mom Brain. The only known cure is for your children to grow up. 🙂 Not really, but I feel like a dumbed down version of myself. I blame Mom Brain… and sleep deprivation.
Anyways, this recipe is for a simple gluten free black bean salad with corn, tomatoes, onion, cilantro, lime and avocado garnish. Mild enough where my kids ate it (didn't love but they ate it) and so did my husband. I used dried beans I had already prepared by soaking overnight and boiling until tender. I usually cook a large batch and then freeze in small amounts. For this recipe I just grabbed a bag from the freezer. Canned beans work well too. Just be sure to buy Eden Organic brand since it's currently the only brand without BPA in the cans. Fresh corn is best but frozen works fine.
Chop, mix and you're ready to eat!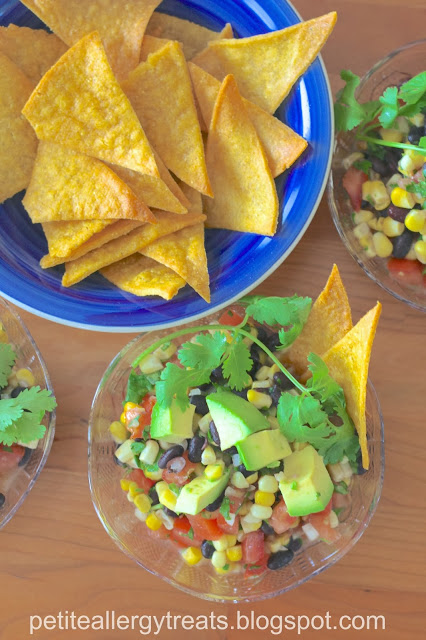 Ingredients
3 cobs fresh corn
2 cups cooked black beans (if using canned, chose Eden organics-contains no BPA)
3 tomatoes
1/2 onion finely chopped
1 ripe avocado
1/2 bunch cilantro
1 lime
3 T oil of choice
salt to taste
Directions
Put corn in a pot with boiling water for 5 minutes. Remove from water and immerse in cold water to stop cooking.
Chop tomatoes, cilantro and onions. Cut corn off the cob. Mix all ingredients together.
Add oil, beans, juice from the lime and salt to taste.
Serve with chunks of avocado and tortilla chips. Or simply enjoy the salad alone!
This was shared with Allergy Free Wednesday, Wake Up Wednesday