Get your fill of fruit with this Gluten Free Vegan Blueberry Banana Monkey Bread. A classic dessert made better- egg free, dairy free, soy free, peanut free and tree nut free.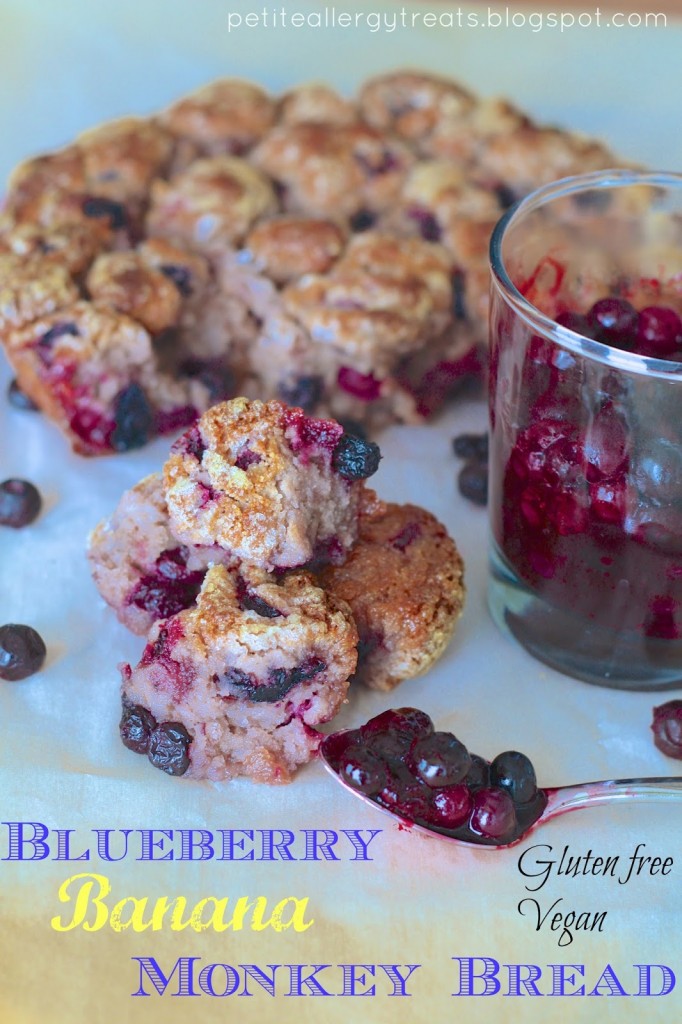 I hope all of you had a nice and safe Thanksgiving. Our was pretty uneventful, which is always a good thing! My husband had to work in the morning so I got up a little early to start some side dishes that couldn't be done in advance. Things went pretty smoothly aside from Mr. Naughty clinging to my leg for dear life. I don't understand it, but whenever I need space to cook he's does this. Thankfully my brother in-law arrived and kept the kiddos busy with legos and car races.
We all ended up having a nice lunch together. After our meal done and I finished cleaning up, I was totally exhausted. All I wanted to do was sit and relax. Watch a movie. Lie on the couch. Sleep. Instead, I decided to quick look for some online deals with Black Friday.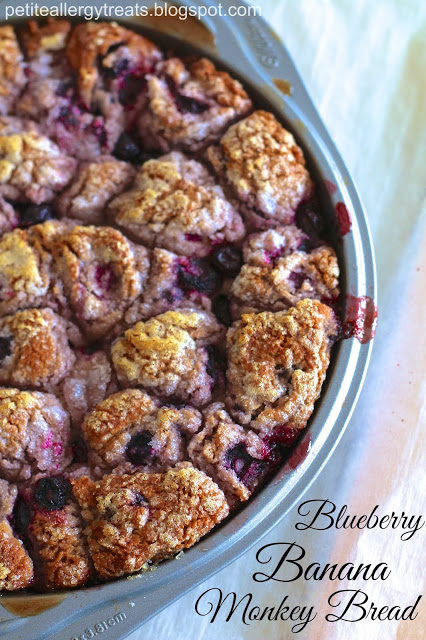 Ok, so I'm a little crazy… but I knew I wasn't going to be shopping on Black Friday. Instead of relaxing, I was baking again.
If you liked my monkey bread recipe, you'll totally love this. I've revamped the recipe to make it healthier. I made it with half of the fat and a fraction of the sugar. It's a banana bread with blueberries and formed into monkey bread. This gluten frre bread is super moist and has a delicious banana bread flavor that pairs wonderfully with blueberries. The blueberries add a beautiful color that's rich with antioxidants and fiber. It's gluten free, egg-free, soy-free, dairy-free, peanut-free and tree-nut free.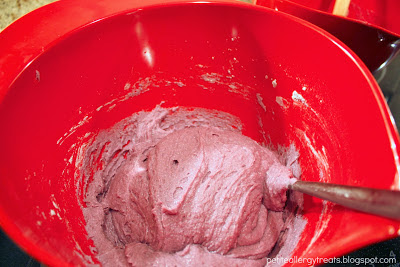 I mixed the dough with the blueberry juice to make a pretty lavender color. I know it won't show up after baking but I thought it was pretty. Purple is my favorite color you know. What I love about monkey bread is, it doesn't need to be perfect to look nice. Mess is welcomed and encouraged. 😉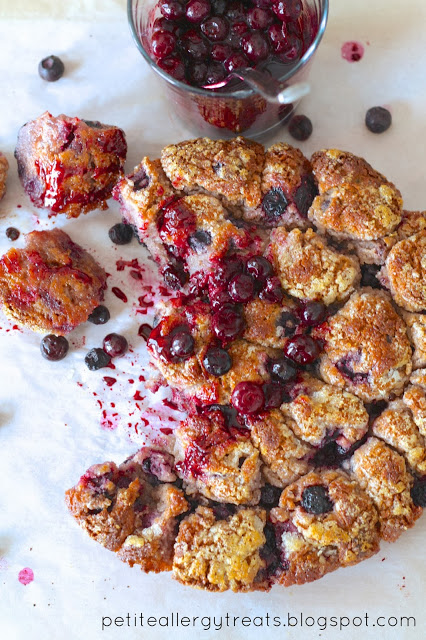 I think it really turned out great. It even smelled like banana bread with blueberries and had a wonderful crispy crust around each bite size piece. I love blueberries, so the more blueberries the better. I made an extra sauce with just blueberry and lemon juice. No added sugar needed. The sauce balanced out all the sweet with some tartness from the lemon juice.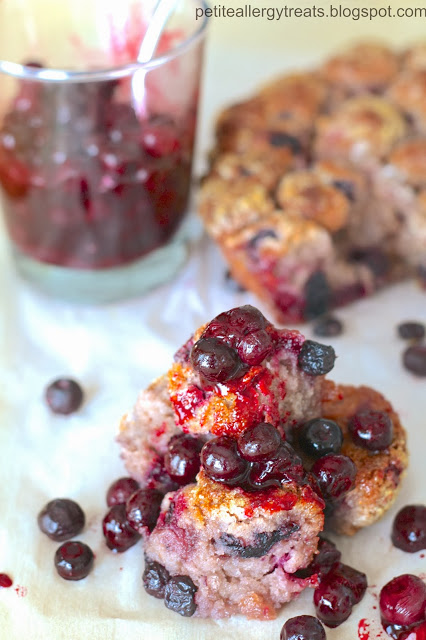 I hope you like it! Depending upon which milk you choose, it is also free of the 8 common food allergens.
Ingredients
Bake at 375 degrees for 20-30 minutes depending on pan. Internal temp should read 180 with a thermometer.
Dough
2 1/2 cups gluten free all purpose flour*
1 1/2 cups frozen blueberries
2 large bananas pureed
1/2 cup milk of choice
1 T organic sugar
1 T egg replacer
1/2 tsp xanthan gum
2 1/2 tsp instant yeast
TOPPING
3/4 cup sugar
2 1/2 tsp cinnamon
4 T melted shortening or butter
Blueberry Sauce (optional)
1 cup frozen blueberries
1 T lemon juice
*
conversion to wheat based recipe
: substitute regular flour, omit xanthan gum and egg replacer. Knead dough for 5 minutes on a floured cutting board. Gently fold in frozen blueberries by hand. Cut dough into small pieces coat with shortening and sugar.
Directions
Heat milk to 100 degrees and add yeast. Allow to sit for 5 minutes or until foamy. Thaw frozen blueberries in the microwave.
Combine all dry ingredients and mix well.
In a separate bowl, puree bananas. Add in egg replacer, yeast, and juice from the thawed blueberries. Mix well. Pour over dry ingredients and mix for 2-3 minutes by hand to activate xanthan gum. Add blueberries.
Melt shortening in a small bowl. Pour sugar into another separate bowl. Grease an 8 or 9 inch round pan with extra shortening. Lightly sprinkle pan with 1 T of cinnamon sugar mix for the topping.
Dip fingers of one hand in melted shortening, and scoop a spoonful of dough with the other. Drop dough into greased hand and shape into a ball. Add more shortening to hand if needed.
Roll in sugar and place in a greased 8 inch round pan. Repeat until all dough is gone. Try and make a single layer of dough balls or else it will affect your baking time.

Allow dough to rise until almost double in size. Place on a baking sheet and bake for 25 to 35 minutes. Take out of oven and allow to cool.
While the bread is baking, make the sauce by cooking blueberries in a pan for 5 minutes with lemon juice. Gently mix if you like whole blueberries (I do.) Or carefully smash for more of a liquid sauce.
Flip bread out of pan and serve with extra blueberry sauce. Best enjoyed the first day but freezes well!