Combine the best foods ever, pizza and cheeseburgers, to create the ultimate Gluten Free Cheeseburger pizza.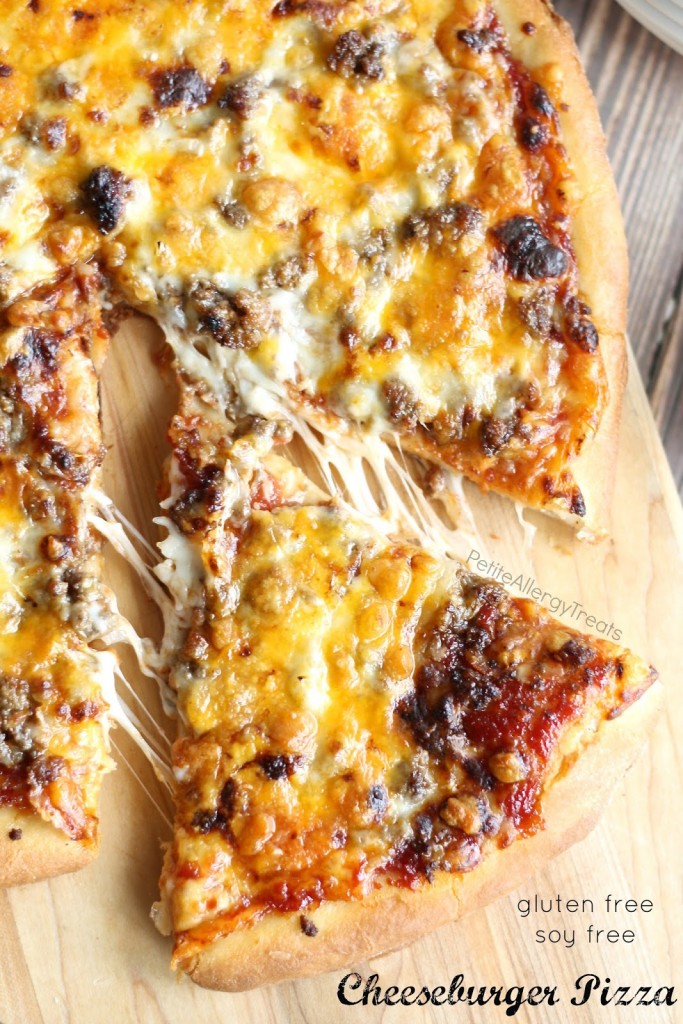 Pizza is always a crowd pleaser. If we could we'd eat pizza almost everyday…
Before all the allergies started, we would go out for pizza almost every Sunday. There was a place close to our house that had a special, Buy 1 Large Family Pizza, half an order garlic bread sticks and a pitcher of soda for $20. It was the best deal ever! We'd meet lots of our friends there. A different group each week… Restaurants that serve great pizza never gets old.
But what made it really special was of course the quality of the pizza.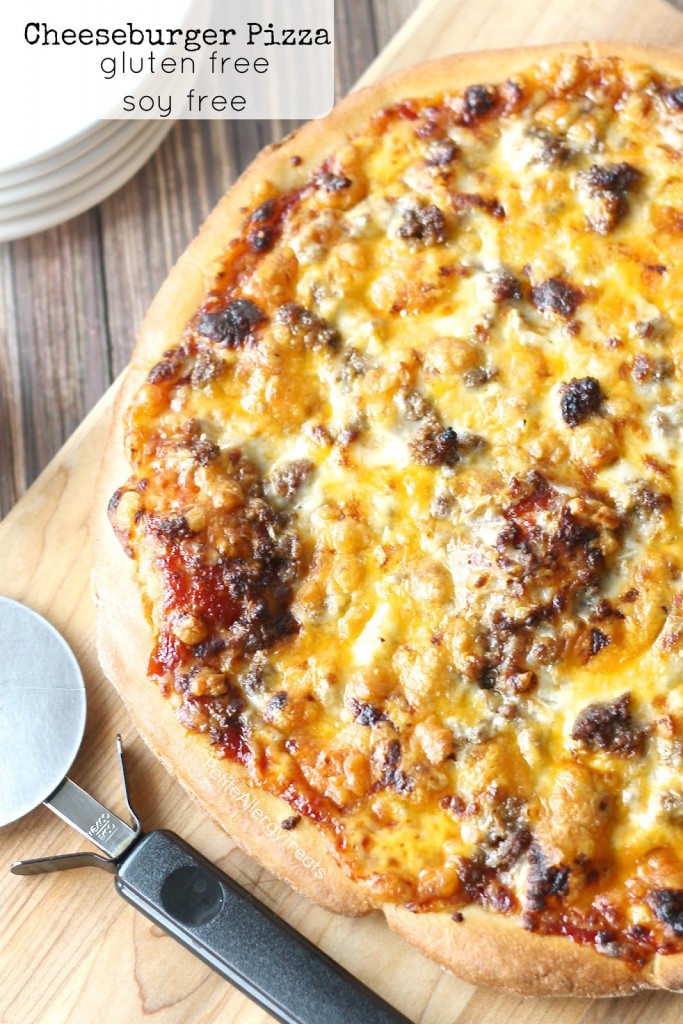 Ricardo's pizza hands down, has one of the best thin crust pizza. My husband grew up eating this pizza frequently. His parents have long since retired to Florida but have certain foods they need to have while they visit us. Ricardo's is one of those. They have an extensive menu that includes more exotic pizzas like the Hawaiian, BLT, Mediterranean and of course the Cheeseburger Pizza.
Cheeseburger and pizza? Total genius idea if you ask me! The kids love both foods and I wanted to recreate a slightly healthier version.
This version uses ketchup, onions, ground beef and 2 types of cheeses. The restaurant includes pickles, which are pretty good, but that's just waaaay too much sodium for the kids. This was created using my Baking Steel I reviewed a while back, which you can read here. It made all the difference in the world with the crisp crust.
Hope you enjoy and don't forget to share with your friends!
Gluten Free Cheeseburger Pizza
Author: Laura @ Petite Allergy Treats
Ingredients
1/2 cup ketchup
3/4 cup cooked ground beef
1/2 cup colby jack cheese
1 cup mozzarella cheese
2-3 T finely chopped onion
extra gluten free flour for pressing out dough
Directions
Preheat oven to 500 degree with Baking Steel for 45 minutes. If you don't have one, preheat for at least 20 minutes with the pan used for baking.
On a well floured parchment paper surface, press dough into a large 14 inch circle. Dough should be only be 1/8 inch thick or else it will affect cooking time.
Evenly spread ketchup with a the back of a spoon. Add half of the mozzarella cheese.
Evenly spread onion, ground beef, and all remaining cheese.
Use a baking sheet or pizza peel to carefully slide pizza off parchment paper and directly onto baking steel. If you do not have a baking steel, transfer pizza (with parchment paper) onto the preheated pan.
Bake until cheese is bubbling and golden brown. Approximately 8-10 minutes Baking Steel and 14- 16 minutes regular pan. All will depend heavily on your oven so watch carefully.