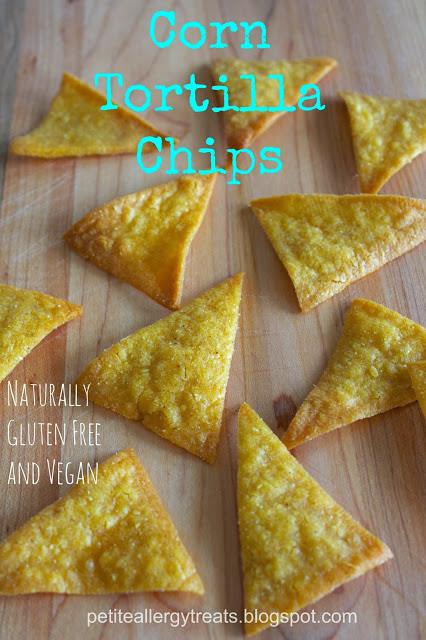 Ok. I know what your thinking. Big deal, it's just tortilla chips. It really is a big deal to me. I've found

it impossible to find a tortilla chip that is gluten free and contains: no sesame, no sunflower oil, no cottonseed oil, and no risk of cross contamination.
Did you know that companys only have to list the top 8 common allergens for allergy statements? That's means only: milk, soy, egg, wheat, peanut, tree nuts, shellfish and fish have to be listed. The rest is completely up to the manufacturer's discretion.
Reading labels has become a ritual. Reading between the labels has become just as important. What I mean is, inspect the other flavors available. Many times companies use the same equipment to create and package other flavors. For example, rice crackers. Several companies have a gluten free brown rice cracker that seemed perfect. No wheat, no soy, no oils, no nuts. Perfect right? Not necessarily. I bought some brown rice crackers out of desperation when Mr. Naughty was first diagnosed with a wheat allergy. He was teething and needed something hard to chew on. He loved them but developed a localized rash around his mouth every time he ate them. After looking further at the product line, I realized the company produced other crackers that contained sesame and wheat. I can't positively identity that cross contamination was at fault for his reaction but it's the main suspect. He's had plenty of regular brown rice and white rice without any problems.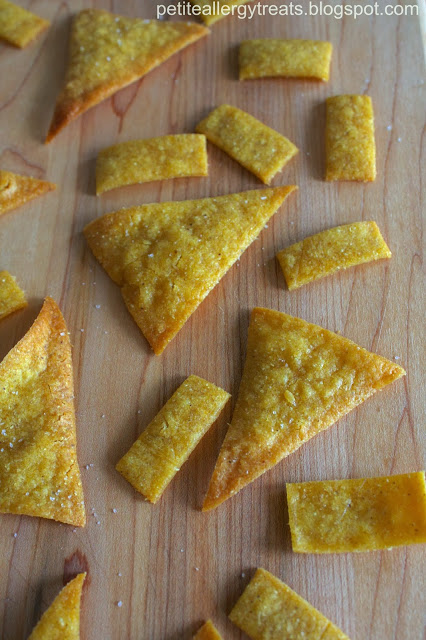 I've learned that looking at the whole picture for food is important. Just like when visiting other peoples home for the holidays. They may know about your family's food allergy, but did they clean their work surface before making your allergy free dish? Do they know about cross contamination? Some things to think about with the holidays arriving.
I will be posting "tips for a safe holiday" meal very soon. I'll highlight some things to keep in mind when traveling and dining in friends and family settings.
In the meantime, here's the recipe for some corn tortillas. Not only are these easy to make, I love the fact there are no preservatives and you control the amount of sodium. I love chips and salsa but I'm so swollen after scarfing all the excess sodium combined in salsa and chips.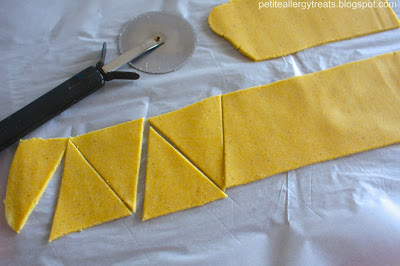 These were easy to cut into triangle shapes and lightly brush with oil. The ingredients are simple and very easy to work with. Just 3 ingredients total. Instead of trying to read labels, just make your own. You can easily make the dough the night before. I've also made them as regular tortillas and cut them into the "Frito" chip shape. They're great to have on hand for entertaining for dips and easy to throw together for nachos.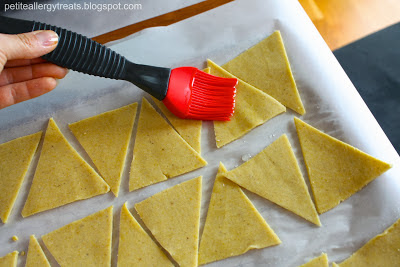 I hope you enjoy these!
Ingredients
2 cups masa harina corn flour
1 1/2- 2 cups boiling water
canola oil
salt (optional)
Directions preheat oven to 375
Heat water just to a boil and pour over corn flour. Carefully mix by hand with a spoon.
Allow dough to cool enough to handle. Knead by hand for 1 minute.
Form dough into a ball and wrap with plastic. Allow to rest for 30 minutes. (You can skip this step but the dough will be drier and will crack. The time allows for the moisture to be absorbed.)
Divide dough in half. Roll out between parchment paper.
Cut into desired shapes and brush lightly with oil on both sides. Lightly salt.
Bake at 375 for 15-20 minutes or until edges begin to brown.
Serve with your favorite salsa or use for nachos.
These are best fresh but can be frozen too.