Super easy baked gluten free blueberry teff donuts with tons of nutrition built right in. Don't forget they
are gluten free, egg free, soy free, dairy free, peanut free and tree nut free. Teff, in a word is AMAZING. It's another one of those ancient grains that's making a comeback. I don't know about you, but I always think about fashion with the old becoming new again. "One day you're in.. the next.. you're out". (I used to watch Project Runway. I haven't watched recently, but I got a glimpse of Fashion Week while I got my haircut this week. I think the color white and patterns are in this year!)
It's been a strange week with our schedule. My husband has been on vacation this whole week. The only thing was, he had a meeting for work yesterday, so I ended up putting both the kids to bed.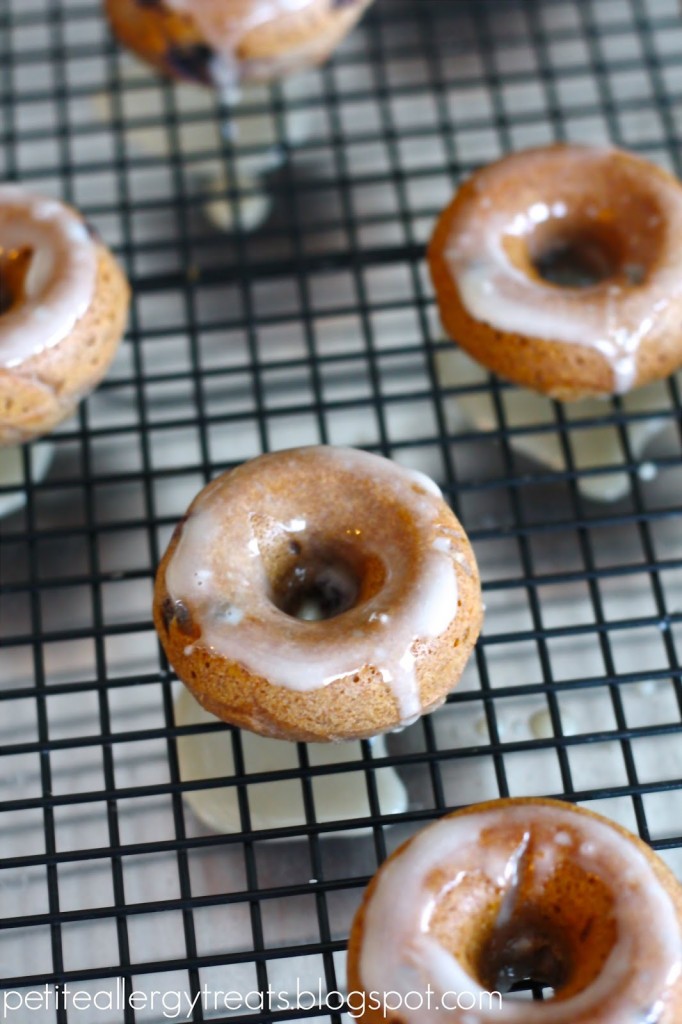 Our typical bedtime routine consists of changing into pajamas, prayer, 2 things were thankful for from the day and hugs and kisses. We said our prayers and I asked him what he's thankful for from the day. We had a fun day playing lots of board games, some angry birds and pizza for lunch. I though for sure he'd choose one of these.
Instead of any of these mentioned, without hesitation he blurts out, "I'm thankful for the walls and ceilings. They are very important. You see how the ceiling is holding up the house? And see the floor? We need the floor to hold up the ceiling."
Yes, he's right. We do need those.
I could stifle my laughter. Of all the things a 5 year old boy could think of!
As you can imagine he's very bright for his age, he's only 5. He knows all 50 states, capitals, flags and where they are located on a map. He's also learned all 7 continents and the countries associated with each. He almost knows every capital for each country too.
Think about this for a minute… Do you think you could name 5 countries in Europe? Could you mark them on a map? Ok, what about Africa or Asia. Let's not forget Australia and Oceana (all the tiny islands surrounding Australia.) This kid is smart.
Just for the record, he did this on his own. My husband and I are not "tigers", we want our children to be kids. He ended up learning all of this from a game Stack the States and Stack the Countries on the iPad. Maybe screen time can be beneficial in small amounts.
To help nourish his developing mind, I used teff flour with blueberries in these baked donuts. I've made these plenty of times and finally I'm sharing them with you. Feel free to eat them plain too, they are still yummy! I used my
mini donut pan
to bake instead of frying them. A
regular donut pan
would work just fine too.
Ingredients
Preheat oven to 375 degrees
3/4 cup Teff Flour
1/4 cup tapioca starch
1/4 cup potato starch
1 T egg replacer
1 1/2 tsp baking powder
1/2 cup applesauce or 1egg
2/3 cup milk of choice
1/3 cup oil of choice
1 cup blueberries
1 tsp cinnamon
1/4 sugar or sugar substitute
1 tsp guar gum or xanthan gum
molasses for garnish or sugar glaze (optional)
Directions
Mix all dry ingredients together.
Add all wet ingredient and mix well by hand.
Gently fold in blueberries last. Batter will be thick. If you had a hard time filling donut pan add 1- 2T water.
Bake for 12-15 minutes at 375.
Add your own garnishes.
These freeze very well but are best still warm from the oven. I hope you make these today!