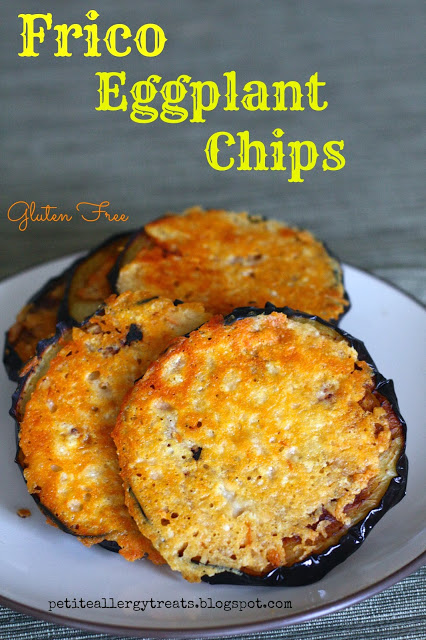 My in-laws are arriving soon to spend a whole week with us. I'm so excited! I LOVE my husband's
parents. I love them so much, I always refer to them as my mom and dad.
They are happily retired in Florida and don't seem to visit enough. It's the cold Wisconsin weather that keeps them away. I also think they really love to spend time with their friends. Both of them are so easy going, it's never been awkward or uncomfortable when they stay with us. My husband jokes and says them love me more than him. Maybe. No, not really but I told him he's lucky we get along so well and I know I'm very lucky too.

Whenever they visit, I want to cook for them. It's been harder to find meals that everyone likes with Mr. Naughty's food allergies. I feel bad because we actually tell them they cannot eat certain things in the house. Peanuts and nuts are pretty obvious, but others such as chicken eggs and fish are harder to remember.
My mother in-law loves eggplant so I always try and make a few dishes as the main ingredient. I still had some Montasio cheese so I thought she would like Frico Eggplant Chips. If you've read some of my previous posts you'd have seen that Montasio is one the Legends From Europe. It's a wonderfully rich nutty aged cheese that has a great crunch when fried.
I thought roasting the eggplant first will add a slightly sweet element to balance the salty crunch of the cheese. I didn't need to add any salt or oil to the eggplant since the cheese would provide more than enough flavor when pan fried later.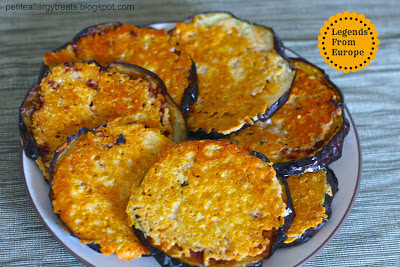 I hope you enjoy these!
Ingredients
1 very large eggplant
1 1/2 to 2 cups Montasio cheese
oil for frying
Directions
Wash and slice eggplant into 1/2 inch circles.
Place on a parchment lined baking sheet. Lightly sprinkle with water to avoid burning.
Bake in the oven at 375 for 30 minutes. Flip after 15 minutes.
Heat a pan with oil. Add 2-3 T montasio cheese to the pan in a circle large enough to cover eggplant.
Wait until the cheese starts to melt and then add eggplant circles.
Fry cheese for 3 minutes or until golden brown.
Remove from the pan and serve immediately.
This goes great with a marinara sauce or creamy ranch dressing. Enjoy your frico chips!