These Gluten Free Vegan Vanilla Pomegranate Cupcakes are light and full of naturally beautiful red pomegranate jelly. So delicious and gluten free, dairy free, eggless, peanut free and tree nut free.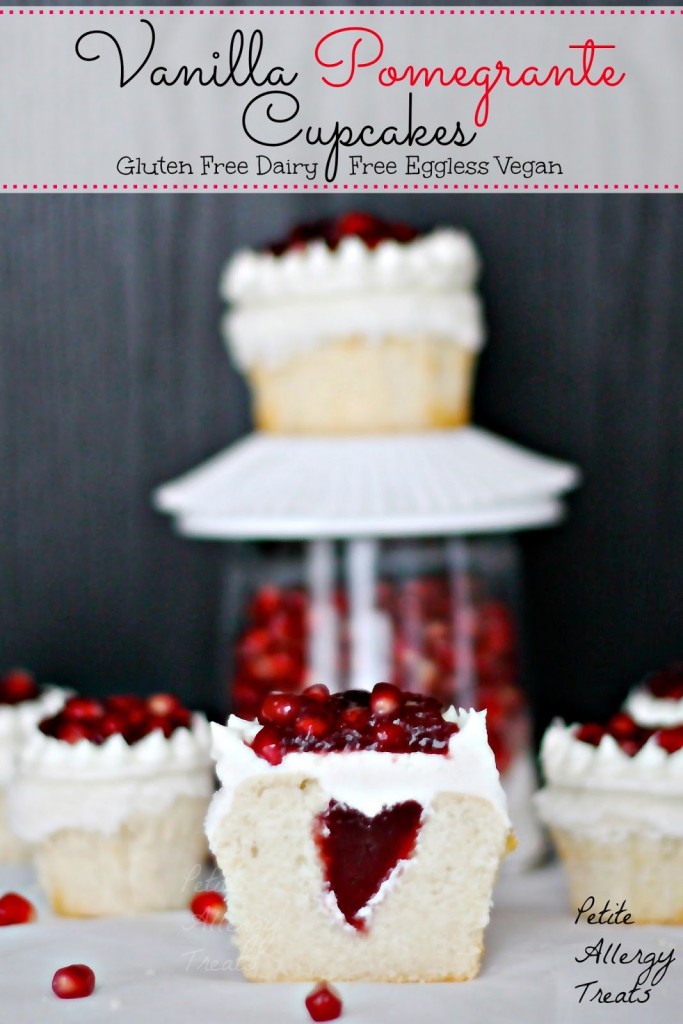 This is what happens when school is canceled for 2 days. Not to mention the prior weekend had subzero temperatures and my husband was at work. Four full days of combating cabin fever alone = mental exhaustion that leads to tantrums. I'm talking about me not the kids…just kidding. But only a little. 😉
I needed a reward.
Aside from the frosting, these cupcakes are relatively healthy. The cupcake batter contains just 3 tablespoons of fat, your favorite milk and 1/4 cup sugar. The frosting… not so healthy but it could be worse. Use coconut oil to make it healthier and you can decide the amount used.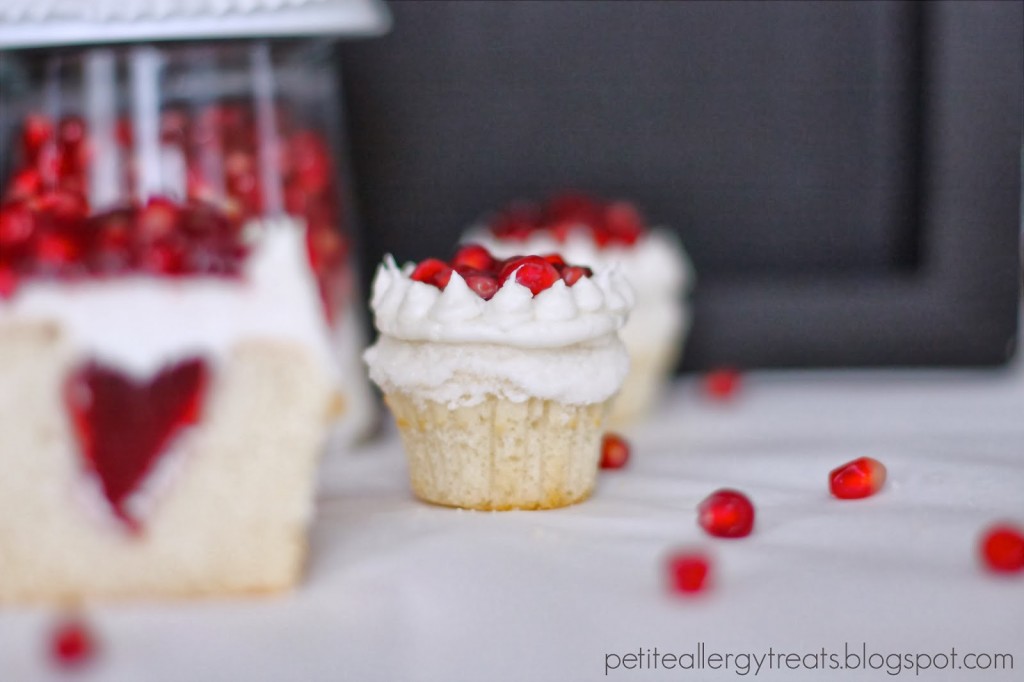 The inspiration behind these cupcakes has two sources. The first one I saw on awhile back on Pinterest by Natasha's Kitchen. And she was inspired by none other than Google+ Food Blogger Community creator, Chef Dennis. I thought both of the cakes were so beautiful. I loved the fact that it was not artificial dye but just great use of pomegranate. Please see the original recipes, they are gorgeous! I knew this was something I wanted to convert to: gluten free, eggless and dairy free.
My version is completely different, but the idea is similar. I chose cupcakes since I haven't made many large cakes (they scare me a little). For simplicity sake, I filled the inside with the same beautiful topping. Converting a recipe with 3 eggs can be a feat, especially without gluten to hold things together. This was my first attempt and I'm pretty pleased with the results.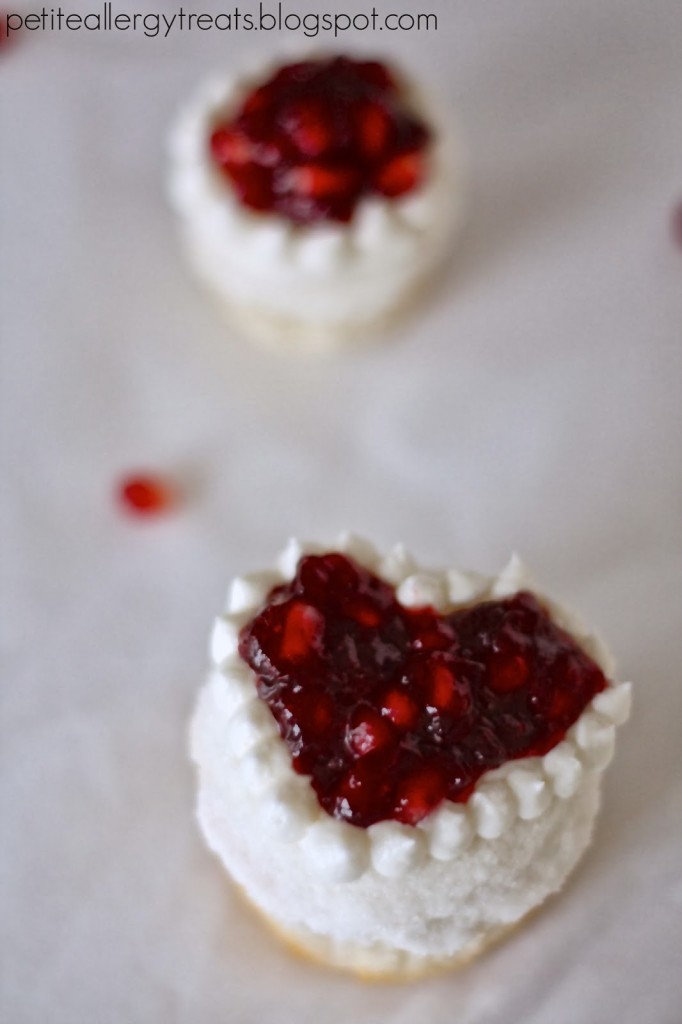 I'll let you in on the secret to not having a gross gummy texture…Pectin. It's amazing stuff. Not only does it help bind, its also acts as an emulsifier. Why do you think most Vegan recipes utilize applesauce? It's the pectin. Bananas are another great source of pectin. I used the pectin to make the pomegranate topping as well. Pomonas Pectin is special because unlike most pectins, it does not require large amounts of sugar to set. The jelly is pure pomegranate juice with nothing but pectin and calcium water.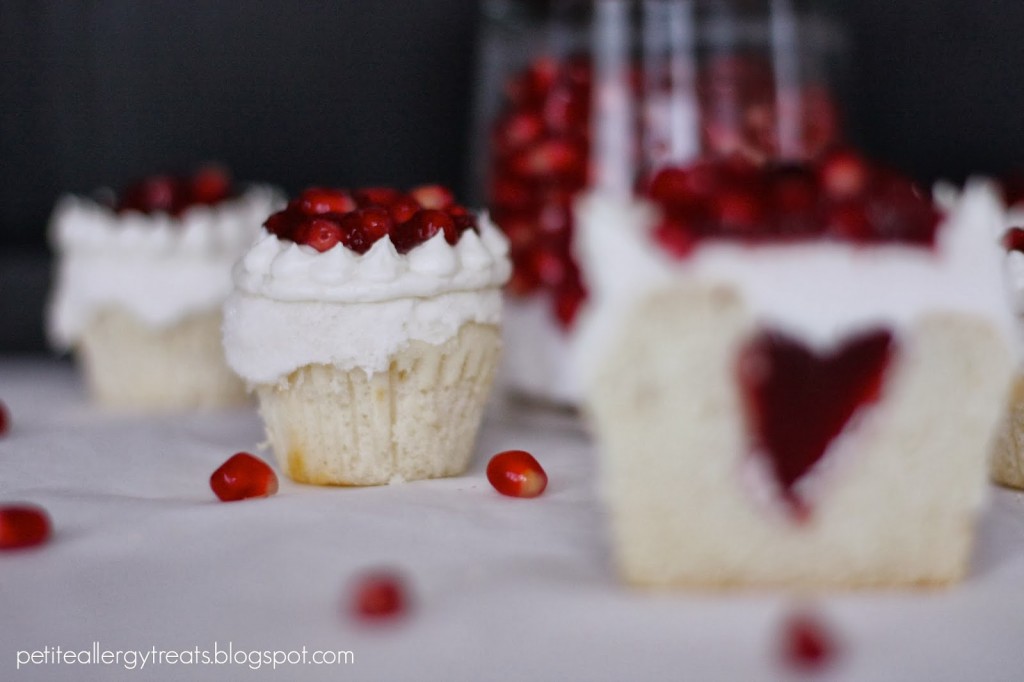 I hope you make these soon!
Notes: Any gluten free flour mix can be used. I chose my white blend this time but I typically use a whole grain mix to help lower the glycemic index. A sugar substitute could be used in this recipe. I personally have not tried this but I would suggest a not using liquid drops for the frosting. The instructions for the jelly are not for canning see note.
Inspired by Chef Dennis and Natasha's Kitchen
Ingredients
Gluten Free Vanilla Cupcake Batter
2 cup gluten free all purpose flour mix (white blend)
1/4 cup organic sugar (or sugar substitute)
1 cup milk of choice
1 T egg replacer + 1/4 cup water
1/2 tsp pure Pomonas pectin
1/2 tsp vanilla
1 1/2 tsp baking powder
1/2 tsp guar gum or xanthan gum
additional organic sugar for dipping frosting (optional)
Basic Vanilla Frosting (dairy free)
1 cup non hydrogenated organic palm shortening
1 tsp vanilla
2 cups organic powdered sugar
Pomegranate Jelly (No added sugar)
16 ounces regular pomegranate juice
2 tsp Pomonas pectin
2 tsp calcium water (included with pectin box)
fresh whole pomegranate seeds (optional)
Directions
Pomegranate Jelly
Pour juice into a sauce pan and heat on medium heat. While the juice is warming up, make the calcium water according to the instructions in the box.
Once juice has just begun to boil, add calcium water and pectin while constantly whisking. Lower heat and continue to stir until pectin has dissolved. Remove from heat and continue to stir another 2-3 minutes. Jelly will need to cool a bit before it starts to jell and before it can be placed on the frosting.
If you are using fresh whole pomegranate seeds add them now. Gentle fold in to avoid bursting the seeds. Allow the jelly to start setting before decorating cupcakes. You want to watch the jelly cool so it's not too liquid and not too solid.
*It's important to note the jelly process mentioned is for immediate use and not for canning or preserving. Canning and preserving needs sterilization in order to ensure safety for consumption at a later date.
Icing
With a mixer, beat shortening until light and fluffy. Slowly add in powdered sugar. Add more sugar for stiffer frosting or add in 1-2 tsp milk of choice to thin. This can be made in advance and stored the refrigerator for 1 week.
Cupcake batter
Combine all dry ingredients (except egg replacer) and mix well.
In separate bowl, cream sugar and shortening together until fluffy. Add egg replacer and water, and beat for 2-3 minutes.
Add in milk of choice and slowly add in dry ingredients and beat until incorporated.
Pour into large or mini cupcake tins. Bake at 350 until just golden brown on the tops. Allow to completely cool before icing.
Once cupcakes are cool, use a knife to carve a cone shaped hole in the center for jelly filling. (The cone shape will make the bottom point of the heart. If you don't want a heart shaped filling use a regular cupcake corer)
Use a spoon to add filling 3/4 to the top. To create the heart shape filling, hollow out the center of the jelly and add a dollop of frosting to seal in the filling and gently push.
Next add large spoonful of frosting to cupcake in the shape of a mound. Dip into a small bowl of regular sugar. Gently push and roll moving the icing in the sugar to cover the entire cupcake. You want to create a smooth surface to add the jelly.
Pipe additional frosting on top into to hold jelly in place. Be creative, I just chose a heart and regular circles.
Carefully spoon the jelly on the top of cupcake. Garnish with extra pomegranate seeds.
These cupcakes are perishable due to the seeds and jelly. I'm not actually sure how long they could last since our were gone within the day 🙂
You may also like: