This Hot Bacon Spinach Salad will please just about everyone, even those that don't
like salad. It is also gluten free, egg free, dairy free, peanut free, tree nut free, soy free,
seafood and shellfish free.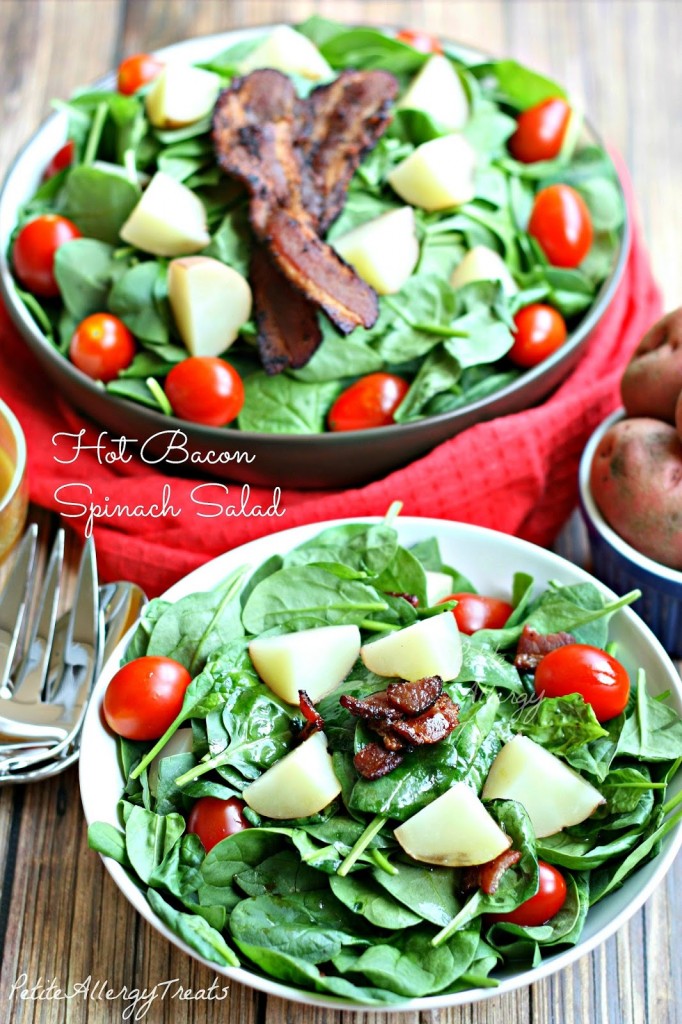 Bacon can make anything better. Or at so it seems 🙂 I can honestly say, I've never met
anyone who didn't like bacon. I even remember one of my friends claimed she turned back
from being vegetarian because she missed bacon.
This is one of those recipes I ordered at a restaurant and had to try making myself. I had
graduated with my undergrad went to celebrate at a local restaurant. After scanning the
menu I opted out of my usual boring grilled chicken with fries. I just graduated, how about
celebrating with some bacon?
The menu description sounded too good to be true. Spinach, red onion with small red potatoes,
a hard boiled egg topped with crunchy croutons lightly coated in a warm bacon vinaigrette.
Mmm… I can still taste it all.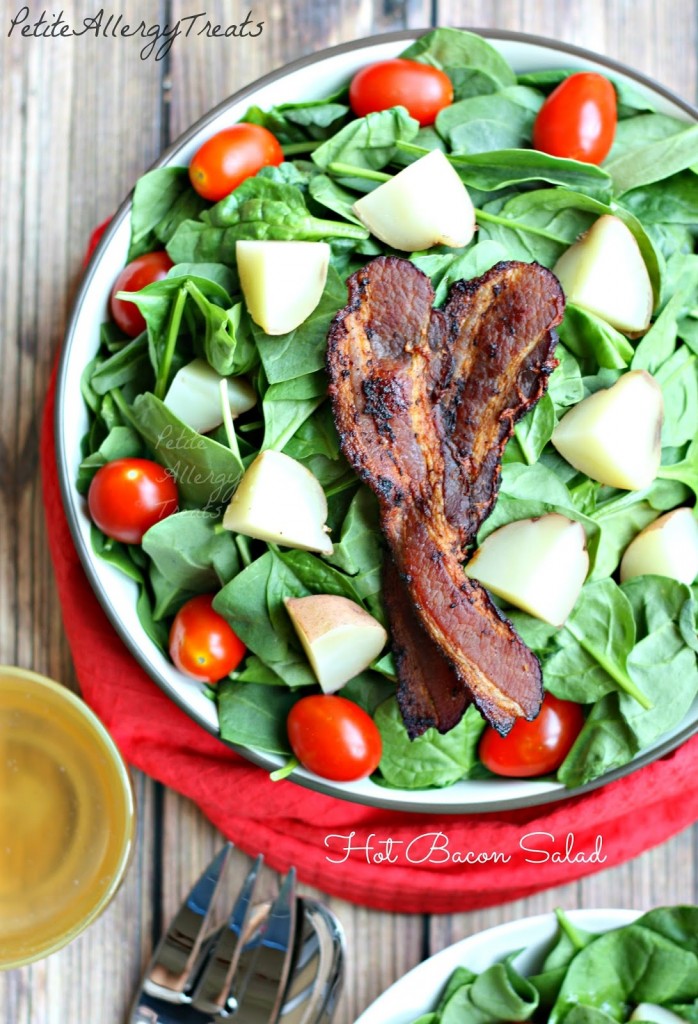 Obviously, I had to modify the ingredients from my inspiration to fit our food allergies. If you're
not allergic to egg, I highly recommend adding a sliced hard boiled egg. It's been hard to eat
many salads after the kids were born since they don't typically like them. I feel like I'm
constantly cooking and its just easier (less work) to make one meal the entire family can eat.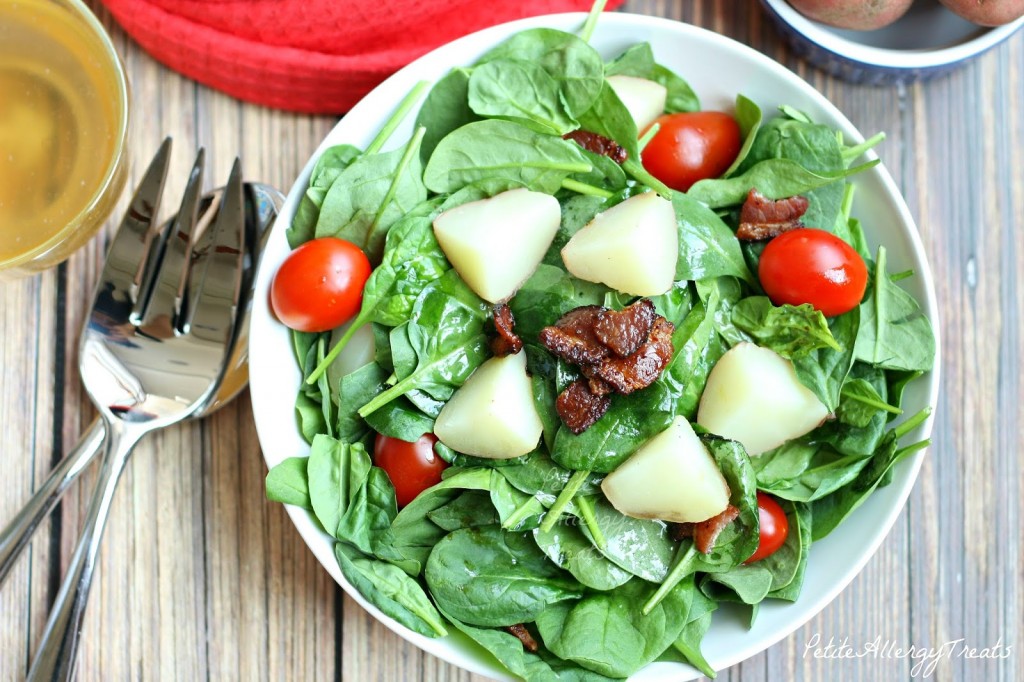 I have be completely honest here, the kids did not eat the spinach leaves 🙁 but they loved the
potatoes and bacon (of course). I ended up modifying their dinner with
gluten free buns
to
make little sandwiches. (I even attempted to hide the spinach inside the sandwich again. They
found it. 🙂 So even though they didn't love the entire salad, I'd make it again.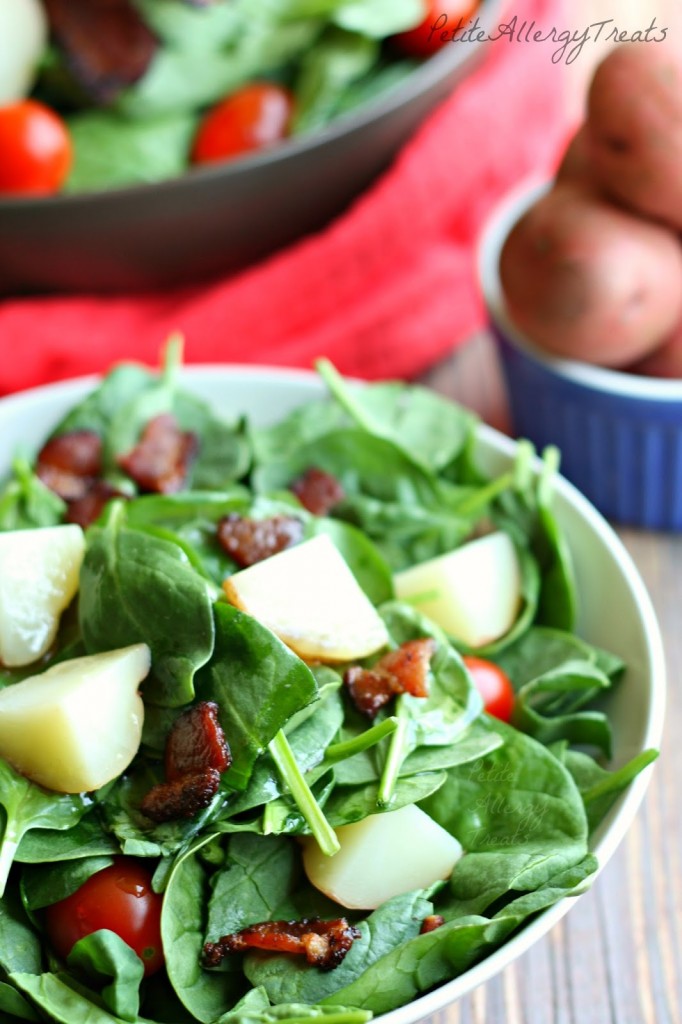 The vinaigrette makes more than enough since a little goes a long way. I use the leftover
dressing to add a touch of tang to my other plain vegetables. I even used it on some plain
chicken the another meal. No complaints from the kids with using the extra dressing. 🙂
Ingredients
7 slices thick cut bacon (I used a nitrate free version)
1/2 cup bacon grease (bacon drippings + more oil if needed)
1/2 cup sugar
3/4 cup white vinegar
1-1 1/2 tsp salt
10 small red potatoes
1 bag spinach leaves or favorite salad mix (16 oz)
1-2 cups grape tomatoes (optional)
Directions
Wash and boil potatoes with skin on until fork tender. Set aside and allow to cool. Cut into quarters.
Fry bacon until crispy. Set bacon aside. Remove pan from heat to allow oil to cool off a bit.
Save the drippings and measure. I needed to add about 3 T avocado to oil to reach 1/2 cup of oil total.
Carefully add oil, vinegar, sugar and salt back to the pan. Gently whisk together until sugar dissolves. Taste and adjust salt if needed.
Wash spinach leaves and tomatoes. Toss in potatoes, bacon and drizzle with bacon vinaigrette.
Serve warm.
Notes:
This can be made days in advance (although I doubt the bacon wouldn't disappear before then.) Keep the salad separate from the dressing until ready to serve or else the leaves will wilt from the heat and the salt will cause all the water to come out of the spinach. This salad is great for lunch or dinner.
Some other things you may like: