Chocolate Avocado Truffles that are healthy and paleo and rich chocolate. And get this, they
are made with just 3 ingredients!  Just avocado, cocoa powder and powdered sugar.  They are
truly ah-ma-zing.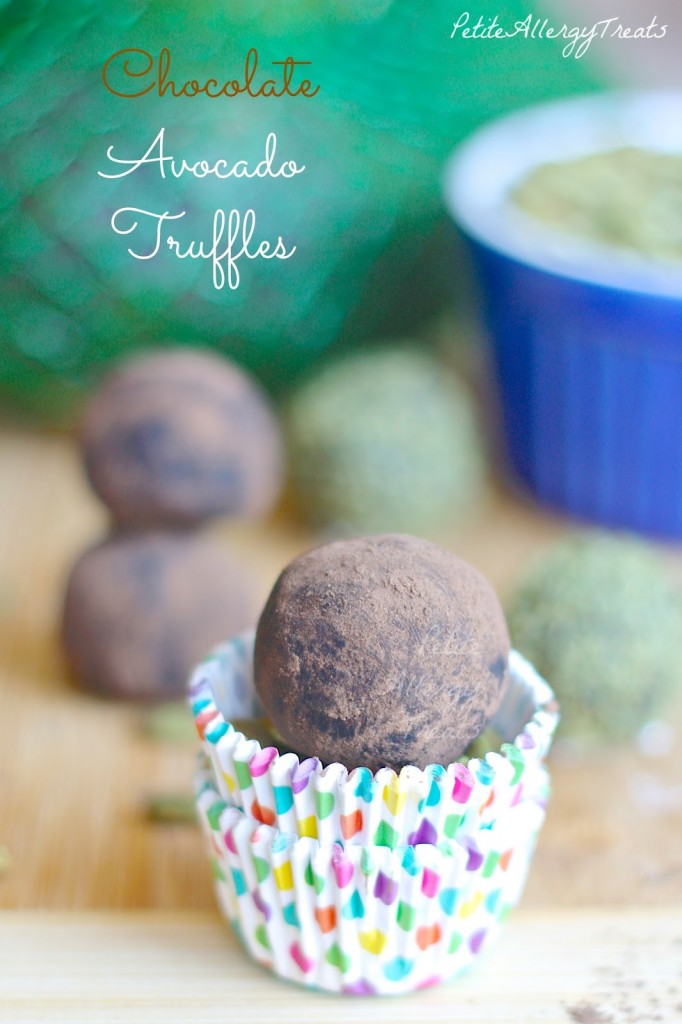 I have a huge sweet tooth, so I'm always looking forward to dessert 😀 Simple and relatively
healthy at the same time.   And let's not forget it needs to be food allergy friendly like gluten free,
dairy free, egg free, peanut free/ tree nut free.   These cover all the bases.  Win-win.  I love 
avocados.  And why not, there's so much to love.  Avocados contain monounsaturated fat (the
good fat),  fiber, potassium and othervitamins.   Most people are not familiar with avocado as the
main ingredient but there are many great recipes.  Trust me, this is one of those you just have. to.
try.  Avocados contain alot of fat… BUT… it's the good kind.  Monounsaturated fats are needed to help absorb nutrients.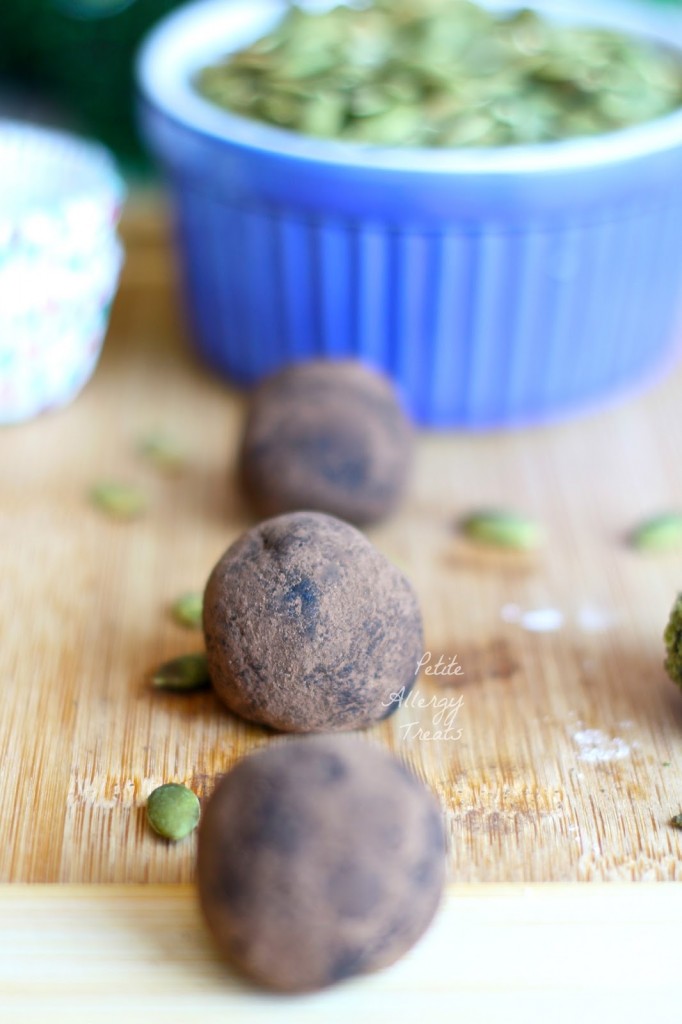 Here's a nutritional lesson on how just how awesome avocados are for you.
1. Avocados contain high amounts of monounsaturated fat.  Monounsaturated fat is the
GOOD fat our bodies need to help absorb vitamins and nutrients.
2. One avocado (on average) contains: 10 grams of fiber and 760 mg of potassium (twice
the amount of a typical banana).  10 grams of fiber?!  That's almost twice the amount
of an apple with the skin on.   Bananas are known as a great source of potassium but come
up short compared with avocados.
3. It's NOT a vegetable but a fruit.  Strange but true.  Does it even matter?  It's just sooo good.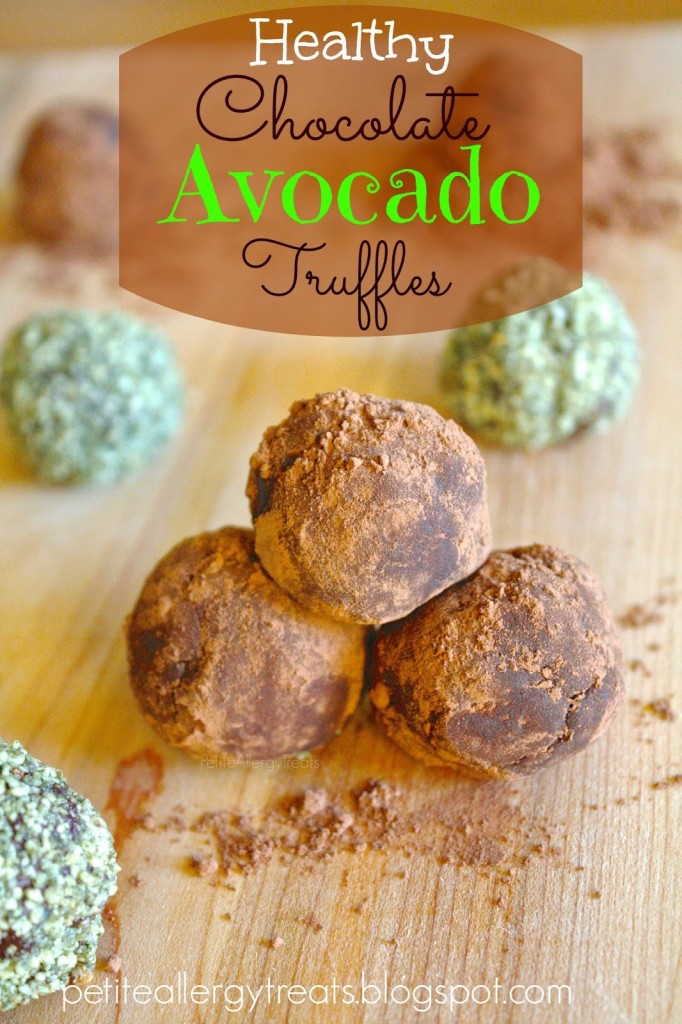 (My Original photo… Do you like the new ones?)
Here's a list of more nutritional values of an average avocado:
                                                                    250 calories
23 grams of monounsaturated fat
760 mg potassium
                                                                    10 grams of fiber
                                                                    RDV
                                                                    6% Vitamin B6
                                                                    4% Vitamin C
                                                                    4% Vitamin E
                                                                    2% Iron
                                                                    2% Magnesium
                                                                    6% Folate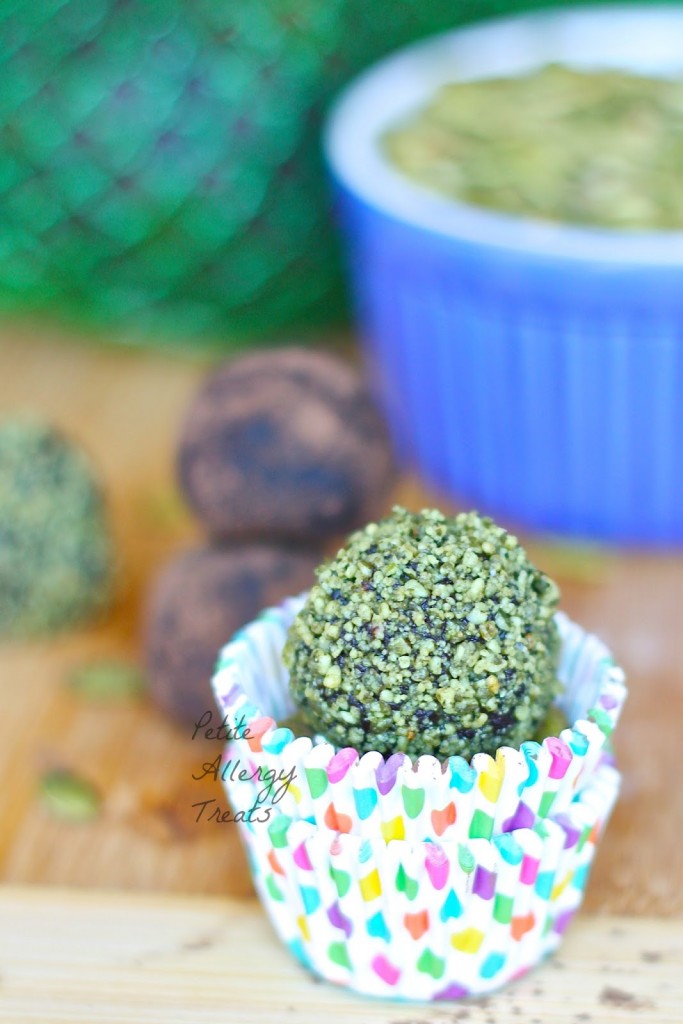 Add a little more nutrition and protein with pumpkin seeds.  If you're lucky enough to find
allergen free pumpkin seeds, buy some.  I found these in our local Health Hut store.  Simply
pureed and combine ingredients, it's that's easy.  The truffles will be soft and taste very rich.
They are not overly sweet, more like a rich semi-sweet dark chocolate.  I used dutch processed
cocoa for the deep chocolate color.  The roasted and salted pumpkin seeds added a wonderful
texture and depth of flavor.  One truffle is only about 42 calories, so you won't feel guilty eating
more than one 🙂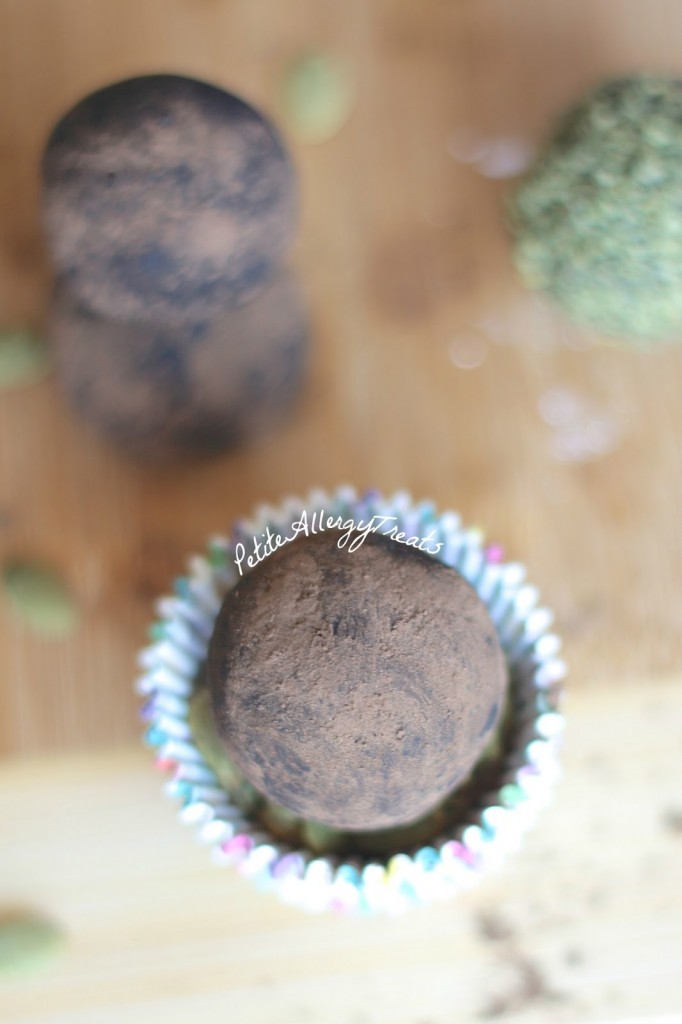 The Original Chocolate Avocado Truffles
Author: Laura @Petite Allergy Treats
Ingredients     makes about 12 medium truffles
1 large ripe avocado
1/4 cup + 2 T dutch processed cocoa + extra for dusting
1/4 cup powdered sugar
1/4 cup chopped pumpkin seeds for rolling (optional)
Directions
If you using pumpkin seeds, chop in a food processor until a crushed "nut" consistency.  Set aside.  Clean processor.
Puree avocado until smooth.  Add in sugar and cocoa powder and mix until blended.
Using a cookie scoop, gently drop and roll balls into coating of choice.
Serve and enjoy right away.
Some other things you may like: