These Baked Plantain S'mores are gluten free, dairy free, soy free, peanut free and tree nut
free. You're missing out if you've never had plantains.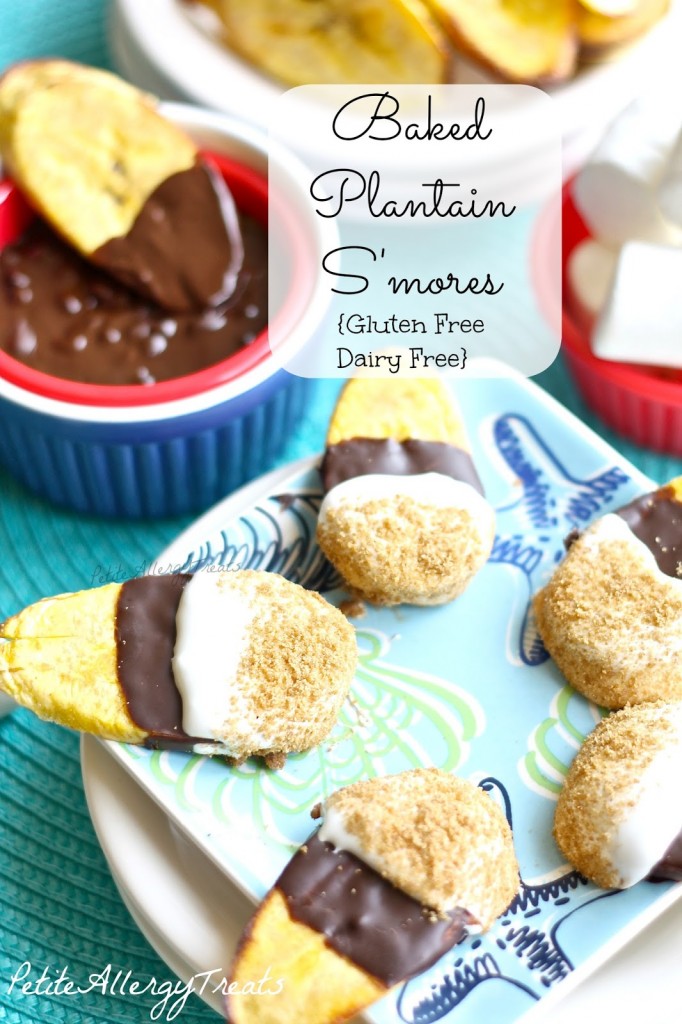 Have you ever tried a plantain? It's similar to a banana but different at the same time.
I never really tried plantains until recently in Florida visiting my in laws. I've mentioned on
several occasions how much I love my in-laws, so much in fact, I lovingly refer to them as just
Mom and Dad. I'll get back to plantains in a bit, but first I need to explain why I LOVE
and APPRECIATE my Mom and Dad so much.
I can't tell you how much it means to me that my in-laws took so much time to think of their
grandson's needs. We planned ahead by listing all the foods that couldn't be around Mr.
Naughty. This includes wheat, eggs, all nuts, soy, fish, sunflower, honey, sesame and beans.
Quite a list for anyone to remember let alone try to cook for don't you think?
During our visit, my Dad cooked the entire time. He spoiled us with grilled ribs, grilled
vegetables and crispy pork belly. Another day it was hamburgers because Sir mentioned how
much he loved them. Then the kids ended up going crazy on fresh champagne mangos that
were in season. My parents couldn't believe the kids each ate 3 in one day. Dad quickly went
to the store and bought a case of mangos to last us the week. It was a wonderful smorgasbord
of safe allergy compliant food. And I really felt like I was on vacation since I was out of
the kitchen!
Everyday was wonderful. My parents changed their routine and diet all for us. Their typical
breakfast consisted of eggs which they willing removed from the house while we were there. The
grill was even clean for us since many of their meats are marinated in soy. They made sure to
pack fresh fruit when they picked us up from the airport and had a hot safe meal waiting when
we got home. The pots and pan were even scrubbed to remove any gluten residue and cross
contamination.
They did all of this without hesitation and without complaining once. It brings me to tears
whenever I think about it- all the love. BRAVO Mom and Dad!
My in-laws have gone above an beyond the average family member. I'm in a lot of support
groups for food allergies on Facebook and I can't tell you all the horrible stories involving
family members and blatant disregard for accommodating food allergies. My in-laws are in
their early 70's and are proof that families can be supportive and considerate with food allergies.
They could have just left me to cook and find things at the store. Instead, they made every
effort to provide for their grandchildren without jeopardizing any one's health. (more tears…
so much love and appreciation.)
Ok… back to the plantains. As an after swimming snack, my Dad made fried plantains. The
texture of plantains reminds me a little of potatoes in its starchy and has more of a firm texture.
They were great fresh from the pan rolled in some sugar. Not gonna lie, they were good but heavy.
I really like them and wanted to lighten them up bit by baking.
I hope you enjoy another twist on the classic S'mores
Ingredients
2 large ripe plantains
2-3 T oil for baking
1 cup Enjoy Life Chocolate Chips
1/2 10oz bag of marshmallows
1/2 cup gluten free graham cracker crumbs
Directions
Peel and slice plantains in thin diagonals slices. Place in a bowl.
Add oil and mix/rub oil to coat the entire surface.
Bake at 375 for 15-20 minutes or until fork tender. Allow to cool
Microwave half of the chocolate until melted. Add remaining chocolate and mix until melted.
Dip 3/4 to 1/2 way up the each plantain. Place on a clean baking sheet and set in the freezer to allow chocolate to harden (about 15 minutes, the longer the better).
Microwave marshmallows until just melted.
Pull out a few frozen chocolate covered plantains at a time and dip in marshmallow. Immediately dip into graham cracker crumbs. Repeat with remaining plantains.
Notes: These don't store well and should be eaten almost immediately after assembling. Marshmallow and fruit tend to get soggy no matter how you store them. (And unless the graham cracker crumbs cover all the marshmallow, it will end up sticking to just about anything.) 😉
Some other things you may like: