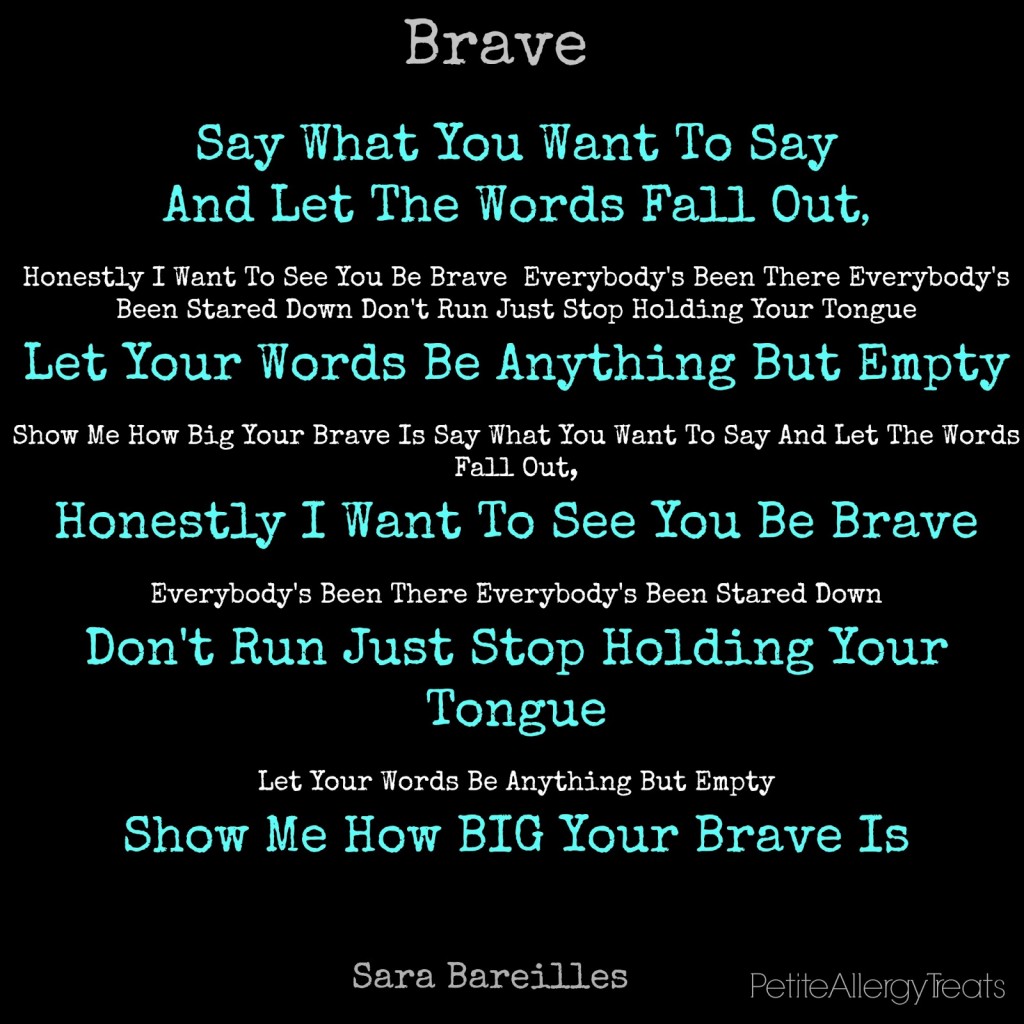 Did you know that food allergy awareness week is all this week? It's time to speak up and educate others about food allergies. Millions of Americans (including children) are managing various allergies to food. The numbers only grow each year with more and more children being diagnosed. Parents are constantly worrying about their children's safety.
People withoutt have food allergies don't understand many things about them. The most important thing is:
People Can Die From Food.
Another way to say it would be:
Children Can Die From Food.
I know that may seem bit extreme but it is the harsh truth. It is so important that people without food allergies become educated and aware to help reduce the chances of a reaction occurring.
If you've been following me at all (and I really hope you have), you'll know I don't specifically write about allergy topics. This week is going to be a special week dedicated to sharing resources, stories and if course some great allergy friendly recipes.
Say What You Want To Say… and Let The Words Fall Out.. Honestly…I Want To See You Be Brave
There are a few things you might not already know about me. Real life and blogging life are very different for me. By nature, I not the most outgoing person. I've learned to get out of my comfort zone and socialize but it's hard because I'm also a people pleaser. I don't want to cause waves or be confrontational. People says I'm too nice. Maybe its just a Midwestern thing. I suppose I could be called worse things, right? 🙂
Going back to this whole speaking out thing… This isn't something that's easy or natural for me. I feel so unprepared when face with a situation. We've all been faced with a situation and you want to say something but the words get tangled or you just cannot express how you truly feel. I have a terrible habit of clamming up. Instead of saying anything, I brush them off as just plain ignorant or not worth my time to get involved.
Well, this is changing now. Or at least when it come to food allergy education.
Everybody's Been There, Everybody's Been Stared Down… Don't Run, Just Stop Holding Your Tongue…
Blogging has become an awesome outlet for me. Not only is it fun sharing the recipes I've created, more importantly, it helps other families managing food allergies. The longer I'm here blogging, the louder I feel my "voice" could be. So I feel the responsibility to help others by speaking up and help raise awareness of food allergies.
You've probably heard the song Brave by Sara Bareilles on the radio. She is one of my favorite musical artists, lyrically speaking. Her latest song Brave, is about standing up and speaking out for yourself. I think this is a perfect song for Food Allergy Week. Be brave and learn to speak up.
Let Your Words Be Anything But Empty, Why Don't You Tell Them The Truth
With no apologies, I have educated other parents (in a nice but firm manner) about the dangers of bring a simple peanutbutter sandwich in a peanut-free classroom. Often times they have no idea that it's the cross contamination of touching surfaces.

Be sure to see what I'll be talking about all this week on my other social media. I don't post here as much as I'd like. I tend to post the latest and current happenings here:
In you weren't already aware there are some really great organization out there to help manage food allergies.
Freedible
– Food and allergy resource. Search their index for specific food allergy restrictions.
Food Bloggers that cater to specific food allergies. These are just a few the many food allergy bloggers out there:
WholeNewMom – Adrienne
Show Me How BIG Your Brave Is…
If you have a food allergy story that you would like to share or a resource please contact me through one of my social media's or email me directly at petiteallergytreats@gmail.com