Soft Gluten Free Hamburger Buns that are egg free, dairy free and Vegan don't seem real, BUT they are!  Finally enjoy a soft bun again while managing food allergies!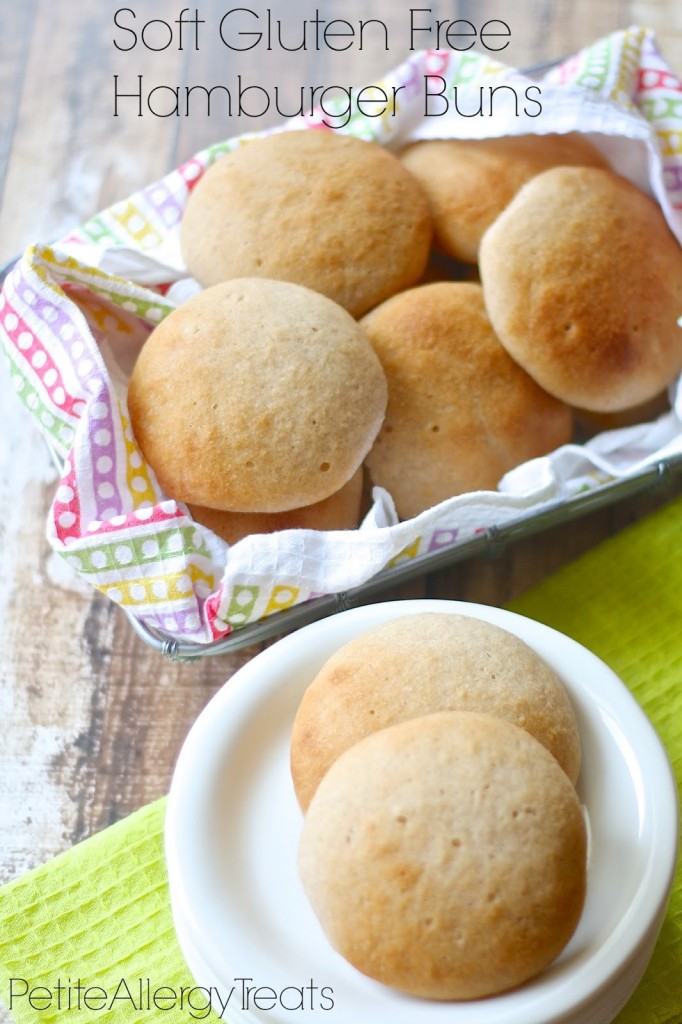 Hey, wait just a minute!  Don't just pfffft at these "boring" hamburger buns.  They'd be anything BUT boring.  These is a big, HUGE deal people.  Food allergies can be horrible to deal with because so many simple things become complicated.  For instance, these simple gluten free hamburger buns took almost a year to develop, yet any one who isn't allergic to wheat or eggs could simply walk into a grocery store pick some up.  They wouldn't need to read labels or call the manufacturer and ask about cross-contamination.  With so many more people being diagnosed with food allergies each year, we all need something simple.  I've worked to make these buns as simple as possible, including that no mixer is required to make these.
 This has been one of the most exciting recipes to date (for me at least).  Gluten Free Hamburger Buns that are egg-free AND don't taste like cardboard are impossible to find.  I have been working on this recipe on and off for almost a year.  A year.  I know.  Sounds crazy but when you can't have bread and used to be a carb addict, you've also become a gluten free bread Snob.  If you've never had the experience of eating a dry crumbly tasteless piece of so called gluten free "bread loaf" in a pre-packaged form, consider yourself lucky.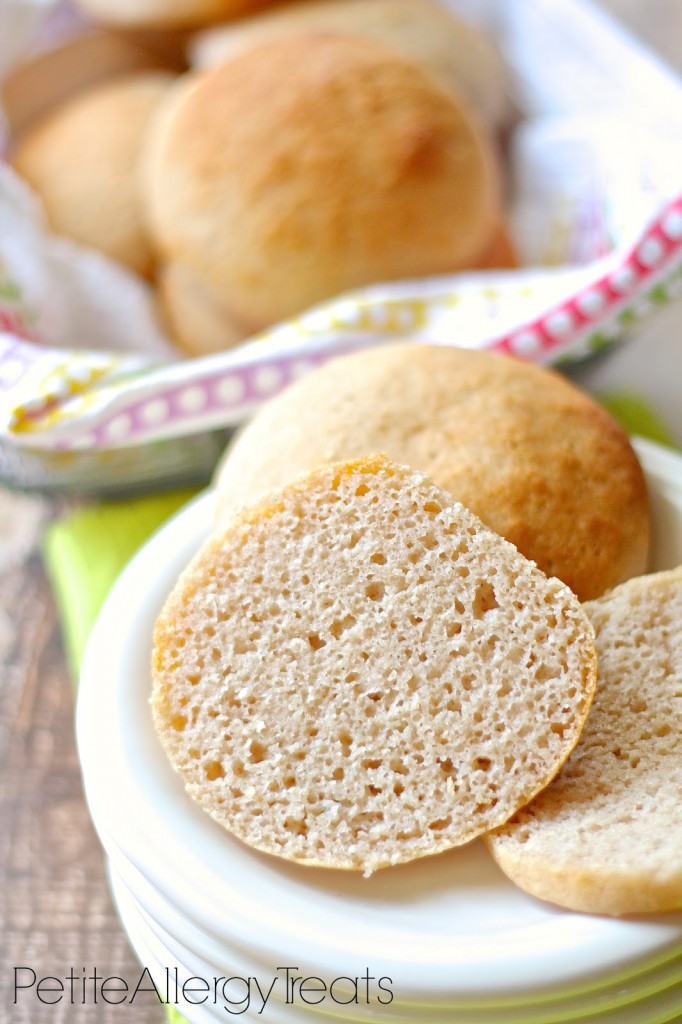 After my son was diagnosed as being allergic to wheat, eggs, etc., I started using King Arthur Gluten Free Bread mix without using eggs.  I loved the bread.  This is the only mix that really tastes and acts like a wheat bread.  The only down side was how expensive it is.  At close to $8 a box, it just became too expensive for an everyday bread.  I based this recipe on their bread.
I can't tell you just how good these are.  They are soft and springy.  They don't fall apart with slicing.  They don't disintegrate into a pile of crumbs in your mouth.  These will even last up to a week, without drying out!  This is all thanks to the powdered pectin.  The pectin acts as a binder and holds a ton of moisture without becoming gummy.  My new gluten free flour mix also contains less starch and more protein and fiber to combat gumminess.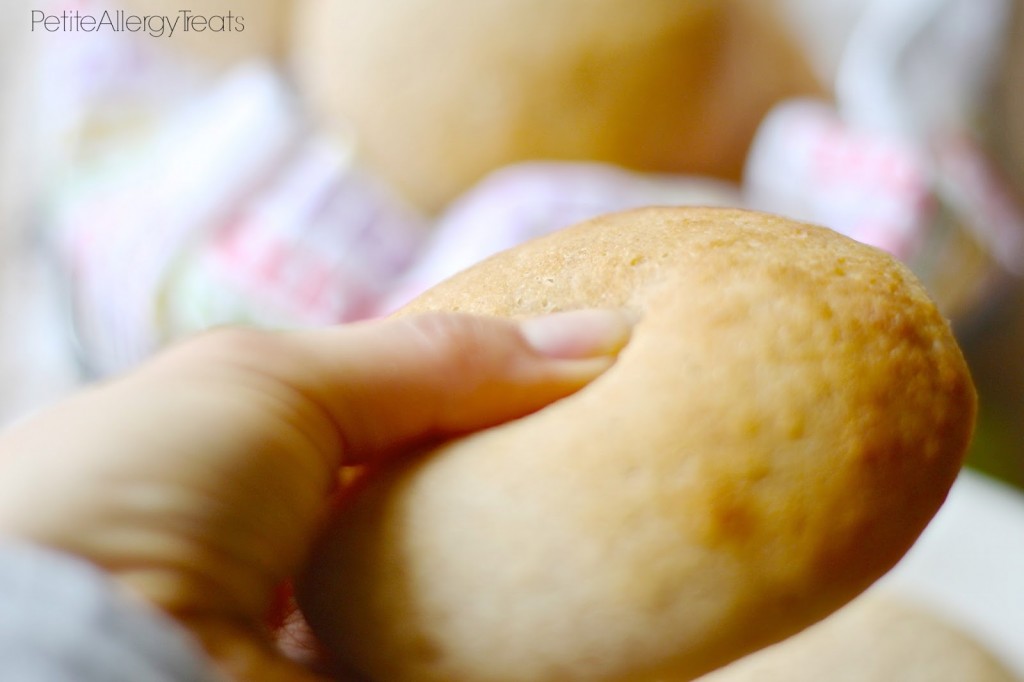 At first glance the moisture ratio may seem a bit much.  And without the pectin this will not work, trust me.  The dough/batter is extremely thin, almost soup like without any of the gum or pectin added.  I tried this technique to help the flour absorb more moisture by giving it more time with just liquid and no gum.  Once you add the gum and pectin it will thicken up quickly and become difficult to stir.  If you have a stand mixer you could save your arms a little work.  But I would not suggest trying to use a hand mixer since it will burn out your motor.  (Trust me on that one too.  I already did that.)
Mix until really thick and allow to rise in a warm area in a covered bowl.  Preheat your oven to 350 after about 25-30 minutes and have your greased parchment paper ready.  Scoop large spoonfuls on the baking sheet and shape.  Ideally, you'll want to make them as round as a softball since gravity will pull them down causing them to flatten a bit.
It's national food allergy awareness week.  Please be sure to follow my other social media.  I'll be sharing more stories and important information on Facebook,  Twitter, Google+
If you have a story to share please email me: petiteallergytreats@gmail.com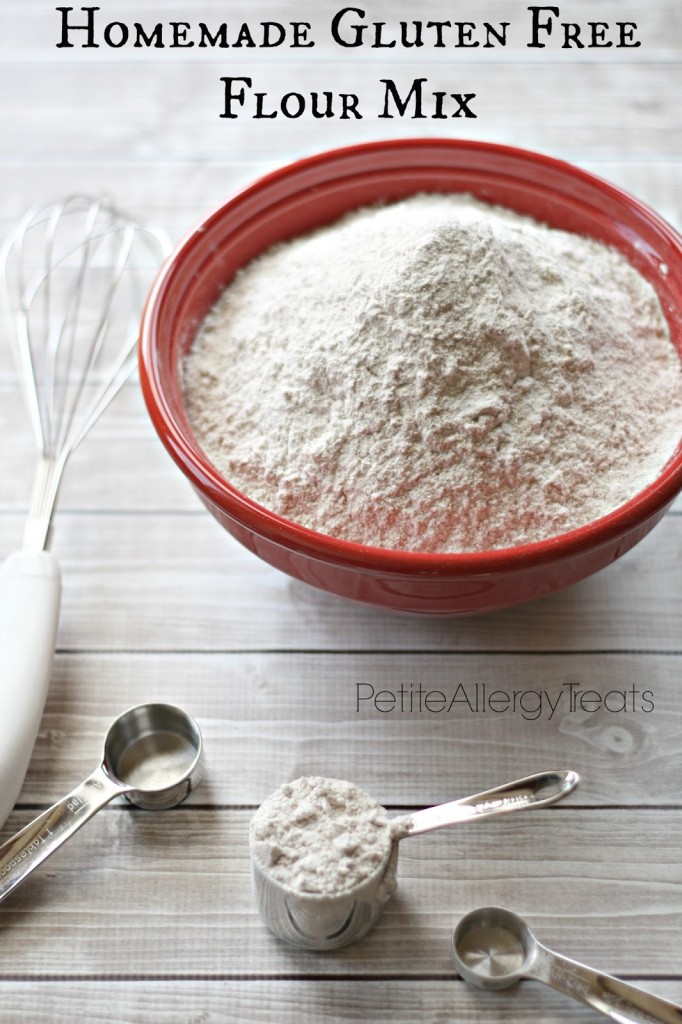 Gluten Free Vegan Hamburger Buns- egg free
Author: Laura @ Petite Allergy Treats
Ingredients
2 1/2 cup gluten free all purpose hybrid flour
1 3/4 cup water or milk of choice
1 packet or 2 1/2 tsp of dry active rapid rise yeast
3 T oil
2 T sugar
1 tsp salt
2 tsp guar or xanthan gum
2 tsp powdered pectin
Directions  Bake at 350 for about 18-20 minutes
Heat liquid to 110 degrees.  Add yeast and sugar.  Allow to sit for at least 5 minutes to start foaming.
Combine flour and salt.  Mix thoroughly
Pour yeast and oil into mixture and mix well.  Batter will be very thin.  Keep mixing by hand another 2 minutes.
Sprinkle in gum and pectin while stirring constantly.  Batter will begin to thicken up almost immediately.  Keep stirring another 3-5 minutes.  Cover bowl and allow to rise about 25 minutes in a warm place.
Deflate dough.  Line a baking sheet with parchment paper and grease entire sheet with oil.  Grease hands and scoop out a large handful.  Shape into a softball size bun and gently place on baking sheet.  Repeat until batter is all gone.  Gently grease the tops and place plastic wrap on top while the buns rise for an additional 15-20 minutes.
Bake at 350 until golden brown on the tops and the center reaches 190-200 degrees internally.  (Note: The center may still appear to be sticky on the end of the thermometer.  If the temperature is correct they really are done.  The pectin helps to retain moisture.)
Buns are best enjoy the first day but freeze extremely well.  I also left a few out for about 6 days and they were still moist and chewy.  Just warm them up in the microwave for 20-30 seconds and they come back to life. 🙂
Some other recipes you may like: