These baked caramel apple coconut donuts are another great way to celebrate fall. They
are gluten free, egg free, peanut free, tree nut free and soy free. Use Vegan yogurt and
caramels to make them Vegan.
Apples are something I'm a bit obsessed with. You wouldn't know that judging from list of recipes since I only have my
fried apples
and
caramel apple cake
. The kids usually enjoy them plain and simple from the tree. Hence, they're all eaten long before I get an opportunity to bake.
It's something about that crisp sweet crunch of a really good apple. Such a natural sweet treat. With both of my pregnancies, I ate a minimum of 2 a day and considered it my special treat (organic apples are expensive!) I've just recently started learning to appreciate all the different variety since my love is and always will be for honey crisps.
I remember as a kid having the same lunch every. single. day. for weeks straight. I'm not kidding
when it was exactly the same. I have a very good memory and remember the horrible half a soggy peanut butter and jelly sandwich, that had been partially smashed by the whole red delicious apple and a juice box. I would take the necessary one bite of each and throw the rest away after drinking the juice box. It was a very hungry first grade. After awhile, I figured out the apple wasn't too bad so I ended up eating about half of it. Go figure, I would come home starving. (Oh, the things we remember!)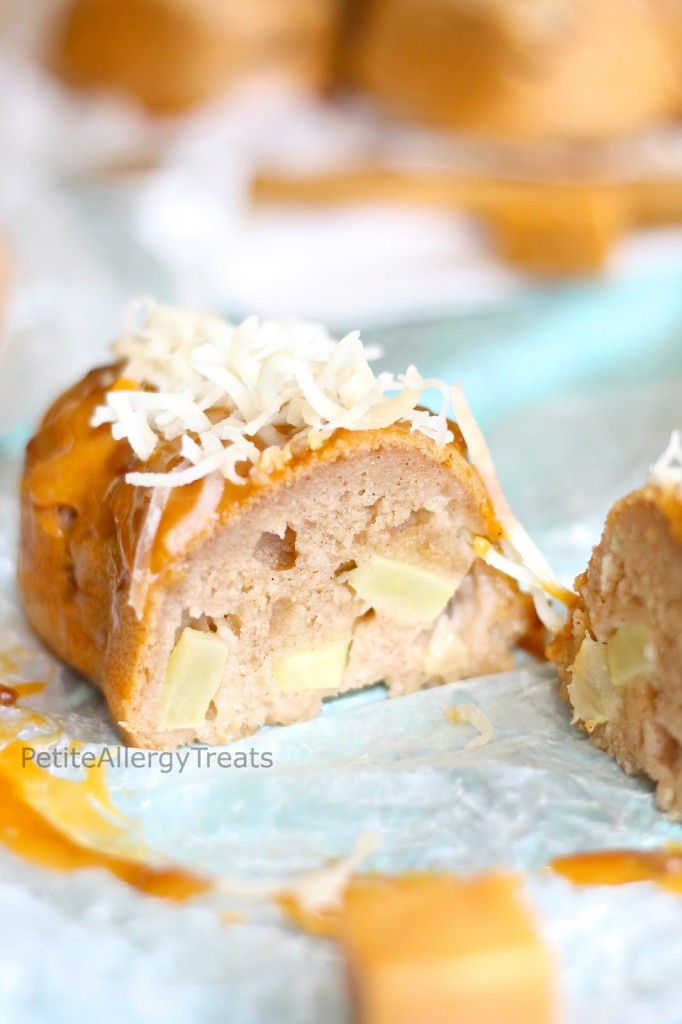 Now, I wouldn't dream of throwing away half an apple or half eaten sandwich. I'll eat
just about anything and plenty of it!
Since I love apples so much, why not combine them with our latest fave coconut? (We're still in the celebration phase of passing the coconut challenge) 🙂 These donuts are packed with real pieces of apple in addition to applesauce as the 'egg'. And since it's fall, you really should drizzle some caramel on top too. 😉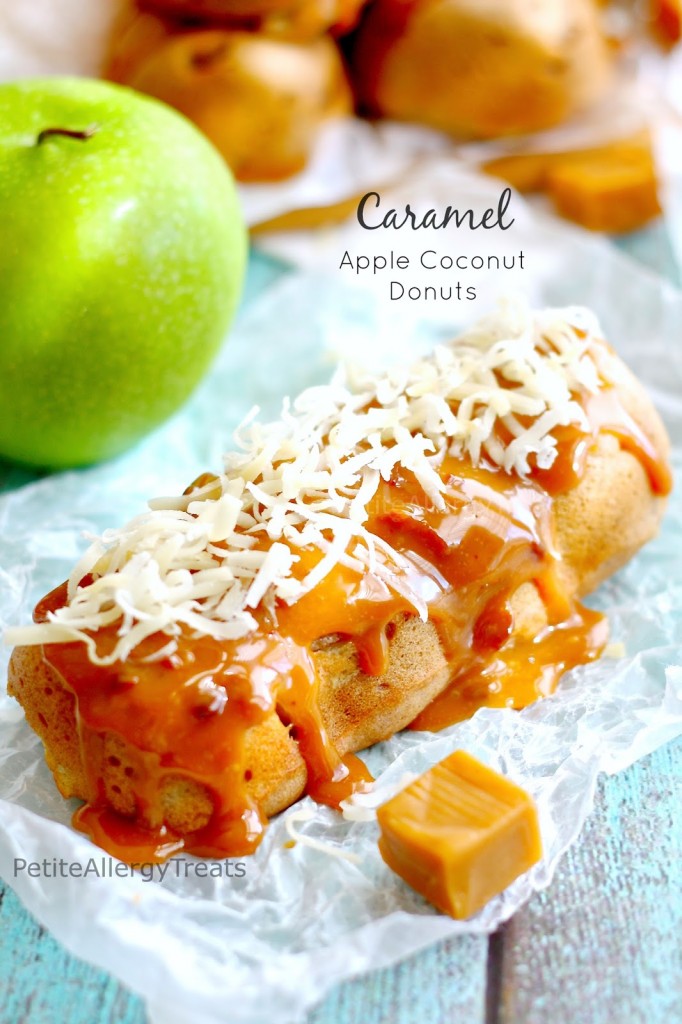 And since we're speaking of celebrations, I helping my friend Kelly over at
The Grant Life
celebrate her 30th birthday. (Such a youngster). In honor of her birthday, I've gotten together
with some other friends and we're giving away a Mini iPad! Make sure to ENTER below
Caramel Apple Coconut Donuts
Author: Laura @ Petite Allergy Treats
Ingredients
1 cup applesauce
2 granny smith apples
1 cup yogurt
1/4 cup coconut oil
1/4 cup sugar
1 1/2 tsp cinnamon
1/2 tsp baking soda
1/2 tsp baking powder
TOPPING
15 caramel pieces
2 Tbsp coconut milk
1/2 cup shredded coconut
Directions
Combine all dry ingredients and mix well.
Peel and core apples. Cut apples into small cubes.
Add yogurt, melted coconut oil, and applesauce to bowl and mix well. Batter should be thick but spreadable.
Fold in apple cubes and pour into a greased donut pan.
Bake for 20-25mins. (Check before time is done with tooth pick in the center. Tooth pick should be dry when removed.)
Allow to cool 5 minutes before flipping.
Melt caramel in microwave and mix in milk. Adjust amount depending upon how thin want the caramel.
Generously cover with caramel and coconut.
Eat and enjoy!
Notes: I uses a special rectangle twist donut pan I found on clearance from Wilton. Any donut pan should work but the baking times will vary and chopping the apples smaller might be necessary. These freeze well, but not with the topping (unless you want a mess when you warm them up in the microwave.)

Some other things you may like: