This roasted corn avocado dip is creamy, naturally healthy, gluten free and dairy free.
Enjoy this healthy dip with plenty of fresh vegetables.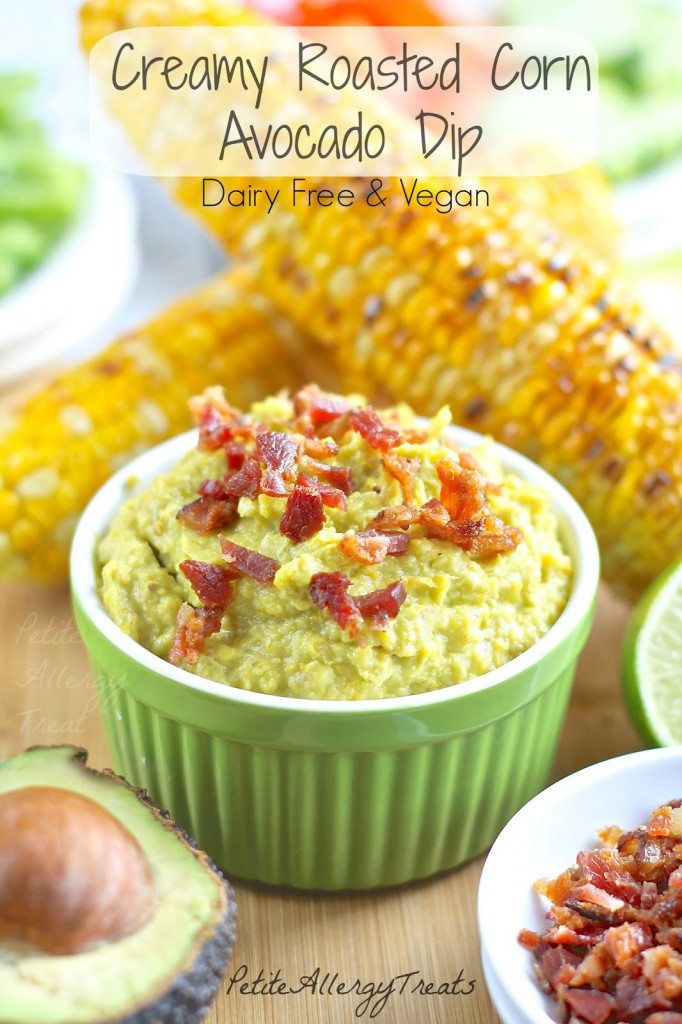 You know summer is here when all the fresh sweet corn stands start popping up along
 the sides of the road.  I would watch the corn grow all summer looong.  I grew up in the
middle of no where, remember?  We were literally surrounded by corn fields and cow farms.
I distinctly remember it was my job to peel and 'de-hair' all the fresh corn on the cob.   I don't
know exactly why, but I always resented the job.  More of an equality issue since my brother
was off playing video games, I think.  Life seems unfair as a child, doesn't it?  To spite my mom, I
would even refuse to eat the fresh corn, in hopes of getting out of this chore in the future…
but… it didn't work.  And I was perfectly content in eating the salty BPA laced canned corn.
Ignorance was bliss too at that age.  All we ate was candy, fast food and processed junk
at home.  My typical snack consisted of a bag of Cheetos and a regular coke.  I was 5.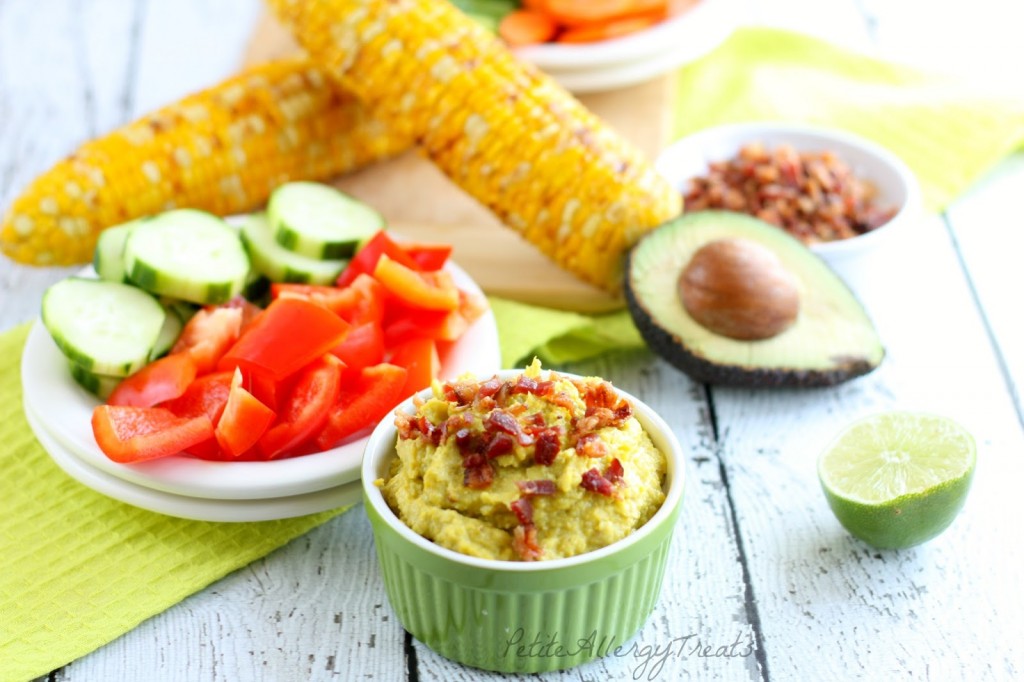 I cringe at some of those memories.  Last year my 6 year old tried soda once and hated
it (so proud.)  Instead of unlimited amounts of candy, soda, juice, junk food and McDonalds, I
am teaching my children good habits for life.  I know… you've seen many of post are sweet
(now you know where I got my sweet tooth) but I really do limit the amount in the house.  It's
all about balance.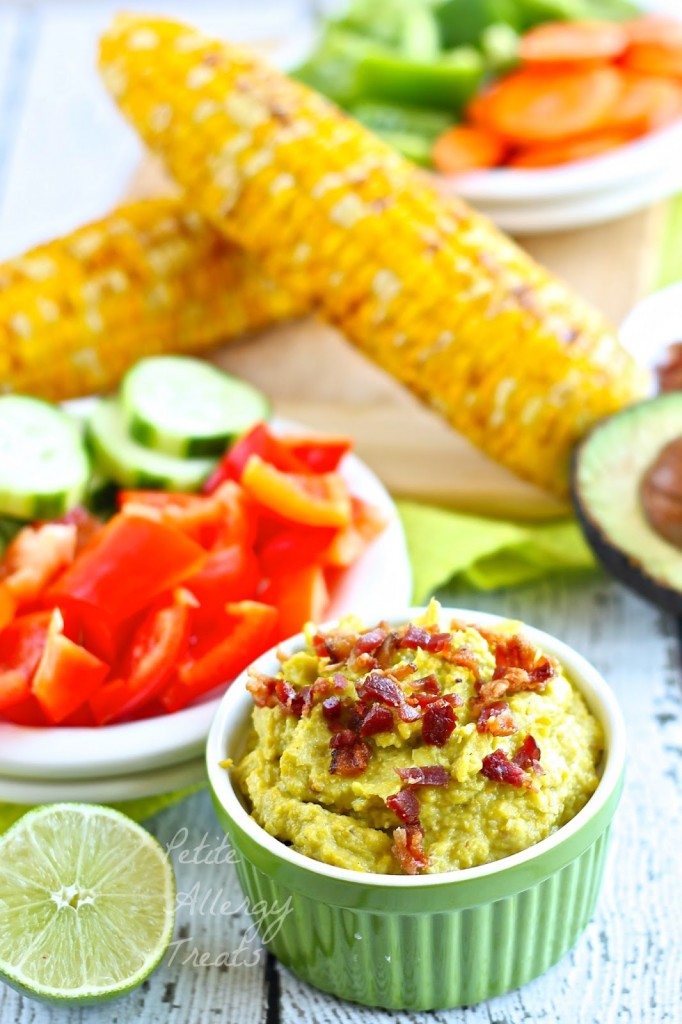 Like this easy dip.  It's just roasted sweet corn, avocado, garlic and lime juice garnished with
bacon.  I am very thankful the kids love avocado and instead of chips, we used veggies.
The kids refused to eatthe cucumbers and green pepper but ate the carrots and red pepper.  Can't
expect them to love every vegetable, right?  This is also allergen friendly since it's naturally
gluten free, soy free, and not processed (except a little bacon).  Bring this dip to your next
family picnic.
Ingredients
1 1/2 cups roasted sweet corn (about 2 large cobs)
1 ripe avocado
3 T oil (1T for roasting corn)
2 T lime juice (about half small lime)
1/2 tsp garlic powder
1/2 tsp salt
2-3 slices thick cut bacon (optional, omit for Vegan)
pepper to taste
Directions
Wash corn and coat with 1 T oil.  Place on the grill or in the oven for 10-15 minutes or until golden brown.  Cool and cut off kernels.
Pan fry bacon until brown and crisp.  Coarsely chop.
Puree corn, remaining oil,  avocado,  lime juice, salt and garlic until smooth.
Garnish with bacon and serve with raw veggies or your favorite allergen friendly chip.
Notes: This can be made ahead of time since the lime juice will help combat any browning from the avocado.  Cover leftovers with plastic, removing all air.
Some other things you may like: